A detailed history of Preston: Part four
Five generations of Dartons at Temple Dinsley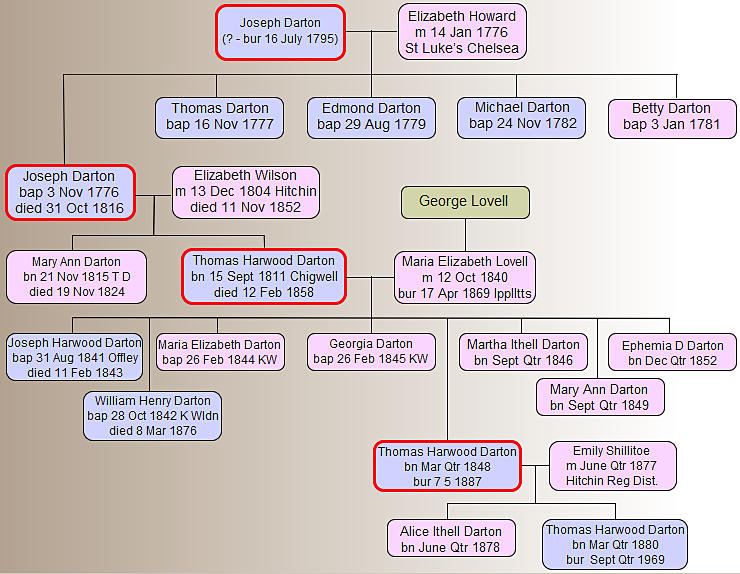 Notes re: the Darton family tree:
None of the principal Darton men lived to see their fiftieth birthday.
Joseph snr's children were all baptised at St Luke's, Chelsea.
Joseph Darton Snr at Temple Dinsley 1787 - 1795
There is evidence that Joseph did not reside during all this period at Temple Dinsley - setting a
pattern for his descendents. In 1794, the Austrian composer, Joseph Hayden (1732 - 1809), was
taken to Preston by his friend the 4th Earl of Abingdon, a music patron, to visit the 6th Baronet Aston
(of Cheshire) and his wife Jane. While there, Hayden wrote some music that may have included a
song sung by himself and the two nobleman. This took place at Temple Dinsley, the inference being
that the Darton's were living elsewhere.
The following year, 1795, Joseph was dead. The copy of his will is somewhat difficult to read, but he
appears to leave an annuity of £200 to his wife Elizabeth (from his estates at Hertfordshire and
Middlesex), legacies of £1,000 to his children,Thomas, Edmund, Michael and Betty and the residue of
his estate to his son, Joseph Darton. Elizabeth was to be allowed to remain in Temple Dinsley.
Joseph's executors were Edward Kitchener (Preston farmer) and Edward Evans who were given
£100 each 'for their trouble'.
On 28 January 1799, there was a development in the religious life of Joseph's widow, Elizabeth. She
was a Quaker having been recommended to the Hitchin meeting by their brethren at Westminster. But
Elizabeth had become 'very slack in attendance' and 'despite caution and counsel' which had not
produced 'the desired effect' and as she did not show ' a disposition to change' she was disowned
from the faith. The decision was recorded by William Lucas jnr.
Joseph Darton Jnr at Temple Dinsley 1795 - 1816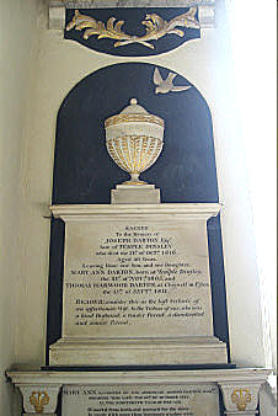 Joseph was eighteen when he inherited Temple Dinsley and his
tenure lasted a mere twenty-one years - he was forty when he died.
In his will (dated 16 June 1807 and witnessed by Robert Harwood,
John Young and Samuel Peete, constable) Joseph firstly expressed
his wish to be buried in the family vault at St Mary's Church, Hitchin
where his father already lay. A memorial was erected to him therein
(right).
Joseph's property in Bedfordshire, Hertfordshire and Middlesex was
left to his widow, Elizabeth, who was also bequeathed Joseph's
personal property. Each of their children who survived to the age of
twenty-one was to receive £100 annually, paid in four instalments.
After Elizabeth died, trustees (Edward Cobb, supervisor of excise,
and
John Marshall, liquor merchant, both of Hitchin) were to distribute the
rents and profits after debts had been paid in equal amounts to
Joseph's surviving children who inherited his estate in equal shares.
However, as Thomas Harwood Darton was the only child to survive Elizabeth's death, he was in effect
Joseph's sole heir.
Elizabeth Darton, Lord of the Manor 1815 - 1853
Soon after Joseph's death (and probably in 1818), perhaps due to economic necessity or simply
because the mansion was too big, Elizabeth let Temple Dinsley to the Hitchin brewer, Henry Crabbe
(born 1796).
Henry and Fanny Crabbe (nee Ellis) had seven children, at least six of whom were born when the
family were at Temple Dinsley. Fanny was the daughter of Thomas Flower Ellis who owned land
around Preston.
Henry owned malt houses at Bull Corner, Hitchin and four fields in Ippollitts. He was also in
partnership with Joseph Margotts Pierson (brewer) of a property at Cock Street, Hitchin and with
John Marshall (brewer) of a house and brew-house in Sun Street, Hitchin.
However, Henry died on 19 June 1830 and the process of trying to let Temple Dinsley began again. In
May 1832, the house was advertised in

The Times

. It was described as a family mansion in an
elevated and airy situation, delightfully sheltered by timber. On the ground floor was a breakfast
parlour, dining and drawing room, gentleman's dressing room with adjoining bathroom. On the first
floor were three large bedrooms, each of which had its own dressing room. There were six large
attics.
In the grounds there were two double coach-houses, stabling for seven horses (above which were
four servants rooms) and large walled gardens. Near the stables was a large brick dovecote.
Temple Farm with its 234 acres was also available to let, either with the mansion or separately.
The additional appeal of the rights to shooting on the Temple Dinsley manor's 200 acres of woodland
was highlighted.
It was about this time that the two views of Temple Dinsley shown below were drawn. The stables
and dovecote are clearly to be seen.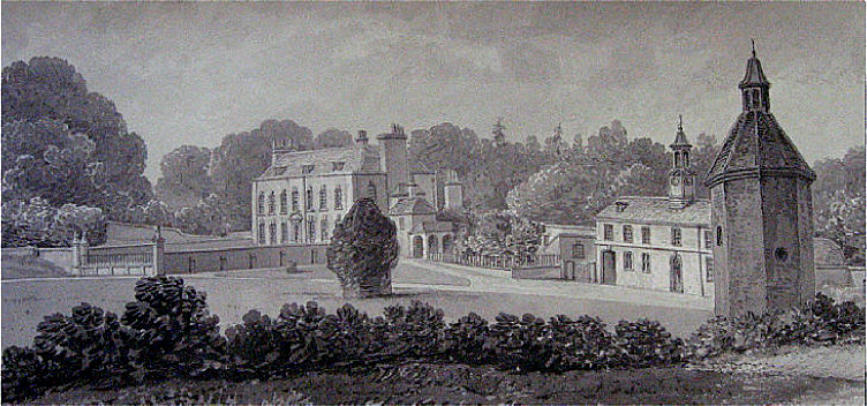 A y

ear later and no tenant for the mansion had been found, so more advertisements appeared in May
1833 with a hint of desperation: 'to be let and entered upon immediately'. This time, the hunting aspect
of the area was highlighted as the property was near the Sebright hounds, the meets of Lord Petre's
hounds and only three miles from the harriers of F P Delme-Radcliffe.
Temple Dinsley was unoccupied in 1837 but had been let probably by mid-1839 to newly-weds
Thomas (bn 1815) and Frederica Halsey. In 1840 the Halseys spent an incredible £1800 (after
discount) to bring the fittings and furnishing of the house up to their standards. There is an itemised
record of thirty-six pages of this refurbishment the cost of which was equal to the total annual wages of
sixty farm labourers.
However, the Halseys didn't stay long and had probably moved out in the mid-1840s. On 24 May
1844, a son was born at Temple Dinsley who lived but a few hours and by 1846, Thomas was a
Member of Parliament. Thomas, Frederica and another son drowned when the steamer Ercolano
foundered in the Gulf of Genoa in 1854.
In 1841, Elizabeth Darton was living at

Bunyan's Cottage

in Wainwood and Thomas Darton and his
young wife were at Offley. Ten years later, Thomas and Maria Darton and their five young children
were back at Temple Dinsley and Elizabeth was living either at

The Cottage

or

Bunyan's Cottage

.


It was Thomas Harwood Darton who, in 1849, ordered the
building of Preston School which doubled as a church on
Sundays.

Links

: Education and Preston Anglican Church
Elizabeth Darton died on 11 November 1852. A news report of her funeral, '…the mortal remains of
Mrs Elizabeth Darton….were deposited in the family vault in Hitchin Church. The corpse was borne
to the tomb and followed thither by the tenantry of the Temple Dinsley estate, most of whom and their
fathers before them had lived and laboured on the property for many years'.
Owners and occupiers of Temple Dinsley 1852 - 1874
As a result, Thomas Harwood Darton snr was Lord of the Manor.
He held this position for just five years until his death on 12
February 1858. Almost immediately, Temple Dinsley was
advertised to be let on 11 May 1858. But, in 1861, Thomas'
widow, Maria, was still in residence there.
The summer of 1872 was unusually hot. The ponds around the
village, which were used for drinking water, dried up. Thomas
Harwood Darton jnr had a well dug at Preston Green (shown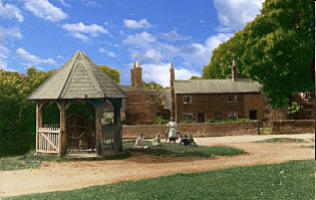 right). It was 211 feet deep (64½m).Two people operated the winding mechanism and they toiled for five
minutes to raise the water.


By 1871, retired builder John Weeks and his wife, Lucy were living in the mansion and Thomas and
Maria were at The Cottage.
Clearly the Darton's could not afford to keep the estate so in 1873, the entire estate was advertised,
not to be let, but to be sold.
The sale particulars provided a wonderful description of the estate and its various parts (even
allowing for the agent's enthusiasm). Illustrating the way in which Temple Dinsley dominated Preston
is the statement that for sale was 'nearly the entire village...about forty cottages and The Chequers
Inn public house'. The estate occupied 560 acres of 'very fertile land' nearly all of which was freehold
and tithe free.
The estate included three farms:
Temple Farm (in the grounds of Temple Dinsley)
Poynders End Farm (90 acres)
Austage End Farm (41 acres)
The house was described as a 'fine, old mansion'. It had a spacious hall, drawing room, billiard room,
dining room, morning room, study and gun room on the ground floor - all of which were centrally
heated (in 1873!). On the next floor were seven bedrooms, three dressing rooms, a bathroom and two
toilets. The roof space was occupied by six attics.
When the sale of Temple Dinsley was advertised, its agricultural potential was not promoted. The
selling point was the opportunity for field sports such as the hunting and shooting of foxes,
pheasants,partridges, rabbits and hares. 'It is in a favourite hunting district....the sporting capabilities
are of a high character and afford excellent partridge and pheasant shooting'. This emphasis on
hunting helps us to understand why the woods around Preston survived. While there was some
revenue from the sale of rights to coppice trees, the woods were mainly preserved as the haunt of
wild-life which could be hunted.
New owners of Temple Dinsley from 1874 - The Pryors
Temple Dinsley was sold to Major Henry Pryor of Clifton, Beds. His sons, Ralston de Vins (RDV) and
Geoffrey Pryor (GIE) were later involved in the running of the estate and collecting rents.
It is interesting that according to the 1871 census, Major Pryor's household at Clifton included a
visitor, William H. Darton, who was born at Kings Walden, Herts. Henry Pryor (31) and William (28)
were serving as Captain and Lieutenant in the 7th Bedfordshire regiment. Two years later, Henry had
purchased Temple Dinsley from William's brother, Captain Thomas Darton


For the story of the Pryor's and their purchase and
occupation of Temple Dinsley, click this

Link

:

Pryor family
See also the article

Link: Ralston de Vins Pryor
Meanwhile in the village, a new religious building was
consecrated on April 1877 -

Bunyan's Chapel.
It's story can be read at this

Link:

Bunyan's Chapel
Although the Pryors now owned the estate, they didn't live at Temple Dinsley - this
was still occupied by John Weeks until his death on 15 August 1879. Within
months, the pattern of letting the mansion was repeated when once again the
remaining lease of eleven years was advertised as being available on 6 December
1879. It was claimed that several thousand pounds had recently been expended on
the property.
The new residents in 1881 were Henry Brand (39) (shown right), his wife, Susan
and their five children. Henry was a magistrate and a liberal Member of Parliament,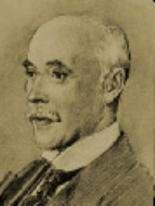 serving as Speaker in the Commons between 1872 and 1884. Following the death of his father, he
became Lord Hampden. He served as governor of New South Wales and was the greatx2 grandfather
of Sarah Ferguson.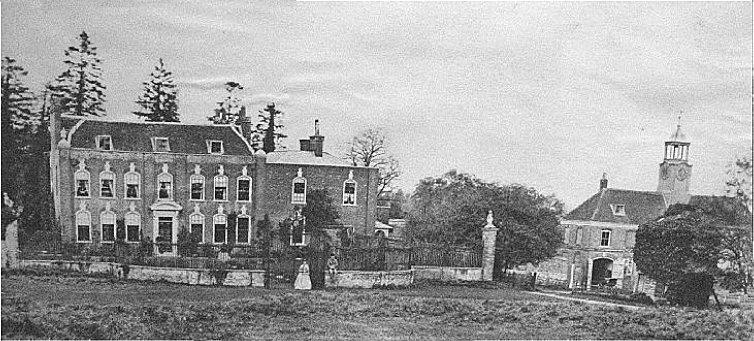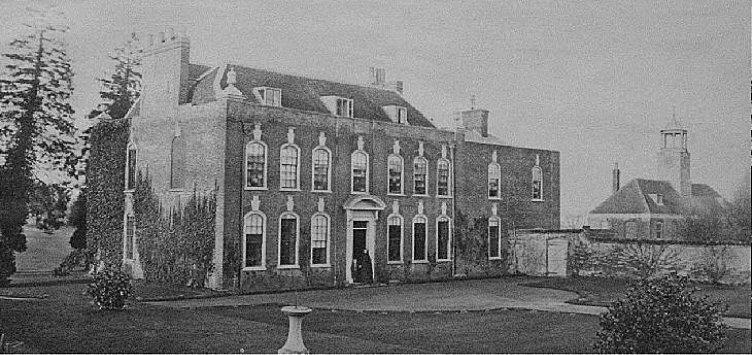 Views of Temple Dinsley and stables with 'Temple Clock' pre-1888
Fire destroys stables and Temple Clock at Temple Dinsley in 1888
The 'Temple Clock' (as it was known) regulated the lives of the villagers. During the Preston Hill
Robbery case of 1864 there were no less than three references to the clock, which helped to establish
time frames. From these comments, we learn that the clock could be seen from Preston Green - 'It
was about five minutes to nine by the Temple Clock' (the present-day wall was built around 1913.
Imagine the uninterrupted view of the mansion from the elevated position of The Green) - and that it
could be heard at the bottom of Preston Hill. The clock was destroyed by fire in May, 1888. This was
reported in the Hertfordshire Mercury:
FIRE.
Early on Wednesday morning the brigade was called to a fire at Temple Dinsley, the
residence of the Hon. H. Brand. On their arrival they found the coachman's residence,stabling,
coach house, fowl house and other extensive outbuildings, one mass of fire. The brigade
quickly set to work with their steam machine to prevent the fire extending to the house, which
they succeeded in doing. It appeared there had been a fire in the chimney of the building the
previous afternoon and it is supposed this was the cause of the outbreak. Six horses were
saved but the fire spread with so much rapidity that it was impossible tosave anything else. The
furniture in the coachman's house was all destroyed with a large quantity of hay, straw,
harness, a stack of hay and several carts.
In 1891, the lease of Temple Dinsley had expired and the mansion was unoccupied, although
probably the Brands had left earlier - the last of Mrs Brand's visits to Preston School was on 13 April
1886. The Pryors were settled at The Cottage. During the 1890s, Ralston Pryor had a new house built
near Preston Green, that was known then as The Laburnums and now as Pryor House.
Temple Dinsley was let to Mr and Mrs Frederick Macmillan - a name famous in
the publishing world. Frederick was an uncle of the future Prime Minister, Harold
Macmillan. The couple were settled there by October 1891 as Mrs Macmillan
visited Preston School then for the first time. They took an interest in Preston's
activities - Mr Macmillan (right) was Chairman of Preston Parish Council from
1894 until 1900. They were also involved in the building of St Martin's Church at
Preston. The Macmillan's began the subscription list with a gift of £100, served on
the Church Committee, donated a brass chandelier and Mrs Macmillan laid the
foundation stone of the Church on 11 November 1899.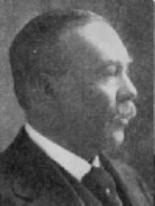 Mrs Macmilan often visited Preston School. (She was an American. One wonders how the children
responded to her accent). In July 1896, the school children were invited to their home for tea and a
treat. In December of that year, they gave the infants and orange and a basket of sweets while the
older pupils received threepence and an orange. In a hint as to the possible reason for the
Macmillans leaving Preston, it was noted in the school logbook that Mr Macmillan visited the school
on 14 December 1899 to tell the pupils that they would have the Christmas Tree after the holidays,
'owing to his wife's illness'. The Macmillans were not present at the consecration of the Church on 11
July 1900. The following year, Temple Dinsley was again vacant.
St Martins Church was consecrated at Preston on 11 July 1900.
Information about its building and consecration can be seen at
these

Links:

Correspondence

Consecration A new
Anglican Church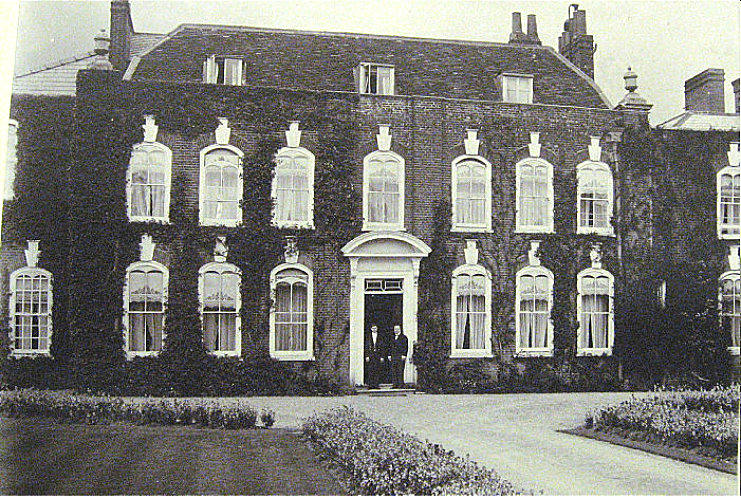 Details of James and his tenure at Temple Dinsley can be
read at this

Link: James Barrington-White
James Barrington-White: owner of Temple Dinsley 1901 - 1908
1903 Hugh E. Seebohm purchases Poynders End
To read of this family's fortunes at Preston in the twentieth
century, use this

Link: Seebohms at Poynders End
Herbert and Violet Fenwick at Temple Dinsley 1908 - 1918

The story and background of the Fenwick and Perkins families is
told at this

Link: Fenwicks at Temple Dinsley

The enterprise of Herbert Fenwick, who employed Edwin
Lutyens to embellish Temple Dinsley and build several houses
around Preston is celebrated at this
Link: Lutyens projects around Preston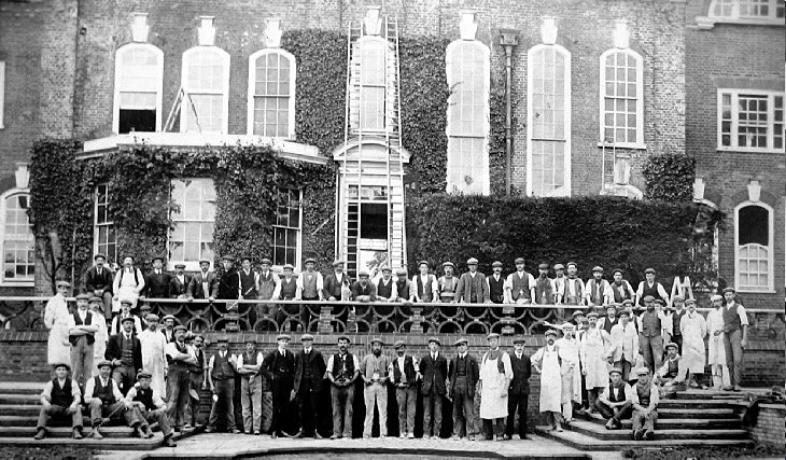 The reincarnation of Temple Dinsley and some of the workforce employed in its
reconstruction