Mrs Maybrick's Preston Scrapbook (1953): Part four
Views around Langley of four unidentified old houses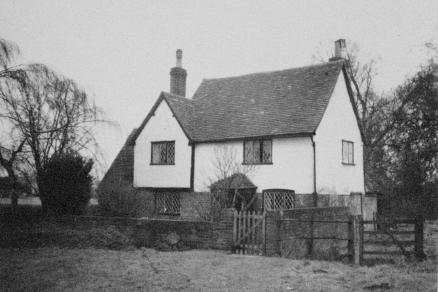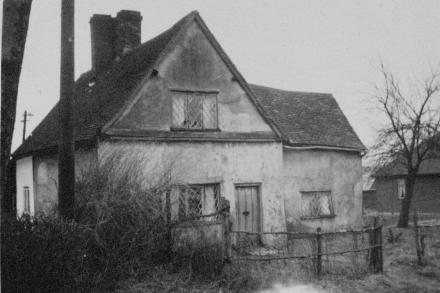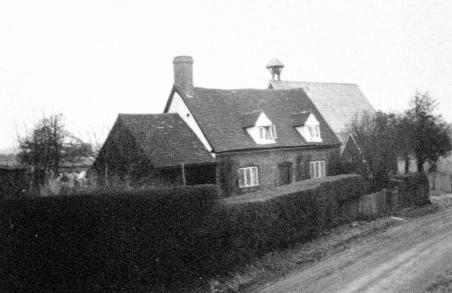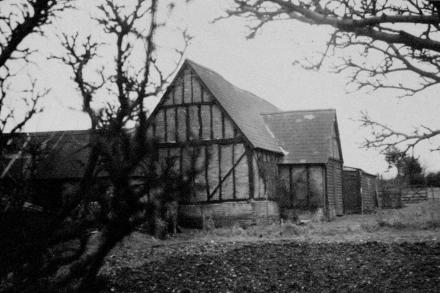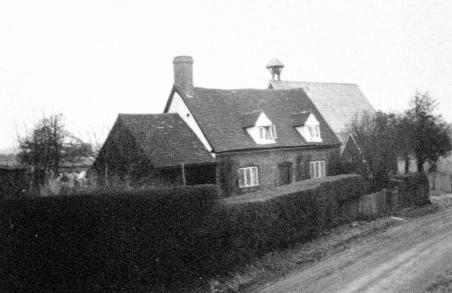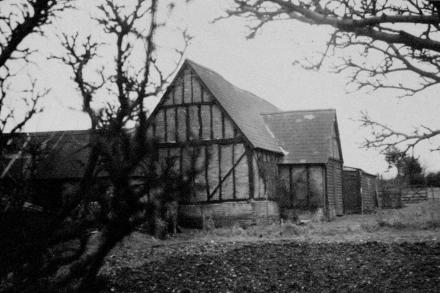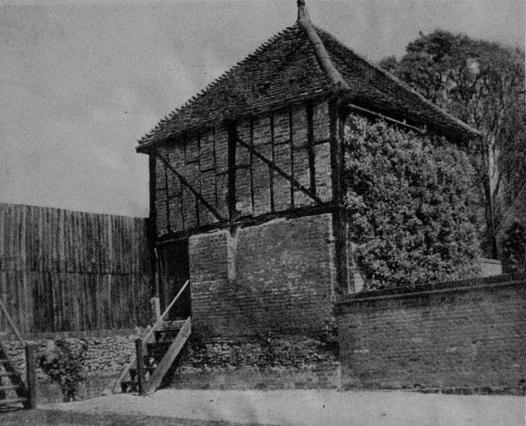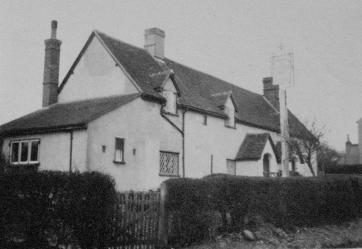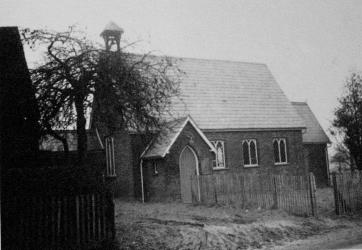 (Above) The Dovecote at Langley End
(Above, right)

The Farmer's Boy Inn
(Bottom, right) Langley Church
Minsden
Minsden was the link for hundreds of years between Langley and Preston, as they shared its ancient
chapel of ease. It is mentioned in Domesday Book as being taken over by William from Harold - so it
was a Royal Demesne. "Rated at 4 hides. The arable is 8 carucates in demesne. Two hides and two
virgates and a half and there are 3 carucates. Comprised of a Parson, 8 villaines, 2 cottagers and 6
servants. A meadow, a common for pasture and a wood to feed 30 hogs. The manor doth lie in Hiz."
This last statement was to cause some trouble later over ownership.
William rented it to several favourites and it remained a royal manor until King John sold it to Hugh de
Balliol whose family owned it for over a hundred years, until John de Balliol became King of the Scots
and forfeited all his lands in England; so once more it returned to the crown. Edward I bestowed the
manor of Hitchin on Robert de Kendale who took it for granted that Minsden went with it, but later the
Crown reclaimed it, and it Edward III's time it was bestowed separately on John de Beverle. After this it
was divided between daughters until it came as one property again into the hands of the Lytton family,
through them to the Brockets and the Reades and finally to the Dashwoods who still held it in 1874.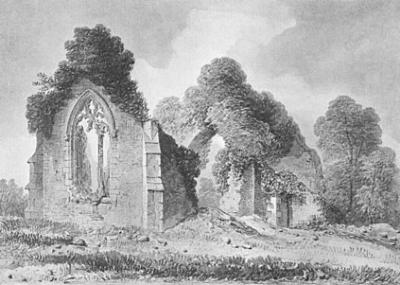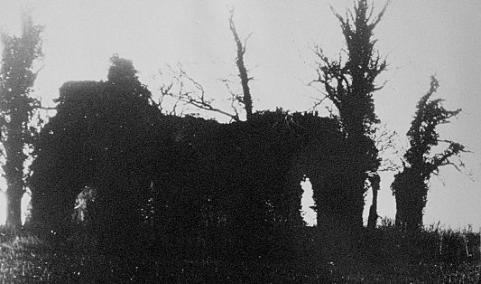 No trace of any buildings remain there, except the Chapel and possible the Royal Oak at Chapelfoot
may have belonged, as it stands alone with only the foundations of another cottage known as
Trunck's House a little further on.
In King Edward VI's reign an inventory was taken of the contents of the Chapel. It then contained:-
One Chalice of silver with a lead or tin bottom.
A Cross of copper with a cross cloth of green sarcenet (stened). One vestment of white damask.
A Corporous' case of tissue with a cloth in it.
Three playne aulter clothes.
Two bells in the steple.
One hand Bells.
On the strength of this statement, the people of Preston and Langley did try to raise money for the
repair and upkeep of the chapel, but unfortunately the men entrusted with the money died and it
could not be accounted for. In 1650, the Commissioners appointed to inquire into the state of
Ecclesiastical Benefices reported that there was a chapel, but they were ignorant of its value and it
had been destitute of a minister for many years, a curate going out from Hitchin when necessary, but,
that it could be made into a parish church
In 1688, more troubles came on the parishioners and they are found sending a petition to the Right
Hon., the Lords Commissioners for Ecclesiastical Causes pointing out that 'from tyme beyond the
memory of man, their ancient chapel of Minsden had belonged to the hamletts of Preston and
Langley which they had used for all Divine Services, christenings, buryings and other purposes'. And
stating that 'the Chapel had always been repaired at the costs and charges of the inhabitants of
Preston and Langley, on consideration of which they had always been free of all repairs to Hitchin
Church'.
Now Hitchin were bringing an action against them to make them pay for the repairs to St. Mary's.
Unfortunately Minsden's own Lord of the Manor, Sir John Reade, a Baptist, sided with Hitchin and the
case went against them so, from then on, they were compelled to pay for the upkeep of Hitchin
Church which meant that they neglected Minsden and it gradually fell into ruins. The last entry in the
register being a wedding in 1738 when part of the masonry fell on the clergyman's book and the
Chapel was considered to be unsafe for further use. After this the stones were removed by
unscrupulous people and sold as building material. Many buildings show signs of these stones, the
fireplace in the dining room at Redcoats being one of them. The East window of the Chapel is said to
be in St. Ippollytts Church.
About 1750, the following lines were written by a man named Wallis, an usher at Hitchin School:
The trees grew up around this ancient Chapel dedicated so long ago to St. Nicholas, and it became
shut in with undergrowth and soon got the reputation of being haunted. Many people making
pilgrimages on All Hallows Eve to try and see the ghost. A photographer from Hitchin actually faked a
photo of a ghost which fooled a learned society of Ghost hunters for a time (see below).
In modern times, the ruins were leased from the Vicar of Hitchin by Reginald Hine, the Hitchin historian
who fell in love with its quiet solitude and is now buried there.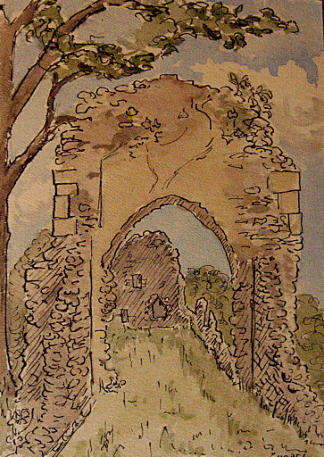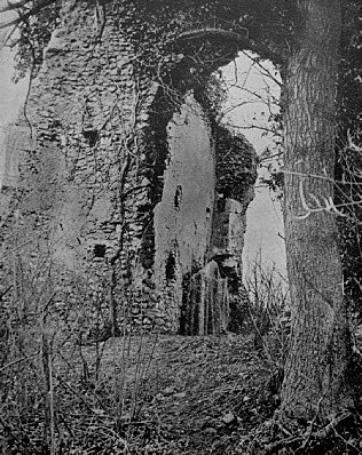 Straw plaiting
Straw plaiting as described by a Preston member who was
taught to plait at the age of 7 years:
"At the age of seven children were taught by their parents,
fathers and mothers, to plait the wheat straw gathered and
dressed from the harvest field. Some of the plait was
worked with split straw and some with whole straw. We did
twenty yards for a 1½ d. Seven straws in one pattern,
eleven in another and some in four straws. It was taken to
market in large bunches or links, say about twenty scores in
one's arms. The plait buyer would come and see the quality
and pay perhaps 2d or 2½ d for good work, give you a
ticket and tell you to go to some hotel yard, they would be
there to pay and then it would go into factories in Luton to
be made into hats. But now it is a thing that has faded out.
Men in early days could earn more at it than outside labour;
they used to take their straws and sit in the pubs and do
their plait. I have a straw mill still with which we used to mill
the straws and also the plaits."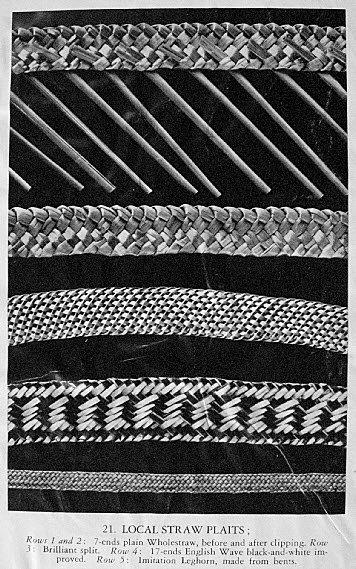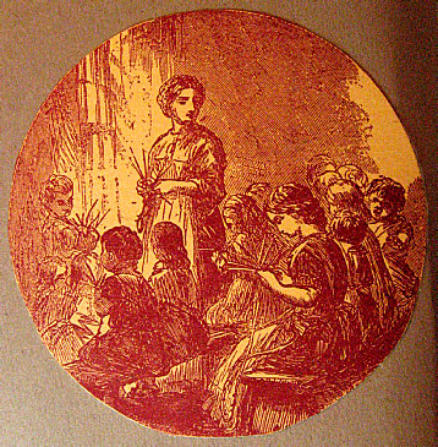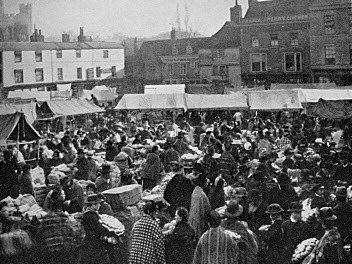 (Left)
A plaiting school
(Right, top)
Varieties of plait
(R, bottom)
Hitchin plait market 1865

Stone picking
Stone picking was done by the tougher women. This consisted of filling a wooden box measuring a
cubic yard with stones off the fields. When the box was full, they lifted it off as it had no bottom and
moved further down the field. For this they got 6d and, later, up to 10d a box. The heaps of stones
were picked up and taken in farm carts to the side of the roads to be used for road repairs.

Preston and Langley Women's Institute
The Institute was formed at an open meeting in the Club
Room on January 3rd 1919. At the first monthly meeting,
on January 8th, thirty seven members were enrolled, of
these, three are still members in 1953, Mrs. Worthington,
Mrs. H. Peters and Mrs. Corbett.
In 1920, they moved into the new room, called in the
Minutes, The Institute Room. It was built by Mr Douglas
Vickers and presented to MrsVickers on her fiftieth
birthday. Mrs Vickers was President at the time. In 1929,
the Institute seems to have petered out and was not
reformed until 1939, when Mrs Dewar, who was
President, brought Stagenhoe members along with her
and the name was changed to Preston and Stagenhoe.
After Mrs. Dewar's death, members found it difficult to
get from Stagenhoe to the meetings and so they dropped
out.
In 1949, it was found that Langley was too small to form
an Institute on their own, so they joined with Preston and
once again the name was changed, this time to Preston
and Langley.
The Presidents in order were as follows:-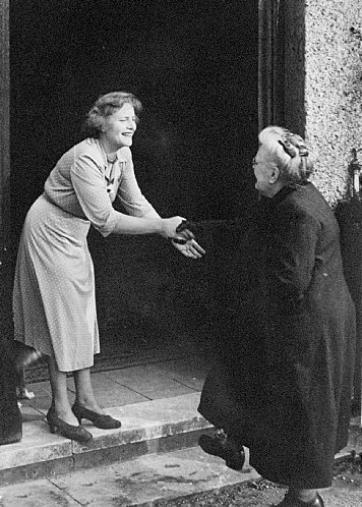 The Hon. Mrs Douglas Vickers 1919 - 1922
Mrs RJW Dawson 1922 - 1924
The Hon. Mrs Douglas Vickers 1924 - 1929
Mrs. MBU Dewar 1939 - 1943
Mrs. Hugh Seebohm 1943 - 1946
Mrs. Puxley 1946 - 1951
Mrs. Derrick Seebohm 1951 - 1953
Mrs. FB Geidt 1953 - 31
The President (Mrs D Seebohm)
greeting Mrs Worthington at
Poynders End

Farms
In recent times the farms have constantly changed
hands and their character has changed with each
succeeding occupant.
The soil is upper chalk and clay and looks as if it will
grow nothing but flints, it is actually good wheat
growing land and depended very much on sheep in
the old days. Today economic conditions and fertilizers
have changed all that and most of the farms have
dairy herds.
Minsden, which in Mr Dewar's time had Ayrshire cattle,
has changed to Friesians, so the weather vane in the
form of a cow, above the entrance to the Lutyens built
farm has changed its colour from brown and white to
black and white. These Friesians have done very well
in the show world, carrying off quite a number of
prizes.
Castle Farm, once the home of Mr Douglas Vickers'
famous Preston Herd of Wessex Saddleback Pigs,
has now a herd of Jersey cows. The honour of
Preston today is upheld by Mr. Reg Darton, of Castle
Farm, (above right) who has won prizes for ploughing
each year since 1948, including the Buntingford
Championship Cup and Challenge Cup for the best
ploughing in all classes and the Ist Prize and
Challenge Cup for the Kimpton District three times.
Fields round Preston seem to have taken their names
mostly from local characters or previous owners.
There is Jack's Piece, sounding like a folk dance,
Payne's Field, there are still Paynes in the
neighbourhood, Peg's Valley, Hearnsfield and Legatts
and then there are the Mimsells, probably a
contraction of Minsden as they lie near the Chapel.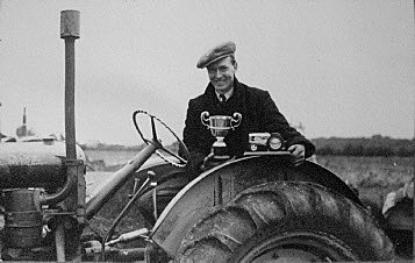 A Jersey cow at Castle Farm
"A mouldering structure then appeared in view,
Around whose top the creeping ivy grew,
Once a fair church adorned with curious art,
In crumbling stones now dropping part from part;
While thorns and briars interwoven round,
Vie with its top and fill the desert ground,
Denying entrance to the curious eye,
To view the graves that underneath them lie."