Preston folk must have breathed a collective sigh of relief when, in the late 1850s, William Pedder
moved to Tewin Bury, Herts to work for the farmer, Mr Denny - but he was soon to return to Preston.
William was born in a dilapidated cottage set back from Hill Farm Lane, a few yards north of what is
known today as

Reeves Cottage

. His mother was the twenty-year-old Sarah Cawdle Pedder who was
living with her mother, Ann, and grandmother, Phoebe Pedder. He was baptised at St Mary's Hitchin
on 28 June 1837 - when the family appear to be putting their affairs in order…..
William's early brush with the law
In December 1854, William (17) came before Hitchin magistrates and was sentenced to six weeks in
prison - one week in solitary and five of hard labour. These are the salient facts of the case: James
Mills and a friend, James Taylor, had briefly stopped at George Lake's farm on the Hitchin road at
Preston. When Mills resumed his journey, he saw William chasing his chaise, told him to go away and
then missed his whip (worth 7/6d) which was stored behind his seat. He drove back to William's
house, confronted him and when he denied having the whip, Mills went on to Hitchin and reported the
incident to the police.
They found William and his mother in The Bull at Gosmore. Sarah said that she hoped her son could
be forgiven - it was only done 'in a spree'. James Taylor, added that William had got onto the cart and
that he had threatened to knock him (William) off, whereupon he did jump off. He had waited at
Gosmore until Mills had returned to Gosmore with the police. William's defence was that one of the
men had struck him with the whip, that he had caught hold of it and kept it - a story denied by both the
travellers and was disbelieved by the Bench as he was found guilty.
Incarcerated within and escape from Dartmoor Prison
When employed at Tewin Bury towards the end of the 1850s, William proved an unreliable worker.
Had his employer been interviewed, he 'would say that Pedder was a man of nortoriously bad
character and had absconded from his service in a most disreputable manner'.
He was back at his old haunts by the end of 1859, and was living about half a mile from Preston.
John Jeeves (William's former next-door neighbour at Church Lane) kept a chestnut pony in a stable.
Early in the morning of 20 November, the pony was missing. Jeeves remembered that he had been
drinking beer only ten yards away from William the previous day at Ley Green, Kings Walden (an
encounter William was to deny -'It is false; you did not; I was not there at all on Sunday evening').
On Monday, 21 November, a man purporting to be employed by Mr Denne (sic) of Tewin Bury sold
the pony to James Pratchett at Barnet Fair for £2 15/- and was given a leaf from a pocket book as a
receipt. Jeeves and the police found the pony at the fair. William was tracked over a considerable
distance through London and the suburbs and was caught on 29 November at Holloway (which is
about thirty-five miles away from Preston). He was taken to Hitchin Police Station. During a search,
the pocket book, a Bible and a prayer book were found. A page in the pocket book matched the leaf
given to Pratchett who identified William as the man from whom he had bought the pony.
En route to Hitchin, William asked the police if 'there was not somebody at Hitchin whom he could
employ to get him off'. In court William declared 'He's made a mistake altogether in the person'; 'It's
all a mistake'. He was 'rather respectably attired and stood during the hearing as if totally
unconcerned in what was going on'. He was sentenced to four years penal servitude which he
served in Dartmoor prison.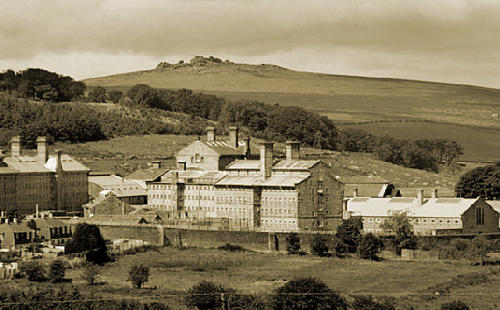 HMP Dartmoor was a solitary, isolated place. It was surrounded by miles of bleak and boggy
countryside. While several inmates managed to escape, most were found on the moors or were
spotted and reported by local people. Few escapees succeeded in getting away completely. William
was one of these. He was eventually recaptured by Supt Hawkes in Hertfordshire and 'taken back to
his punishment'.
William marries Jane Winch in 1864

William and Jane had ten children, seven of whom were still alive in 1911:

The whereabouts of the family are established by parish records and the census returns. They were
Preston residents until at least 1867. By 1871, they had moved to the Queenborough area of St
Ippollitts. Then, they gravitated towards the town of Luton and were at Stopsley certainly between
1879 and 1882. The censuses of 1891 to 1911 recorded them as living in a six-roomed home at 63
Cobden Street, Luton. Until that time, William was described as a 'labourer', but from 1891 he was
noted as a 'carpenter'.
In the county police's 'black books'
Despite settling down with a family, William continued to show his old traits. In July 1866 he was
charged by the Preston farmer, Mr Brown, with neglecting his work while in his service where he
worked as an odd(job?) man for eleven shillings a week. He was accused of leaving his work on
Saturday night without saying anything and didn't feed the cows the next morning so that Brown had
to feed them himself. William pleaded that he hadn't turned up for work as he had not been paid for it
and that his master had used improper language towards him. The case was dismissed.
The following year (September, 1878) William (41) was once again living at Preston - he was
described in court as an 'old offender'. He was accused of stealing apples from his neighbours
William Farr and Susan Currell (probably at School Lane). The fruit was found buried in his garden.
His case was not heard until November as he absconded, only to be arrested in Barnet. William
claimed someone had buried the apples in his garden through spite. He added that he had run away
as he had been in trouble before and because he wanted to keep his wife and family away from being
chargeable to the parish as 'they must do if he went to prison'. The bench did not believe him and
turned a deaf ear to his concerns. He was sentenced to gaol for a month with hard labour. The
newspaper commented that he 'had distinguished himself in other ways more ingenious than
creditable and is down in the "black books" of the county police'..
Then, in December 1868, Samuel Kirkby of Castle Farm charged both William and Jane with stealing
nine turnips. Several farmers had informed the police that turnips had been cut from their fields.
Investigating information they had received, PC Anderson found the nine turnips at the Pedder's
home. He asked Jane from where they had been obtained. She responded, 'You must find out!'.
William said he knew nothing of the matter except that his wife had said she had bought them. In an
evident attempt to confuse the issue, Jane called a witness who testified that she saw her get the
turnips not from Kirkby's field, but another farmer's land, Mr Roberts. However, the magistrates
established that the witness was related to the prisoners and was therefore discredited! In her own
defence, Jane declared that she thought she might like a turnip, so she went and got a few - but she
denied they were from Kirkby's land. She was fined 5/-.
William died at Luton in the June Qtr of 1919 and Jane in the December Qtr of 1925. They were thus
spared the knowledge of what was to follow in 1926 which involved their eldest son, Arthur William
Pedder: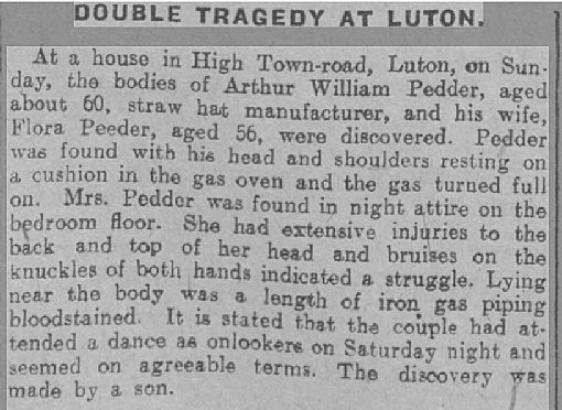 Sarah married the farm labourer, John Fitzjohn, at St Mary's on 20 November 1841 and ten years
later the family was settled in one of the five small cottages on the north side of the Kings Walden
Road (aka Church Lane) opposite Preston Green. William, now fourteen years old, was working as
an agricultural labourer.