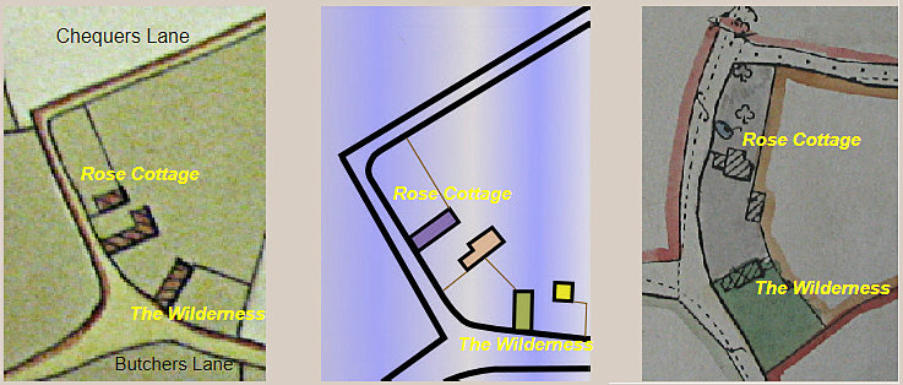 Preston Cottages: The Wilderness, Butchers Lane
Reproduction of maps of The Wilderness dated (l to r) 1840, 1873 and 1898.
A cottage had been demolished by 1898 (
X
)
The junction in Preston where the Charlton Road meets Chequers and Butchers Lane was known as
'The Wilderness' in the nineteenth century.
It was a busy corner. Although only three cottages stood there, two of them were shops where a
wheelwright and a tailor plied their trade. The plot occupied by the cottages measured one acre, three
rods and 38 perches. In 1873, a tithe of 11s 6d and rent of about £19 4s 0d was paid annually for the
entire plot. It was part of the Temple Dinsley Estate.
By comparing the details of the 1891 census (which recorded the number of rooms in the homes) with
the description of the cottages when the Temple Dinsley Estate was sold in 1873, it is possible to
establish who lived in which home during the 1800s. According to the Bill of Sale, only one cottage
had four rooms. This same document also mentioned that the property was a shop (tailor) and in
1873 was occupied by Hannah Saunderson. The Bill of Sale also describes another cottage at the
site. It was the hub of a wheelwright's operation and was occupied by David Scrivenor in 1873.
Rose Cottage
(the nearest cottage to
Castle Farm
) was in Chequers Lane. It had four rooms and
was constructed from bricks in a wooden frame and small red roof tiles.
From at least 1841, the Preston-born tailor, Joseph Sanderson worked here. He was helped by
apprentices: Robert Frazer and George Hankins in 1841, Alfred Tomlin from Bedfordshire in 1851,
Charles Cannon from Lewisham, Kent in 1861 and Thomas Franklin from Bedfordshire in 1871.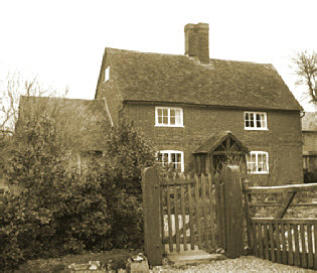 Joseph lived with his wife Hannah and daughter, Hannah
Harriett, who was born in Preston and baptized at Tilehouse
Street Baptist Church in 1837. Hannah, junior, married the butler
Daniel/David Frost and they and their five young children were
living in the cottage with her parents, Joseph and Hannah, in
1871.
By 1881, the Frosts had moved to Chequers Lane but David
was absent. The 1886 religious survey of Preston notes that
Hannah and David Frost were Baptists and that David, "lived in
London". Indeed, in 1881 he was serving the physician, Charles
Hare, at 57 Lower Brook Street, Westminster.
David Frost died in the late winter of 1899 and two years later his widow, Hannah Harriett Frost was
the Preston post mistress at

Spindle Cottage

on the Hitchin Road at Preston.
Meanwhile, at the cottage at

The Wilderness

, Joseph Sanderson had died in the late spring of 1872.
His widow, Hannah, was still in residence the following year when the Temple Dinsley estate was
sold, but she died in 1879.
By 1881, the cottage was occupied by farm labourer, Joseph Burton, his wife Catherine, and their five
children.
In 1886, the widow, Emma Marriott was living alone in the cottage; her two daughters being in service.
Emma and her late husband, Stephen Marriott, had worked nearby

Castle Farm

since the 1860's until
Stephen's death in the late winter of 1883. Emma was a Baptist. In 1881 the census recorded that
Mary Hudson, a Weslyan minister's wife, was residing with Stephen and Emma at

Castle Farm

. This
was entirely appropriate as historically, Castle Farm had long been associated with the Weslyans.
In 1891 -1901, Emma was still living in the cottage having been joined by her daughter, Mary. They
were recorded as 'living on their own means'. It was probably Emma who christened her home,

Rose
Cottage,
as the first mention of this name I have found was in the 1910 Rates Book. Emma Marriott
died in the late winter of 1908.
The southernmost cottage of the trio was located not in Chequers Lane but in Butchers Lane. It still
stands today and is known as

The Wilderness

. It also had a wooden frame, a roof of small red tiles
and today the walls have been rendered. In 1873 it was described as having three rooms, a bake-
house and a wheelwrights shop which helps to identify its occupants.
It is probable that the Wilson (aka Wilston and Wilstead) family of
wheelwrights lived at this cottage from at least 1841-61. Thomas
Wilson (wheelwright b 1780c) and his wife, Mary, married on
14 December 1797 at Offley. They were living at Preston in 1806
when there were seven in their household .
Thomas died in 1842. From 1851-61, Thomas' son, Daniel (baptd.
1809, Tilehouse Baptist Church, Hitchin) was certainly the
wheelwright in residence at the cottage. With him were his wife,
Eleanor, and children, Ann and Joseph. Eleanor worked as a
dressmaker and shirt-maker. In 1841, Daniel was a wheelwright at
Lilley Bottom in Kings Walden.
By 1861, their daughter Ann had married James Day, a tailor from
Baldock, and the couple were living with Daniel and Eleanor. Ann was
bonnet sewer, so the cottage would have been a hive of activity.
Eleanor Wilson was a widow in 1871 - so Daniel died between 1861-71. Although his son, Joseph
Dines Wilson continued the family tradition as the third generation of Wilson wheelwrights in Preston,
it is unlikely that he traded at

The Wilderness.
From 1871-73, David and Mary Scrivenor from Kings Walden were living at the cottage and he was
also a wheelwright.
Judging by his neighbours in 1871, Joseph Wilson was probably living in the area around Preston
Green with his mother, Eleanor and sister Ellen. Eleanor died in 1872 aged sixty-seven. David and
Mary Scrivenor died in the late spring of 1877 aged seventy-four and eighty-one respectively. They
were succeeded at

The Wilderness

by Thomas Smith, a elderly farm worker from St Albans, his wife,
Mary, and daughter, Ellen.
When Thomas and Mary died in December Quarter 1894 and the late spring of 1892 respectively,
their daughter, Ellen, remained at the property and was joined by her sister, Annie Sharp, and her
Preston-born husband, William, and daughter May. They were still at the property in 1901. The
industry associated with the house was maintained as William was a boot-maker and the sisters were
self-employed dressmakers.
The middle cottage of the three did not survive into the twentieth century - which probably indicates its
state of repair. It had three rooms and a cellar. From 1851-71, the agricultural labourer, John Sharp
(born at Preston 1816c) lived there with his wife, Mary, and seven children.
By 1881, their place was taken briefly by Amos and Elizabeth Fairey and their two children. Five years
later, Job Jenkins lived alone in the cottage and by 1891 it appears that the cottage had been
demolished.
Rose Cottage
and
The Wilderness
in the twentieth century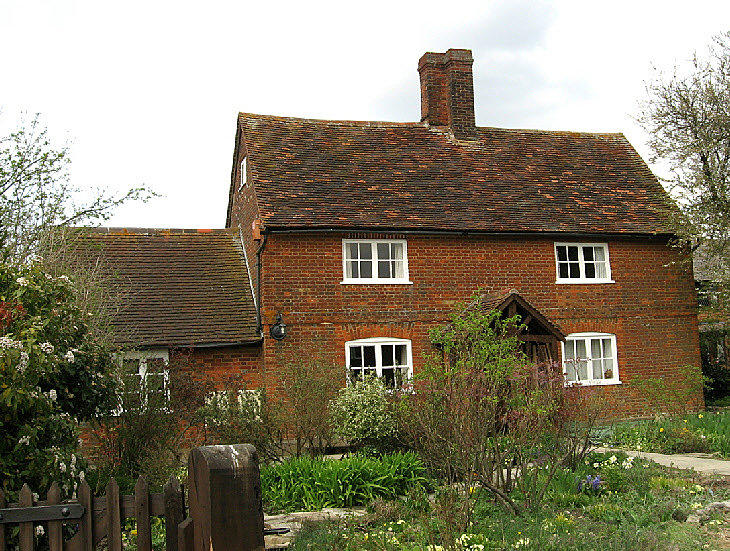 In 1901,

Rose Cottage

was owned and occupied by Emma Marriott, a seventy-nine-year-old widow
who lived there with her spinster daughter, Mary (45). The property, which was 'old, but in fair repair',
comprised of a living room, kitchen, scullery, three bedrooms, two attics and a wood/thatched barn.
It was assessed as having an early eighteenth century exterior, to what was probably an older house.
It was built using red narrow bricks in a Flemish-bond and probably as casing to timber frame. Also
in the eighteenth century, a short service wing was built on the west side which was set back from
front and large cat-slide rear out-shut which was rebuilt in the twentieth century with two hipped
dormers on its roof. The south front had a low stucco plinth, plat-band, two windows to each floor,
with a door between and gabled timber porch.
Emma Marriott died in 1908 and her daughter Mary (who had 'private means') continued to live at the
cottage with her teenaged niece, Mary Elizabeth Brown, for company in 1911. Emma was still there in
1914, but in December 1917, George Hobbs and his young family from London occupied the house
for a fortnight or so.
In the spring of 1918, Bertram and Nellie Moore were the new owners. They were in their early
thirties and had a young son, Bertram junior. Bertram snr was born at Aston in Warwickshire and
worked as a manager and traveller for the Mutual Benefit Stamp Company.
By 1924,

Rose Cottage

had new occupants - Bernard Daniel and Florence Hayton who had moved
from Shillington, near Hitchin. Bernard had been a Major in the Royal Army Pay Corps between 1914
and 1922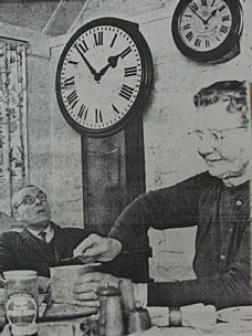 In 1934, forty-year-old London company director, Frederick Oxley
Blanchard and his wife, (Constance) Eva

(right)

, were ensconced in
the cottage they were to claim was originally built before 1620 - they
lived there until the mid-1980s.
Frederick was the Chairman of the Preston Parish from 1939 to 1945,
when he resigned as a protest against the action of the Housing
Committee of Hitchin Rural District Council. This appears to typical
behaviour by Frederick and Eva - 'they established themselves as two
of Preston's rebels. They don't retire from committees, they resign'.
'We may be a bit of a nuisance, but if something in the village is wrong
we kick up a fuss until it's put right,' said Mrs Blanchard. A colleague
on the parish council gave a wry smile when the Blanchard name was
mentioned. 'Oh yes,' he said. 'they stir things up occasionally, but they
have the interest of the village at heart and they are usually right.'
Frederick died at Stevenage in early 1979 and Eva in January 1986 by which time, Elizabeth Hunter
was living at the cottage. (Link:

Blanchards

)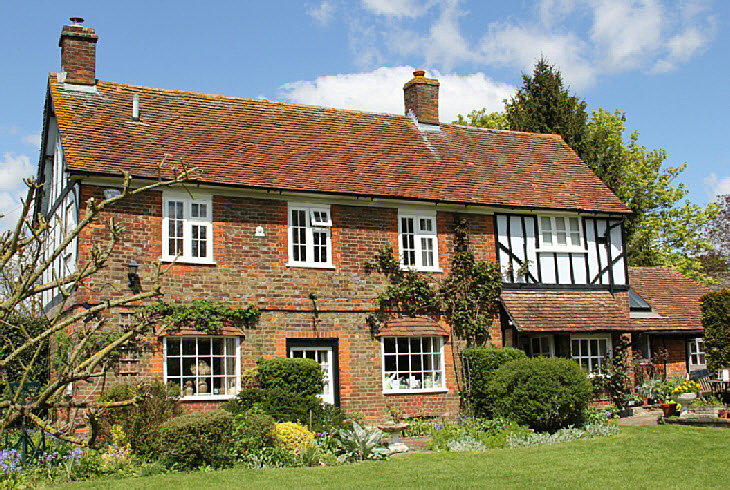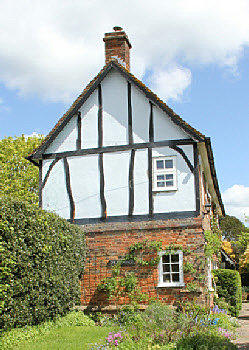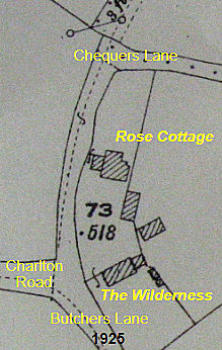 In 1901,

The Wilderness

was owned by William Sharp (born 1863c) who lived there with his wife
Annie and their daughter Ida May who was born in around 1892 at Esher, Surrey. William worked as
a bootmaker (1901) and a gardener (1911).
The Wilderness
was built in the early 1700s and has extensions to the east built in the eighteenth and
nineteenth centuries. It is constructed in plum brick in a Flemish-bond with red dressings. Rough-cast
has been applied to the first floor of extension and half-timbering to the front and upper part of west
gable end. There is a Sun Fire insurance plaque attached to the front of the cottage, which can be
seen in the photograph above.
In 1910, the cottage consisted of a living room, kitchen, scullery, three bedrooms and a barn and was
described as being in ' fair repair'. William was buried at St Martin on 30 November 1928, aged
seventy-three, and Annie on 4 April 1931 (75).
From 1934 until 1961,

The Wilderness

was home to the Sunderlands (

Link

:

Robert Sunderland

).
Then there was a succession of owners: Thomas D and Marie E Guilbert (1964); Ian P, Philip R and
Peggy Darby (1969) and James G and Marion G Litterick (1980 and 1985)