St Martin's: a photographic visit
In April 2009 I was kindly allowed to photograph the interior of St Martin's. The images
below may help us to visualize the baptisms, marriages and burial services of families in
the twentieth century.
Featured are the gifts to the Church particularly at its consecration.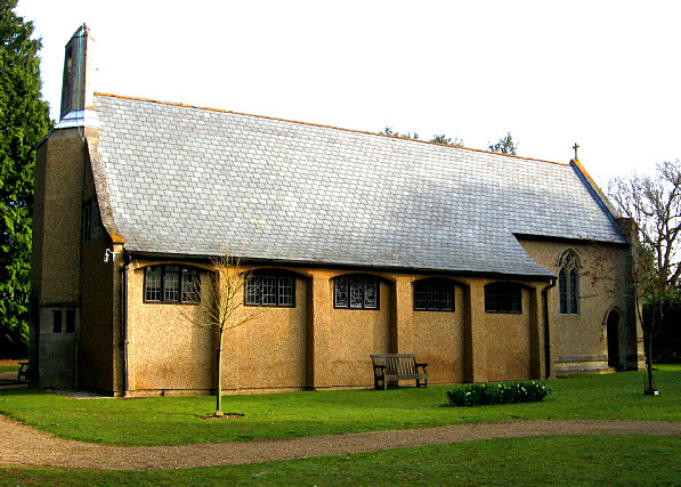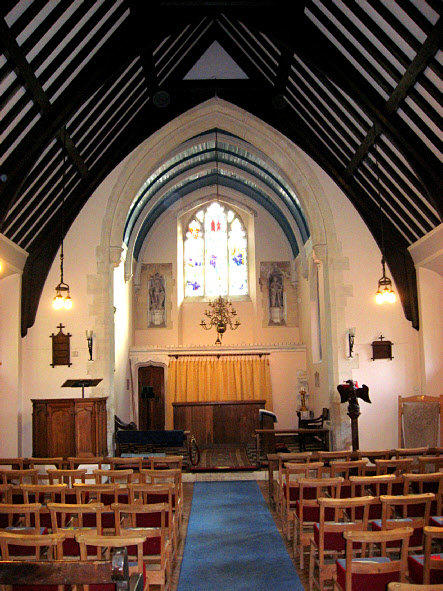 The chancel - shown at Lent when the Church hangings are removed.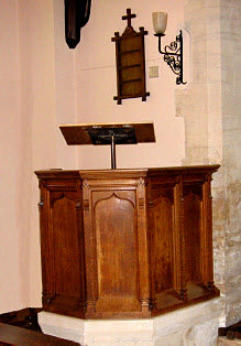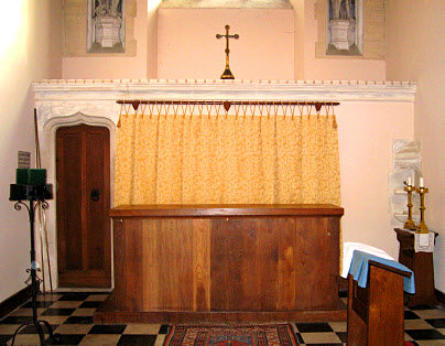 Mr Pryor donated the altar, made of oak
from his Clifton, Beds. estate
The oak pulpit was the gift of
Francis Newton of Hitchin as a
memorial to his parents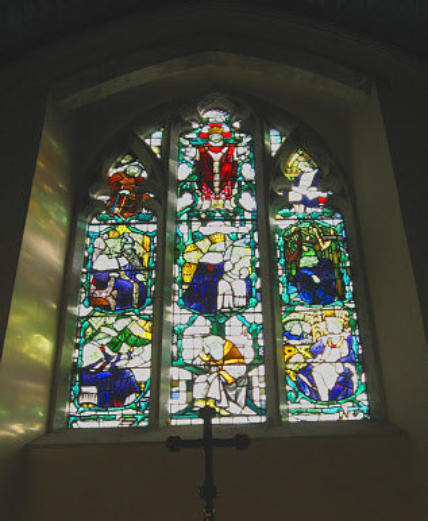 Christopher Whall designed this window which represents the tree of Jesse.
It is in memory of Thomas Warrin, Mrs MacMillan's father (1818 -1888)
and his wife and children.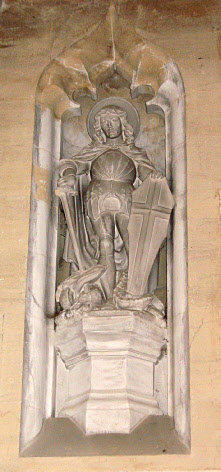 The statues of St George and St Alban were the gifts of Mrs Cazenove and Rev. Eadon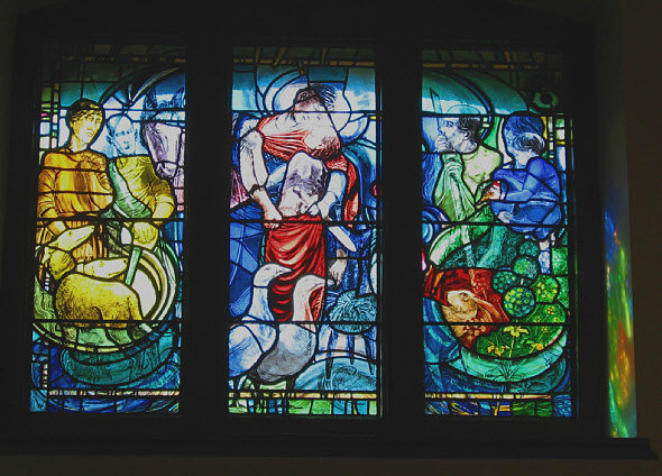 The Centenary Window, designed by Peter Caller and showing the life of St Martin
was consecrated on 16 July 2000.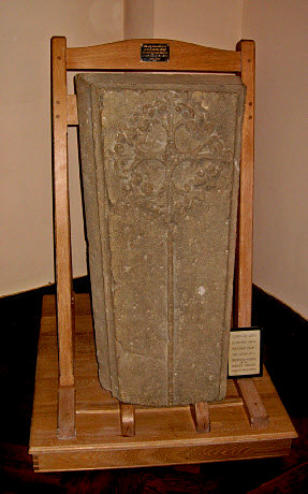 Mrs MacMillan donated the lectern. An 13th century coffin lid of Purbeck Marble discovered
at Temple Dinsley. The oak stand celebrates the life of Christopher Sansom (1945 -2001),
local historian.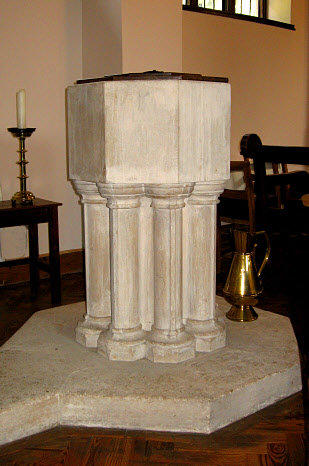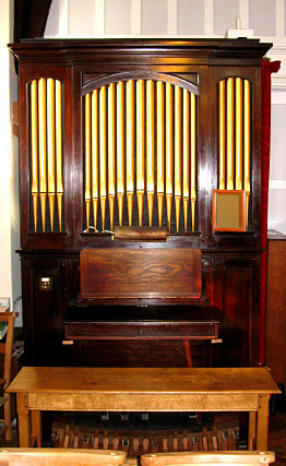 The font was contributed by Mr and Mrs Cazenove in memory of their baby. The organ -
built by Eagles of Hitchin in 1856 and customised in 1982.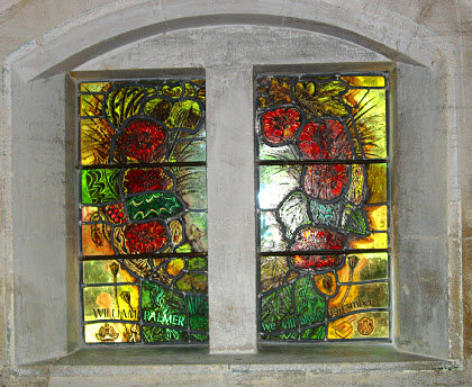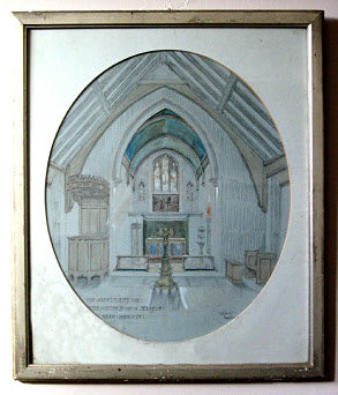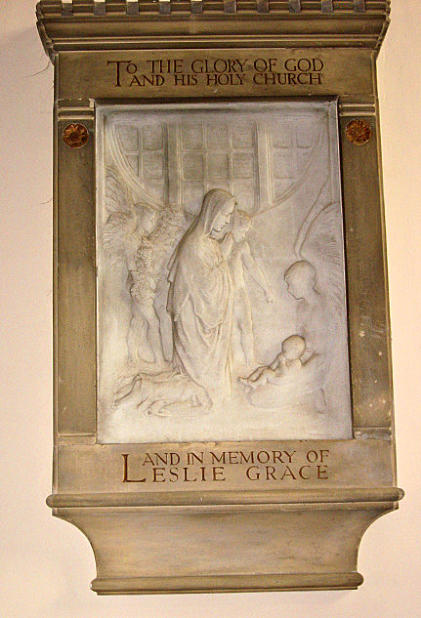 Memorial Window (known as The Wedding
Window) to William Palmer, designed by
Peter Caller and installed in the porch in 2001.
A drawing by Ruby Master: This was a
design for a mural intended to be hung
behind the altar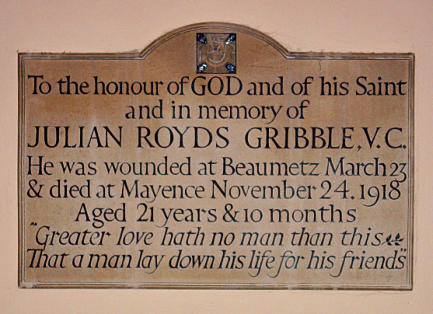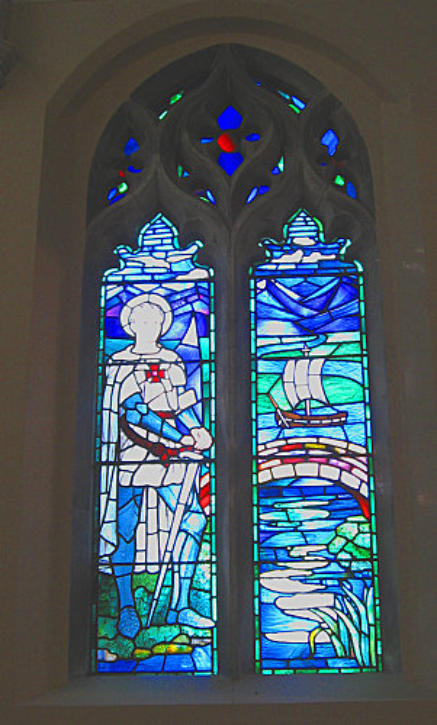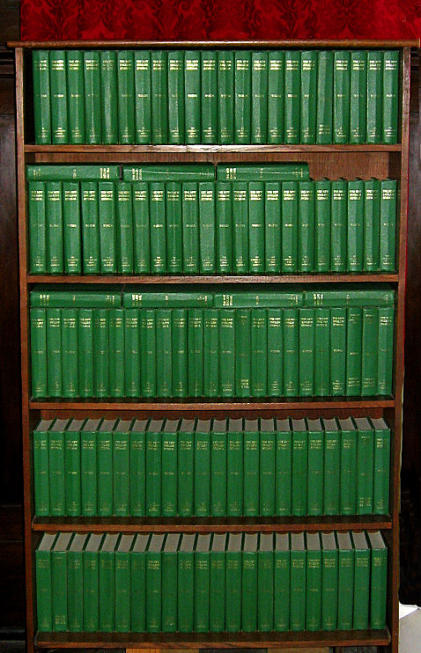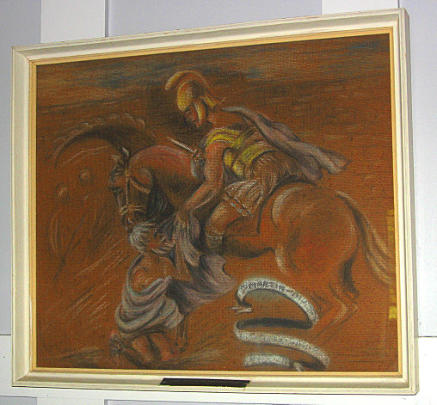 This wall plaque shows Mrs Leslie Seebohm
(nee Gribble) with her children represented
by an older cherub, two identical cherubs
and a baby
This window is in memory of Julian Gribble
VC. It depicts St Martin with Julian's face
superimposed. The window was re-dedicated
in 2008.
Above
, church warden, Frederick Geidt,
donated the oak book-case for hymn books.
Right,
a drawing of St Martin in the porch.
Below
, a selection of the hassocks created by
villagers, pupils of Princess Helena College
and friends around 1970.