Sir Joseph Child Priestley and Tatmore Place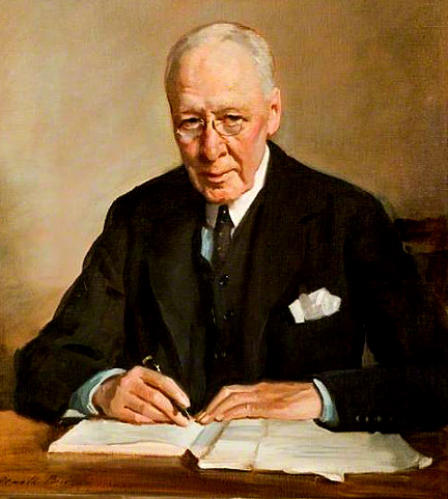 A newspaper obituary well encapsulates Joseph Priestley's early life: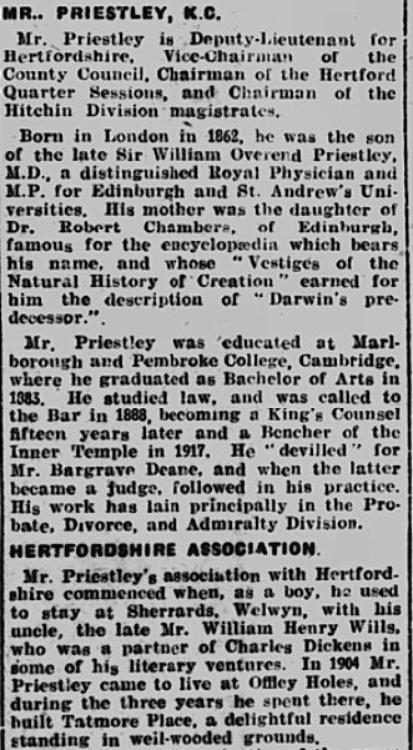 Tatmore Place
, near Preston, Herts.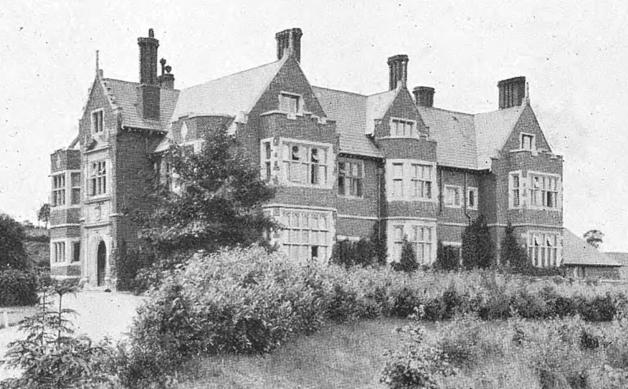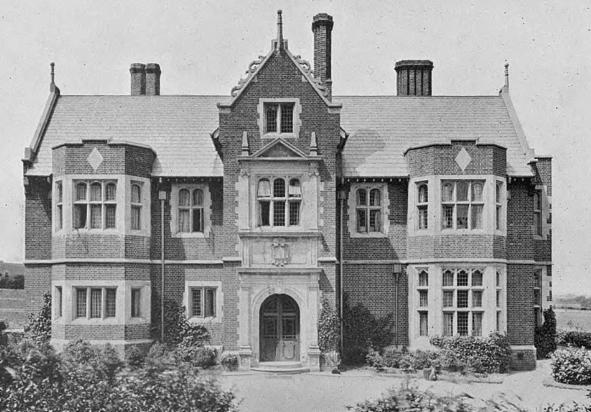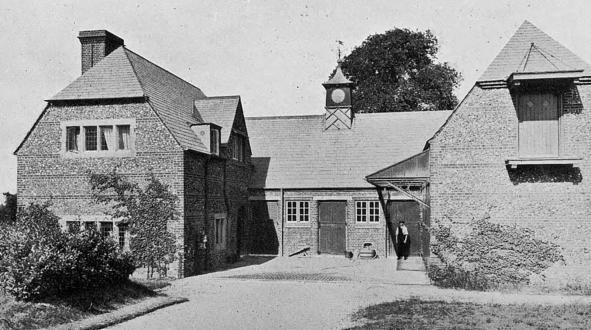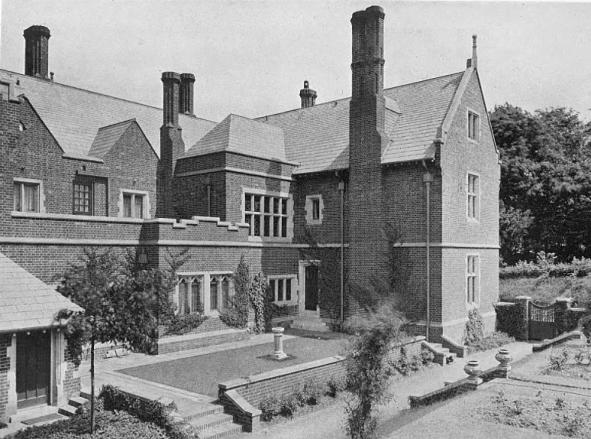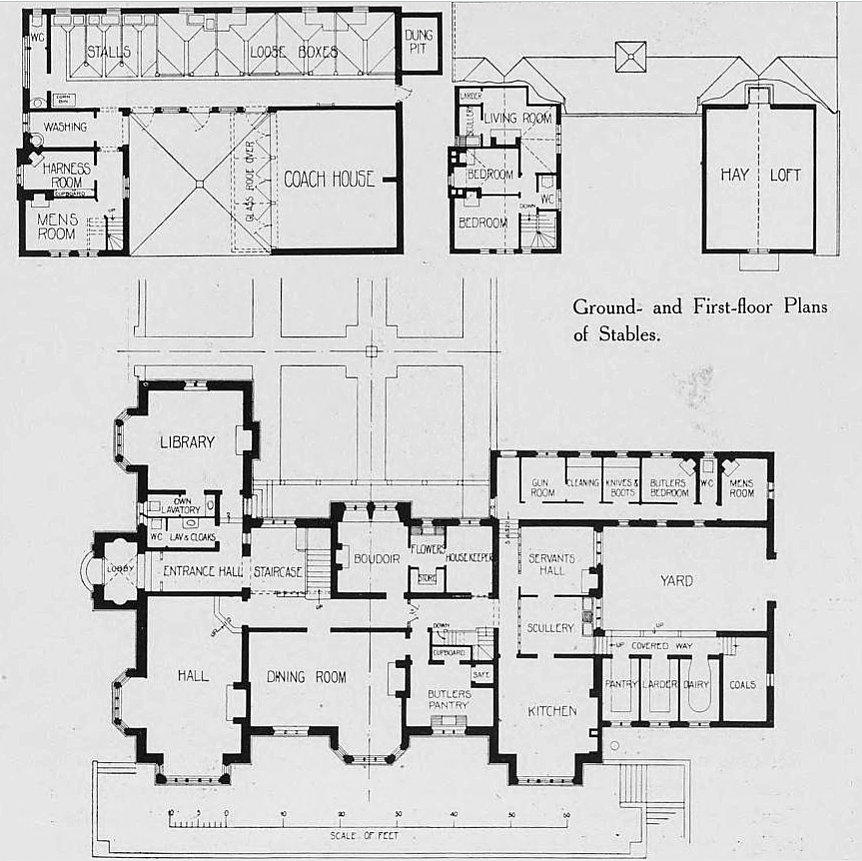 In April 1918,

Tatmore Place

was briefly featured in a news story: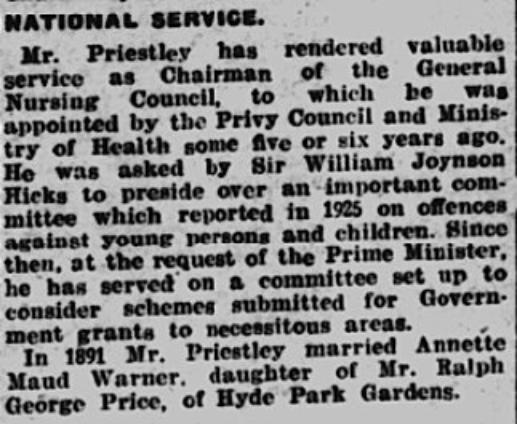 In 1926, Sir Joseph received a further award: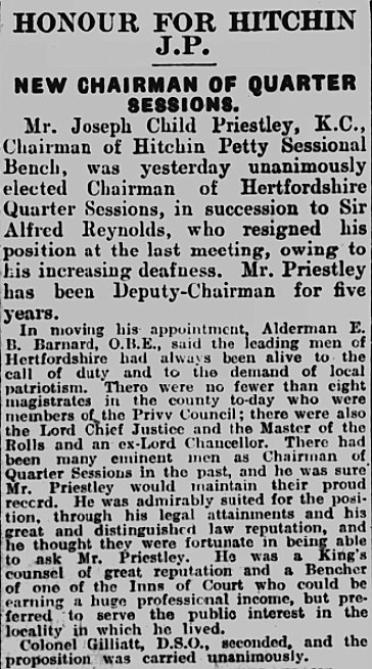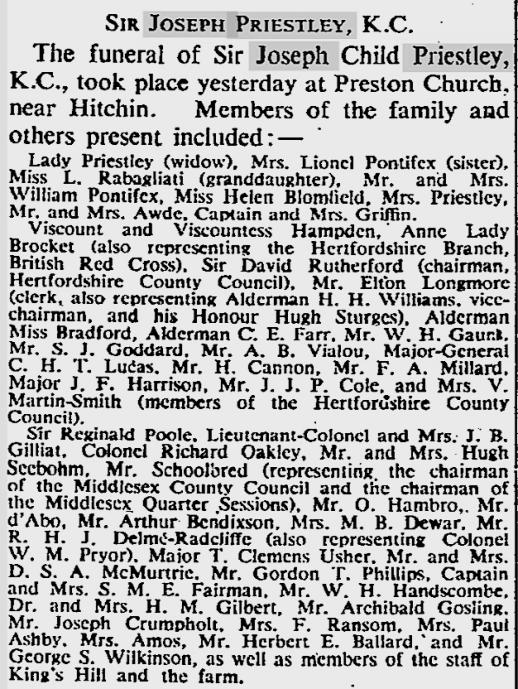 Re: Sir Joseph in Hertfordshire
The only reference I've found that describes Sir Joseph as being at Preston is of his attendance, with
his wife, at Mrs Hugh Seebohm's funeral at St Martin's in 1913. That is not to say that he did not visit
the village more often - and his wife is frequently mentioned in connection with Preston and the
couple made generous gifts to the village's community:
This honour was quickly followed by Sir Joseph's knighthood in 1927.
July 1910
Besides these over forty other prizes were distributed for the various subjects
included in the School course, the standard of proficiency being almost uniformly high. Special
prizes were given by Mrs. Fenwick, Mrs. Priestley and by Mr. and Mrs. Seeholm. Then
followed a display of singing, recitation and dancing under the direction of Miss Horsfield, who,
with her assistants, Misses Bertha Peters, Carter and Stoten, is to be congratulated on the
alertness of the children both in mind and body and on their evident enjoyment in what was
once upon a time regarded as the drudgery of learning. Cheers all round brought this part of
the proceedings to a close and introduced a feast of cakes, buns, and sweets kindly provided
by Mrs. Priestly and Mr. and Mrs. Horsfield.
Also:
Preston School Annual Prize Giving. Beside the mothers there were present Mesdames
Priestley, Horsfield, Willmot, Brown and Saunders, and the Misses Evans
January 1911.
Our best thanks are due to Mr. and Mrs. Priestley for a most acceptable gift of hanging and
other lamps for the use of the schoolroom and Village Club. They were badly needed and will
be most useful.
September 1925.
We have to thank Mrs. Priestley for kindly giving 20 new Psalters to the Church. The old ones
had become quite unusable.
December 1926
.The Day school has been thoroughly repaired and put in good order at a cost
of £64 and the Vicar acknowledges with many grateful thanks the following sums towards
meeting the cost of these repairs:- Major J. Harrison, £5; Mr. H. E. Seebohm, £5; the Hon.
Mrs. Douglas Vickers, £5; Mr. and Mrs. J. C. Priestley, £5; and Anonymous, £5. The Vicar has
also heard from the Diocesan Secretary that Betton's Charity are making us a grant of £15, so
that already we have £40 in hand towards meeting our bill of £64. January 1927.An admirable
children's entertainment organised by Miss Deed just before Christmas, resulted in £3 3s. 0d.
Being handed to the Vicar towards the expense of repairing the School buildings. Our very
best thanks to Miss Deed and to her pupils who did their part most extraordinarily well.
1926
The Vicar and Mrs. Routh want to say how very grateful they are to Lady Priestley and
Mrs. Dawson for asking them to the Guides' and Brownies' Tea Party pm December 19, and
so giving them such a splendid opportunity of meeting the children and their mothers.
February 1928.
Through the kindness of Lady Priestley, all the children are going to see
'Aladdin' – a pantomime – at the Playhouse, Hitchin this afternoon.
July 1941.
Sir Joseph Priestly, K.C. The gathering at the funeral service in St. Martin's Church, Preston,
on June 12 testified to the respect in which Sir Joseph Priestley was held. Owing to lack of
space it was not possible to accommodate the general public; only intimate friends and the
representatives of the county were present. The service itself was simple and dignified, as
befitted a man of simple and dignified character. It is not only Preston but all Hertfordshire
which mourns his death; and we wish to express our sympathy with Lady Priestley in her loss.
The Priestleys first moved to the Preston area in 1904 when Joseph rented Offley Holes House,
signing the lease
on 21 March 1904.
Link:
Offley Holes House
.
Six years later, they had moved
to the newly-built,

Tatmore Place (architects John Belcher and JJ Joass),

which nestled in the
countryside off the Preston to Gosmore road. Here, the whole family settled with Douglas (17)
and Monica (13) and five servants in the twenty-five-roomed mansion, as noted in the 1911
census.
By September 1939, the Priestley's had moved from

Tatmore Place

to nearby

Kings Hill

, which was
'in the course of erection' when Sir Joseph made his will in October 1938.

Tatmore Place

its

Lodge
and

Stable Cottage

were empty. It is listed as having non-domestic use since 1939.
Their son, Douglas, died less than two years later. Sir Joseph died on the 9 June 1941, five months
after his son had passed away. He was buried at St Martins, Preston (being re-united with his wife
there in 1946). Several obituaries were published, including this in

The Times (below left)

: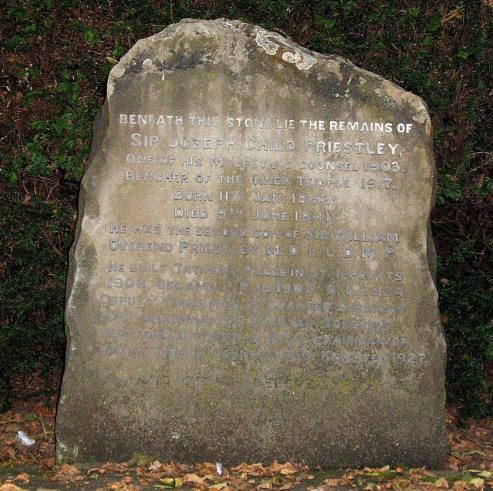 Sir Joseph's will was signed on 20 October 1938 and a codicil was added on 25 April
1940. Sir Joseph's net estate amounted to £102,396 from which was deducted around a
quarter in death duties (£27,102). However, when attempting to calculate the income
generated for the shares mentioned below, it should be remembered that much of the
estate was initially tied up with the two properties,

Tatmore Place

and

Kingshill

.
College Field
in St Ippollitts parish (8 acres and seven perches) was left to his wife.
If he owned

Seven Acres

in St Ippollits (purchased from Douglas Vickers in 1931) at the
time of his death, on which

KIngshill

was being built, this and the mansion were left to his
grand-daughter, Monica Rabagliati.
He left to his wife £2,500 and his watches, jewels, trinkets, ornaments, clothes, furniture,
plate, glass china, books, pictures, prints, musical instruments, horses, carriages, motor
cars, tools and implements and farming stock.
Sir Joseph's assets were to be sold and the income from this was to be paid:
2/12ths to his son Douglas, or his wife or any children in the event of his death. This
share was to be assigned to Sir Joseph's wife if no-one qualified to receive it.
2/12ths to his daughter, Monica and on her death, to his grand-daughter, Monica Loretta
Gabagliati (MLG) and any other children of his daughter. This share also was to be
assigned to Sir Joseph's wife in the event of no-one qualifying to receive it.
2/12ths to grand-daughter, MLG. If she died, it passed to anyone she was residing with of
whom the Trustees approved and thence to any children of MLG.
6/12ths to his wife. On her death, to MLG.
(Note: Because 1) Douglas predeceased his father without re-marrying and without issue
in 1941 2) Annette died in 1946 (her estate was valued at £32,695) 3) Monica died after
remarrying, apart from monies paid to Monica's husband (who had an estate of £24,300
when he died), Sir Joseph's entire estate ultimately devolved upon his grand-daughter
Monica Loretta Rabagliati except for these bequests: £1,000 to North Herts and South
Beds Hospital and £1,000 to the Bar Benevolent Institution and payments due as a result
of his daughter's postnuptial settlement dated 29 March 1917 which were to be paid out
of his daughter's 2/12ths share.)
Douglas Ralph Overend Priestley
Douglas enrolled at Pembroke College, Cambridge in 1912, but his studies were interrupted by WW1.
He enlisted as a Second Lieutenant at the beginning of the war and fought in France as part of the
Expeditionary Force between April 1915 and November 1916, when he was a Captain in the Royal
Engineers, Signal Division. It was then that he was awarded the Military Cross :

The Gazette - 16 November 1916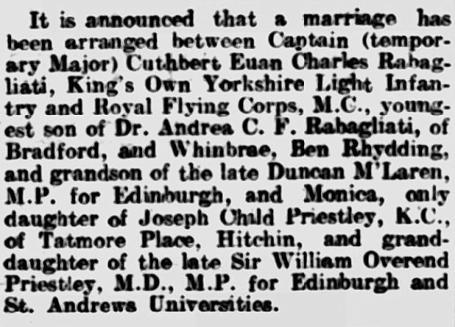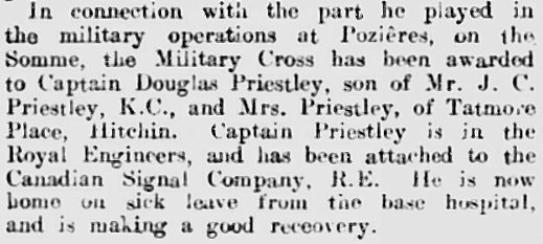 Hertfordshire Mercury - November 1916
Perhaps the news of Douglas' 'good recovery' was optimistic because in
1939 The Register noted that he had been invalided from the Army in 1918,
that he was receiving a pension and that he had been incapacitated since
1918, He was of 'private means'.
Probably because of his injuries incurred on the battlefield, Douglas
received the Silver War Badge on 24 November 1918 which was delivered
to the terraced house, 60 Northumberland Street, Edinburgh (shown right).
He married Phyllis Ida Marie Heald during the last quarter of 1920 in the
Hitchin Registration District (not at St Martin's, Preston; maybe at St
Ippollitts). Sadly, Phyllis died about a year later at Villa Dolcequa Chemin de
Brancolar, Nice, France on 15 December 1921.

Tatmore Place

was given as
her home address. Her estate was valued at £260.
In 1939, Douglas was not living with his parents, but with his mother-in-law,
Annie Heald at Panorama Road, Mount Pleasant, Poole, Dorset.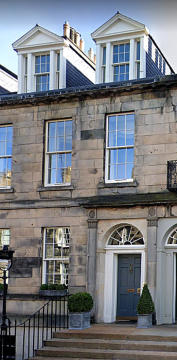 He died at 24 Forest Road, Branksome Park, Bournemouth, eighteen months later, on 13 January
1941, leaving an estate of £330:
The Priestley's daughter, Monica, married thrice. Her first husband, Cuthbert Rabagliati, (1 January
1892 – 6 January 1978) was a British soldier (decorated with the Military Cross), pilot, racing car driver
and intelligence officer. He served in the Royal Flying Corps (RFC) during the First World War and is
credited as being the first RFC pilot to shoot down an enemy aircraft. During the Second World War he
served as head of MI6's Dutch section.
The couple married at St Ippollitts on 2 December 1916, the day before Monica's nineteenth birthday.
They divorced in 1922 and Monica quickly married Robert Bernard Waterer (a solicitor in the Civil
Service in 1939 and who received a knighthood in 1955) in the summer of that year. Now follow three
items of relevant information:


From The National Archives
(I am not inclined to download these documents, which are usually detailed. Their essence is clear)

Armorial Families Vol 2 1929
Monica then married the bus driver, Stanley D Awde. The 1939 Register shows them at
17 Horseshoe Lane, Watford, Herts. - a small, detached bungalow:
Their attendance was noted at Sir Joseph's funeral (see earlier).
Monica passed away at Watford in early 1946. Stanley died at the 400-room hotel for single men
Manor Guildhouse, Heather Road, Coventry on 20 August 1976 (estate valued at £23,400).
This brief synopsis of the lives of Sir Joseph and Lady Annette's children may explain why in his will
Sir Joseph used terms such as "children and remoter issue" in connection with his children and
having his trustees 'approve' of anyone with whom his grand-daughter was residing.

Monica Loretta Rabagliati
In 1939, Monica jnr, (aged twenty-one) was living with her grand-parents and helping in their garden.
This website features the story of Arthur Cook who gardened for Monica at

Kingshill

until around
1950. Link:

Arthur Cook
Monica never married. A few years before her death, she set up a charity,

The Monica Rabagliati
Charitable Trust
which issued grants of between £500 and £10,000 which were primarily intended to
support organisations focusing on the alleviation of child suffering and deprivation. In 2015, the Trust
had an expendable endowment of £1,935,081.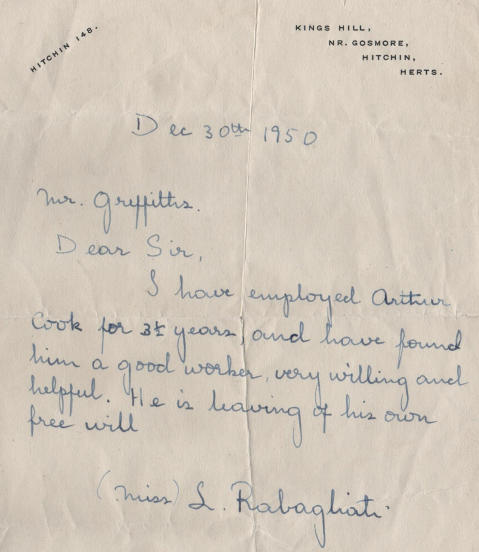 Arthur Cook's letter of recommendation from Monica
Monica and Robert divorced in 1935 (both remarried in early 1937).
Monica Lorreta Rabagliati's will and estate
Monica died on 13 May 2000 at her home "The
Frith", Thurlsey Road, Elstead, Surrey - a three-
bedroomed, detached house (right) with a value of
around £1.3m in 2021. Her net estate was valued as
£2,403,746.
She left the portrait of her grandfather to Hambros
Bank, the Royal National Lifeguard Institution: £10K,
the Cats Protection League: £10K, Mrs Gladys E
Stevens of Hove: £5K, "The Frith", to Raymond and
Edith E A Milligan (who married at Hitchin in 1948)
and the residue to her Charitable Trust.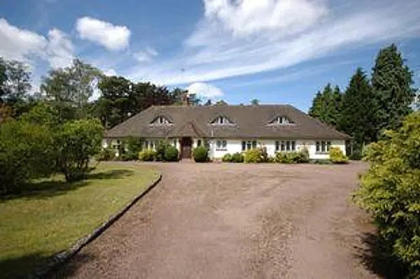 Her will, as with her letter above, was signed "L Rabagliati"