Princess Helena College at Temple Dinsley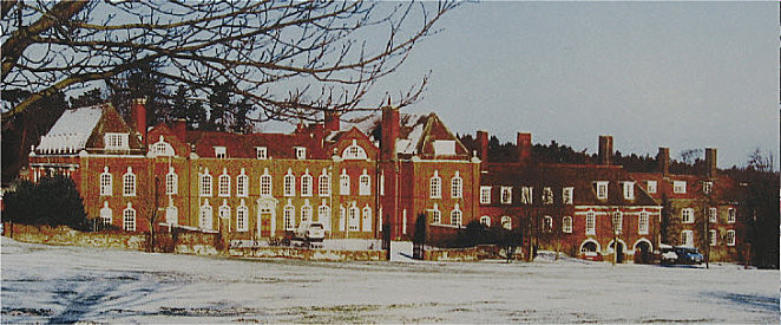 A letter to

The Times

dated 10 April 1975 from the incumbent headmaster of Princess Helena College
(PHC), Donald Clarke, serves to introduce our subject.
Dr Clarke, evidently irked that two other colleges had boasted they had pioneered academic
education for girls in around 1850, issued this robust rebuttal: 'The Princess Helena College was
founded in 1820, originally occupying premises at St Andrew's Place on the west side of Regent's
Park (London) and it has long claimed the above distinction.
'A wide curriculum was followed. The girls were taught to be "mistress of the English language and
Arithmetic; to write and read French grammatically; to be well grounded in Sacred and Profane
History, Chronology, Ancient and Modern Geography and the use of the Globes; perfect in the
Rudiment of Drawing and the Theory of Music". Italian and landscape were also referred to as
subjects but the girls did not learn Latin until 1841.
'As the original purpose of the school, which it successfully fulfilled, was to equip girls to be
governesses and teachers, I wonder whether it might also claim to have been the first teachers'
training college'. One suspects large sections of Dr Clarke's original letter may have languished in the
Editor's waste bin – he wrote a 300-plus-page book about PHC,

The Daisy in the Broom (The Story of
a School 1820-1958).
The 'Adult Orphan Institution' that was to become PHC was established at 32-33 Mornington
Crescent, Hampstead. While having a wide syllabus, it had a narrow uptake of daughters of
'deceased Anglican Clergy and of Naval and Military Officers who had perished in the Napoleonic
Wars.' The students attended from the age of fourteen until their majority.
As time ticked by, the pool of potential scholars understandably shrank but the Crimean War provided
a silver lining for PHC as its consequences widened the College's catchment potential. PHC also
began to accept daughters of East India Company officials.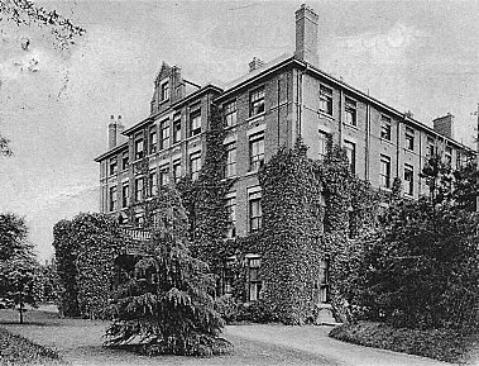 It was in 1875 that Queen Victoria's third daughter, Princess Helena gave the school its title and PHC
became a Public School. As a result, numbers gratifyingly swelled and a new, West London home
was found for the college at Eaton Rise, Ealing

(shown above).
However, privacy became an increasing issue as London sprawled and the relative remoteness of
Temple Dinsley at Preston was alluringly attractive....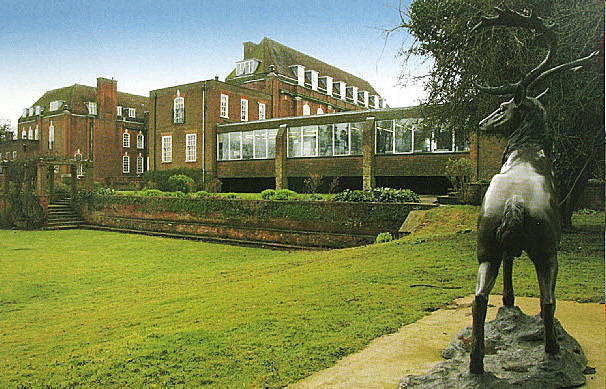 This article focuses on the easy relationship between PHC and Preston. My impression is that for
decades the College has deliberately integrated with the village, has provided considerable local
employment (occasionally advertising positions in Preston's Parish Newsletter) and has allowed
Preston folk to enjoy some of its facilities. The safety of the girls is clearly a priority – on my only visit,
I was pleasantly monitored and when taking photographs, it was understood no students were to be
included.
It is intriguing to wonder how Preston reacted to the notion of an upper-class girls College on its
doorstep in 1935. The villagers had co-existed apprehensively with the previous owner of the
mansion, the Countess of Carnarvon, refusing point-blank (from squeamishness or superstition) to
help unwrap mummies recovered from the pyramids. They had also seen a steady turnover of Lords
of the Manor (four) since 1901.
From the new headmistress, Vyvyen Prain's, perspective, there was the preoccupation of how many
pupils could be enticed to Hertfordshire's seclusion – that, and would the mansion be ready for them?
When she arrived, the house was full of noise and dust; she had no hot water or electric light and
eight short weeks to lick the house into shape. She banked on prospective parents seeing 'the
advantages' Temple Dinsley had to offer. The upstairs was converted into dormitories, kitchen and
dining rooms were installed and in the following year the west wing roof was cranked up to provide
still more accommodation. An art studio and music wing followed – the total cost of purchase and
renovation being £48,712.Yet, when war was declared, the move seemed most providential.
In the winter of 1935/36, 'with a Christmas-card effect, the sun shone on a white landscape as we
walked through the garden to the little church just beyond the gates – a church as white and simple
as one always expects a village church to be', wrote Miss Prain. St Martin's was to be probably the
main point of contact between Preston and PHC.
When the renovations had been completed, the mansion was rejuvenated. White paint was stripped
to the bare wood below and the lily pond became a swimming pool. However, Gertrude Jekyll could
otherwise relax – her outdoor creations survived mostly intact - of necessity, possibly, as these were
among the Unique Selling Points for interested parents. In 1938, there were more than a hundred
students aged from 11 to 18 at PHC.
At morning break, the village baker arrived with a delivery of fresh hot currant buns, eagerly
swallowed with cocoa or orange juice, depending on the weather.
Princess Helena College and World War Two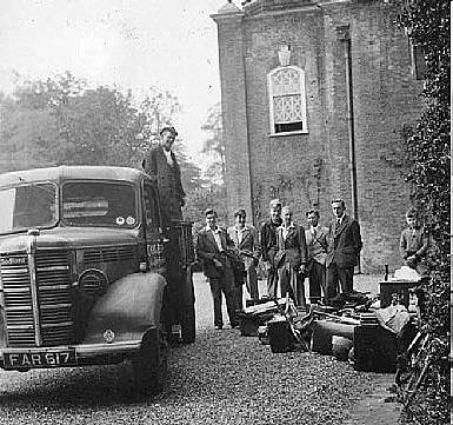 When Hitler turned his menacing attention westwards, Preston was declared, 'safe' but the Tudor
cellars of PHC were nevertheless swept, whitewashed and pressed into service as bomb shelters.
The gardeners roofed over a chalk pit in a nearby wood. This was stocked with tinned food and
christened, 'Hitler's Hall'. Three bombs, two of which were duds fell on local fields as well as the odd
German plane and three V1 rockets.
Preston was temporary digs for evacuees and some were boarded in the art studio. Included among
the nomads were nurses from a bombed London hospital, overseas airmen, children of French
resistance fighters and lucky lads from Watford Grammar School (with holes in trousers and socks)
who were employed to harvest crops on nearby farms.
Even the young ladies of PHC pitched into the defence of the realm, weeding-out charlock and
thistles in the fields and tending the cottage garden. In the autumn, they were driven out to farms on
lorries to dig potatoes.
The school was untouched by Germans, but marauding Canadian soldiers appropriated a lead
gazelle - one of two that were perched upon the main gate pillars. (The drive was known as 'Gazelle
Drive'.) Its partner was rescued and re-located by the Arches Pool until it too was stolen in 1989. In
1942, Temple Dinsley was almost requisitioned to serve as part of the war effort. One of childhood's
great enemies, measles, came to the rescue so that only The Lodge was taken, along with land near
the games field which was filled with mobile guns and army vehicles. Soldiers entertained the girls
with gun drill; girls entertained the men with lacrosse and tennis.
After peace broke out, in 1947, Princess Helena died. She was succeeded as President by the
Duchess of Gloucester who visited PHC in 1952. Eight years later, in 1958, Miss Prain left (and was
replaced by Miss C J Stratford) and she died in 1983. She was remembered at a memorial service at
St Martin's. Miss Stratford was replaced by Dr Clarke in 1971. (Dr Clarke died at Edinburgh in
November 2010)
To illustrate the close relationship between PHC and the village, circa 1970, Mrs Maybrick arranged
for some new hassocks for St Martin's to be stitched and made-up. Volunteers included villagers and
pupils of PHC.
In recent years, PHC has opened its doors for several village functions. They include: the annual
Preston Trust Supper; Friends of St Martin's events such as Barn Dances and Suppers; an annual
Summer Ball; Family Fun Days; Christmas Fayres and Markets; Ladies Self-Defence Evenings;
BBQs and hog roasts, Jazz Lunches and Guy Fawkes Bonfires.
I began this article with a quote from a PHC Headmaster – I will end with another, to highlight the ties
between the village and the College. When Anne Marie Hodgkiss left PHC in 2008 after eleven years,
she wrote, I have 'enjoyed being part of the very special community of Preston...I have always been
made to feel welcome at village events'. Writing of St Martin's and the Preston Parish Council, she
added, 'I have especially enjoyed PHC links with both.'
Recent collaborations between PHC and Preston
The Hitchin Comet
announces that PHC is set to close on 31 August 2021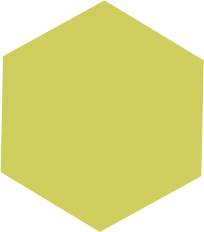 For
latest news
scroll to
bottom of
page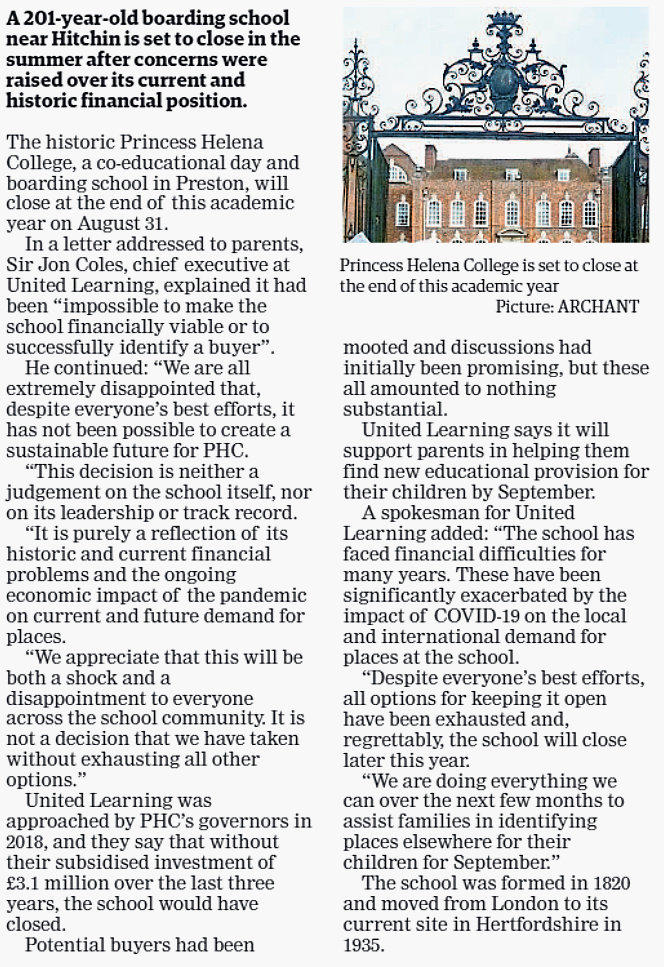 PHC was sold to

The Door UK

in 2023.