Mobility of Preston folk in the nineteenth century
When researching the mobility and movement of Preston villagers, a distinction should be made
between the 'locals' and newcomers. Included among the new arrivals were many of the farmers who
had no roots in the area, their transient farm servants and the tradesmen's apprentices. Several of
these temporary residents suddenly appear at Preston in one census and vanish without trace ten
years later. I have therefore concentrated on people who were renting cottages around Preston when
looking at their movements.
The historian David Hey in his book,

Journeys in Family History

states, 'Although people were
strongly attached to their own parish, they also felt that they belonged to a wider, more loosely-
defined district which they thought of as their "country" - the neighbourhood that was bounded by the
nearest market towns.'
He then 'reminds us that people had a sense of belonging to a neighbourhood in which they had
friends and relations who spoke like they did and who earned their living in the same familiar ways'.
He added that ordinary men and women married someone from their own 'country'.
Much of this was true of Preston villagers in the nineteenth century. As we will see, most were born
either in Preston or within a five mile radius of the village and remained inside this area taking
marriage partners from the vicinity. When researching marriages of Preston folk, the same familiar
names of local families reoccur like old friends.
However, there was less of an attachment to their own parish here than is suggested, perhaps
because of the way in which the parish boundaries dissected Preston. Villagers (apparently with little
regard to parish loyalty) moved from and went to Kings Walden, Ippollitts, St Pauls Walden, Kimpton,
Offley and other nearby parishes.
The possible effect of straw plaiting on mobility
One of the obstacles to freedom of movement between parishes was the Poor Law arrangements
whereby newcomers to an area were discouraged if they posed a potential drain on local resources
because of illness, unemployment or poverty. The worst case scenario would be a single mother with
children moving into a parish, with all the implications for their future care. Probably, she would be
quickly dispatched or 'removed' to her settled parish by the overseers.
Because of the straw plaiting activities of old and young women and children in Hertfordshire, perhaps
there was less concern about the burden they might place on local finances. In Preston from 1851-
1901 only eleven people were described as 'pauper' or 'receiving parish relief'. As a result movement
between parishes in Hertfordshire did not pose too many problems for the local parish overseers.
Another factor which should be considered when researching the mobility of Preston villagers is how
far the agricultural labourers were prepared to walk to the farms on which they worked. There are few
indicators of where they worked, but newspaper reports indicate that labourers did not necessarily live
near their work. For example, during a court case in 1882, Thomas Jeeves, who kept the Bull Inn at
Gosmore, produced an alibi that he was working at Temple Dinsley, about a mile away. Also, during a
court case in 1876, Charles Watson, a farm labourer who lived in Hitchin, was working for Mr Marriott
at Castle Farm, Preston, which was almost three miles from his home.
The arrival of the railway at Hitchin also pushed back frontiers of travel and mobility. In 1864, when
the robber of a dying man at the bottom of Preston Hill went on the run, he took the train from Hitchin
to Hatfield which is 14 miles away. In the 1890s, the children of Preston were able to enjoy two day
trips to the seaside. One was to Skegness which was 87 miles away.
Birth place of Preston villagers in 1841
Using the 1841 census as a starting point, of the 392 local people living in Preston (excluding farmers
and their servants), exactly 200 (51%) were born in the village.
Furthermore, another 102 were born within 5 miles of the village, principally at Kings Walden - thus
more than three-quarters of Preston's population were born within a five-mile radius of the village.
Between 1841 and 1901, from figures extracted from the censuses, 983 (52%) local people moved
out of Preston - but they didn't move far. Of these, 387 (39%) relocated within five miles of the village
and a further 295 (30%) stayed within Hertfordshire. One hundred and three (10%) moved to the town
of Hitchin and approximately fifty moved to London..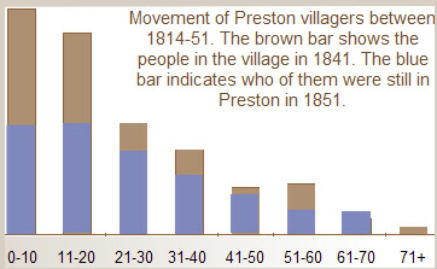 The graph on the right shows the ages of villagers
who moved out of Preston between 1841 and
1851. The brown bars are age groups in 1841 and
superimposed on them are the blue bars which
show the the age groups ten years on. The
difference (i.e. the amount of brown seen)
represents those who moved out of Preston during
this time.
This graph is typical of all the decades. It clearly
shows that the trend was for young families to
move. The young blood of the village was seeping
away - in common with many others, this 'English village began to rot from the centre'.
Why did people leave Preston? It has been suggested that there was an understandable desire to
earn better wages than farm labourers could command - hence the shift to towns such as Hitchin,
Luton and London. While this was undoubtedly the case for a few villagers, the majority moved to
other parts of the countryside and continued as agricultural labourers.
Perhaps the two fundamental reasons for families leaving Preston were that firstly, the farms could
not provide the sheer volume of work for so many men and secondly (and even more basically), there
were just not enough houses in the villages in which young adults and children could live. The
censuses indicate that the number of homes in Preston decreased from 82 in 1851 to 64 in 1901.
Faced with no work or homes, young couples packed their belongings, arranged for the services of a
carter and left.

Where Preston villagers in 1841 were born
Movement of Preston villagers in a decade