School mistresses and monitors
MISTRESSES
HYDER Mary Jane 31 Mar 1873 - Dec 1877
POLLARD Lucy 7 Jan 1878 - 5 Nov 1880
SHEAR Jane 8 Nov 1880 - 11 Aug 1882
CHAMBERS Amelia Caroline 25 Sept 1882 - 12 Aug 1887
FLOOD Alice Sophia 19 Sept 1887 - 20 Aug 1890
BALDWIN Emma 29 Sept 1890 - July 1893
KNIGHT/ESTWICK Jemima S 28 Sept 1893 - 2 Aug 1895
ELMER/MIDDLETON Edith Kate 5 Sept 1895 -31 Jan 1896
HUNT Elizabeth S 24 Feb 1896 - 1901onwards
ASSISTANTS
DOLLIMORE Lilian Frances 22 Feb 1884 - Dec 1888
NOBLE Elizabeth 7 Jan 1889 - 15 Feb 1889
PARKER Emma 22 Feb 1889 - 10 May 1889
CAIN Fanny 13 May 1889 - 29 April 1897
WALKER Mary 10 May 1897 - 6 Aug 1897
COLERIDGE Beatrice 22 Sept 1897 - 24 June 1898
COLE Selina 14 Sept 1898 - 1901 onwards
MONITORS
MARRIOTT Annie 6 May 1873 - 27
June 1873
SWAIN Matilda 12 May 1873 - May
1875
SMITH Annie 2 Feb 1874 - 31 July
1874
FROST Hannah 7 Sept 1874 - 1876
FROST Clara 28 May 1875 - 27 6 1878
FROST Florence 30 June 1878
SMITH Ellen 1878 - 27 June 1878
ADAMS Elizabeth 25 July 1881 - 7
June 1882
JENKINS Louisa 3 Dec 1886
DAVIES Louisa 4 Dec 1886 - 19 Dec
1889
JEEVES Rosa 1 July 1891
PETERS Bertha 1 July 1891 - 1901
onwards
Preston schoolmistresses and monitors 1873-1901
After 1880, the school attendance hovered between 70 and 89 as pupils left
school or moved into or from the village. As the attendance grew, there was
clearly a need for help. The report following the annual inspection in 1882
said, 'A considerable increase in numbers has increased the difficulty in
teaching this school...an assistant teacher should be engaged at once'.
The assistant teachers were a mixed satchel. Fanny Cain had an
ignominious beginning in 1889 - six weeks after she started it was logged
that,'Miss Cain took the order of the room this week - not very satisfactorily'.
Five years later, in 1894 it was reported that she was 'careful and painstaking
but necessarily inexperienced. Hence the method of teaching especially in
elementary subjects is defective'. However, Fanny taught at the school for
eight years and when she resigned, Rev. B. Switzer (one of the school
managers) presented her with 'a bag subscribed for by the children'. Another
manager, Canon Hensley, gave her 'a Prayer Book, himself'.
Fanny taught longer than Edith Noble. A few days after Edith started it was
noted, 'the assistant cannot keep order and cannot teach first and second
standards satisfactorily, she therefore wishes to resign her post'.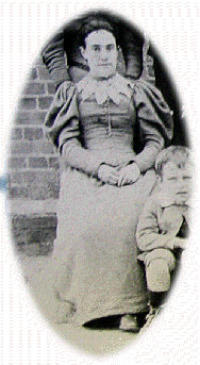 Elizabeth Hunt -
schoolmistress from
1896
Mary Walker lasted three months - 'Miss Walker has had to go home today through ill health. She has
not been fit for work since she came'. Another assistant, Emma Parker, left immediately after three
village women made complaints about her treatment of their children
The headmistress, Miss Hunt (who had a somewhat confrontational style),
took another assistant to task in April 1898: 'I have asked Miss Coleridge not
to put her pointer so heavily on the new pictures as it spoils them. She
reacted in an angry temper and said I had told her that before. I intended no
offence but she seems to think I have no right to speak of anything and treats
me quite rudely if I do so.' Not surprisingly Miss Coleridge left two months
later.
The upheaval resulting from many changes in the teaching staff affected the
quality of education. These comments were made in 1896: There were 'grave
difficulties' with the school; and 'the fifth standard boys are very bad writers. I
attribute this to the frequent changes of teachers'.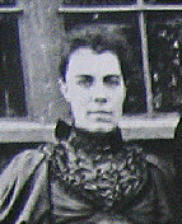 Fanny Cain -
Assistant 1889-97
To assist the teacher, older female pupils were appointed as paid monitors (they
were described as 'engaged'). In Preston, the first five monitors appointed were
children of a farmer, blacksmith and a butler - not from labouring families. They
were aged 11-13.
Their duties included passing on the teacher's instruction, keeping order and
chasing the absentees. Later, monitors were older girls like Ellen Smith who
was still working in the role in 1881 aged 22.
Some flourished as monitors - Bertha Peters was still at her post in 1901, aged
23, having been a monitor for 10 years. In 1897, it was written of her, 'Bertha
Peters has had to take the infants entirely. She is a good help' and she 'has kept
the infants very fairly up with their work'.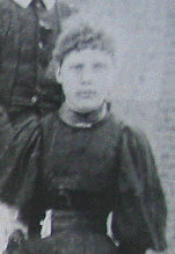 Bertha Peters -
monitor 1891-1901
Other monitors were not so effective. The first monitor, Annie Marriott, resigned six weeks after her
appointment. Matilda Swain was reproved 'for allowing her class to talk during a writing lesson'. Clara
Frost was similarly reproved and resigned two days later
Altercations with parents
Occasionally the schoolmistress would receive a visit from an aggrieved parent:
7 May 1896 - 'Mrs Sharp came to complain because I sent her boys' names to the Attendance
Officer. I told her I would see her after school hours.'
1 Nov 1897 - 'Mrs Thrussell came to school just after the children had left at 4.25 and abused
me with great vehemence, the cause being that I had kept Violet Thrussell in for ten minutes only for
talking. She had no justification as the girl had had no harsh punishment.'