A History of Preston in Hertfordshire
Frederick MacMillan - tenant of Temple Dinsley (1891 - 1901)

Frederick was born at Cambridge on 5 October 1851 and baptised at St Benedict, Cambridge on
Xmas Day 1851. His home then was given as Regent Street, London and his parents were Daniel
(a bookseller) and Frances Eliza Macmillan.
He was educated at Uppingham, Oakham, Rutland, leaving school in 1867 to learn the business of
book selling with his cousin, Robert Bowes of Cambridge. Also, with the guidance of Charles Clay of
the University Press, he studied 'composing' and 'proof reading' to acquire a general knowledge of
printing. Frederick then moved to the Macmillan family's offices at Bedford Street, London, gained
experience in several departments and worked as a town traveller for a while.
In around 1871, Frederick travelled to America where he worked in the newly-established Macmillan
agency in New York . He stayed for five years, becoming a partner in 1874, until 1876. Along the way
he met and married Georgiana Elizabeth Warrin (born 5 December 1845) at St James, Newtown,
Long Island, New York on 15 April 1874. Frederick was to voyage to America fourteen times.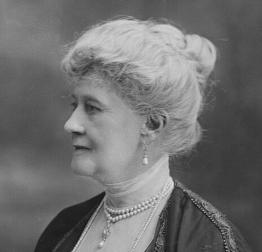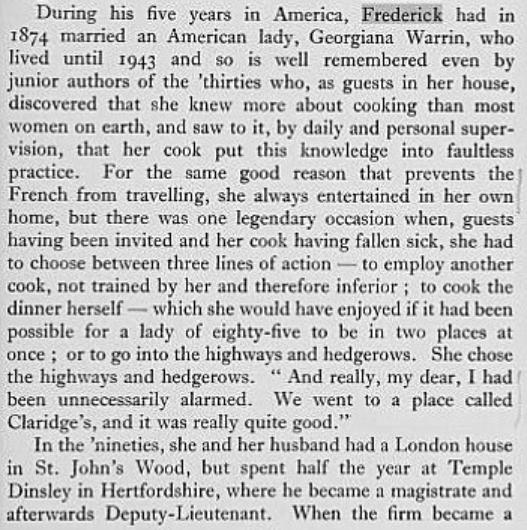 After returning to England in 1876, Frederick and Georgiana settled at Bedford Street, London. In
1881 they were living at 3 Elm Tree Road, St John's Wood, Marylebone: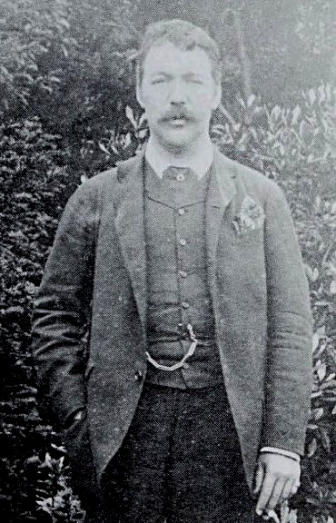 Ten years later, in 1891, the family was living at 7 Northwick Terrace, Marylebone apparently with a
daughter, Betty (who was born in New York), and five servants. By the beginning of October 1891,
they had moved to Temple Dinsley - although they also kept a house at St Johns Wood, London.
They stayed at Preston for almost a decade, until early 1901 - Mrs Macmillan last visited Preston
School in January 1901 - but when the 1901 census was taken later that year, the family [which
included Ethel (25, born London) and Betty (aka Elizabeth Warrin, 20, born New York)] Macmillan
(sic), was at the

Imperial Hotel

, Torquay. In September 1897, Frederick received the Freedom of the
City of London.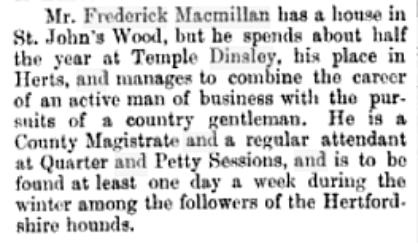 In 1911, Frederick and Georgiana living were at 22 Devonshire Place which was to be their
home until their deaths.
The Macmillans showed an interest in Preston School. Georgiana visited two or three times a year,
sometimes with her husband, once with a daughter (December 1896) and occasionally with other
ladies, including a Miss Smalley. One wonders how her accent went down with the village children.
In April 1893, Georgiana presented every child present with an orange and a new threepenny piece. .
Frederick gave books for all standards up to IV. In November 1894, Georgiana promised to provide a
Xmas tree to the school and gifts for all the children. In April 1895, Frederick visited the school and
said he would send some new reading books, which duly arrived in May: seventy-two science
readers, twenty-four literary books and twenty-four books for the infants. On 17 July 1896, all of the
children and their elders were invited to a tea (presumably at Temple Dinsley) the following day. Then,
just before Xmas that year, Mr, Mrs and Miss Macmillan gave the infants an orange and a basket of
sweets each, and the older children an orange and a threepenny piece. School prizes were distributed
in May 1898 by Georgiana, who was accompanied by Miss B(etty) Macmillan and Miss Parret. In July
1898, the children were taken to Lilley Hoo for a treat provided by Georgiana. On 14 December 1899,
Frederick visited to say that the Xmas tree would be given

after

the holiday because of his wife's
illness. He looked at the children's work, heard the children read and promised some new books. As a
result, Mrs Macmillan somewhat belatedly gave the school a Xmas tree and presents to the children
and teachers on 27 January. On 7 February 1900, Frederick visited with a selection of books so that
some could be selected for the pupils as his gift to the school. Georgiana's final visit was with two
other ladies on 8 January 1901, when she asked to see the children at drill.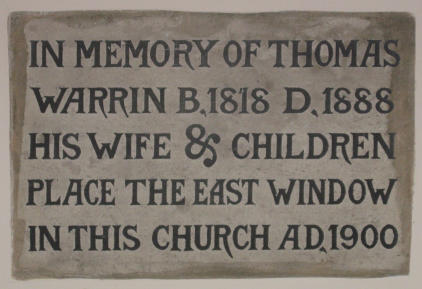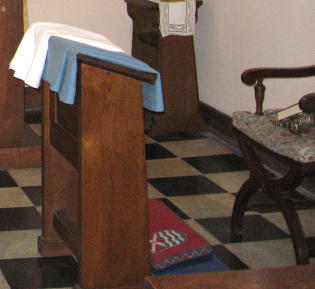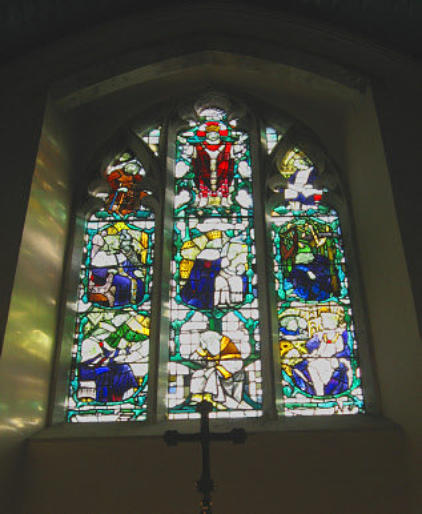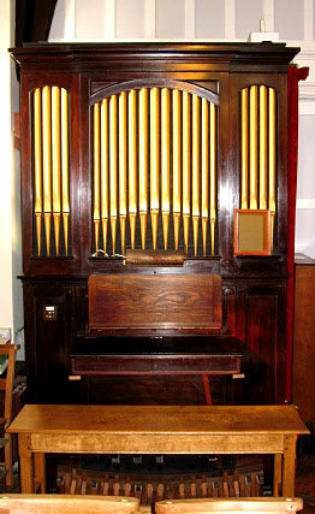 Frederick was also Chairman of the Preston Parish Council between 1894 and 1900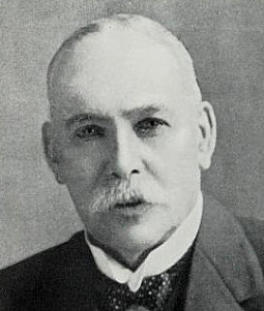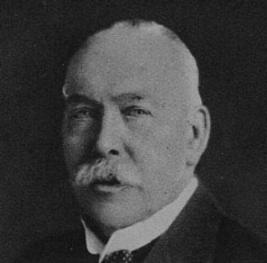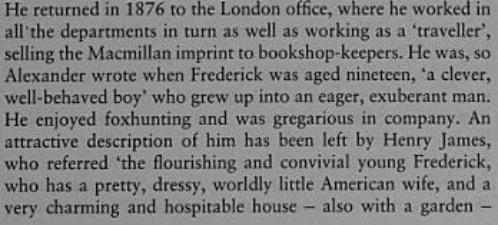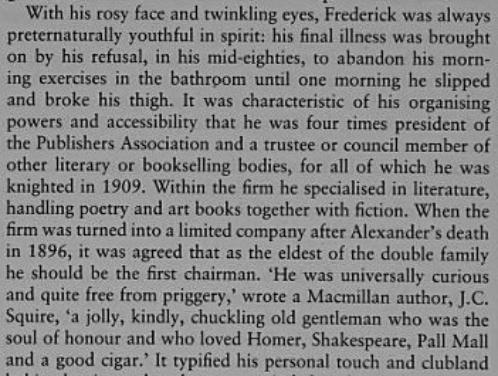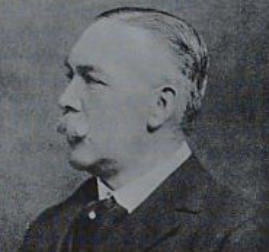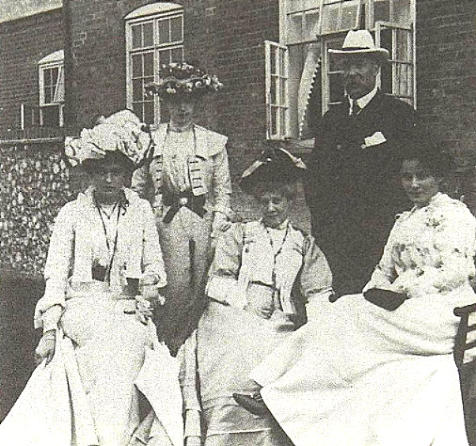 During their sojourn at Temple Dinsley, Preston's new Anglican Church was built and furnished. The
Macmillans gave £100 towards the building costs, served on the Building Committee and Georgiana
laid the foundation stone. After the consecration, the couple gave a party at the mansion. The organ
was donated by Mrs Macmillan in July 1902. The east window - a Jesse tree - was erected in memory
of Georgiana's father, Thomas Warrin and a plaque in his memory is on a wall. Mrs Macmillan also
donated a reading desk and an oak chair.
On the right are Frederick and Georgiana
in August 1901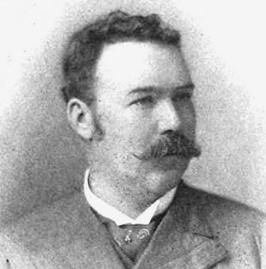 As we are attempting here to portray the character of the
tenant of Temple Dinsley, the following sketch in The
Dickensian is worth reading:

Sir Frederick died on 1 June 1936. A maid found him on the floor of his home at Devonshire Place.
He had hurt his leg during his morning exercise. It was found to be fractured and he was moved to a
London clinic for an operation. Frederick was discharged four weeks later, but died at his home
shortly afterwards from heart failure. He left an estate of £202,224.
Georgiana continued to live at Devonshire Place - she is noted there in 1939 with nine servants,
including a cook, a butler, a footman and a secretary - dying there on 12 April 1943. Her estate was
valued at £49,337.
It is a testament to their mutual and genuine love of Preston, that their final resting place of choice
was by a corner of St Martin's Church.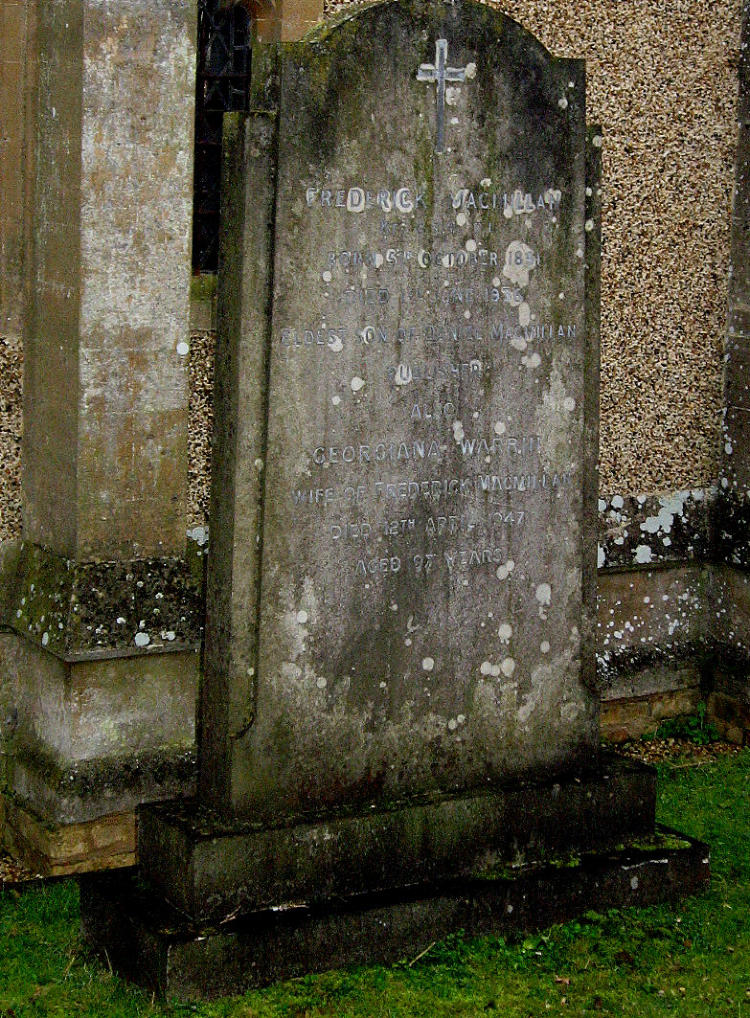 Finally, we address a detail about the children of Frederick and Georgiana (the naturalised British
subject). Compare the following census entries for 1891 and 1911:


Being gallant, we will gloss over Georgiana's lopping of years from her age and focus on their
daughter, Betty W (Elizabeth Warrin). In 1911, it was noted that the number of children born alive to
the couple was 'None'. Indeed, most if not all references to their family state that they had

no
children, as the following example shows: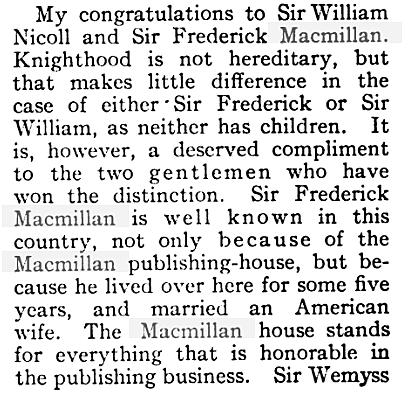 Frederick's will provides the answer. He left the use of 22 Devonshire Place to his wife and then to
their "

adopted

daughter, Elizabeth Van de Goes".
With this information it is possible to learn more of Elizabeth/Betty's life and her relationship to the
Macmillan's. Firstly, we consult the wedding document of Elizabeth Macmillan Warrin in 1905: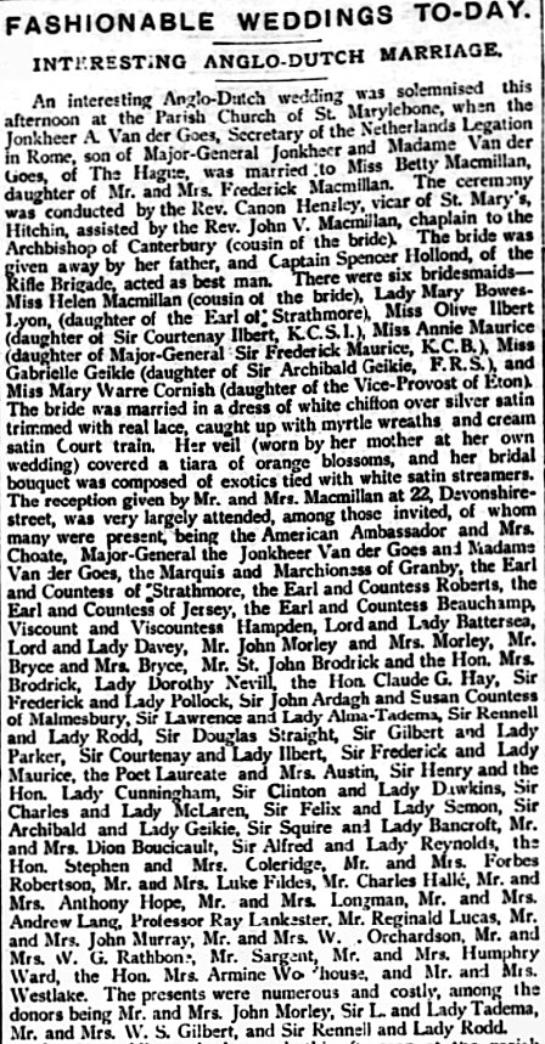 Although the family had left Preston by 1905, there were still echoes of the district around the village
at the wedding. The presiding clergyman was Lewis Hensley of St Mary's, Hitchin; one of the
bridesmaids was Lady Mary Bowes Lyon, and the Earl and Countess of Strathmore (of St Pauls
Walden) were guests.
Now, Betty's relationship to Frederick and Georgiana can be resolved. She was the daughter of
Samuel Warrin (1854 - 1934), Georgiana's brother, and was therefore her niece. The 1860 New York
census entry helps to confirm details of the family: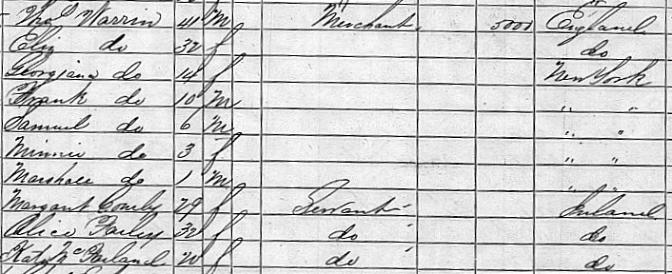 Georgiana's parents were both born in England. Thomas was a merchant with an estate valued at
around $5,000. He was born in Worcestershire on 30 June 1819. He married Elizabeth W Lord (born
3 September 1827 at Cheshire) on 24 March 1845 at New Town, New York and died at Manhattan,
New York on 7 February 1888. As described above, he is memorialised within St Martin's, Preston.
Betty was adopted by the Macmillans in 1891. She died on 12 Apr 1964 at Lisbon, Portugal,
and was buried at British Cemetery Lisbon. Her Dutch dilplomat husband had been Minister
Plenipotentiary to the Portuguese Republic between 1914 and 1925.



Frederick - the young man


Addendum: Re: Thomas Warrin (Posted 22 December 2022)
Sarah Harkness is writing a biography of the Macmillan Brothers who founded the publishing firm and
kindly forwarded the following news cutting. Also added is the local report in the Hertfordshire Express
of Frederick's burial at Preston. You'll note that a future prime minister was in Preston during 1936: