Preston's Cottages: Kiln Wood Cottage
Kiln Wood is less than a third of a mile (0.6 km) south-east of Preston Green, and just short of the
junction of the lane from Preston and St Albans Highway. Its history over two centuries is portrayed by the
following maps: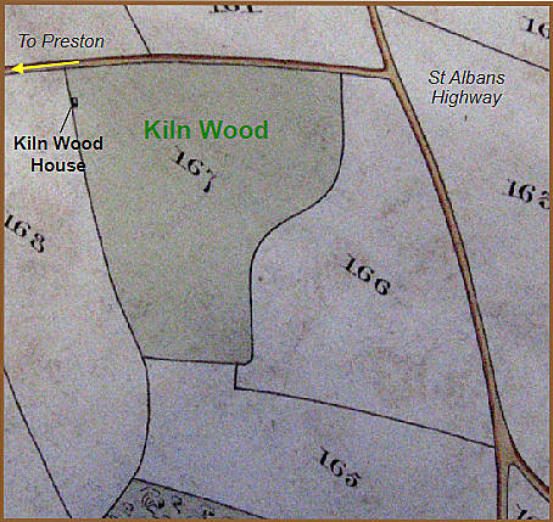 (
Above)
Map of Kiln Wood dated 1816c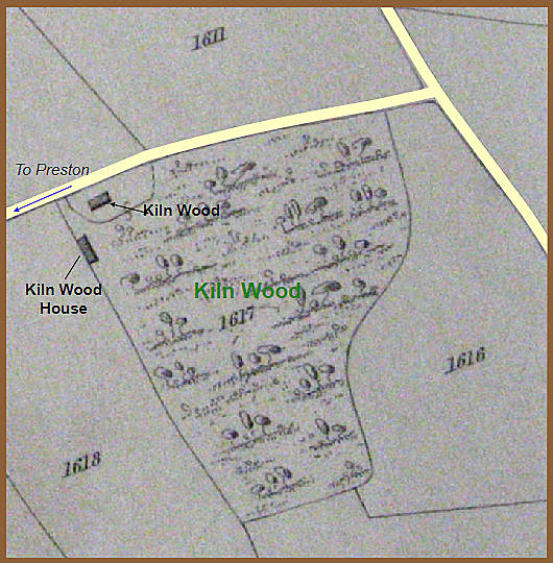 (Above)
Map of Kiln Wood 1844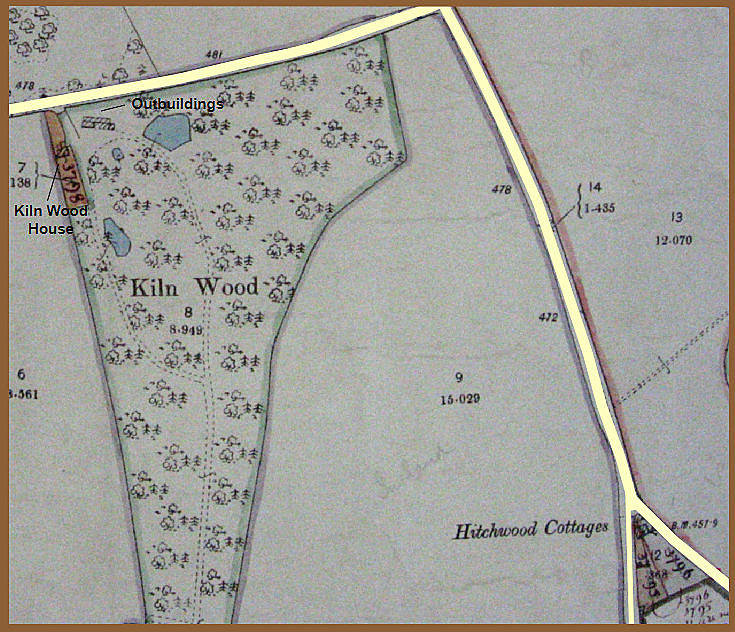 (Above)
Map of Kiln Wood 1898 (the detail is identical to a map produced in 1873
when Temple Dinsley was sold)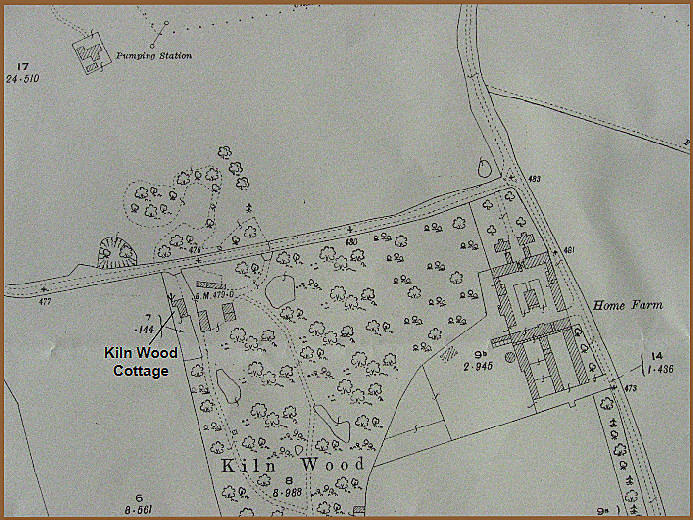 (Above)
Map of Kiln Wood 1935c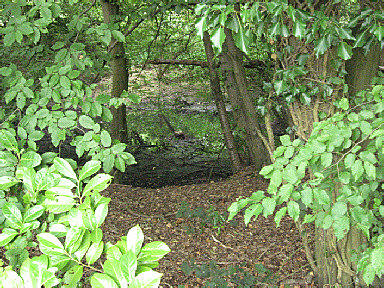 Kiln Wood expanded and then contracted during the
nineteenth and twentieth centuries - as shown by the
maps above. In the 1840s, it occupied seven acres, yet
by 1873 it had been extended to merge with Lady
Wood, to the south.
Sometime after 1945, felling reduced it to more or less
its earlier acreage. It was comprised mainly of oak and
ash trees.
Kiln Wood was a source for brick clay. Reginald Hine
when commenting on the geology of Hitchin and its
environs noted, '(the clay and flints) here and there pass
into a brick earth and is, or has been, worked for brick making as at.... Preston.... the clay...is normally
red'.
As some the the maps above portray, there are large waterlogged hollows where the clay has been
scooped from the earth. (see above right - the largest pool shown on the 1935c map). As it's name
suggests, Kiln Wood was probably also the site for the brick-making process - firing the clay in kilns.
Kiln Wood in the nineteenth century
During the nineteenth century, Kiln Wood was owned by the Dartons of Temple Dinsley and was later
included in the sale of the mansion to the Pryor family in 1873.
The nineteenth century censuses and tithe awards tell the story of buildings on the outskirts of Kiln
Wood. The map of 1844c shows two edifices and the award reads, 'Kiln Wood and Costage' (sic). In
1851, there were two homes here: 'Kiln Wood House' (occupied by the agricultural worker, William
Mead with his wife, Dinah and seven children) and the smaller 'Kiln Wood' (occupied by farm worker,
George Fitzjohn with his wife and child.)
Ten year's later, in 1861, there is an intriguing note in the census - the run of houses recorded by the
enumerator is: Poynders End Farm House; uninhabited house; plaiting school; 'Kiln Wood House' -
inhabited by the gardener, William Wilson, his wife and six others. It would appear that cottage shown
on the 1844c map as parallel to the lane was 'Kiln Wood' which was now empty but it, or an attached
barn perhaps, may well have been one of Preston's plaiting schools (see link:

Straw plait

).
By 1871, the census sequence was: Poynders End;

Keepers House

(likely 'Kiln Wood House')
uninhabited; Temple Farm. The Temple Dinsley Sale Particulars (1873) note, 'Kiln (Wood), in which
there is a comfortable keeper's cottage, costage...' In 1881 and 1891, the woodman James Swain
and his wife Mary Ann were living at Kiln Wood (House) and the widowed May Ann was still there at
the turn of the century with her son, George Swain. (See link:

James Swain

)
The 1898 map (shown above), portrays the position of the surviving abode, 'Kiln Wood House', at
right-angles to the lane. Close by, were some outbuildings. The cottage was occupied in 1906 by
Edward Saunders and in then in 1910 by both Charles Longbottom and, shortly afterwards, John
Payne and was now called 'Kiln Wood Cottage' (owned by Herbert Fenwick). It was described in the
Inland Revenue survey of the time as a 'brick tiled cottage containing two kitchens, two bedrooms
and a wood and tiled barn. In poor repair'.
Kiln Wood in the twentieth century

Occupiers of Kiln Wood Cottage 1915 - 1981c
In 1911, the Temple Dinsley estate carpenter, John Mission with his young family were living in the
cottage, but it was soon to be demolished. In its place, a new 'Kiln House Cottage' with a linked
outhouse, designed by Edwin Lutyens and ordered by the Fenwicks, was built in 1914 as the estate
carpenter's home,
The house is of two storeys. It is built of red bricks in English bond - a solid brick wall, with no
cavities, comprising alternate rows of 'headers' and 'stretchers'. The roof is constructed of red tiles,
steep at the front to bellcast eaves and carried down as a cat-slide with less of a pitch at the rear.
At the front on ground level is an off-centre door which is panelled and half-glazed. Above the door is
a flat moulded hood on brackets. Also on the ground floor are a couple of two-light, flush front
windows with small panes. At the first floor, there is a long, central casement window with small panes
which illuminates the stairwell. The typical Lutyens large chimney has a waisted top and clasping
corner pilasters. The cottage originally had two living rooms, a kitchen, a scullery, three bedrooms
and a bathroom.
It was sold as part of the Minsden Estate on 18 September 1945 when an appraisal of the facilities of
the cottage was made: 'Detached cottage, brick and tiled, containing two living rooms, kitchen,
scullery, three bedrooms, bath fitted in upstairs cupboard but water not connected from sink, outside
barn and EC, garden, mains electricity. Also, carpenter's shop at Kiln Wood comprising brick and tiled
carpenter's shop, brick and thatched paint shop, timber and corrugated iron store, Mains electricity'.
(This shop was evidently linked to the cottage.)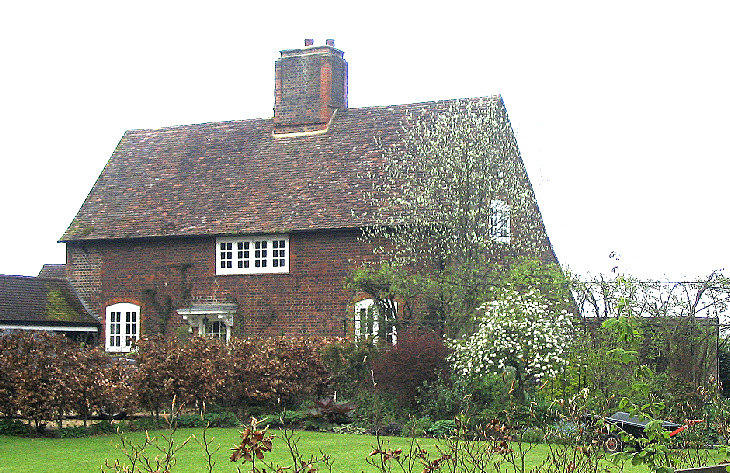 Kiln Wood Cottage today (by Mike Kellard)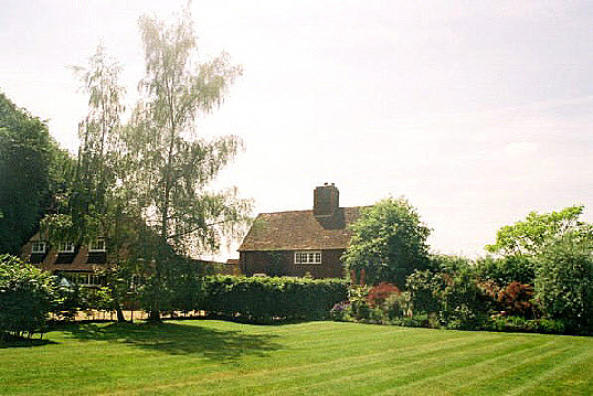 Kiln Wood Cottage was designed by Sir Edwin Lutyens in 1913 and built in 1914 for the carpenter to
Temple Dynsley. The carpenter's single storey workshop alongside was partly rebuilt with a new roof
and originally it had a deep saw pit. It was in excess of 4m deep, and was later filled with domestic
rubbish - old broken bottles, china etc with rubble.
The site formed a general builder's yard and much of it is covered with builder's debris as fill to former
large clay pits which had yielded materials for local brick making. Other former clay pits can be seen
within Kiln Wood which is now a protected woodland.
Shortly after the Second World War it became a private residence and the blacksmith in Preston, Bill
Tripp, made the two pairs of handsome cast iron gates and side gate which were recently restored.
In 1988 the two buildings were linked by a single storey structure which reflected the character of
similar work undertaken by Lutyen's office in the spring of 1913. The former workshop was converted
into living accommodation with a first floor created within the structure and the addition of hipped
dormer windows.
In 2003 an earlier timber outbuilding used as a garage was demolished and replaced with an oak
framed barn.


View from entrance driveway
View of the rear, southern facade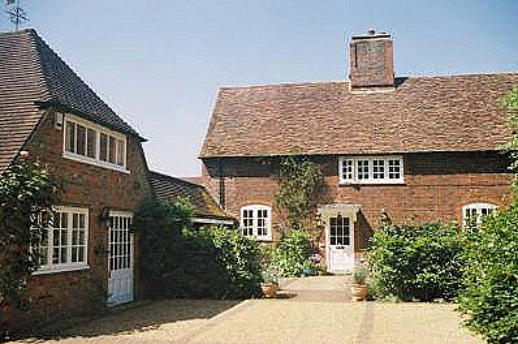 The main entrance on the eastern facade
The house is constructed in cavity brickwork with twisted galvanised ties using snapped, burnt
headers suggesting a solid one brick wall. It has a battered western façade formed below a 'cat slide'
roof and all roofs have corbelled tile eaves with tile dressings to corners below the eaves.
The adjoining former workshop has solid one-and-a-half brick walls with a one brick wall
superimposed at window cill level. This later work, undertaken in 1914, used the typical tile creasing
and corbelled eaves detailing to the roof, similar to the house.