James Swain (1824 - 1898)
There was a cluster of Swains in Kimpton, Herts at beginning of the nineteenth century. Fifteen
deaths are recorded there, many at Peters Green, from 1800 -1850. Included in this family were
Jeremiah Swain (a victualler) and his wife, Anne Mary. They had six children, who were all baptised
in Kimpton between 1777-85. Their youngest child was Moses Swain (bapt. 1785) who married
Elizabeth Warren on 1 October 1818 in Luton.
Moses and Elizabeth had at least four children. By 1824 they had moved into the parish of Hitchin
and were living at Shilley Green, Langley where their son, James, was born. In 1841, Moses and his
family had moved again to Church End, St Pauls Walden, and Moses was working as a farm
labourer. Ten years later, in 1851, he was following his father as he was a victualler at Railway Street,
Hertford. Moses died at Church End, St Pauls Walden on 21 April 1860 from pneumonia. He was 75.
Meanwhile, his son, James Swain (born 1824), had married the Preston girl, Mary Ann Scott, on 28
September 1850 at St Marys, Hitchin. Both marked rather than signing the register and their
witnesses were Sarah Chalkley and Thomas Joyner. The following year, James and Mary Anne were
lodging with Charles and Eleanor Saunderson at Preston. Their first born, Mary Ann, was baptised in
St Pauls Walden on 7 September 1851 but sadly died as an infant at Preston and was buried at
Hitchin on 24 May 1852.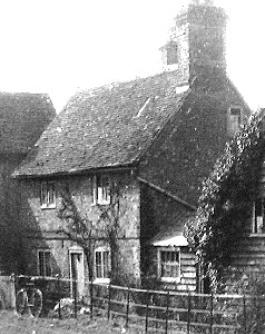 James and Mary Ann continued to live in Preston. In 1861 and 1871,
they lived at 'Vine Cottage', Preston Green (left) where they paid an
annual rent of five guineas to the Temple Dinsley estate. James was
working as a farm labourer. Ten years later, they moved to 'Kiln Wood
Cottage' and James was recorded as a woodman (although his son,
George, described him as a gamekeeper in 1880).
James died at 'Kiln Wood Cottage', aged 73, and was buried in St
Pauls Walden on 16 February 1898. Mary Ann continued to live at the
cottage where she had her grandson, George, for company in 1901.
She died in the winter of 1908 having lived in Preston for all her 82
years.
James and Mary Ann had three sons. The eldest was William (born
1853). He married Jane Crouch from Baldock in 1878 and they were
settled at Union Street, Hitchin in 1881 when William was a farm labourer. Ten years later, they had
moved to Girtford, Sandy in Bedfordshire where William was a brickyard labourer in 1901. William
and Jane had two children.
James' brother, John Swain (born 1858), married Preston girl, Ann Jenkins, on 30 October 1875 in
Hitchin. They also moved away from the village for in 1881, they were recorded at Ley Green, Kings
Walden where John was a farm labourer. Ten years later, in 1891, they were still in Kings Walden at
Parsonage Farm Cottage
but by 1901 they had moved to Bedfordshire - to Dallow Farm, Luton where
John was working as a yardman. John and Ann had four sons.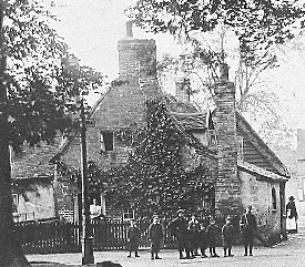 George and Mary Ann Swain
James and Mary Ann's middle son, George (born 1855) stayed in
Preston after his marriage to Mary Ann Hearl of Whitwell in the
summer of 1880. He stated then that his occupation was as a
dealer.
In 1881, George and Mary Ann were living at the cottage at the
corner of Church and Chequers Lanes where George was a
general dealer. The cottage had more than five rooms and is
pictured right. The lady standing in the doorway may well be Mary
Ann Swain.
The family continued living in the village into the twentieth century,
although then George was working as a woodman. He had an accident and lost an eye as can be
seen from his photograph below.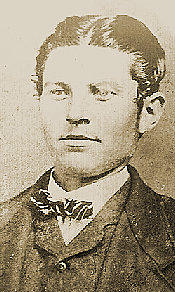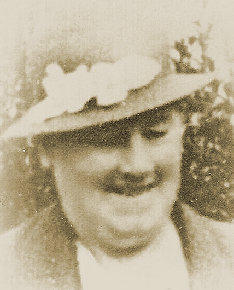 George and Mary had seven children born between 1881-97. One, William
(right) (born 1889) was a tenant farmer. He served with the 4th Bedfordshire
Rifles during World War 1 when he was awarded the Military Medal.
William married Florence Young from Breachwood Green, Kings Walden on 31
January 1910 at St Marys, Hitchin.

(Note: No definite connection has been found between this branch of the Swain family and the
Swains who were living in Preston in the first half of the nineteenth century. The only indication of a
link is that James Swain was lodging with Charles and Eleanor Saunderson in 1851. Charles was the
son of Harriet Saunderson (nee Swain) who was the daughter of Stephen and Ann Swain.)
Acknowledgement: I am grateful to Peter Swain for the photographs and information
he has kindly provided.