Preston Cottages: Jacks Hill/Poynders End cottages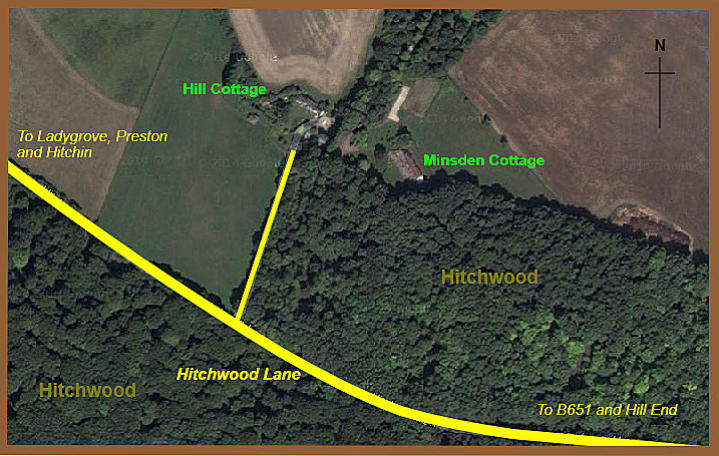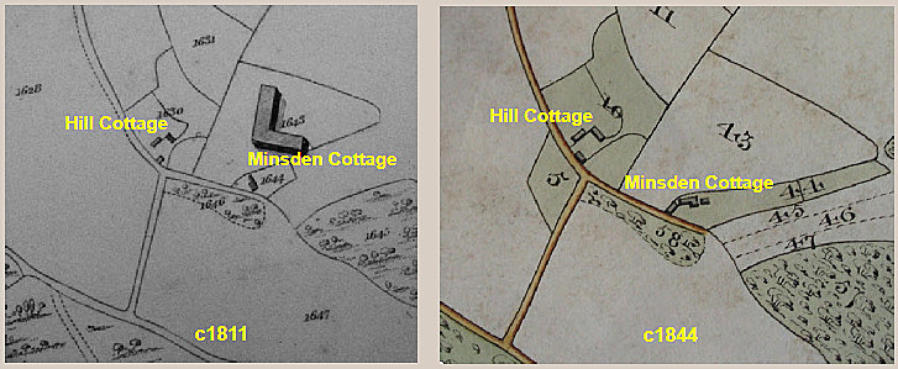 Before examining the history of these cottages in detail, there are several points of interest. Although
the two properties were linked by a track to

Poynders End Farm

in the nineteenth century, they were
associated with

Hill End Farm

in 1910 - probably being for the use of its labourers. Also, the cottages
were in Hitchin parish, whereas

Poynders End Farm

was in the parish of Ippollitts.
During the nineteenth century the cottages were both divided into two homes - there were four
households here. By 1910, however, they were individual abodes, each having three rooms and a
scullery. It follows that when divided earlier, each dwelling had but two rooms. Also, while today

Hill
Cottage
is rendered and has a slate roof and the bricks of
Minsden Cottage
have been painted, in
1910 (when the area was also known as 'Mount Pleasant') they were described as being 'red-bricked'
with tiled roofs. They also had 'good gardens' and a common 'deep' well.
Jacks Hill was in the small manor of Missenden or Minsden (ie not Temple Dinsley). The manorial
records of Missenden from 1700 until 1879 are held at Hertfordshire Archives and Local Studies.
These provide much of the following information. The copyright owner of the composite home,
Minsden Cottage
, paid the Lord of the Manor a paltry annual rent of 1d - which reflected its relative
size - even the two-up; two-down cottages fronting onto Preston Green attracted an annual rent of 4d.
Hill Cottage,
2 Jacks Hill, Preston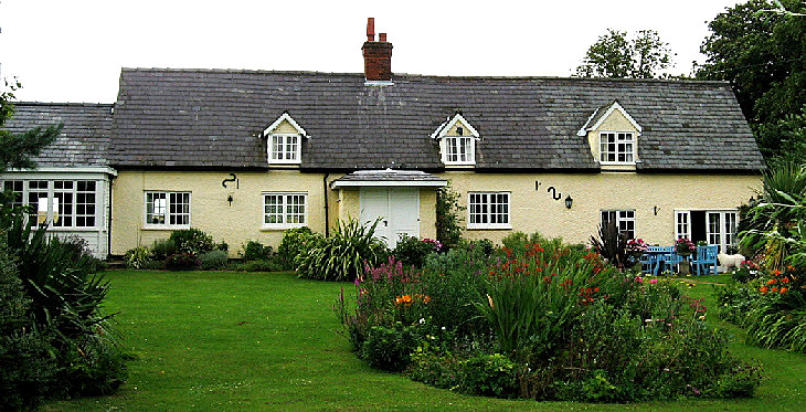 Hill Cottage
has been described thus: a house built in the middle of seventeenth century, altered and
extended at each end in the nineteenth century and late twentieth century (which can be seen from
the photograph above). Timber frame rough-cast, brick extensions rough-cast, and steeply pitched
roofs, now slated. A one-and-a-half-storied, three-roomed, internal-chimney, lobby-entry plan house
facing south, with two-room extension to the east end at the lower level, and a single-room extension
to the west end with a rectangular front bay window. The south front has three gabled dormers at the
eaves and four windows to ground floor. -lights small-pane recessed casement windows. Projecting
rectangular enclosed porch to lobby entrance. Rear slope of roof raised as a dormer in the bay on
each side of the chimney. Interior has chamfered axial beams with bar stops, old wall-plates and an
exposed, clasped-purlin on collar roof and straight wind-braces from former gable-ends.
From the late seventeenth century, this cottage and its surrounding five acres of land in three fields
(shown as 10 in the c1844 map above) with an annual manorial rent of six shillings was owned and
farmed by the Flindall family - George snr and later his grandson John Flindall who took possession
of it in 1719.
On the death of John Flindall who lived in the cottage (he was buried at Ippollitts on 28 June 1770
when he was described as a farmer), the entire holding passed to his daughter, Mary, the wife of
Abraham Geary, who also lived in the cottage. On her demise in September 1785, her estate was left
to her son Abraham Geary, a miller at Hertford. In 1787, Abraham sold the holding to Joseph Pedder,
a carpenter living at

Vine Cottage

, Preston (Link:

Joseph Pedder

). He or Hannah Merritt occupied
the six acres.
By the time that Joseph Pedder bequeathed part of his estate to his daughter, Elizabeth English (wife
of John English) according to his will of 1802, it was evident that the cottage had been divided into
two homes of two rooms which were occupied by Robert Corrall (sic) (forefather of the Currells of
Preston - and his family of nine in 1801) and Sarah Wheeler, nee Geary, who was the daughter of
Abraham Geary.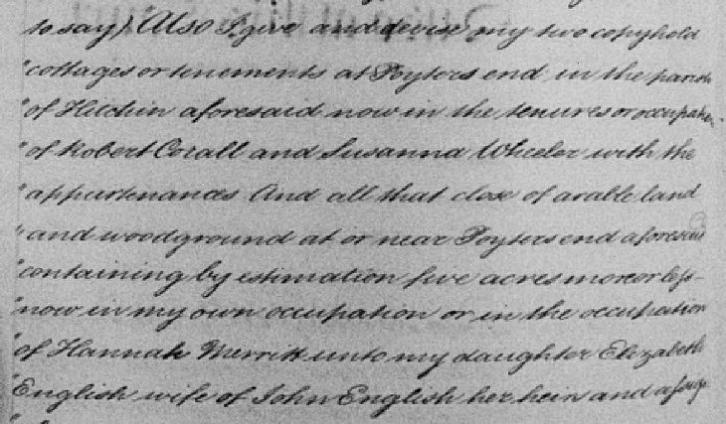 By September 1806, the households of John English and Edward Andrew occupied the property.
Following the deaths of John and Elizabeth English, the holding passed to their fourth son, Thomas
English, who was born at Preston in around 1798. He was a grocer trading from

Vine Cottage

in the
village in 1851. In around 1844,

Hill Cottage

was occupied by Thomas Robottom. Thomas English
then moved to Hitchin, retired, and in 1859 he sold his holding at Jacks Hill to Thomas Alexander
Dashwood for £350. The two homes were then inhabited by Sarah Payne and an unknown Crewe.
Minsden Cottage
, 1 Jacks Hill, Preston (aka
Goremore Hole
)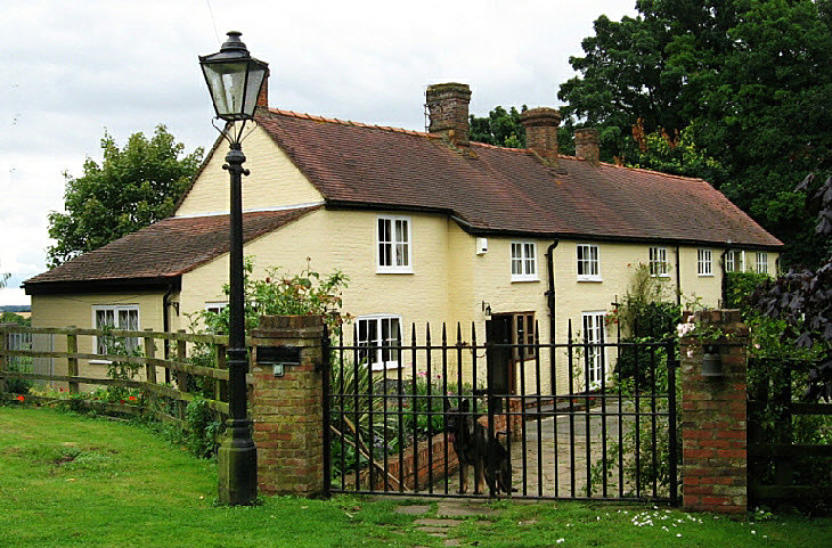 A detailed survey of

Minsden Cottage

as per the evaluation of

Hill Cottage

is not to hand, so that the
approximate date of when it was built is unknown. The first reference to it in the existing Missenden
manorial roll was in 1726 when it was known as

Goremore Hole

. It had four poles of associated land
and was occupied by Edward Evegrave (a labourer living at Langley who evidently was the owner)
and John Newton.
In 1728, Edward Evegrave sold the cottage to Robert Thurgood, a brewer from Baldock, for £37. He,
in turn, sold the dwelling in 1741 to George Field, a yeoman at Langley, who bequeathed it to his
wife, Sarah, and thence to his son, Henry Field, who lived at Hertingfordbury, Herts.
The property (which was still divided into two homes) was then purchased in 1768 by Charles
Dymock, a labourer living at Langley Bottom. Eleven years later in 1779, when Charles Dymock and
John Sanders were the occupants, the former sold his holding to William Barker, a labourer from
Hatfield who bequeathed it to his cousin and heir, William King of Old Whiston, Hunts.
By 1802, the cottage had been sold to Thomas Waller (the younger) a carpenter from Hitchin and it
was occupied by William Saunders. Twenty-six years later, in 1828, Thomas sold the cottage to John
Grundon of Langley for £80. It had previously been occupied by William Saunders and then by John
Saunders and Thomas Young, John Grundon died in 1835 and was buried at St Mary's, Hitchin on
4 July.

Minsden Cottage

was then acquired by Joseph Saunders who was living there in 1844.
Shortly afterwards he sold it to Thomas Dashwood.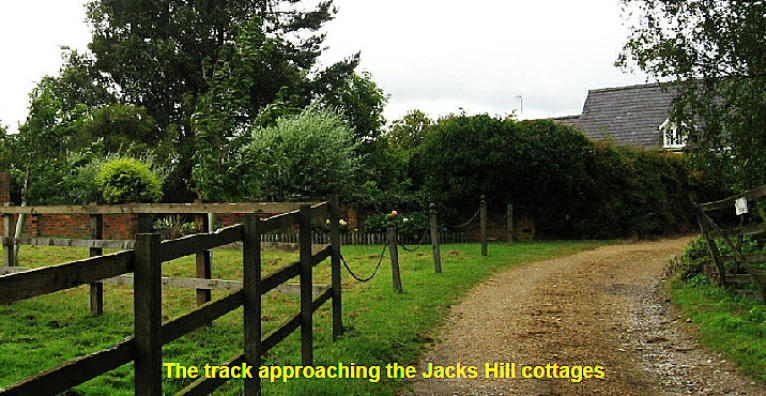 Known inhabitants of the cottages at Jacks Hill from 1835 to 2000
What follows is a list of the known residents of the cottages at Jacks Hill and their households with a
note where possible of the cottage in which they lived. From the details of the censuses,

Minsden
Cottage
(1) and
Hill Cottage
(2) were probably each converted from two cottages to one dwelling
between 1901 and 1911
1836 Grundon (1)
Daniel Moules (1)
1841 George and Mary Sanders (1)
Peter and Ann Moules (1)
Thomas, Joseph and Ann Andrews (1)
1847 William English (2)
Charles Saunderson (2)
Ann Andrews (1)
Widow Moules (1)
George Sanders (1)
1851 James and Elizabeth Payne (2)
James and Elizabeth Payne (2)
Ann Andrews (1)
Ann Harvey (1)
1861 Sarah Payne (2)
Ann Walker (1)
William and Emma Ward (1)
1871 James and Mary Ann Smith (2)
Edward and Ann Walker (1)
William and Emma Ward (1)
1881 John Payne and Jesse Smith (2)
William and Elizabeth Shaw (2)
John and Fanny Crawley (1)
John and Ann Palmer (1)
1891 Jesse and Emma Smith (2)
John and Hannah Payne (2)
George and Sarah Thrussell (1)
Joseph and Eliza Thrussell (1)
1897 Alfred and Emily Wray (2)
1901 Jesse Smith (2) (resident from 1896 until 1908)
Unoccupied (2)
George and Sarah Thrussell (1)
William Thrussell (1)
1905 Herbert Sharpe
1910 Jack Clements
1911 John Oliver (home with 2 rooms)
Thomas Payne (home with five rooms)
Charles Gilbert
1919 Steven Charles Andrews
Leonard Charles Smith
John Virdew
1924 John Murphy
1927 Frank Harper
1935 Herbert William Hammond
1940 Edmund William and Kathleen Mary Burrows (married Dickie Jenkins)
1942 Reginald Harry Darton
1945 Sydney James Best
1949 Minnie Wallace
1951 Malcolm Rogers
1952 Stanley C Constant (2)
1953 Jack Wright
1958 Jack Mangham
1960 Walter Towner
1962 Peter Willoughby (1)
1963 Ronald Pinkney (1)
1974 Martin Reynolds (2)
1992 Patricia A Brown (2)
1992 The Pilato family (1)