Benedict and Martha Ithell of Temple Dinsley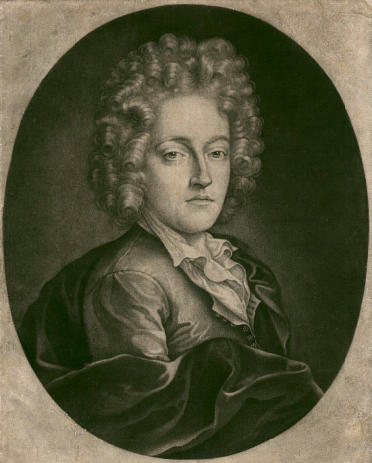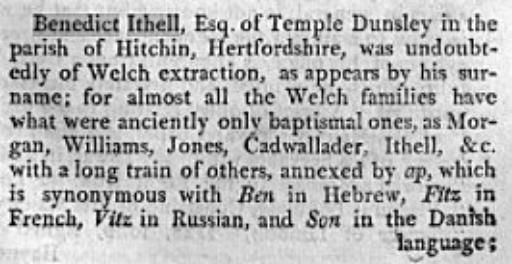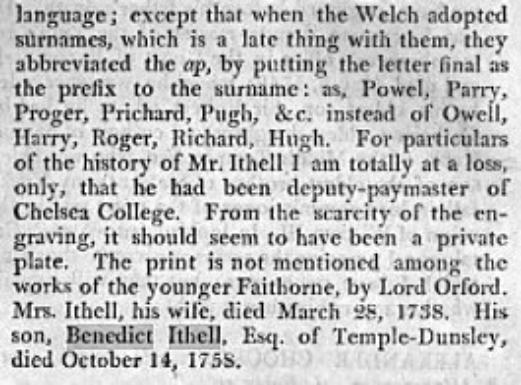 In 1806, Rev. Mark Noble suggested that Benedict Ithell was of Welsh extraction (his estate included
holdings in Herefordshire) -

Biographical History of England

. (

See below

- the engraving referred to
therein appears to be the image of Ithell shown above):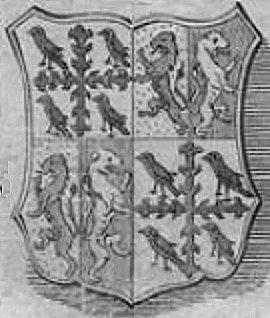 There was a further comment about Ithell's family by Ralph Churton, Dean of St Pauls, in 1809,
"…kinsman perhaps (to Dr Ithell Master of Jesus College) as the name is not uncommon to Benedict
Ithell Esq. of Temple Dinsley who is mentioned as having a curious portrait of Dean Colet, founder of
St Pauls School".
In view of what happened to Ithell's estate after his death, it is perhaps as well that these comments
were perhaps not in the public domain at the time.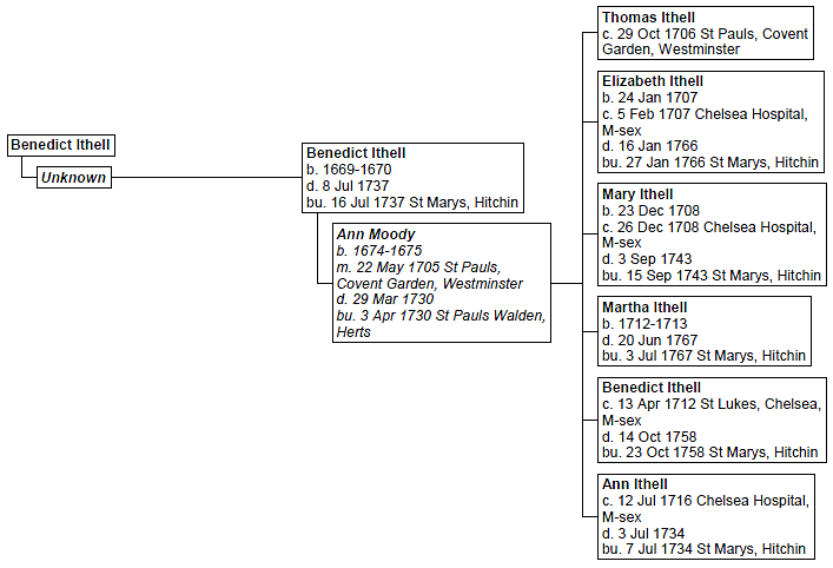 It is of interest that Benedict and Ann had

two

sons - Thomas, born in 1706, is not usually mentioned
but he is recorded in the International Genealogical Index (IGI). I cannot find a note of his burial. Also,
that Ann, Benedict's wife, was buried at St Pauls Walden, Herts, in 1830 - the rest of her family were
laid to rest at St Mary's, Hitchin.
What follows are the records of Benedict and Ann's marriage and Ithell burial records to support the
tree shown above. (Note that Benedict senior was living at St Martin in the Fields, Middlesex, when he
married and Benedict jnr was buried on the same day as Edward Kitchiner, the son of Edward and
Mary.)
Benedict Ithell jnr was Deputy Treasurer of Chelsea Hospital. His estate included holdings in
Hertfordshire, Middlesex and Bedforshire.
In August 1712, Benedict bought Temple Dinsley for £3,922. Possibly he purchased the estate for the
hunting potential of the land surrounding the building rather than for the house itself. The Sadleirs had
evidently not been able to maintain the house in a good state of repair because two years later, in 1714,
Ithell built a new mansion close to the old Temple Dinsley (evidently, the old house was left standing
until the 1790s). The house had a heraldic badge in the form of a rising bird and the inscription '1714' on
rainwater heads. The new mansion was just to the south of the old building.
Ithell also restored estate cottages in Preston. He was appointed as Sheriff of Hertfordshire in 1727 and
was made a trustee of Hitchin Grammar School. He formed a bond with Ralph Radcliffe of Hitchin
Priory. The pair drove to St Mary's Church at Hitchin on Sundays in a style guaranteed to upset the
church wardens. Their gilded coaches were 'emblazoned with arms and their crests glittering in silver
radiance from every part of the harness where a crest could possibly be placed'. They swung through
the south gates and along the gravelled path of the graveyard to the entrance of the porch to the
accompaniment of the tolling church bells. The pageant was 'brought up in style with straining and
struggling of horses, cracking of whip, glistening of harness and flashing of wheels through gravel,
horses fretted into a foam, dashing the pebbles against the poor pedestrian people'.
This 'flaunting parade of petty lordings' so incensed a churchwarden, Richard Whitherby, that without
consulting the vicar or his fellow churchwardens, on Saturday night (9 November 1734) he drove a
great beam into the centre of the gravelled way and girdled three chains and padlocks around the
entrance gates. That would fix their little games!
He reckoned without the resourcefulness of Radcliffe. He sent his carpenter to break the chains and
saw down the offending beam - all this just in time for Ithell to drive through in triumph. Whitherby still
had some cards to play. On the Monday morning, he summonsed both the carpenter, for malicious
damage, and Ithell's coachman, for trespass. They escaped on the grounds that no apparent
annoyance had been visited on the corpses in the graveyard! While this makes for a good story, if this
was typical of the man, one wonders how such a squire behaved towards the 'poor people' of Preston.
Carriages and Benedict also featured in another historical tit-bit: he ordered the manufacture of a
carriage from London. The makers requested a measurement of local ruts so that his carriage should
run smoothly.
Benedict Ithell snr died on 8 July 1737, aged 67. He was interred within St Mary's Church immediately
below a magnificent monument

(shown below, left)

. This recorded details of the burials of himself and
his wife and children who had also been interred at Hitchin. Benedict snr's will was proved on
14 September 1737. He asked to be buried 'in the vault lately made by me in the Parish Church of
Hitchin'. He bequeathed to each of his daughters, Elizabeth, Mary and Martha, a legacy of £2,000. His
estate was left to his son, Benedict jnr and thence, if he died without issue, to his daughters. They later
died without marrying and were all buried at St Mary's.
There was another significant clause to Benedicts will. He gave his son 'liberty to commit waste'

except
in the homes and buildings in Hertfordshire
and Bedfordshire - 'waste' being the harmful or destructive
use of property. And this arrangement was to be supported by 'my cousin', Samuel Clark and William
Ridge, a haberdasher. Here was significant confirmation (in the light of what was to happen when his
daughter, Martha's, will was executed) of Benedict's relationship to Samuel Clark, as we will see, and
may well have ensured that the old building of Temple Dinsley remained standing for several decades.
Benedict's will also specifically mentioned the 'dwelling house

and gardens

at Temple Dinsley'.
His son, Benedict jnr was buried at St Mary's and a reader about his qualities which was composed by
his sisters, Elizabeth and Martha, is on a wall

(see below, right).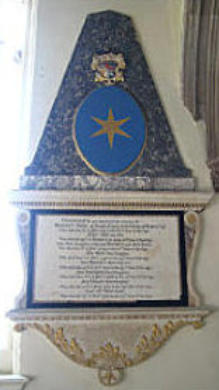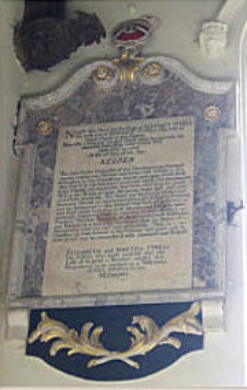 Martha Ithell (1712c - 1767)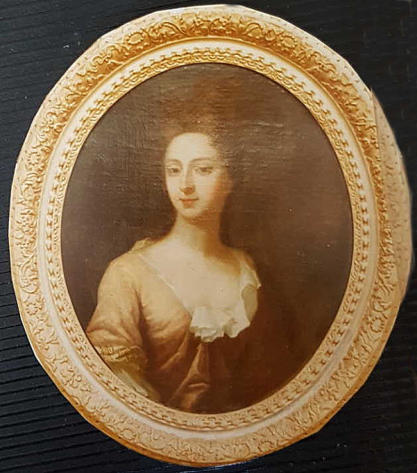 Martha's older spinster sisters died in 1734, 1743 and 1766 and were all buried at St Mary's, Hitchin.
It would therefore be reasonable to conclude that they lived at Temple Dinsley, a view confirmed by
the burial records of two which stated that the mansion was their residence at the time of death and
that it had been their mother's home when she died in 1730. The Herts Militia List indicates that
Thomas Harwood was employed as a servant there from around 1758. After Elizabeth Ithell died in
1766, Martha was the surviving Ithell who therefore inherited her father's estate.
Martha's will was contested by a cousin, Benedict Clarke, a butcher from St Georges, Southwark,
London, who was seemingly unaware of the terms of Benedict Ithell's will, knowledge of which would
have saved him from going to some lengths to attempt to establish his family relationship to Benedict
Ithell.
It has been written that Clarke challenged Martha's soundness of mind, but from the bundle of
documents at Hertfordshire Archives and Local Studies (HALS) which relate to the case, Clarke
actually claimed that as Martha had died without issue, he, as her cousin, was her true heir. There
are some pages of scribbled and partial family trees, without dates or names which, if set out, would
look like this:
Below is a section of Martha's original will, dated 3 April 1787 and witnessed by Edward Kitchiner
(sic), James Whitney and James Ware. It clearly states that she left everything to her 'faithful friend
and steward Thomas Harwood' who was also to be her sole executor: Link:

Harwood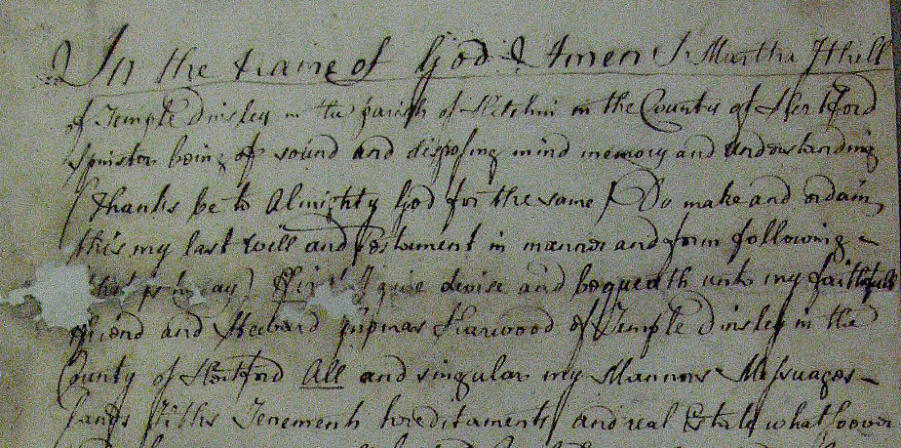 The key person here is Rev Samuel Clarke who had died at East Dereham, Norfolk '7 or 8 years'
(before 1767) ago' (there is a mural monument to him in the parish church) and who had been the
minister of Little Brick Kiln (sic - Little Brick Kiln is probably Little Brickhill, Bucks.), about forty years
ago (ie circa 1727). Samuel had an older brother who lived in London, whose son was Benedict
Clarke. It was said that Samuel called an older Ithell, his 'second or third cousin'. (By a sweet
coincidence, a Thomas Harwood was installed as a curate at Little Brickhill in 1672!) There was no
dispute about this, particularly in view of the wording of Benedict Ithell's will, which mentioned his
cousin, Samuel Clarke. However, Martha's will was properly drawn up and witnessed by men who
knew her. Thomas' claim to the Ithell estate was water-tight.
As a means of refuting any further disputes about his inheritance, Harwood arranged for Hitchin's
Richard Tristram to interview the witnesses to Martha's signature and draw up an affidavit which was
incorporated into an "Exemplification" of his rights as Martha's legitimate heir, issued by the Court of
Chancery (partly reproduced below):

Tristram's itemised bill is included in the bundle at HALS. It was £6 2s 2d well spent by Thomas!
This is an epitome of what was written in the Exemplification:
The three witnesses to Martha's will were interviewed at

The Sun

Inn

, Hitchin. They
confirmed that they had witnessed her signing the will in a room in the mansion of
Temple Dinsley.
They were: Edward Kitchiner of Offley Holes (aged about 40), yeoman, who had known
Harwood 'many years'; James Witney, a butcher of Gosmore, Ippollitts, who added that
Martha had "expressed great satisfaction in having settled her affairs" and James Ware,
a gardener at Temple Dinsley (aged about 25) who had known Harwood for three years
and Martha for a year and a half. Ware said that he had seen Martha make her will on
3 April 1767 on one sheet of paper marked with a letter and that the signature was in her
handwriting.
Other witnesses were also interviewed. James Garth, a gentleman aged about fifty
years, who had known Harwood for fifteen years and Martha for 'many years' testified
that she had owned property at Great and Little Wymondley and that there was an entry
in the Manor Court book that she had 'surrendered this property to the use of her will'. A
verified copy of this was shown. Tristam Lawrence Times, a gentleman of Hitchin aged
about 28 years (who had known Harwood for five years and Martha for four years)
testified to a similar entry in the Kings Walden Manor Court Book with respect to her
holdings there. This action confirmed that Martha intended her will to be invoked.
None of these five had known Benedict Clarke.
He claimed to be Martha's 'cousin and heir in law' but the Court expressed their view
that there were 'many uncertainties and imperfections' in Clarke's case; that he was not
'able to sufficiently answer the will' and that his claim was 'uncertain, untrue and
insufficient in law'.
One further point of interest is that the full extent of Martha's estate became a little clearer from these
proceedings as it noted that she had holdings in the counties of Hertfordshire, Middlesex,
Bedfordshire, Gloucestershire and Herefordshire.