Preston Farms: Home Farm, Hitchin Road
The

Home Farm

farmstead was situated on the west side of the Hitchin Road, Preston opposite

The
Cottage
(Dower House) and just north of the present-day Preston Cricket Ground. It was in the parish
of Ippollitts.
In 1773, James Hanscombe of Pirton Grange inherited a large estate, that included the farm and its
land, from his father, William Hanscombe. Fifteen year later, in 1788, James sold his property around
Preston to Sir Francis Willes for £7,500. When Sir Francis died in 1827, his estate passed to the
Lovell family and was eventually inherited by Francis Frederic Lovell of Malmesbury, Wiltshire, who
was Sir Francis' great nephew.
A few years after Francis' death, in August 1906, his holding was absorbed into the Temple Dinsley
estate. The farm out-buildings were part of the Minsden Estate in 1945 and were sold as 'the Estate
Yard' in a lot together with

Castle Farm

and Wain Wood. Here, there were brick and timber sawing
sheds, two loose boxes and a three-bay cart shed. The farmhouse gradually became derelict (the
'ruins remained for many years') and by 1967 a Herts C.C. Highways Department yard occupied its
position.
Today, two detached houses,

Hartings

and

Wain Wood Edge

(see bottom of page), stand on the
grounds previously occupied by the

Home Farm

farmhouse and its outbuildings.
The land farmed by

Home Farm

tenants
As Sir Francis Willes owned other property which was not part of

Home Farm

, it is difficult to
determine precisely what land was attached to the farm. A further complication is that when the
parishes of Kings Walden (in 1796-97) and Ippollitts (in 1818) were enclosed, some of Sir Francis'
holdings in these parishes were exchanged for other pieces of land so that after enclosure he held a
different portfolio of fields and woods.
The 1861 census notes that the farm occupied 140 acres. This assessment is more or less confirmed
by a schedule which shows that

Home Farm

consisted of 133 acres within three parishes: Ippollitts
(60 acres), Hitchin (27) and Kings Walden (26). Indeed this farm sprawled over more than 1½ miles
with islands of fields dotted here and there. For this reason, it was probably difficult to manage this
holding successfully.
As

Home Farm

fields were located in three parishes and at least three manors (Temple Dinsley and
Maidencroft), information about the farm is scattered among several sources, which is unhelpful for
the researcher.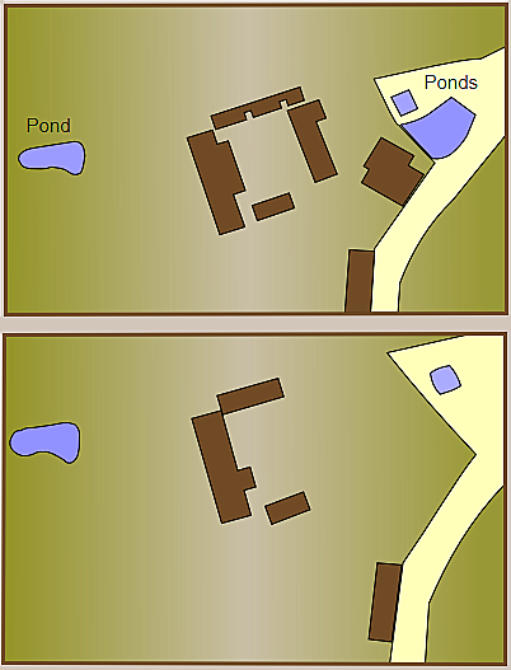 Home Farm
farmhouse and out-buildings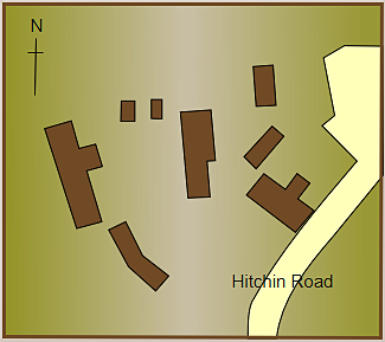 These plans are copied from maps of
Home Farm
dated 1816 (above), 1898
(above, right) and circa 1910 (right). Note
the ponds near the farmhouse that were
essential for farm life. Animals drank from
them and implements were cleaned in
them. It is clear from the maps that out-
buildings were added during the
nineteenth century but many were
demolished in the early twentieth century.
Manorial records mention a courtyard
and a 'great stone lying near the gate'.
Home Farm
- fields in Hitchin parish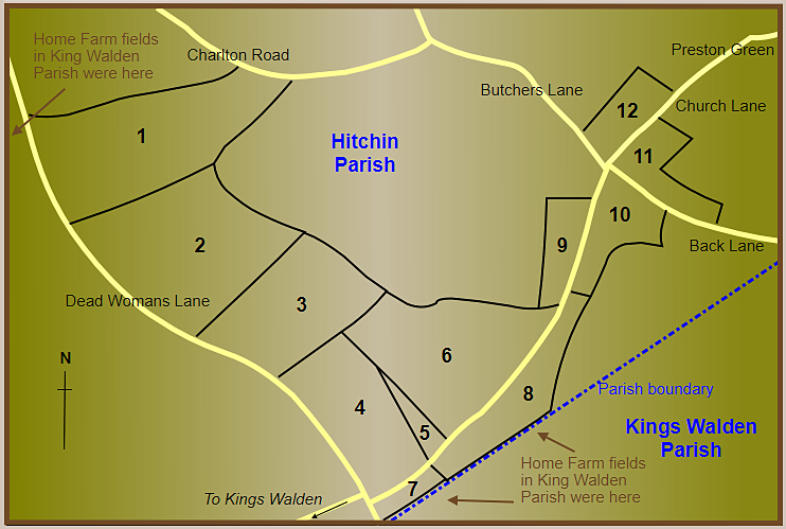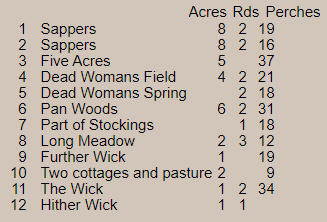 Home Farm
- fields in Ippollitts parish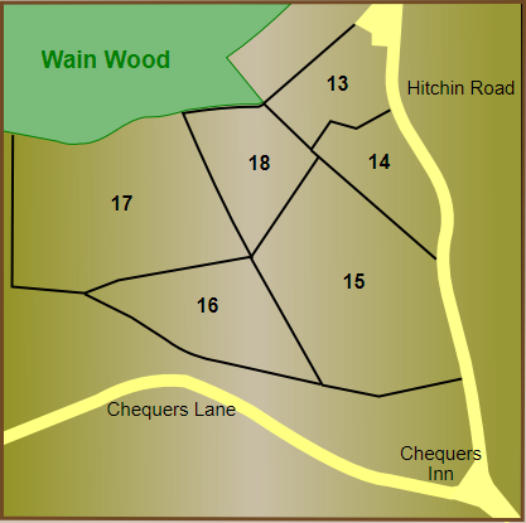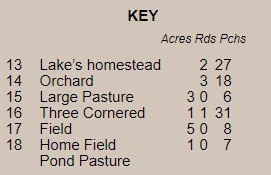 The Large Pasture (15, above) was used during Preston's celebrations to mark the diamond jubilee of
Queen Victoria on 20 June 1897.: it was 'celebrated with great enthusiasm by the people of Preston
and a total sum of £31 8s 4d was collected from which a mug, an orange and a bun were presented to
every school child in the village. The remainder of the money was sufficient to provide prizes for
sports and dinner and tea for all the inhabitants.
Mr Alfred Brown of

Home Farm

placed the field in front of his house at the disposal of the committee
who were supervising the arrangements. A marquee was erected there and after a Thanksgiving
Service in the Mission Hall, everybody marched to the field where a substantial luncheon was
provided. In the afternoon, there were sports and games and the day closed with music and dancing'.
A significant part of this land (shown above) is now the Preston Cricket ground. It was Douglas
Vickers (the then owner of Temple Dinsley) who gave permission for the meadows to be used as a
recreation ground - though he was reluctant to allow football to be played there. The first pavilion was
a derelict shed which stood where the gardens of

Chequers Cottages

are today.
During World War I, the camouflaged tents of an Army Signals Platoon occupied the field. There was
'much coming and going of motor despatch riders'.
Sir Francis Willes acquired some of the land shown below from the Darton family after the enclosure
of Ippollitts in 1818. This included Chalk Pit Field, Whitebread and land in Pageant Field.
A word in passing about Pageant Field: its name was an excuse for Reginald Hine to wax lyrically
about a pageant of historical characters who might have been glimpsed from Preston Hill in his

Early
History of Temple Dinsley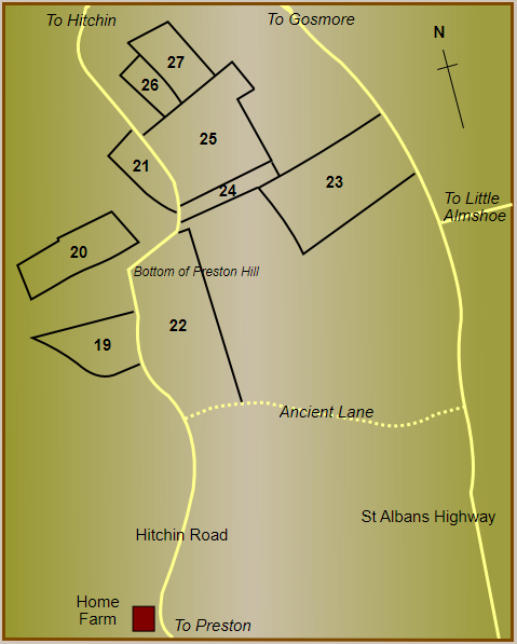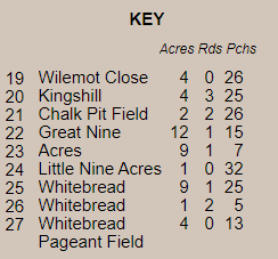 The total land of

Home
Farm
in Ippollits parish
was 60 acres 1 rood and
28 perches.
Home Farm
- land in Kings Walden parish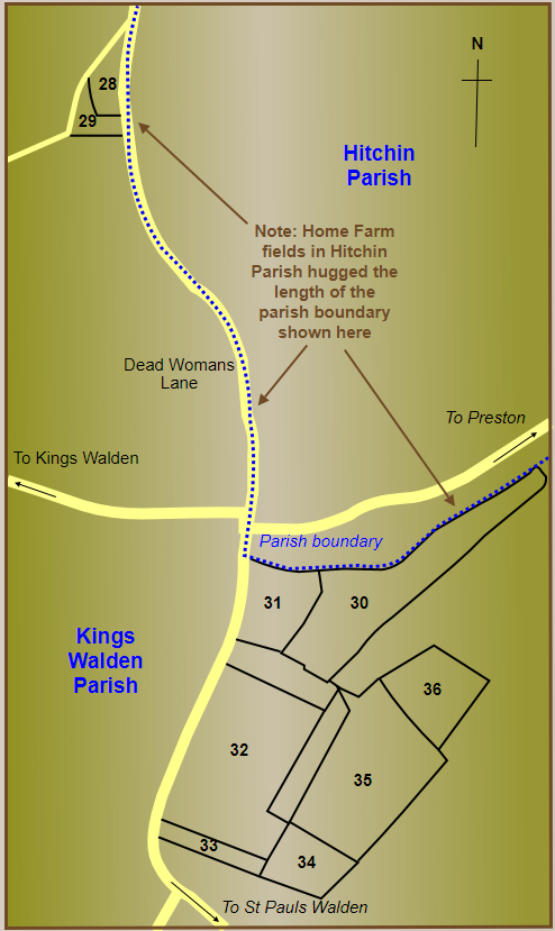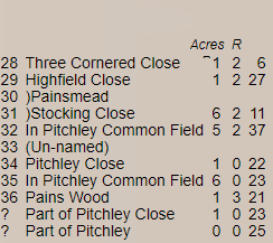 The total land of

Home Farm
in Kings Walden parish after
Enclosure (1796-97) was 26
acres, 1 rood and 3 perches.
The tenant farmers of

Home Farm

- George Lake (1806c - 1860)
When they were installed as tenants of

Home Farm

, George and Elizabeth Lake continued the farm's
link with the Hertfordshire village of Pirton – a previous owner was James Hanscombe of Pirton
Grange. George (a farmer's son) and Elizabeth had married at Pirton on 27 May 1801. They were first
associated with the farm five years later in 1806, when aged 27 and 29 respectively.
Their first two children, Mary and Eliza, were born at Pirton and the couple had a further eight children
who were born at Preston. Three died in infancy. Many were buried at Hitchin's Tilehouse Street
Baptist Church - an indication of the family's religious inclinations. Indeed, following George's death in
1860 (from an obstruction of the bowels), Elizabeth and their eldest spinster daughter, Mary moved to
Tilehouse Street. When they died in 1863, (after a bout of diarrhoea and debility) they too were buried
in the Church's graveyard.
An indication of the work involved at

Home Farm

was in 1861 when five men and two boys were
employed by the newly-widowed Elizabeth. Among the work-force in earlier years were two members
of my family. In 1851, Thomas Currell (18) was a horse-keeper on the farm and John Ward (40) was a
labourer. John Ward was the son of my greatx2 grandparents, William and Ann Ward. They were living
at

Home Farm

in 1851.
George and Elizabeth's daughter, Emma Lake, maintained the family's farming tradition when she
married George Wright who farmed at Sandridge, Herts

(From information kindly provided by Margaret Lewis)
The tenant farmers of

Home Farm

- William, Emma and Alfred Brown
The Brown family played a large part in the life of Preston in the second half of the nineteenth
century. Not only did William Brown own the

Red Lion

during this time, but his sons farmed at

Home
Farm
and
Pond Farm
. It is appropriate to include some background to the family while describing
their tenancy of

Home Farm

. There is a link to the Brown family tree here:

Brown tree
The Brown family were no mere agricultural labourers. Many were farmers in the parishes around
Preston, others were entrepreneurial dealers and some were both farmers and dealers.
In the eighteenth century, the family lived at Kings Walden. Then, between 1806 and 1810, Joseph
Brown and his wife Susanna (nee Smith) moved to neighbouring St Paul's Walden where they
farmed at

East Hall

.
The couple had six children, born between 1805 and 1820. Although we are concentrating on their
fourth son, William, who lived in Preston, two other sons continued in the Brown farming tradition:
James with 90 acres at East Hall and George who was farm bailiff over 207 acres at

Stagenhoe Farm
before moving into Hitchin where he ran a corn-factoring business.
William and Emma Brown (nee Hill)
William Brown was christened at St Pauls Walden in 1816 and married Emma Hill, the daughter of
Charles and Mary who farmed

Pond Farm

(Link:

Pond Farm

). In 1841, William and Emma were
farming in a small way at Bendish. Ten years later he was still there, farming 12 acres and
supplementing his work as a dealer.
The pair had eleven children: all but the last one, William, being born at Bendish. As William junior
was baptised at St Mary's, Hitchin in 1854, it may be implied that possibly the family moved from St
Paul's Walden to Preston between 1851 and 1854.
Following the death of Harriet Saunderson in 1847, the

Red Lion

inn at Preston was put onto the
market and William purchased it, and its two surrounding fields of four acres, for £820. William traded
as a publican and a horse dealer and retained the

Red Lion

for fifty years, although by 1871, he and
Emma had installed a manager at the

Red Lion

and moved to Gosmore where they farmed 244
acres, employing 9 men and 3 boys.
In 1864, William was charged with selling a lame horse. An insight into his character is given by his
declaration to the buyer that 'a better worker or a sounder horse you never bought in your life'. Later
he avowed the horse was 'sound and never had anything the matter with it' - but he refused to
warrant it. When lameness was suggested, William retorted, 'Lame – you can take my word he is as
sound a horse as ever you bought'. After buying the horse and taking it home, it was found to be lame
the next day.
When William died, aged 58, on 2 January 1875, he was back at Preston as the tenant of Preston
Home Farm
. In 1881, his widow, Emma, continued farming there (with 105 acres) and her children,
Matilda, Alfred and Benjamin were helping to run the farm.
Several of William and Emma's children also farmed: Ellen, their youngest, married Robert Titmus of
Poynders End and in 1861 they were farming at Bendish Grove. We will concentrate on those who
lived in Preston.
In 1868, Charles Edwin Brown married Louisa Young, the daughter of a plait dealer. He had been a
butcher at Walkern, Herts, but three years later they were living with their daughter, Blanche, at the
Red Lion
, Preston. Like his father, Charles was also dealing in cattle. Between 1873 and 1874, the
family moved to Bendish where they farmed 20 acres. Charles and Louisa had eight children.
William and Emma Brown's children
In 1875, Charles was found guilty of cruelly ill-treating a
horse and working it in an unfit state. It was 'poor and had
great difficulty in moving...it was in great pain and was lame
on the off hind leg. It had caps on its knees and had recently
gone down'. When interviewed, Charles at first said that the
horse had been sold, but pressed and asked for a certificate
of sale, he admitted that it was 'no use telling lies about it'
as the horse was standing in his meadow. (Link to full report
C. Brown
) In 1878, William and Emma's son, Benjamin,
(who was living with his mother) was charged with allowing
his horse and cart to obstruct Hermitage Road in Hitchin for
more than an hour. (Link to full report:

B. Brown

).
(

Right)

Charles and Louisa's daughter Blanche circa 1893
The two sons of William and Emma who played the largest part in Preston's history in the last quarter
of the nineteenth century were Alfred and Frank. Yet the brothers did not always get along. In 1874,
(aged 26 and 23 respectively) Frank accused his older brother of assault. When it came to court, the
charge was withdrawn but when the Court told Frank that he should pay the 7/6d costs, he
'demurred' and said his brother should pay. They came to some agreement and the matter was
settled.
It was Alfred who farmed at

Home Farm

after acting as his mother's bailiff there in 1881. He was in
sole charge until around 1909. He married Elizabeth Marriott, (whose parents farmed at

Castle Farm,
Preston) at St Pancras, London in 1881 and between 1882 and 1899 they had seven children.
In 1893, Alfred was charged with using threats against a Hitchin saddler who had instigated County
Court proceedings against him. Both parties were bound over to keep the peace for six months.
After he left

Home Farm

, he was at

Pond Farm

on the Charlton Road in 1911 and later he was
farming at

Leggatts Farm

in Kings Walden Parish in the 1920's.
Alfred's son, (John) Bruce also farmed at

Pond Farm

.
Frank Brown lived at

Sadleirs End

on the north side of Chequers Lane. Although he is sometimes
described as a farmer (having 65 acres in 1881), he is more often reported as a hay and straw dealer.
Frank married twice, his second wife being the widow, Hannah Mary Frost, who lived in Preston. He
had four children by his first wife, Lydia (nee Watts) and a further three by Hannah.
Frank evidently had a fiery, aggressive nature which resulted in several brushes with the law. During
1891-92, he had a running battle with John Dew of

Castle Farm

. Dew accused him of throwing a
missile at his back and then threatening to assault him - there were 'ill feelings between the parties'.
Following this, it was alleged that Frank had threatened to 'do for him' as Dew had 'given him a great
deal of annoyance for some time past'. On both occasions, Frank was bound over to keep the peace
but as Dew must have passed his home several times a week, no doubt the feud rumbled on.
Frank was twice charged with cruelty to a horse. In 1882, his servant was delivering hay at Whitwell
when the local constable noticed his horse was 'in very bad condition...with a large raw wound under
the saddle' the size of a man's hand which appeared to be of long standing. The labourer who was
delivering the hay seemed almost relieved to be charged as local landowner, Mr Hale, had also
stopped him because of the horse's condition.
Again in 1901, an inspector for the Society for the Prevention of Cruelty to Animals charged Frank
over a horse that was drawing a load of hay. It was alleged that it was lame on both fore feet and was
in pain, however the case was dismissed as there was doubt over when the injuries had been
caused.
Link to Brown family tree:

Brown tree
(Below)
The houses that are on the site of
Home Farm
: (left)
Hartings
, (right)
Wain Wood Edge