The book:

A History of Preston in Hertfordshire
A book distilled from this web site,

A History of
Preston in Hertfordshire
, was published on 18
February, 2015. It is intended to be an
educational, instructional and non-commercial
publication.
The book is hardback and bound with 114 portrait
A4 pages on 130 gsm silk paper in full colour and
includes more than 300 illustrations. Two hundred
copies were ordered from Berforts of Stevenage
(who have done an outstanding job) and all were
sold by 28 February 2015.
A reprint was ordered and has now sold out.
A review of

A History of Preston in Hertfordshire

by Chris Reynolds, webmaster of
Genealogy in Hertfordshire
"Philip has done an excellent job in bringing together different aspects of the history of Preston, a tiny
village near Hitchin. He first became interested when researching his ancestors and as his family tree
grew he discovered he was a blood relative to almost half the villagers listed in the 1881 census. For
this reason he expanded his interests to cover the whole village, and in 2007 he launched

the History
of Preston in Hertfordshire
web site. He then ventured into on-paper publishing and has now ended
up writing this book.
As an outsider - who has little direct knowledge of the village - I have learnt a lot about the place by
looking at the book, especially relating to the involvement of the Knights Templers and Temple
Dinsley. Where I have first hand knowledge - such as the section on straw plaiting in Hertfordshire - I
am impressed by the care and thoroughness of the way the subject is treated. I also liked the
biographies of Preston men who fought and sometimes died in the First World War. Philip has put a
significant amount of hard work into the research and if your ancestors came from Preston you will
find much to interest you.
In addition the general presentation of the book is excellent - with plenty of pictures - in colour where
possible - and an easy layout which helps you to find your way around - helped by a useful index,
with many personal names. The technology for amateur desktop publishing has moved on
enormously since I produced my The London Gunners come to Town in 1995 and Philip's book is an
excellent example of what can be done with the latest technology. The fact that the book is backed by
a very good web site - is a great advantage as I am sure Philip will find that once a book has been
printed new information will turn up - and where appropriate this can be made available online."
What readers have said about

A History of Preston in Hertfordshire

:
"...the book looks great and is very interesting, worth all the hard work" PB
"Many thanks for your excellent book, which I have just received. Well done, it is a fascinating and
beautiful production" NM
"I'm delighted to have sight of your new book of Preston and am fascinated by your findings." BU
"The book was safely received and has been much enjoyed and admired. What a great work!" CH
"My copy arrived today and I am very pleased with it. Thank you." MR
"Congratulations Philip on a wonderful achievement, not only does it make interesting reading for us
now but will be invaluable to those that follow with an interest in one small Hertfordshire Village and
of course I know my Family will enjoy it. I know you have put a huge amount into the project, it is very
well produced and I am sure you will be delighted with the result." BF
"I have received the book this morning. Thank you very much, I am delighted with it." MD
"I am a little cross, on opening the book I intended just to make sure all was in order and then write to
you - yes I am still doing that but it is now over an hour since the book arrived and instead of getting
on with my chores I have been turning the pages of the book and enjoying it so much I did not want
to put it down!! Time for lunch in a minute and then I have a friend coming this afternoon - damn I will
have to wait until she has gone before I can get back to the book!! Philip, you have done a great
piece of work and I am delighted with it." WD
"Just a message to thank you very much for inviting us to Preston on Saturday. It was a very great
pleasure to meet you and to see your efforts received so well by your friends in the village." RP
"An excellent production. I found it very moving to read. Captures the spirit of Preston and its
inhabitants through the ages." RS
"Just a quick email of congratulation on your excellent book and an appreciation of the amount of
time and effort you put into its creation. You can be proud of your achievement!" NM
"Have just finished reading "The History of Preston in Hertfordshire", a most interesting and
informative volume. The amount of information contained therein is amazing. From the content it
contains it is fairly obvious that there is a lot more history still to be found in and around Preston.
You are to be complimented on the effort and detail put into book." PD
"We've had some new local books in the last few weeks which I wanted to share with you.
A History of Preston in Hertfordshire by Philip J WrayThis very handsome book grew out of the
author's adventures into his family history. He discovered that not only has he had family in Preston
since 1751, he is also related by blood to almost half the villagers in 1881 and still has a relative who
lives in the village. But this book is not just a personal history there is a vast amount of information
about Preston itself." Eric T Moore's Bookshop, Hitchin
The following article appeared in the

Hitchin Comet

on 22 January 2015: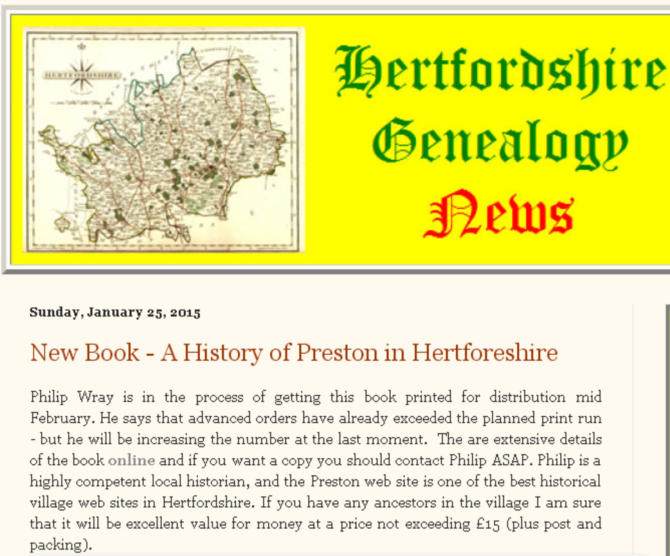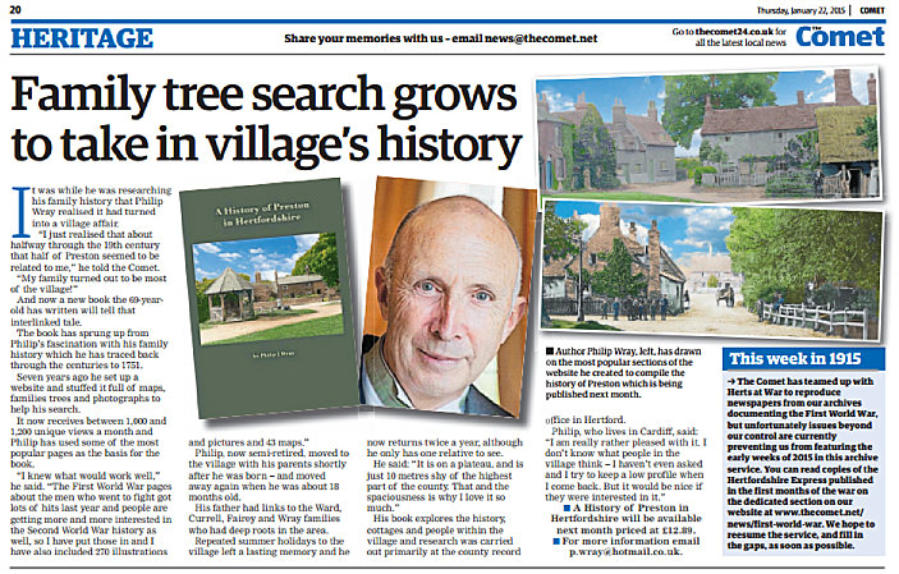 The following unsolicited testimonial has been kindly posted on
the

Genealogy in Hertfordshire

web site by its web master, Chris Reynolds:
Samples of some of the book's pages: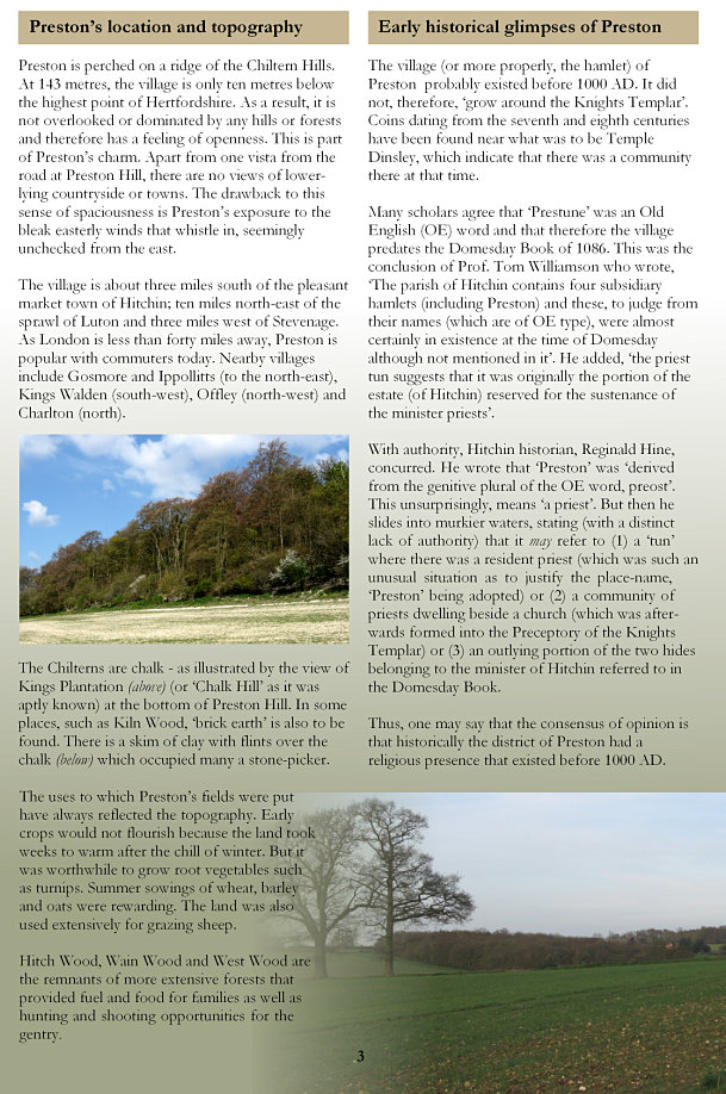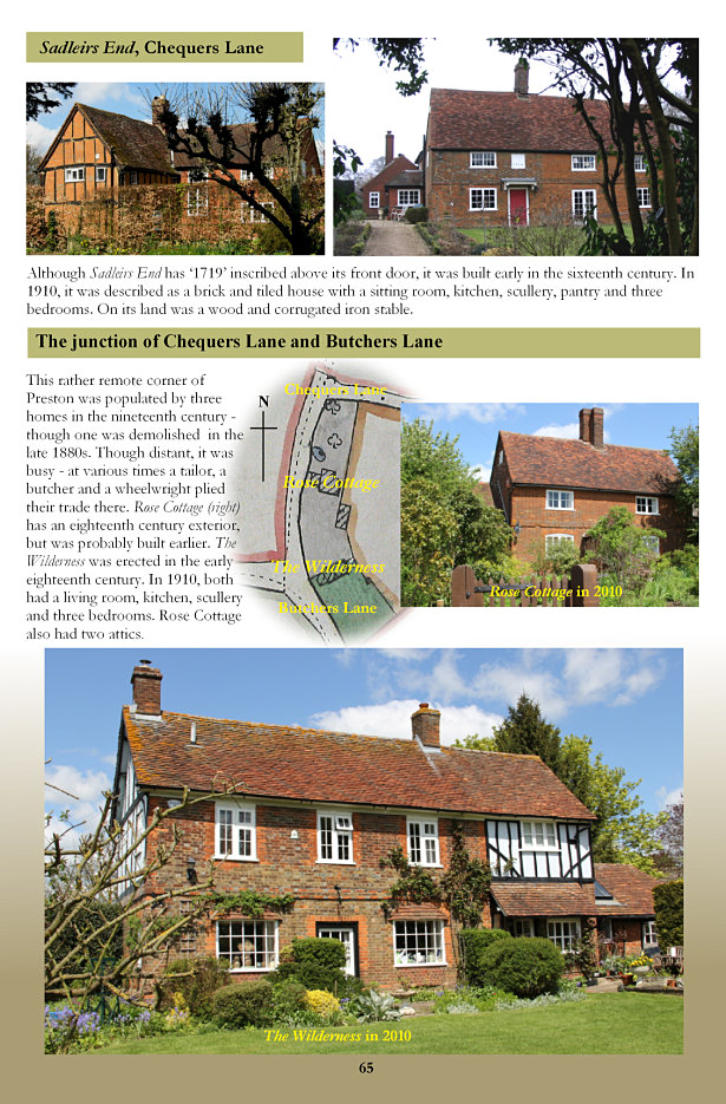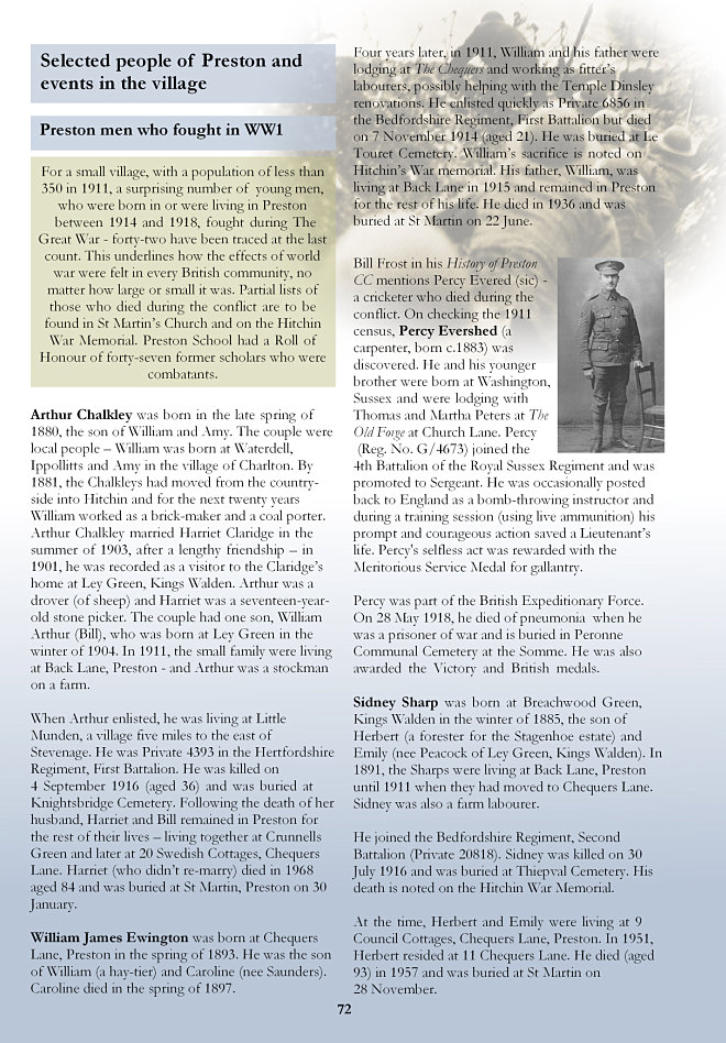 Preston's location and topography
Early historical glimpses of Preston
The Domesday Book and Preston
Preston, Hitchin and the de Balliol family
Dinsley/Preston Castle
The Knights Templar and Temple Dinsley
The treasure of the Templars and how they fell
from grace
The Manor of Missenden aka Minsden
The Knights Hospitaller
The occupants of Temple Dinsley from 1312
The Manor of Maidencroft
Preston and the plague of 1349
Owners of Temple Dinsley from the middle of the
fourteenth century (including the Sadleirs)
Minsden Chapel and the rebellion of Preston
villagers
The recent history of Minsden Chapel
John Bunyan and Non-conformity at Preston
Views of Temple Dinsley circa 1700
Benedict Ithell purchases Temple Dinsley
Thomas Harwood inherits temple Dinsley
Robert Hinde at Preston Castle
The Darton family at Temple Dinsley
New owners of Temple Dinsley from 1873,- the
Pryors
Fire at Temple Dinsley
The Seebohms at Poynders End
The building of St Martin's Church
James Barrington-White and the Fenwicks at
Temple Dinsley
The architect Sir Edwin Lutyens and his work at
Preston
New owners of Temple Dinsley - Douglas
Vickers and Almina Countess of Cararvon
Princess Helen College moves to Temple
Dinsley
Education at Preston
The Red Lion at Preston Green
Preston Village buys the Red Lion
The Chequers Inn
Straw plaiting
Crime at Preston
Morality and mobility in the village
Lanes and highways about Preston
Preston's pound
Beating the parish boundaries
Preston's allotments
Preston's Benefit Clubs
Cricket at Preston
Preston - best-kept smaller Herts village 1959
Preston Green
The well at Preston and wind pumps
Discovering a lost village near Preston
Forty pages of the most popular pages from this web site, including Preston men who fought in The
Great War; Preston in World War Two and the Preston Hill "Murder" and robbery case of 1864, Mary
Woodhams and Preston School, The Wallers - builders of Preston, the Armstrongs and the Newells,
Alfred and Emily Wray, Flossie Sugden; Mary Woodhams and Preston School, Nina Freebody -
historian of Preston; Dick Middleditch - cricket umpire and gamekeeper; the reminiscences of Robert
Sunderland; Samuel Hall and his family; the Scott family of Church Road; a dedication to my parents,
Sam and Grace Wray; acknowledgements and references and a two-page index.