Herbie and Phyll Jenkins of Castle Farm
Herbert ('Herbie') Jenkins was the son of farm labourer George and Mary (nee Jeeves) Jenkins, born
on 28 July 1879 at Offley Holes. He was baptised at St Mary's, Hitchin on 14 September 1879.
By 1881, this branch of Preston's Jenkins family was living at Preston Green – Herbie being
described as a horse-keeper in 1901.
He married Sarah Tamar Arnold at St Pauls Walden towards the end of 1902. The couple had a baby
daughter in the following spring but sadly Sarah (aged 20) died on 22 May shortly after their child was
born. She was buried at St Martin's, Preston two days later . Then, after little more than four months,
the infant (named Tamar after her mother) also died and was buried at St Martin's on 22 October
1903.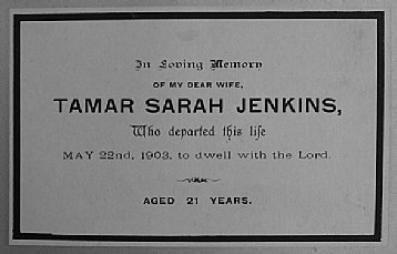 Almost a year to the day after burying his small daughter, Herbie married my great aunt, Phillish (sic)
(Phyll) Currell (25) at St Mary's, Hitchin on 29 October 1904. Their witnesses were Herbie's and
Phyll's siblings, Ernest Jenkins and his wife, Lizzie (nee Currell).
At the time of her marriage, Phyll already had two sons: Arthur Reuben Currell (born 18 October
1895) and George Currell (2 October 1899). By 1911, Herbie and Phyll were living on the north side
of Chequers Lane where they resided until at least 1914. In addition to Phyll's two lads, they now had
two children of their own: Frank Jenkins (born 29 April 1905) and Maggie (28 October 1910). Also in
the household that day was Phyll's nephew and my uncle, Ernest Wray. Herbie continued to work as
a horse-keeper. A last child, William 'Dillar' Jenkins, was born on 20 February 1913. In 1918, the
family had briefly re-located to Hitchwood Cottages, but from the early 1920s until 1959 Herbie's
family was living at Castle Farm, Preston.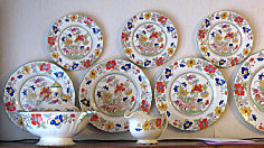 The front room of

Castle Farm

was 'beautifully furnished' and contained
a table, a dresser, a large chest of drawers and an organ. The dresser
housed a collection of Ironstone china with the 'Bible' pattern which
today is 'highly collectable'. Some of the set is shown right.
This room was in stark contrast to the living room at

Castle Farm

which
was cavernous and dark, reeked of boiled pigs swill.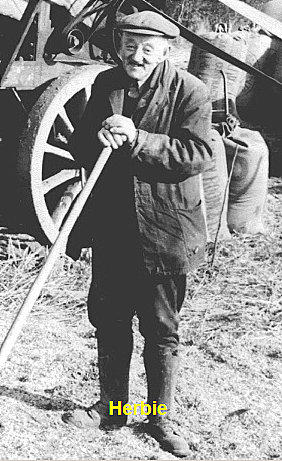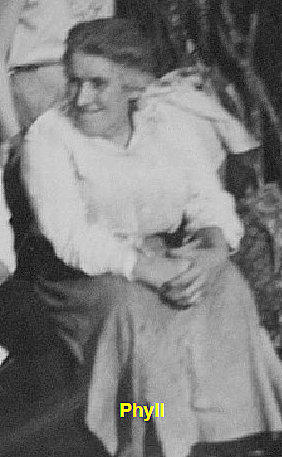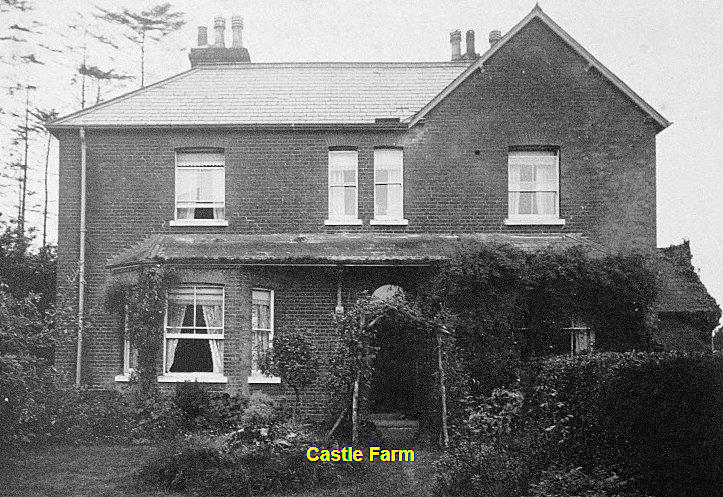 When Douglas Vickers owned Temple Dinsley, he built up a prize-winning herd of Wessex
saddleback pigs. These were managed by his estate manager, Reginald J W Dawson, but the day-to-
day running of the herd was Herbie's responsibility – he was described in 1951 as a 'Pig Farmer
Herdsman'.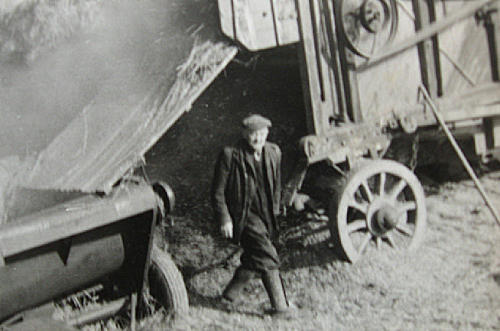 The herd was established in 1921, so it is likely that Herbie was engaged at its inception. To illustrate
the scale of the operation, from 1921 upwards of 1,000 pigs were reared each year. After 1925, the
herd received 500 awards at leading shows. A quick trawl through news reports of the time reveals
almost 200 references to Vickers 'Saddlebacks'.
One consequence of this breeding success was that the village of Preston was publicized as several
prize pigs were christened 'Preston this-or-that'. So there was 'Preston Laurette', 'Preston Officer',
'Preston Dilly', 'P Orient', 'P Spot', 'P Dell', 'P Senator', 'P Vanity', 'P Onyx' and so on.
Perhaps the impact of this herd on the psyche of Preston villagers is illustrated by inclusion among
the photographs of one of my (and Phyll's) relations was of a wallowing pig – which has been formally
identified as a 'Saddleback'.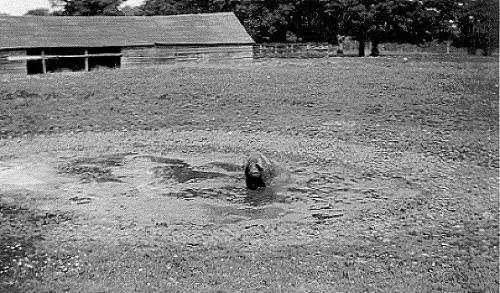 Phyll suffered a heart attack and died at Castle Farm on 24 April 1959. Herbie (now almost eighty-
years-old) then lived with his daughter, Maggie Jenkins, at 8 Whitwell Road, St Pauls Walden until his
death following a stroke on 5 November 1966. Both were buried at St Martin's, Preston (see below).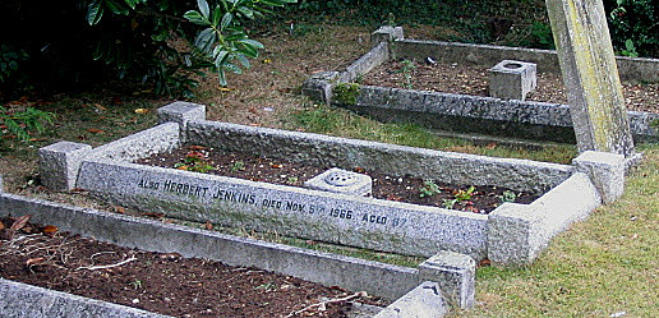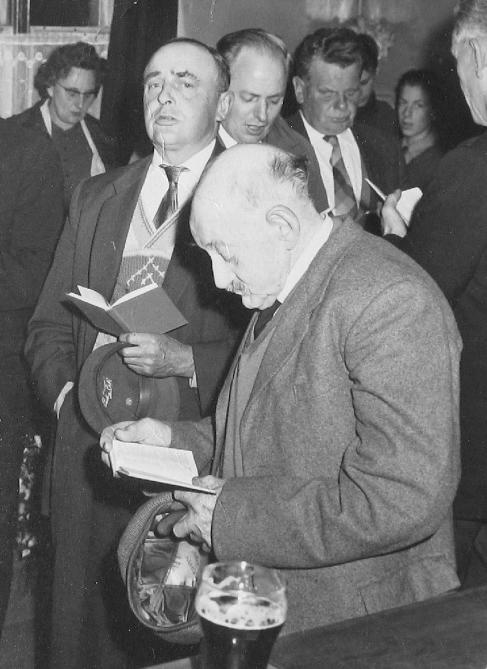 Herbie's will (shown below) dated 28 July 1955 left his estate in equal parts to

his

(but not Phyll's)
surviving children, Frank and Maggie Jenkins.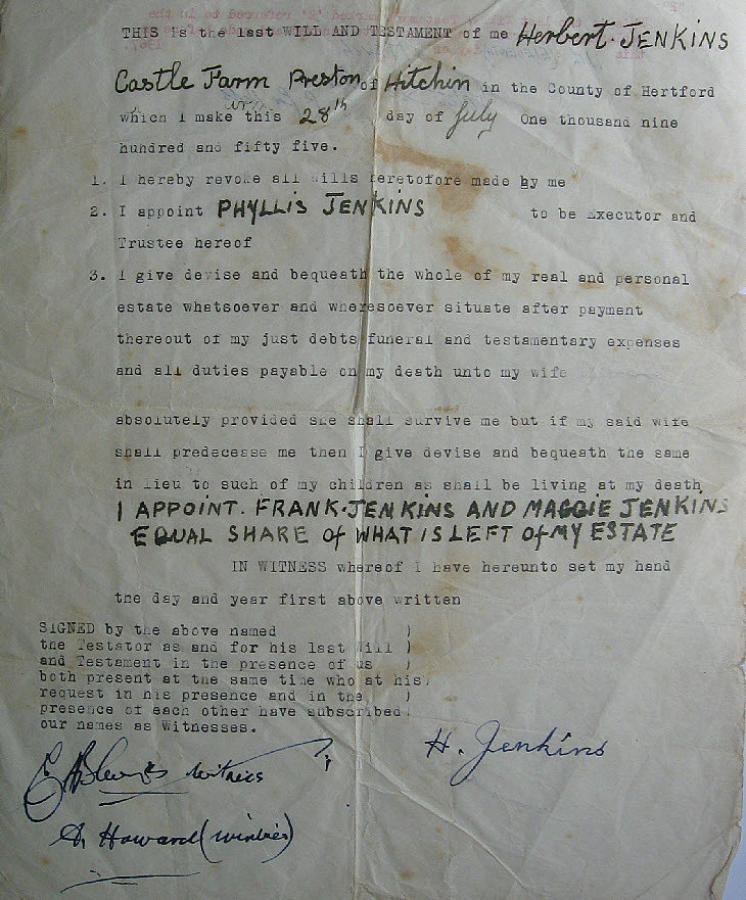 The children of Phyll (nee Currell) and Herbert Jenkins
Arthur Reuben Currell (1895 - 1958)
Arthur was born at Preston on 18 October 1895. He married Annie Payne at St Martin's Church on 25
September 1920. The couple had four children: Patricia (1924), Violet (1927), Alec (1930) and
Margery (1932). The family lived at 4 Holly Cottages, Back Lane, Preston from the early 1920s. Arthur
was described as a labourer and then a builder's labourer (1954).
Arthur died in 1958, aged 62, and was buried at St Martin's. He was re-united with Annie (89) on 16
March 1983.
George Currell (1899 - 1976)
George was born at Preston on 2 October 1899 and was among the first five infants to be baptised at
St Martin's Church on 20 April 1902.
He enlisted in the army, serving for around eleven years in 'A' Company, 2nd Battalion, The Kings
Royal Rifle Corps. By 1932, George was living at 20 Old Park Road, Hitchin and working as a
chauffeur. On 12 November 1932, he married Susan Drysdale Lyon at St Martin's, Preston. His half-
brother, Frank Jenkins, was a witness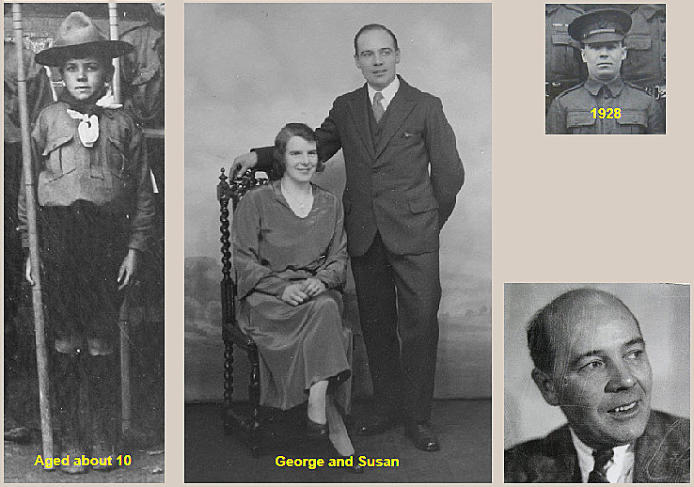 George and Susan had two children who were born at Hitchin: Douglas G Currell (1933) and Anne E
(1935), shown below:

Susan died in during 1976 and George passed away two years later in 1978.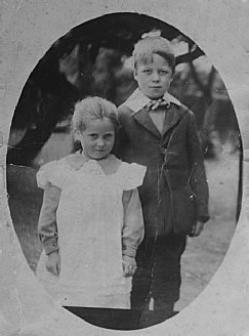 Frank was born on 29 April 1905. He was living with his parents at
Castle Farm in 1929. He left Preston for St Pauls Walden/Whitwell and
married Ada Addington (bn 1895) in 1949. Ada died in 1964 and Frank
returned to Preston soon afterwards when he was living alone at 7 Holly
Cottages, Back Lane - a close neighbour of his sister-in-law, Annie
Currell. He died in September 1984.
Frank was known as 'Panny' and worked for Major Harrison at Kings
Walden. He was half-blind (in one eye), pleasant - and smart when
"dressed up".
Frank Jenkins (1905 - 1984)
Maggie Jenkins (1910 - 1982)
For details of Maggie's life see link:

Maggie Jenkins
(Right)
Maggie and Frank Jenkins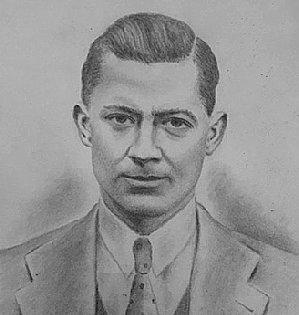 William was born on 20 February 1913. D Frost in his History
of Preston Cricket Club makes three comments about 'Dillar':
1. He was included in Frost's Preston CC's Best XI
2. "'Dillar' Jenkins, potentially the Club's finest batsman, did
not return from services with the Armed Forces."
3. "RH Bat. Although he played some brilliant innings for the
Club, it is likely that he would have developed even more had
it not been for his untimely death."
'Dillar' (Private 5955280 in the Beds and Herts Regiment, 2nd
Battalion, The Hertfordshire Regiment) was killed in action in
the North African Theatre of War on 13 April 1943. It took
almost a year before his death was officially reported to his
parents on 17 March 1944. He features on the Medjez-El-Bab
War Memorial.
William 'Dillar' Jenkins (1913 - 1943)