A History of Preston in Hertfordshire
Henry Robert Brand: Tenant of Temple Dinsley (1880 - 1889)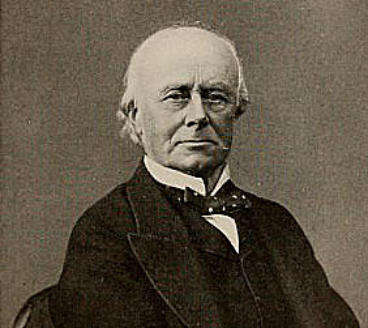 The facts that are known indicate that the Brands probably moved to Preston between 26 February
and 12 March 1880. John Weeks died at Temple Dinsley on 13 August 1879 and there were two
auctions of his furniture and effects in January and February 1880. Henry Brand then wrote a letter to
a newspaper from the mansion on 12 March 1880. Soon afterwards, Mr and Mrs Brand visited
Preston School on 20 April 1880. They had previously been living at Malling Deanery, Lewes, Sussex,
where their third son, eight-year-old Richard, had died three months earlier on 18 January. In April
1880, Mrs Brand was pregnant with their eighth child, Roger, who was born on 23 November.
After some controversy, Henry was one of two candidates who were elected as MPs for Stroud, Glos.
on 1 April 1880. However, they and their agents were accused of bribery. A notice to this effect was
inserted in a local paper on 7 May and the election result was voided. The accounts of the two
candidates agents were published, revealing that £4,910 11s 6d had been spent. A second and a third
election were held which Henry won by a margin of eighty-two votes. However, his agents had been
less than honest about their expenses his father, as Speaker, has the mortifying duty of announcing
to the House that Mr Brand was no longer the honourable member for Stroud.
So it was during a time of upheaval in their lives that the Brands decided to return to Hertfordshire, the
county which he had served as its Member of Parliament from 1868 - 1874. The dust had settled by
the time of the 1881 census which provided this picture of the household at Temple Dinsley:
Family:
Henry Robert Brand, 2nd Viscount Hampden and

24th Baron Dacre
Born: 2 May 1841 Devonport, Devon. Died: 22 November 1906.
Married: (1) 21 January 1864 Victoria Alexandrina Leopoldine Van de Weyer (died 20 July 1865)
*
(2) 14 April 1868 Susan Henrietta Cavandish: (born 1846; died 16 October 1909)
Children: Thomas Walter Brand (born 1869)
Hubert George Brand (born 1870)
Richard George Brand (born 8 August 1871; died 18 January 1880)
Margaret Brand (born 1873)
Alice Brand (born 1877)
Dorothy Louisa Brand (born 1878)
Robert Henry Brand (born 30 October 1878)
Roger Brand (born 23 November 1880, Temple Dinsley; died 23 October 1945)
Geoffrey Brand (born 3 October 1885, Temple Dinsley; died 25 February 1899)
Career:
Captain in Coldstream Guards; MP (Liberal Unionist) for Hertfordshire (1868 - 1874) and Stroud
(1874 and 1885 - 1886); Speaker in the House of Commons (1872 - 1883); Surveyor General of
the Ordnance (1883 - 1885); Governor of New South Wales, Australia ( (1895 - 1899)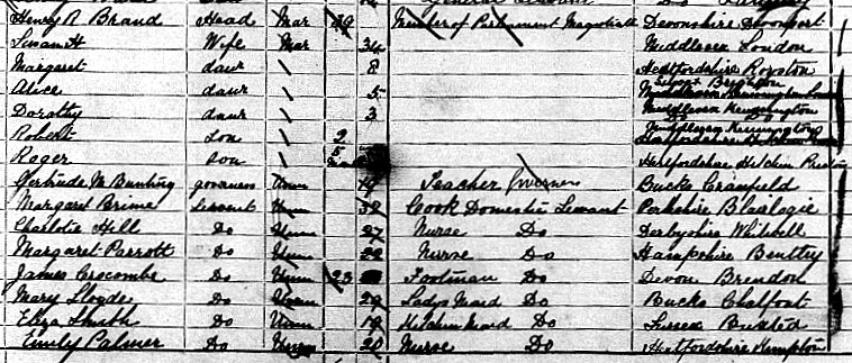 Two children were born to the Brands at Temple Dinsley during their sojourn there. They were
baptised at Kimpton (close to Henry's ancestral home) and Kings Walden:


Mrs Brand showed considerable interest in the activities and children of Preston School, visiting five
times in 1880 and 1881, but rationing her visits to twice or thrice a year afterwards. She took
needlework for the children to do, heard the children sing, examined needlework and provided school
treats in 1883, 1885 and 1889.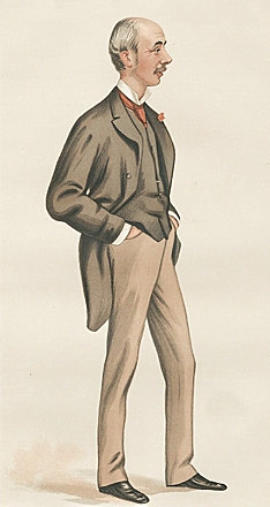 Henry's family had an estate at Glynde Place, Sussex and there in 1887, Henry established a farm of
600 to 700 acres and a herd of seventy Jersey cattle. He took an active interest in butter-making and
cream production by mechanical means. In September 1887, Henry entertained a journalist at
Sussex. He explained in detail the workings of the farm and was reported to be a 'popular landlord,
actively supervising all he affairs of the estate'. He let allotments to all his labourers and it was said
that he dealt with them justly but firmly.
It may be that the Brands (shown right) stayed less at Preston after this time as no visits by Mrs
Brand to Preston School are recorded between May 1886 and August 1889.
Henry was appointed Lord Lieutenant of Sussex and in June 1889, opened Worthing, Sussex pier.

Then, on 1 November 1889, this comment appeared in the Preston School log book:
By 1901, the Brands had returned to Hertfordshire and were living at

The Hoo

, Whitwell, St Pauls
Walden (pictured below). In residence were eight relatives (including a grandson) and twenty
servants: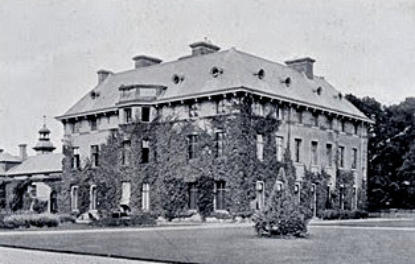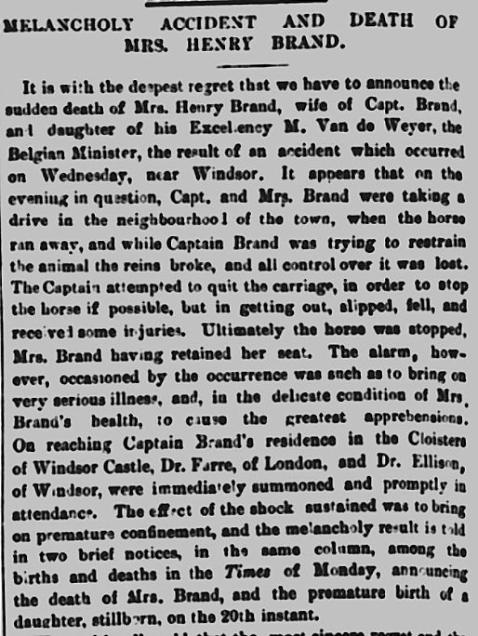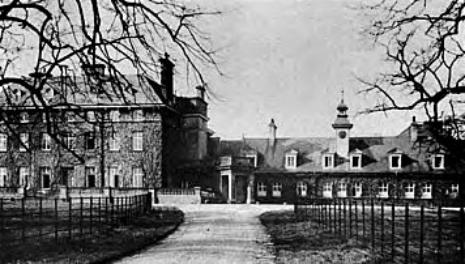 Henry died in 1906 when his estate was valued at £160,000. The cause of his death was kidney
disease linked to malaria. Both he and Susan, who died in 1909, are buried in Kimpton Churchyard.
One final tidbit about Henry is that he may well be one of the founding fathers of cricket at Preston.
Link:

Cricket
The tenant of Temple Dinsley from 1880 until 1889 was no stranger to North Hertfordshire. As the
43rd Lord Acre Designate, Henry Brand's family had lived for several decades at

The Hoo

(aka
Kimpton Hoo
), Whitwell, St Pauls Walden which was situated a few miles south of Preston.
This article is not intended to be a life-history of Henry Brand
It focusses on when he and his family were living at Preston (1880 - 1889) and his character.
Peter Hale has written a book about the Brand family which describes in detail their history
at 'The Hoo', 'our' Henry's life, and why the family's wealth was reduced.
In it Henry and Susan's time at Temple Dinsley is not recounted.
The book can be read at this link:

The Brands