Norah and Julian Gribble and
Leslie Grace Seebohm (nee Gribble)
Leslie Grace Seebohm (of Poynders End) and her mother, Nora Gribble, were buried at
St Martin's, Preston in 1913 and 1923 respectively.
This is the story of Norah's life,
Leslie's burial and Norah's son, Julian Gribble, who is memorialised in St Martins Church.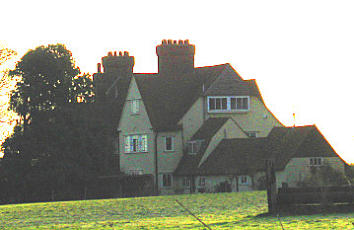 The Quaker, Frederic Seebohm, was born at Bradford,
Yorkshire in 1833 and married Mary Ann Exton in 1857.
He wrote the acclaimed work,

The English Village
Community
which drew its inspiration from the area
around Hitchin. The couple had six children:

five
daughters and a son, Hugh Exton Seebohm, who was
born in 1867. In 1901, Frederic was living at 84 Bancroft,
Hitchin and was described as a banker and magistrate.
Meanwhile, the merchant, George James Gribble,
married Norah Royds (born 1859 at Great Boughton,
Cheshire) at Chester in 1881. Included among their children was a daughter, Leslie Grace Gribble,
born in 1883 at Chelsea.
Hugh (then a Hitchin banker) and Leslie married in early 1904 at Biggleswade, Beds and moved into
a newly-built house at Poynders End

(above)

in 1906. They had four children: Derrick (born 1907),
the twins Frederic and George (born 18 January 1909) and Fidelity (1912) Link:

Seebohm

.
The news report of the funeral of Leslie Grace Seebohm - 24 September 1913
In the very sudden death of his wife, the sympathy of the town's people of Hitchin and of a wider
radius is extended to Mr. Hugh Exton Seebohm, a member of an old and revered Hitchin family.
The death came with such unexpectedness that a tragedy of grief was experienced by relatives and
friends. Previous to Saturday Mrs. Seebohm was apparently in perfect health. With her husband she
had just returned to their house at Poynder's End, from a holiday in Brittany. In the early hours of
Saturday morning Mrs. Seebohm was seized with illness and Mr. L. S. Barnes, of Whitwell, was
immediately summoned, but the attack was such that death occurred at a later hour the same
morning. A London physician who had been also summoned stated on arrival that everything possible
had been done.
It was on January 28, 1904, that Mr. Hugh Seebohm was married at Henlow Church to Miss Leslie
Gribble, the late Mrs. Seebohm being the second daughter of Mr. George Gribble (and Norah Royds),
then resident at Henlow Grange and later at Biddesdon, Hants. Nine months previously in the same
church Miss Phyllis Gribble, a sister, was married to Mr. W. A. Fordham, a member of another well-
known Hertfordshire family.
Mrs. Seebohm was related by marriage to the Rowntree family, Mr. Joseph Rowntree, chairman of
the firm of Rowntree & Co. Ltd., having married in 1867 Miss Emma Antoinette Seebohm. Mr. Hugh.
Seebohm is the only son of the late Mr. Frederic Seebohm, the historian and a director of Barclay's
Bank, who did so much for the cause of education in Hertfordshire. Mr. Hugh Seebohm has been
elected to several important public offices so ably filled for many years by his father.
There are three sons and one daughter of the marriage.
Beside the little Parish Church of St. Martin, Preston, the mortal remains of Mrs. Hugh Exton
Seebohm were interred on Wednesday. It was a scene impressive in character and many eyes were
dimmed among those who had come to pay a last tribute. The esteem in which the late Mrs.
Seebohm was held in the village of Preston was fully manifested by the presence of a large number
of parishioners and there was a touching incident when a number of children in charge of a teacher
visited the graveside a little while after the service had concluded..
It was a simple service by the graveside, for the cortege did not enter the church. The mourners were
met at the entrance to the churchyard by several choristers from St. Mary's. Hitchin, with Mr. H. G.
Moulden and the robed clergy—the Rev. E. P. Gough (rector of Downham Market), the Rev. J. W.
Capron and the Rev. E. P. Tallents. The Rev E. P. Gough conducted the whole service. On reaching
the graveside the hymn, "Jesu, lover of my soul", was sung, and the short but impressive service
concluded with the singing of the hymn "Holy, holy, holy - Lord God Almighty!"
There were many tributes to the deceased in the form of flowers, chief among which was a simple
and beautiful wreath of blue plumbago from the husband; a bunch of arum lilies from "Mother and
Father " and a similar bunch from "Brothers and Sisters." Mrs. B. P. Gough sent a floral tribute
bearing the following inscription: "For my darling Leslie, with loving thoughts and prayers, from Ellen,
who loves her so very much. How her bright and glorious spirit shines! God grant unto her eternal rest
and let light perpetual shine upon her."
The immediate family mourners were: Mr. H. E. Seebohm (husband), Mr and Mrs George Gribble
(parents). Mrs Wolverley Fordham and Mr W. O. Fordham (sister and brother-in-law), Miss Vivian
Gribble (sister), Mr Phillip Gribble and Mr Julian Gribble (brothers). Mr. Seebohm's relatives present
included: Sir Rickman and Lady Godlee (sister and brother-in-law), Miss Seebohm and Miss Hilda
Seebohm.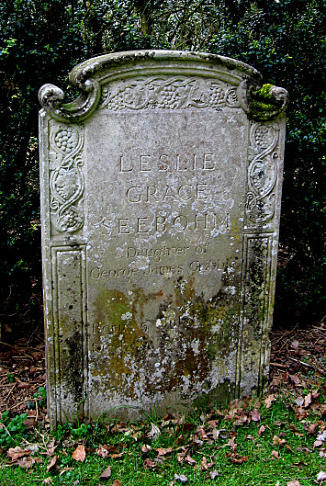 Among those present were :—Mr. and Mrs. Milne Watson,
Mr W. F. Dalton, Mr W. Tindall Lucas, the Rev. F. H.
Procter., Mr. Edward Brown (Luton), Mr A. Spencer, Mr R.
de V. Pryor,. Mr Theodore Ransom, Miss Ransom.
Mr Theodore Lucas, Mrs F. A. Wright, Mr and Mrs H. E.
Harrison, Mr T. Fenwick Harrison, the Rev. R. S. Bagshaw,
Mrs Armstrong, snr., Mr and Mrs Armstrong, Mr and Mrs A.
J. G. Lindsell, Mr W. O. Times, Mr Francis Shillitoe, Mr
Francis Ransom. Mr Jack Ransom. Mr and Mrs W. Bailey
Hawkins, Miss Bailey Hawkins, Mr and Mrs R. J. W.
Dawson, Mr Lister Harrison (Woodford), Mr Frank H.
Barclay (Cromer). Mr R. Seebohm (Luton), Mr Rushbrooke,
Mr L. S. Barnes (Whitwell), Mr M. H. Foster and
Mr R. Vaughan,
The grave was lined with evergreens, Rose of Sharon
berries, lilies, roses, plumbago and silver and golden
variegated ivy by Mr. H. Peters (gardener at
Poynder's End), Mr. W. Sharp (gardener at Offley Holes to
Major Richardson), and Mr. J. Swain (gardener to Mr. J. C.
Priestley).
The coffin was composed of brown English oak, with plain
brass fittings, and a brass plate bore the inscription: 'Leslie
Grace Seebohm; born 1883 ; died September 20, 1913'.
Leslie Seebohm's grave (shown
above) is in the north western
corner of St Martin's graveyard.
Of Norah Gribble - mother of Leslie Seebohm
In his book, Norah's son, Philip, provided a description of his mother:
My mother in her lighter moments was capable of charming flashes of frivolity, but her normal
reaction to life was one of intensity. She was a marvellously beautiful woman, blessed with divinely
golden-red hair, and immense, almost violet eyes, varying in depth with her moods; her full, sensitive
mouth, firm chin and small but magnificently carved head were a delight. She was proud of her legs,
and often pulled her skirts to her knees to allow us children to admire their symmetry.
She had very advanced views, was self-centred, artistic, intellectual and convinced that her family
were beyond reproach, an outlook that made her intolerant of even minor faults, and encouraged her
to exaggerate their importance to a point at which she found an excuse for melodrama. Much as we
all loved her, my mother's presence was usually accompanied by a sense of strain, and it was only
when she left the house that the family could relax.
She took an active part in local government, mainly from a sense of duty I think, but it was religion
and its trappings that dominated her life. There were weeks when, day after day, she would lock
herself in her studio and sit rapt in meditation while pondering over the manuscript of one of the
several books she wrote on religious subjects, among them

My Way Out

, published by a close friend,
John Murray; or at other times she might be writing poetry or be lost in painting some canvases. Her
poetry was moving and was an outlet from frustration and a form of release.
My mother was a rather frightening and utterly lasting influence on the characters of all her six
children. Not only was she a thinker and a writer, but also a creative artist, and in her early or
orthodox phase she was a competent portrait painter; she had studied at

The Slade

as a girl and
taken her work very seriously. In later life she despised representational jest and emotive fragments,
and concentrated on her search for new means of expression and the use of new media. Several
rooms at Henlow were covered with her murals, executed in tempera.
One and all we had to learn silence because Mother's moments of inspiration must never be spoiled
by slamming doors, noisy footsteps or the yelling and shouting of the average large family. The rage
and genuine agony that were the reaction to any such interruptions had to be seen to be believed.
Our behaviour had been an outrage, the extent of which we soon grasped and the importance of
which we never forgot; so now I am a good guest and have often been told by my hosts that they
would hardly know that I was in the house.
My mother was always boasting about "our family", by which she meant HER family, the royal family
of Royds.
Of Norah's son - Captain Julian Royds Gribble
What follows is an article written by John Medland that was published in the
Newport Beacon (Isle of Wight)
in November, 2007 (publisher - I W Beacon Ltd.).
Julian Gribble was born in 1897 and educated at Eton.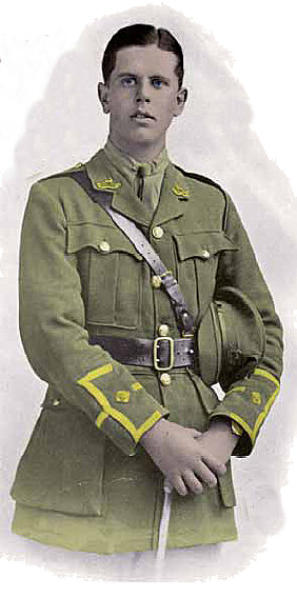 At 9.30am of March 23rd 1918, as the final German bombardment
began, Captain Julian Royds Gribble reported to Battalion HO that
masses of German infantry were advancing towards them. Two
days earlier the Germans had launched a million man offensive
which had over-run a fifty-mile stretch of the British Western Front.
British soldiers were surrendering in tens of thousands. The 10th
Battalion of the Royal Warwickshire Regiment dug in behind the
British lines and were given orders "to fight to the last". As the
hillside erupted in explosions and the shattered British army
withdrew in chaos around them, the placid sights and sounds of
the Isle of Wight, where many of these men had trained must have
seemed a world away.
This Remembrance Sunday also falls on Armistice Day. At 11 am
on the 1st November 1918 the guns on the western Front of the
First World War (1914 -1918), finally fell silent. As we look at the
long lists of names on our war memorials it is hard to visualise
these were sons, brothers, lovers, husbands, fathers and friends.
However if we take just one name, one man who knew and loved
the Island, perhaps we can come a shade closer to understanding.
Julian Royds Gribble was born into a privileged wealthy family on
January 5th, 1897. He was enrolled at Eton school in 1910. He
grew up a tall, graceful. and popular boy. interested in art and
music. When the first World War began Julian transferred to the
officers' training school at Sandhurst.
In early 1915 Julian Gribble was commissioned as a lieutenant in the Royal Warwickshire Regiment
and was posted to train recruits at Albany Barracks, Parkhurst.
In a letter to his mother, Norah Gribble, from Parkhurst in 1915: "Although we have sent out over
8,000 men to France from the battalion since the war began, we sent our first draft to the Dardenelles
yesterday. I went down to Cowes to see them off."
Julian spent his off-duty moments exploring the Island on his motorbike. He loved the countryside
and the seascapes. He took advantage of every sporting opportunity and made friends "with any sort
of man" in his mother's words " who had led any sort of real life". His love of the Island is reflected in
the many letters he wrote to his mother from Parkhurst, Culver Down and

The Wheatsheaf

in
Newport which she published after the war.
In the winter of 1915-16, Julian was posted to Culver Down gun battery "a Godforsaken spot on the
extreme end of the Island" Later he wrote "There are thirty men under me here. I have to do
absolutely everything for them, which is really rather Interesting - find and pay the women to do their
washing, arrange with the contractors for food, mount the guard and visit sentries by day and night.
This last is the worst job of all at night. Last night it was blowing as I have never felt it blow before,
driving sleet with it"
Conditions were basic and Julian shared them with his men. "My hands are sore today and covered
with blisters, as we have been digging a subterranean passage in the chalk, which is very hard work."
The stunning sea views provided some excitement. "a torpedoed Dutch steamer of 3,084 tons came
in yesterday escorted by a destroyer. Her engines had been put out of action and she was being
towed along by two tugs. The same submarine torpedoed a French barque off St Catherines. Both
these appeared in the papers this morning, but we actually saw them yesterday"
He remained on the Island for a year, sometimes taking drafts of newly trained troops as far as the
French ports. "Nobody was in such a good position" his mother wrote, "for realising the ravages of
war as those who spent their time in filling and filling again its ravening jaws and those who saw its
wreckage perpetually cast up into the military hospitals." (The regiment enlisted a total of 47,500 men
during the war, of whom 11,500 lost their lives.)
(On a personal note, my grandfather was posted to Sandown IOW in October 1917)
Posting to the Western Front
In April 1916 Julian was ordered to France. Over the next six months without leave he was in the
thick of the fighting of the Battle of the Somme. In October he was sent home as sick with "trench
fever". Although he was recommended three months rest after just one month he reported back to
Parkhurst. From there he was posted to the 10th Battalion with the rank of Captain. At a time when
the average life expectancy of British army officers at the front was 17 weeks Julian was already a
veteran. In peacetime he would still have been at Eton.
Julian was a good officer. He got to know the men of his company as individuals, learning in detail
about their lives. Julian's Sergeant wrote "I am an old man in the service of my country, but I have
never loved or respected any one so much as he, God bless him" Julian spent the winter of his
twentieth birthday in the mud, frosts and floods of Flanders "wet up to the middle and never warm or
dry. He had another short leave in 1917 and then endured the final dreadful winter of the war back in
the trenches. In the opening months of 1918 Julian was due leave, but after the epic horror of the
hundred day Battle of Paschendaele, the British army was seriously undermanned. Julian's leave
was postponed month after month.
In the darkest hours of 21 March the unsuspecting British III and V Armies were shocked by the most
intensive barrage of the war. In eight hours 6,500 German guns delivered 1.16 million poison-gas and
high-explosive artillery shells into the British defences. Supported by the close fire of over 5,000
mortars, the barrage moved forward 200m every four minutes, annihilating defences and leaving the
surviving defenders deaf and stunned. It was the beginning of the decisive German spring offensive,
code named Kaiserschlacht, the "Kaiser's Battle".
The 10th Battalion of the Royal Warwickshires were in reserve in the III Army when the German
barrage began. Julian dashed off a goodbye letter. 'All I pray to God is to give me strength to lead D
Company well – as they deserve. I know mother that in any case you will not grudge to England your
youngest son. We have always been cheery so lets go on being so – thanks to you and Father I have
had as happy a time in this world as possible, almost."
Behind the creeping barrage 76 German divisions, equivalent to the entire British Army in France,
advanced. They were led by "Stormtroopers" armed with wire-cutters, grenades and flame-throwers.
Behind them came large "battle groups" of infantry with field artillery and heavy machine guns,
followed by more masses of marching infantry. To Sir Arthur Conan Doyle it seemed as if fresh
divisions were "rolling in like waves from some inexhaustible sea."
The four infantry companies of 10th Battalion hastily dug in along 1,600 yards of the Hermies Ridge
behind the rearmost British defences with orders to hold the position to the last man. The Battalion
was supported by its own battery of field artillery, flanking infantry, and further batteries of artillery and
heavy machine guns.
On the second day of the offensive the Germans began to shell these new positions and the
command structure of the British Ill Army began to break down as it joined the V Army in a fighting
retreat. The next morning, as Julian reported the Germans massing to attack, the Battalion's artillery
were galloping away under conflicting orders. As the German attack intensified more supporting
artillery and infantry retreated. The battalion found itself increasingly isolated and surrounded. Even
the HO staff and any retreating stragglers they could rally were thrown into the desperate fighting.
They held on for three hours.
By 12.30 just D Company was left holding onto the top of the ridge. When he was the last officer
standing Julian finally allowed his men to retreat, keeping six with him. Private Madeley was one of
them. "I got hit and I am glad to say I broke through, but not so with the Captain" Julian was last seen
emptying his revolver into the final assault. "I saw him go down under about seven big German brutes
and that was the last I saw of one of England's finest officers".
The "Kaiser's Battle' lasted just two weeks. A new French Supreme Commander combined dogged
British resistance with a French counter-attack. 425,000 men fell on all sides in fifteen days of fighting
that is now almost entirely forgotten.
The citation to the Victoria Cross in the London Gazette of 28 June 1918 read:
'For most conspicuous bravery and devotion to duty. Captain Gribble was in command of the
tight company of the battalion when the enemy attacked and his orders were to hold on to
the last. His company was eventually entirely isolated, although he could easily have
withdrawn them at one period when the rest of the battalion on his left were driven back to a
secondary position.
His tight flank was in the air, owing to the withdrawal of all troops of a neighbouring division.
By means of a runner to a company on his left he intimated his determination to hold on until
other orders were received from Battalion HQ and this he inspired his company to
accomplish. His company was eventually surrounded by the enemy at close range, and he
was seen fighting to the last. His subsequent fate is unknown.
By his splendid example of grit Captain Gribble was materially instrumental in preventing for
some hours the enemy obtaining a complete mastery of the ridge, and by his magnificent
self-sacrifice he enabled the remainder of his own brigade to be withdrawn as well as
another garrison and three batteries of Field Artillery.'
Julian's body was robbed and left for dead, but later it was discovered that he was alive. He began to
make a good recovery in Hameln Hospital from 20 April 1918 which was associated with the POW
camp at Karlsruhe, but found himself on the losing side in the terrible final months of the war. The
Allied blockade of Germany was so effective that the whole country was in a state of starvation.
When Julian arrived at the new officer's prison at Mainz Zitadelle, he and his fellow inmates suffered
six weeks starvation before the first Red Cross parcels arrived. In May, Julian heard that he had been
awarded the Victoria Cross for his stand on Hermies Ridge. The other officers saw the letters "VC" on
the envelope and carried the embarrassed invalid about the barrack square on their shoulders. On 4
June Julian celebrated Eton's special day with four other old Etonians "with a soup made of a few
scraps of lettuce".
The First World War finally came to an end after the German Revolution of October 1918. By this time
some two million German civilians had starved to death, but worse was to come. A bird 'flu' had
mutated. We know it as "Spanish Influenza". After more than four years of wartime food shortages it
became the greatest pandemic in history. Recent estimates put the death toll at more than four years
of wartime food shortages it became the greatest pandemic in history. Recent estimates put the death
toll at 50 to 100 million worldwide.
Eight days before the Armistice Julian himself fell ill. On the morning of November 24th his fellow
prisoners were released and boarded the train home. Julian was left alone in the Royal Fortress
Hospital, Mainz. He died shortly after midnight. His last words were to dismiss his nurse: "Go away
gnadiger Frau." (gracious lady). The following day the French army arrived with food and medicine.
Taking his love for this Island into captivity with him, in his last letter to his mother he wrote "The only
trees we have are a row of small planes which I imagine In different surroundings - boulevard at
Amiens - a sea front at Cowes."
He was first buried at Mainz Military Cemetary in the grounds of Mainz Zitadelle, but his remains were
later moved to Niederzwehren Cemetery, Kassel (III F4)
Julian's mother never recovered from the loss of her son. She visited his grave on 6 November 1919.
Her older son describes his embarrassment as "my poor mother kneeled at the grave and wept. She
scraped the snow away with her bare hands and kissed the ground, gathering earth and leaves in her
fingers as if these were part of her son."
This description of the grief of Norah Gribble brings into stark relief a grief that was echoed throughout
eleven million homes and families in all the lands whose sons were lost in this pointless war.
These eleven million men & boys may have died for misguided notions of European nationalism, but
they died to give us a better future."
The impact on Norah Gribble of losing her son and daughter - by Philip Gribble:
'....to my mother's everlasting grief, he (Julian) died there on Armistice Day, a victim of Spanish
Influenza then sweeping Europe. Many millions died, and their deaths far exceeded the total
casualties of the whole war. My mother was broken hearted. She went into a spiritual decline and
never recovered a balanced view of life. The early death of my sister Leslie after a few years of
marriage had much affected my mother. She believed that Leslie's death was due to carelessness
and she brooded over this loss. Julian's death, again, as she thought, due to neglect, seemed to
break down her final defences. She was the victim of regret and mourning throughout the remainder
of her not very long life.'
Norah Gribble died in March 1923 and was buried with her daughter, Leslie Seebohm in St Martins,
Preston graveyard.
A copy of Norah Gribble's book, 'The Book of Julian' (1923), devoted to Julian, was recently held by a
Preston villager and made available to interested folk through the local parish magazine.
Inside St Martins are wall plaques in memory of Mrs Seebohm and Julian Gribble. There is also a
stained-glass window in the south chancel memorialising Julian Gribble which was designed by his
sister, Mrs Vivian Doyle-Jones.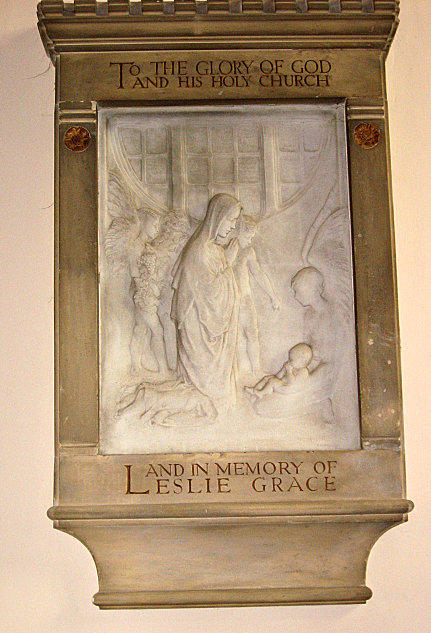 (Acknowledgements: I am grateful to John Medland author of 'A Soldier's Story' and the publishers,
IW Beacon Ltd, for their kind permission to reprint the article about Julian Gribble. I am also grateful
to webmaster Nigel Watts for allowing me to include extracts concerning Julian and Philip Gribble)
The photograph of Julian in

The Book of Julian

which included all the letters he wrote to her, from
his prep school days up to the time when he was a prisoner of war.
Norah Gribble, painted by John Singer Sargent in 1888. Her son, Philip, described her as
being blessed with divinely golden red hair and immense, almost violet, blue eyes'.
Her hair colouring is echoed in the portrait by the under-painting.
More than a century has passed since the death of Julian and it can now be revealed that he was the
father of a baby girl. This news can be published now as it is in the public domain. The catalyst is
DNA evidence which confirms an oral tradition.
As reported earlier, in early 1915, Julian was posted to the Isle of Wight. During the winter of
1915/1916, he was moved to the Culver Down Gun Battery, which was close to the small town of
Sandown beside the sea. The purpose of the battery being to deter naval attack, its two 9.2-inch
guns were not intended to cover Sandown Bay. But they could fire as far as Spithead, bombarding
any enemy ship entering The Solent.
Among his duties Julian 'found local women to do the washing of his men'. In April 1916, he was
assigned to a war front in France. He later had a short leave in Britain in 1916, which was probably
when his daughter was conceived, during November. Soon afterwards he returned to the theatre of
war and was initially declared to be missing and then found to be a prisoner of war. He died at Royal
Fortress Hospital, Mainz in Germany on 24/25 November when his daughter was fifteen months old.
This is a copy of his daughter's birth certificate. She was born on 9 August 1917 at her parents'
home:

The chalk outcrop of Culver Cliff. To the left is Sandown, with its pier. The Sussex coast is in the
distance. The position of the Gun Battery is shown by
Now, some information about the Churchill family. Alice's grandfather,
Thomas Churchill, was born at Corfe Castle, on the Dorset coast
near the Island. His wife, Caroline, was born at Calbourne IoW.
The couple initially lived at Wootton Bridge, IoW (where Alice's father,
William Joseph Churchill, a chimney sweep, was born in 1864)
before moving to Brading, a small inland town which was less than
two miles north of Sandown. Thomas was a carter for a coal
merchant.
William and his wife, Edith, had six children (one of whom died in
infancy) and by 1881 they had settled in Sandown and were living in
the four-roomed 2 Fort Mews, Avenue Road, which was less than
half a mile from the beach. It's likely that the Churchills stayed in this
house for several decades as the widow Edith and her family were
living at 80 Avenue Road

(shown right)

in 1939. The house facade
was probably of brick in the early 20thC.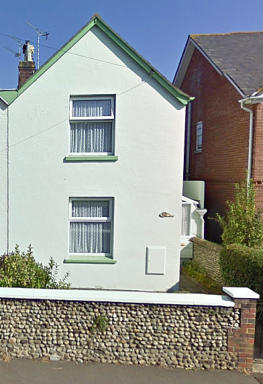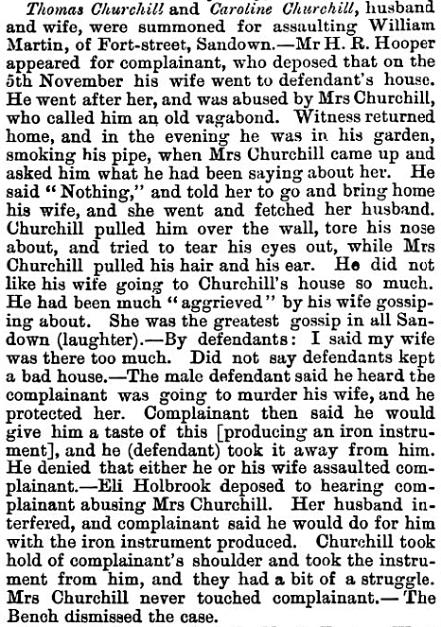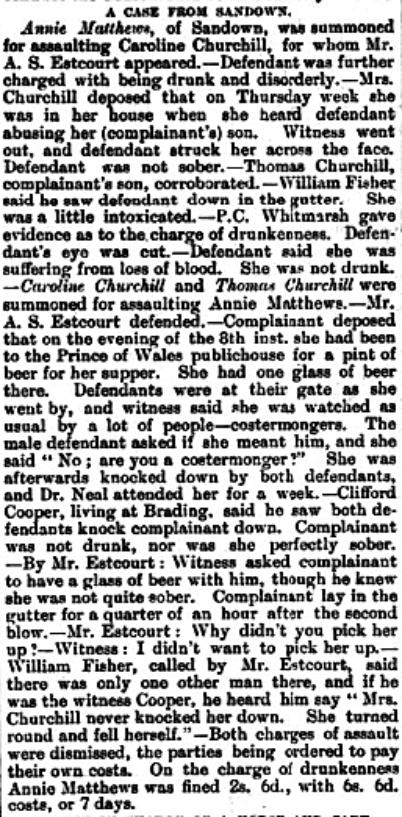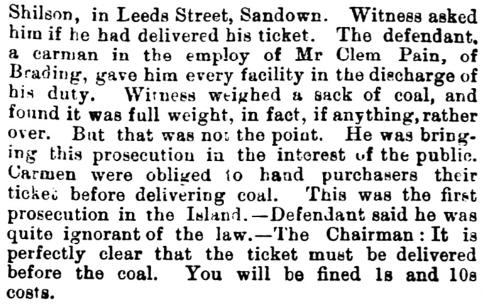 Thomas and Caroline Churchill were often before magistrates for assaulting folk

together

- something
that was fairly unusual. In October 1878, there was a fight between the couple and Frederick Jacobs
and two other later disturbances were reported. Caroline was also fined for assaulting a policeman
who was trying to cuff one of her sons

(see three cases below)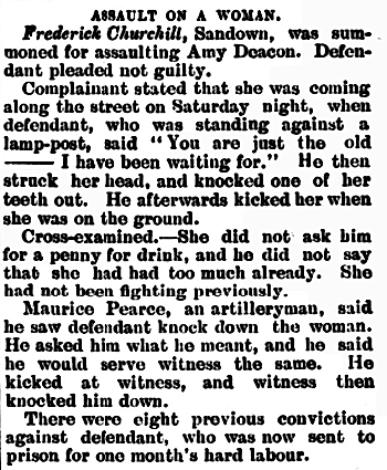 William's older brother, Frederick Churchill, was a mariner. In 1885, he survived the sinking of the
brigantine,

Charles George,

off Beachy Head after a collision with the SS Cathay, when at least two of
its crew perished. Between 1876 and 1900 Frederick was fined for drunkenness and in 1901 he was
accused of assault:
In September 1885, Alice's father, William, his brothers Frederick and Alfred, their mother, Caroline,
were involved in an extraordinary fracas with police at Sandown. At 22.45 in Wilkes Road, Frederick,
who was drunk, was being led down the street by his brother, William. He saw a police constable and
said, 'Here's the ----- who gave evidence against my little brother. I'll go for him'. He knocked the
constable down, tore his staff from his grasp and hit him with it three times about the head. He lost a
tooth. William tore his shoulder strap and also struck him.
A sub-plot was that Sandown had no lock-up to which they could take Frederick. The police went to
his home the following day to arrest him. He ran off. When caught, he bit a constable on his hand.
Caroline got involved (as reported earlier) and Alfred (aged 14) kicked a constable and struck him with
five or six violent blows to his back. Frederick also bit a constable's thigh - 'He was like a a wild
animal'. He was sentenced to six months hard labour; William, one month (as his offence was passive
rather than active) and Caroline and Alfred were fined 10/- each and costs.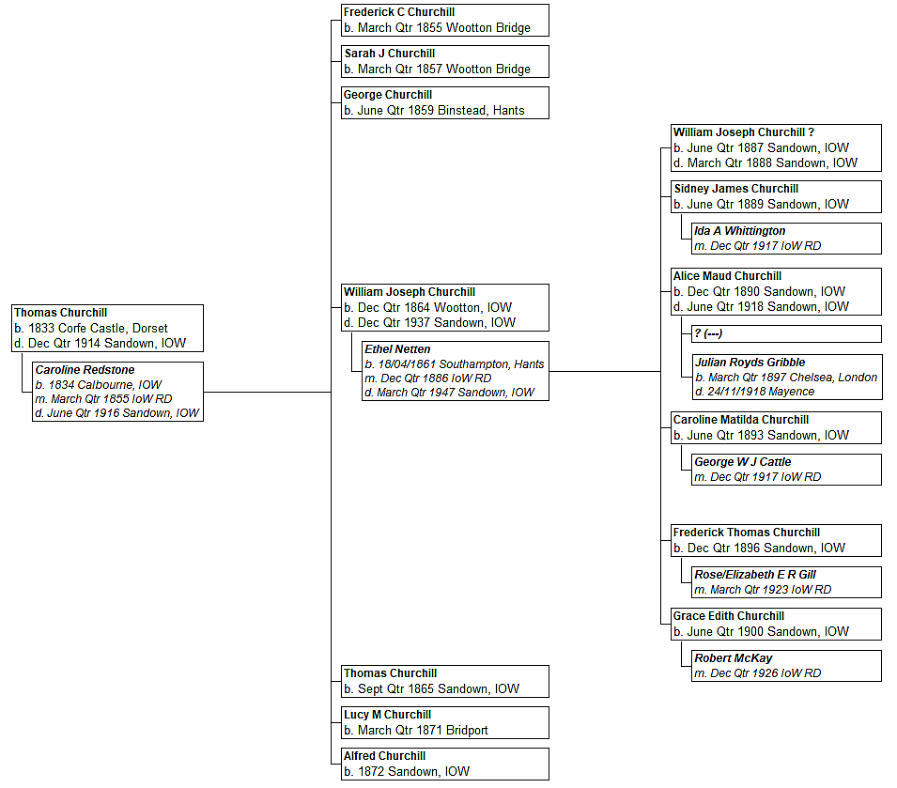 This is the family background from which Julian's partner, Alice
Churchill, came.
The 1911 census enumerator found her on the mainland at 38
Elphinstone Road, Southsea. She was a maid serving Mrs
Marion Bush, an apartment house keeper.
Three years later, in 1914, Alice was in London. This was
revealed by the 1921 census - but we are running ahead of
ourselves here. Let us return to Alice at Sandown.
In around late 1916, Alice

(shown right)

is thought to have been
working at the

Seagrove Hotel,

Sandown and one of its guests
was Julian Gribble.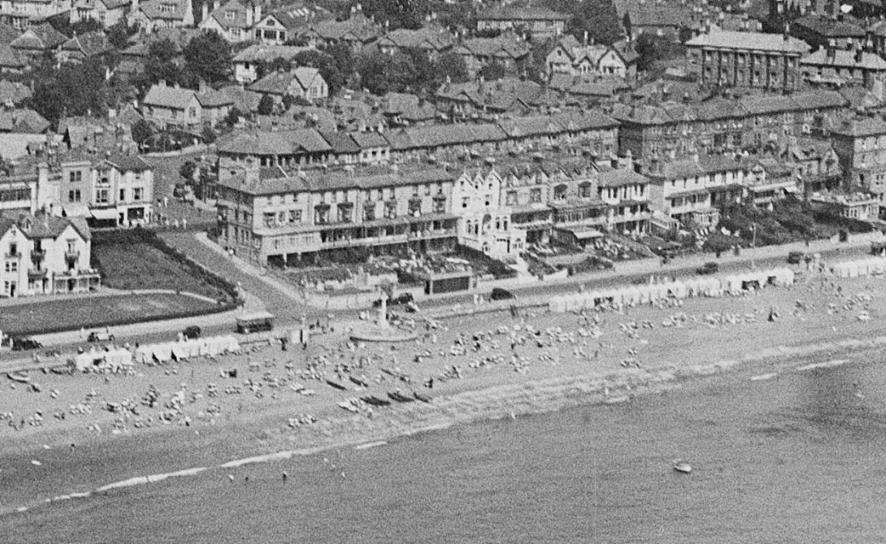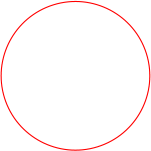 This aerial photograph from 1932 shows the position of

The Seagrove Hotel

(ringed)
which backed onto the esplanade in a 'Premier position facing the sea' and was
immediately behind a War Memorial. Its front entrance was on Sandown's High Street.
After visiting Sandown, Julian was soon back in France, never to return. When Alice heard that Julian
was missing in March 1918, a relative says that she attempted suicide by jumping into the sea from
Sandown pier. Then in the June Quarter of 1918, Alice died, a twenty-seven-year-old victim of
tuberculosis. She was buried at Christ Churchyard, Sandown, shown below.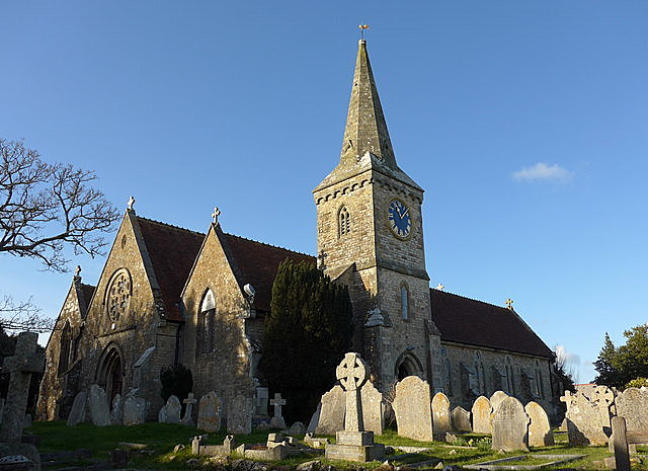 But there are more details of Alice's life to be told. The 1921 census (dated 18 June 1921) was
consulted. At the time of the census, Alice and Julian's infant daughter, Marjorie, were being cared for
by her grandparents, William and Edith Churchill at 80 Avenue Road, Sandown:

Here we see confirmation that Marjorie's mother had died, and included in William and Edith's
household was another grandchild whose mother had also died - Horace Roy Churchill, who was born
in London seven years and five months previously. The Index of Births pins down the area as Hackney
RD, M-sex and the time of the event being in the first quarter of 1914, probably January.
The 1911 census, shown below, informs us that William and Edith had six children, one of whom had
died before 1911. Apart from Alice, there were two other daughters, Caroline and Grace, and both were
certainly alive in 1921. So, Horace was Alice's first child, born three or four years before she and Julian
had met.

It was a kind and generous act for William and Edith (who were around sixty years old) to accept the
responsibility of caring for young Horace and the orphan, Marjorie.
The only event in Marjorie's life in the years that followed I can find was that on 1 June 1929, the IoW
Education Committee offered her a place at Sandown Secondary (Grammar) School either as a minor
scholar or a fee-paying pupil:

During the first quarter of 1935, when she was aged eighteen, Marjorie married David Frank Smith on
the Island. Four years later, The Register revealed that David was born on 16 February 1916 and was
employed as a carpenter and joiner.
Marjorie Clara (nee Churchill) Smith
Marjorie had four children and then grandchildren were born. She and David bought the

Parkbury
Hotel (below)
at Sandown on the A3055 in the 1950's and sold it in the 1970's when they retired.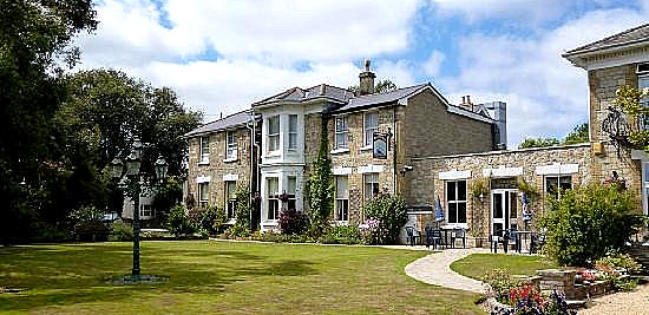 It is not my intention to provide details of Julian and Alice's descendants. They may be found
elsewhere in the public domain. However, we should review the reasons for believing that Marjorie
was Julian's daughter:
1) The DNA evidence. All other primary sources of proof of descent are based on paperwork such as
birth/baptism, marriage and census certificates and entries. In each case, the registrar or clerk only
wrote what he was told - in other words, the 'proof' is merely hearsay. There are a myriad examples of
errors due to deliberate deceit or ignorance by folk who have made false statements to the authorities.
But to establish the identity of Marjorie's father, there are several close DNA matches between one of
Julian's grandchildren and living members of the Gribble and Royds families. This DNA evidence is
incontrovertible - it cannot be successfully challenged.
2) One of the hardest parts of confirming DNA evidence is to place two parents at the same location
and at the same time. In the Paul Oppé archive at the Paul Mellon Centre for Studies in British Art,
there is a collection of letters exchanged by Norah Gribble and her friends and neighbours, the Oppés.
From the evidence of Nora's hand, Julian was on the Island shortly after 16 November and was
shipping out to France on 5 December 1916. This is within the time-frame of Marjorie being conceived.
3) The physical evidence of Norah Gribble's extraordinary auburn hair-colouring trait being passed
down to Majorie and her descendants. That she inherited this can be seen from her photograph shown
above. I have also seen photographs of another descendant who has this same feature.
4) There is the oral testimony of one of Julian and Alice's surviving grandchildren which confirms that
she believes that Marjorie was their child. Incidentally, she has a copy of

The Book of Julian.
Finally, questions might be asked: Did Julian's family know about the relationship between him and
Alice during the early twentieth century? Do they know today, in 2023 - did they sit through the re-
dedication of the window in St Martins, Preston knowing what had happened? Did Julian know that
Alice was pregnant and later that she had given birth to their child?
Probably Norah was unaware of what had happened. Her son, Philip Gribble, wrote that she was
'convinced that her family were beyond reproach, an outlook that made her intolerant of even minor
faults'. She also was intensely religiously devout. But Philip also commented that he believed his
mother had psychic powers such as a gift of prophecy - although the example he gave of this is
tenuous. If this was so, might Norah have 'sensed' something about what had happened - but this is to
accept an entirely different dimension.
Knowing as we do Alice's family background, and that she was an unmarried mother, possibly implies
that Julian would not have told his relatives about his partner. Yet there is a legend of a gold bracelet
being sent to her as a gift - though the identity of its sender is unknown. It might have been Julian.
Here we are dwelling on Julian and his family, but we should not forget Alice and her feelings. There
can be little doubt that her alleged attempted suicide which followed her belief that Julian had been
killed displays the depth of her emotions for him.
The reaction of Julian's present-day relatives and interested people to the possibility of Julian having
offspring indicates that even now his family are unaware what has been described here. My
suggestion was 'surprising' and passed on only 'diffidently' - which is quite understandable.
There are two reasons for disclosing these details of Julian's life. Firstly, a century later there are
several descendants from him and Alice who have the right to know their ancestry - and if they
research the Gribbles and Royds family histories, they may well feel proud of their forebears. Julian's
grandson wrote, 'My view on any connection we may have with any of our ancestors is that facts are
facts, we are all the product of genealogical history which happened way in the past, the judgements
of who did what with whom are not for us or others to make, let's tell it how it is." Secondly, many
Preston villagers will be aware of Julian and Norah. Their church has memorials devoted to them and
there was local interest in the re-dedication of a window in the church in 2007. Below is a listing of the
people expected to attend the service.

The Book of Julian

has recently been mentioned in the Parish
newsletter and is available to anyone who wishes to read it in the village. They will be interested learn
of this discovery.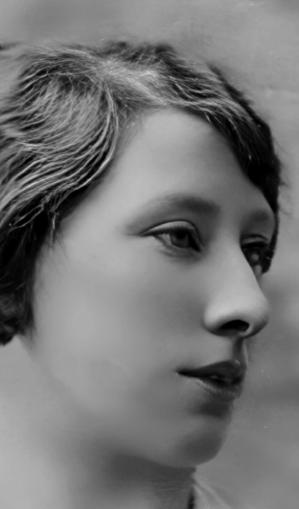 Alice's death certificate satisfyingly confirmed all of the details passed on by her grand-daughter. She
died at home; she had contracted TB, with the complication of ha(e)moptysis (ie coughing up blood)
and she had worked as a

hotel

waitress. The informant was her sister, Grace Edith Churchill.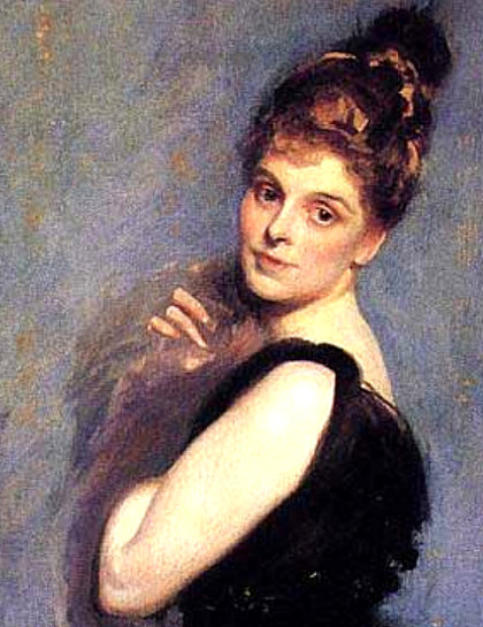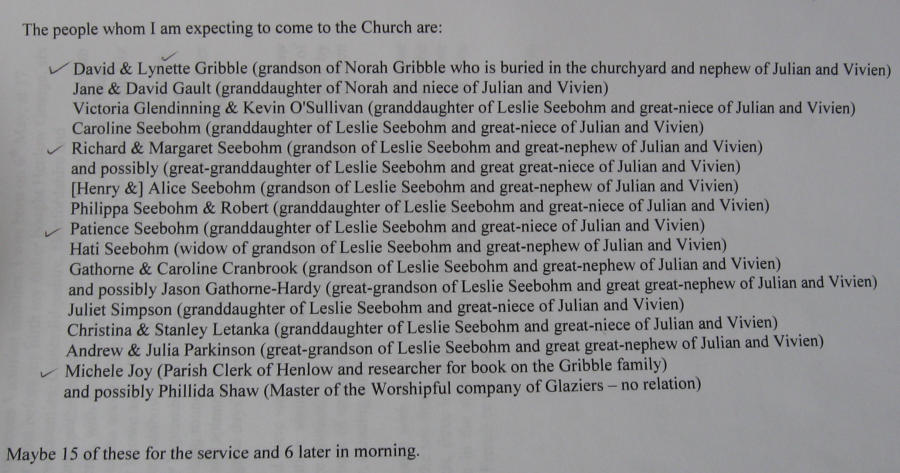 Finally, to tie up one loose end, here are brief details of Alice's son, Horace Roy Churchill's, life.
He married Ethel May Woodland during the June Quarter of 1937 in the Poole Registration District.
The 1939 Register shows Ethel with her family at 142 Blandford Road, Poole. Presumably Horace
was involved in some wartime activity.
The couple had four known children: Phyllis M Churchill (born 9/1936 Bridgwater, S-set RD),
William H (12/1939, Poole RD), David R (9/1947, Poole RD) and Carole A (9/1952, Poole RD).
Between 2003 and 2005, Ethel was living at 3 Colchester Way, Weymouth, which is part of a complex
of OAP bungalows. She died in the December quarter of 2005.