The Fox(e) twins of Stevenage

The

Twin Foxes Estate

, Woolmer Green, Herts. Note the two entrance pillars.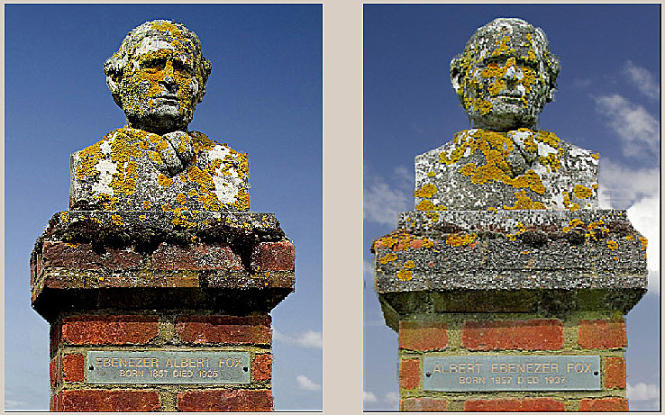 (Left) Ebenezer Albert Fox(e)(1857 - 1926) and (right) Albert Ebenezer Fox(e) (1857 -1937)
The approach road to a modern housing estate at Woolmer Green, about
three miles south of Stevenage, boasts two proprietorial busts on pedestals
of the Foxe twins, Ebenezer Albert and Albert Ebenezer. Only the pattern of
lichen on the sculptures makes the identical twins dissimilar. The estate is
called

Twin Foxes

.
In 1953, a new public house at Rockingham Way, Stevenage opened.
It was called

The Twin Foxes

(see sign, right).
Who were the Foxe twins and why have they been so 'honoured'?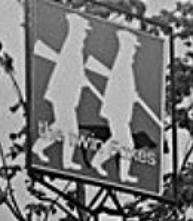 Ebenezer and Albert were born towards the end of 1857 at Symonds Green, Stevenage. Their father,
Henry (who counted among his ancestors the prominent Hertfordshire Quaker, George Fox) had a
smallholding and their mother was a straw plaiter. Henry was a God-fearing Baptist and his sons
were named after the Ebenezer Chapel on Albert Street, Stevenage.
The twins were so alike that even their parents, in the absence of lichen, resorted to tying red and
blue ribbons to their arms to differentiate between them or seating them on assigned chairs.
However, even in those early days the twins would switch ribbons and chairs to avoid punishment.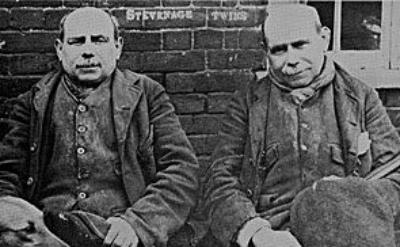 A trawl of the censuses shows Ebenezer living with his brother at St Albans in 1881 but alone at
Parkhurst on the Isle of Wight in 1891. His residences though more than a hundred miles apart had
something in common - they were prisons. Then, in 1911, Ebenezer was recorded as being in a barn
a Norton Green Farm, Stevenage. The enumerator (who was not the person who called at other
nearby addresses) was Police Inspector, Harry Storey.
The New York Times (yes, their fame spread to America where they also featured in a

Time
magazine article) on 9 January 1913 described them as, 'cheerful little men, almost bald...63¾ inches
in height...with a merry twinkle in their eyes. Their moustaches are iron gray...there is one point of
distinction among them - Ebenezer has the mark of five cuts to his left wrist; Albert possesses four
scars on the right wrist'. Later reports said that Ebenezer was 'taciturn and would spend hours in a
public house drinking' while Albert was 'a good-natured humourist; a man whose frequent court
appearances meant a "field-day" for all concerned',
Twentieth century Foxes - poachers
The brothers were incorrigible poachers. They couldn't help themselves. Between them, they
amassed around two hundred convictions for stealing tame pigeons; assaulting a gamekeeper;
stealing a lamb, stealing potatoes; assaulting police; stealing boots; using a gun to take game;
stealing a coat; stealing trousers; night poaching...and so the list goes on...and on. Over the
decades, they had more than fifty guns confiscated - flint-stocks, muzzle-loaders and breach-loaders.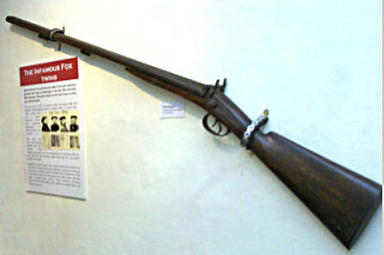 One of the Foxe's guns on display at Hertford Museum
When they were only eleven years old, the Foxes were setting snares and gin traps. They stole a gun
when they were thirteen and when first caught, the magistrates couldn't believe the charge brought
against boys so young. A month later, they were caught again but this time disbelief was suspended
and they were fined ten shillings. They then became a two-man crime wave for fifty years. When
caught, they served anything between a day (for shooting a dog) and twelve months (for unlawful
wounding) in gaol, usually being sentenced to hard labour.
Confusion and comedy in court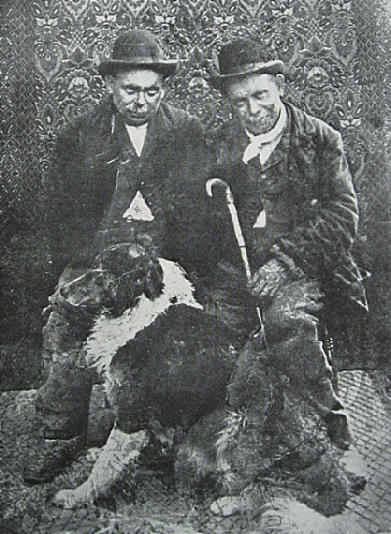 In court, the twins affected an air of injured innocence - the information, the summons, the evidence -
it was all one gigantic fabrication - they just weren't there. They extracted the maximum benefit from
being identical – especially when in court. One would provide an alibi for the other or they would
claim the wrong brother had been arrested. This created memorable repartee for the watching public.
During the cross examination of a keeper or constable, they were asked, 'Have a good look at me.
And now have another look at my brother who is in court....let the gentleman see your pretty face.
Remember you are on your oath. Don't you go and commit perjury like you did last time. Now will you
swear it was me and not that brother of mine you stopped on that black night?. A hesitation...and the
case was lost.
In February 1907, Albert pleaded guilty to night poaching at Knebworth, Herts. The prosecutor said
that it was sometimes very difficult to distinguish between them. The magistrate drolly commented,
'Especially if there is an alibi' (Laughter) While sentencing Albert to six months hard labour, he
commented, 'Foxe, you possess strong sporting instincts and it is therefore difficult for me to feel
angry with you. I am told you were born of very respectable parents....you learnt the use of a gun
when you were quite young and have used it ever since to shoot other people's pheasants and
rabbits. Do try and turn over a new leaf and be an honest man'.
Six years later, in January 1913, Ebenezer applied to Hitchin magistrates for compensation for
wrongful conviction after being sent to prison for seven days. While there, Albert admitted that he was
actually the offender. No compensation was offered – what may have swayed the Court's decision
was that exactly the opposite had happened a short time ago when Albert was imprisoned for a
month and it was Ebenezer who had committed the offence.
Ebenezer was charged in 1917 with stealing five fowls, valued at twenty shillings from Frederick
Reynolds at

Langley Hill Farm

, near Preston. He pleaded 'Not Guilty', claiming he found the fowls.
The constable who arrested Fox was asked why he suspected Ebenezer. 'Well Sir, you know his
character as well as I do and seeing his pockets so bulky, I suspected him' (Laughter). Ebenezer
retorted, 'None 'o that! I have got as good a character as you have in Stevenage (Laughter) 'Did I tell
you I stole the fowls? Constable, 'Yes'. Fox (with vehemence) 'You're a liar and I tell it to your face in
Court (Laughter) I don't want to speak to you again for I've been sent to prison by better men than
you' (Laughter) He also claimed that a few days earlier he had been shooting with the Earl of
Strathmore. None of this saved Ebenezer from a prison sentence of six weeks.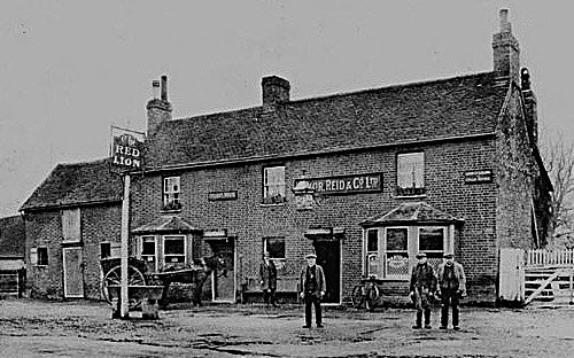 The Foxe twins are standing in the right foreground
But not all magistrates joined in the fun. In September 1913 at Stevenage Sessions, Albert was
hauled before an obviously exasperated Mr C Poyntz Stewart who exploded: 'Fox. I am not going to
waste more than a few words of my breath upon you. You seem to glory in your shame and delight –
a miserable creature – in being a miserable celebrity. You ought to have the full maximum. You have
had ninety-four previous convictions and this is the ninety-fifth - over half of which are for poaching
and offences against the Game Laws. This is nothing less than common stealing. You have
descended to become a common thief and there is no sport about that'. After giving Albert 'both
barrels', he was fined a paltry £2.
In 1900, Albert was summoned by the Prince of Wales (the future King Edward VII) to the Marquis of
Lorne Hotel at Stevenage and drank beer with him there. Edward joked to a flunkey, 'Here is a man
who can shoot more birds in the moonlight than you can in the daytime'. Albert extracted maximum
mileage from this encounter saying on one occasion before magistrates that he could get a very good
reference as he went shooting with his Majesty the King and hoping his sentence would not be too
long as he was 'supposed to go shooting with His Majesty this year'. This cut no ice with the
Chairman who sentenced both brothers to a month with hard labour.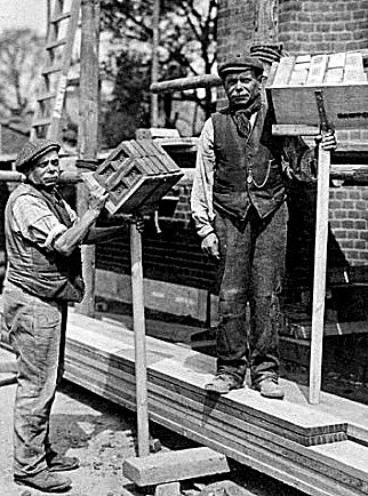 The Foxe Twins helping to build one of their future temporary dens -
Stanmore Road, Stevenage Police Station in 1915
Fingerprinting and the Foxes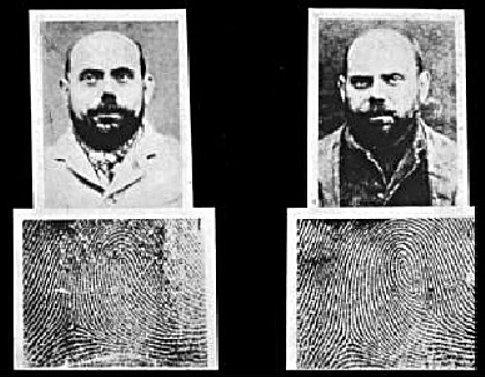 An advance in criminal forensic science can be attributed in part to the 'Foxe Twins'. In 1904,
criminology took a step forward with the discovery that everyone's fingerprints were unique – even
identical twins, despite sharing the same DNA. The reason for this is that babies occupy different
corners of the womb. This causes differences in the ridging of their skin and their fingerprints. As a
result 'the detailed minutiae of where skin ridges meet, end or bifuscate are different'.
The then Commissioner of the Metropolitan Police, Sir Edward Henry, was partly motivated by the
continual humiliation of Hertfordshire's authorities by the twins to prove that this new science was
viable. The Foxe twins were among the first criminals to be convicted using paw prints. Thirty years
later, their example was still being quoted in court to give substance to the credibility of fingerprint
evidence.
The Foxe Twins and Preston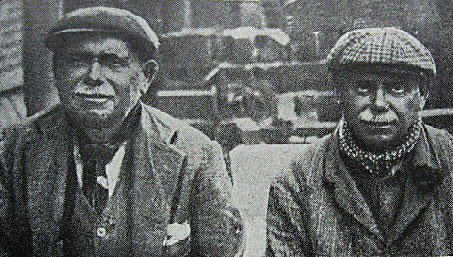 Capture of the Foxes
Albert and Ebenezer Foxe of Stevenage were charged with night poaching at Hitchwood, near
Preston, on the night of 1 January 1901. George Arnold was called, under-keeper in the employ of Mr
Bailey Hawkins who stated that at about 00.30 he heard a shot fired at the top of Hitchwood. He went
in the direction from which the shot was fired and then heard other shots. Whilst in the wood he heard
voices and two men came within twenty yards of him. He rushed forward and the men ran away. He
followed for about two hundred yards and then the men fell upon the ground. He caught the
defendant, Albert, and the other defendant ran away in the direction of Preston. Arnold led Albert
about four hundred yards to the road and there searched him, but found nothing upon him. The man
who ran away was Ebenezer Foxe. He noticed as he was running that he had a gun with him and that
his pockets were bulging. George Arnold, an uncle was also called to prove that he heard shots fired.
Sentence: imprisonment at St Albans gaol for two months with hard labour.
Perhaps it was on this occasion (or maybe another) that Ebenezer was caught at Hitchwood. He hid
his gun and bag. When he was asked by the magistrate why he in the wood, he replied, 'Listen to me
Muster Radcliffe. I've always told you the truth and what's more I always will. I went into the wood that
night because I wanted to meditate upon the Baptist Hymn Book. And that's the truth, the Bible truth
and nothing but the truth'. Whereupon he produced it in court with a flourish and a cloud of feathers'.
There is a geocache featuring the Foxe Twins at Hitchwood. The hint is: Vs n tbbfr pna ynl tbyqra rttf
haqre n tbbfroreel ohfu, jung ynlf checyr rfft? Should you be inclined to spend a pleasant hour or so
searching for the cache, please observe the search rules.
Ebenezer (above) was the first twin to go. 'It was all due to the keepers who knocked him about the
head. It was their doing that he became deaf and couldn't any longer hear his birds drop'. In Hitchin
Infirmary, he grew listless and disinclined to turn out at nights. Knowing his hours were numbered, he
absconded to get back home. His legs gave out at The Willows - a piece of woodland at St Ippollitts.
He was found unconscious under bushes three days later. Ironically for the Foxes, a few years earlier
in 1918, commenting on the lack of an address when a compensation claim was made, the assistant
overseer described their home as 'a couple of hurdles and a little bracken'. Ebenezer died from
exhaustion and exposure on 2 October 1926 in Hitchin Workhouse.
Ebenezer was buried at St Nicholas, Stevenage. Old friends, magistrates, keepers, constables,
'coney-catchers', poulterers, Baptists and a crowd of commoner people saw him off. Albert, being out
of funds, made a bunch of wild flowers which he dropped into his brother's grave.
On 20 May 1937, Albert also died at Hitchin Workhouse, aged 79. The only mourners at his funeral
were Lady Fellowes and Hitchin historian, Reginald Hine. They left a wreath of irises.
With this background to the naming of the Woolmer Green Twin Foxes estate, perhaps its residents
are especially vigilant when locking doors and windows and installing burglar alarms. They really
shouldn't trust a bust!