Early Swain family at Preston
The Swains were one of the most prominent of Preston families in the seventeenth and
eighteenth centuries. Many were blacksmiths and victuallers. They owned homes at Preston
Green including the Red Lion and farmed several parcels of land around the village.
Below are the stories of selected Swains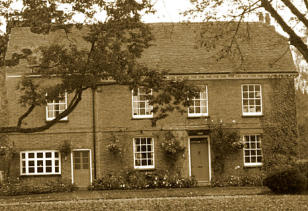 The birth and baptism details of Edward Swain, a blacksmith
trading at Preston in Hitchin parish who died in 1752, have not
been found. (However, see new discovery. Link:

E Swain

) He
married Mary and the couple probably had seven children
between 1707 and 1720, most of whom were baptised at St
Mary's, Hitchin.
Sometime before 1747, Edward Swain, purchased a cottage at
Preston. By the cottage were three fields of land which had an
area of three acres. The fields lay to the west of the footpath
which runs from Preston Green to Back Lane. The cottage is
known today as the

Red Lion

public house (see right) and the
land is now occupied by the pub car park,

Pryor House

and
Preston School.
Edward prospered and in addition to the cottage at Preston
Green, he also owned two cottages in Ippollitts' parish and three
fields: Todds Close (one acre to the south of Chequers Lane, see
right), Three Cornered Close (which was probably near St Albans
Highway) and a field in Ippollitts. It was the usual practice of
blacksmiths to have 'another iron in the fire' such as farming or
horse-breaking.
As Edward grew old, he decided to put his affairs in order. He
made a will on 17 May 1747 and nine days later he arranged for
his wife Mary to be included as owner of their home in the
manorial records. Mary died and was buried at St Mary's Hitchin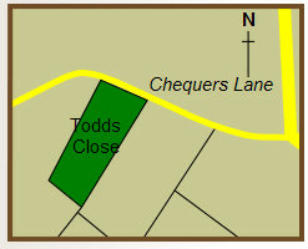 in 1750. Edward died two years later and although there is no record of his burial at Hitchin, his
daughter, Mary, stated in her will that he was buried at St Mary's with his wife.
The following is

an epitome of Edward's will and codicil:
SWAYNE, Edward
– blacksmith of Preston, parish of Hitchin. Made 17 May 1748.
To my

wife Mary

- all my property in the parishes of Hitchin and Ippollitts. Then after her
death or re-marriage:
To my

son James

, my freehold cottage at Ippollitts occupied by William Child and the
copyhold field in Ippollitts in my occupation.
To my

son John

, my freehold cottage at Ippollitts occupied by Henry Merritt; the freehold
field of arable land called, Three Cornered Close and the one acre of copyhold field called
Todds Close.
To my

daughter Mary

, - £100
To my

son James

, – an annuity of 40 shillings
To my eldest

son Edward

, – the residue of my freehold and copyhold estate.
To my son John, – all my blacksmiths tools, utensils and trade debts owing to me. He is to
pay my debts for iron and coal.
My wife Mary is to be my executrix.
Will signed by Edward and witnessed by William Dearmer, Richard Morgan and Thomas
Taylor.
A codicil was added. As Mary had died, James and John were appointed executors and all
debts owed to Edward which were not connected with his blacksmith's trade were to be
divided equally between James and John.
Codicil signed and witnessed by Robert Hull, James Elliott and Thomas Taylor.
The will and codicil were

proved on 20 May 1752

.
Mary Swain - Edward and Mary's daughter
Edward and Mary's first-born, Mary (1720-1764) deserves a mention in this account of the Swains.
She was a spinster and lodged at Preston Green. Her will provides extraordinary details of her
wardrobe, as well as a raft of family data. If ever it is thought that Emily Soldene was the first known
Swain with a flair for theatrical gestures, just imagine the spectacle of Mary's burial when her wishes
were executed. This is a précis of her will:
SWAINE, Mary
- spinster of Preston Green
To my

brothers John and James Swaine

, - £10
To my nephews (the children of my brother John Swaine):

Edward, James, William and
Samuel Swaine
- £5 when they marry or attain twenty-one.
To my

nephew Stephen Swaine

, son of my brother Edward deceased - £5 and the
dresser in the kitchen and the crane there.
To my

niece Mary Swaine

, daughter of my brother John – my best gown, black petticoat,
black cloak, best stays and worse, my best hat, white linen coat, a suit of my best linen, a
holland apron, my three longest silver spoons, my bag of cutlery (?), a silver nutmeg grater,
the bed, bedstead, coverlet and blankets in my lodging room (?) and pair of my best
sheets, my linen gown, long cloak and the chest of drawers and looking glass in the same
room.
To my

niece Elizabeth Swaine

, daughter of my brother John – my red gown, one white
apron, a cap, one pair of gloves, a (?) handkerchief, one fan, my white cloak and chest of
drawers
To my

niece, Sarah Swain

, daughter of brother John - my worst black gown, a cap and
handkerchief, one pair of gloves, my flowered apron, a desk and chest of drawers.
To my

niece Mary

daughter of my brother William Swaine – my best black gown, my silk
gown, my green petticoat, my second best stays, my best white double woollen petticoat,
my red cloak, a black hat, one pair of sheets, my best white blanket, one white apron, a
gold ring, a small silver spoon, a small silver case, my best chest, two new barrels, one
small tub, my large kettle, my middle skillet, one frying pan.
The rest of my household goods, linen and woollen were left to my

nieces Mary Swaine
and Mary Doggett
equally.
The residue of my estate to my f

our nieces: Elizabeth, Mary and Sarah Swain and Mary
Doggett.
Joint executors – my brothers James and John Swain and my sister-in-law Elizabeth
Swaine. They were to bury Mary in Hitchin church as near my father and mother and in like
manner as my father was buried and to be conveyed to the grave in a hearse with four
horses and the mourners to be conveyed in post-chaises and to give my brothers were to
be given gloves and hatbands and my sisters, gloves and ribbons.
Will dated 16 April 1764. Signed by Mary and witnessed by Thomas Taylor and Rev John
P. Morgan. Proved 11 September 1764.
John continued the Swain tradition as a blacksmith at Preston,
albeit not in his father's home at Preston Green as this had
been left to his elder brother, Edward. John had inherited his
father's tools and utensils and the two fields; Three-cornered
Close and Todds Close. There remained the problem of where
he was to live, so two years after his father's death, in 1754, he
bought a cottage with a barn and garden from William King
which was known as

Gentle's Cottage

(shown right). This was
situated on the north side of what is now called 'Church Lane'
which was earlier known as 'Blacksmith's Lane'.
Like his father, John expanded his business interests,
purchasing a five-acre field called Bennetts in Kings Walden
parish from John Joyner in 1750. This was to the south of
Wrights Lane (see right) and in 1848 it was part of

Preston Hill
Farm
and known as Swains Bennetts). To raise £60, John then
mortgaged the field to Joseph Button of Hitchin.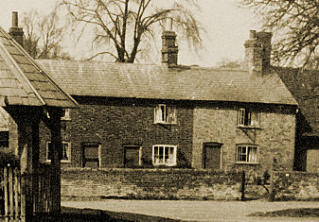 By 1791, when John was 74, it was time to distribute his assets. In 1791, John sold the field, Bennetts,
to his son, William Swain and two years later, in 1793, he also sold to William his cottage at Church
Road and Todds Close. John died in 1794.

A precis of John Swain's will:
SWAIN, John
– Blacksmith of Preston, Hitchin dated 17 February 1793
My freehold dwelling house and land to my

son, William Swain

– to pass on his death to
my g

randson, William Swain

(second son of William, senior).
My other freehold and copyhold cottages and land at Hitchin, Ippollitts and Kings Walden to
my

son William

– to pass on his death to Stephen Swain, William's eldest son.
My personal estate to my

son William Swain

on condition that he pays an annuity of £2
10/- to my son Edward Swain and my daughters Elizabeth Beech, Mary Faulkner and Sarah
Banks.
Executors: William Swain and my kinsman, Stephen Swain.
Signed. Witnessed by Daniel (?) Joyner, Henry Pedder and Samuel Pilgrim. Proved 18
September 1794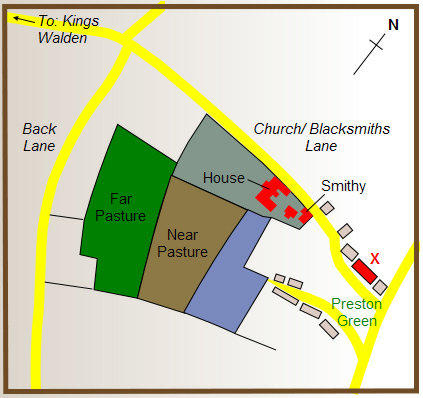 William continued his father's blacksmithing business
and was also a cattle farmer. He married Sarah
Hughes at St Mary's, Hitchin in 1781 and they had
eight children from 1783 to 1798.
The Hitchin Poor Rates indicate that William took
over his father's house, (

Gentles Cottage

shown as
X
right) at Preston Green in 1794 – his name first
appears then and the rateable value of the property
is identical.
In 1811, his property included his home, the fields:
Todds Close and Three-cornered Close. He also
owned a house, garden and croft and two fields:
Near Pasture and Far Pasture. This property of more
than three acres was situated on the south side of
Church Lane and abutted Back Lane. It included
what was later a blacksmith's shop, known today as
The Old Forge
. There is no record of any
transactions relating to this property in the Temple
Dinsley, Missenden (Minsden) or Maidencroft
(Ippollitts) manorial rolls.
In 1826, William was involved in a bizarre court case.
James Humphries, a labourer from Hitchin was
charged with giving William a farthing which was
coloured to resemble a sovereign. Humphreys was
sentenced to six months hard labour and bound over
for six months.
William was involved in two property transactions: he
sold Todds Close to Henry Crabbe of Temple Dinsley
for £60 in 1828 and, following the enclosure of Kings
Walden, William exchanged Bennetts for Garretts
(shown right) which was a field of five acres and one
perch. This latter transaction took place at William's
home. Sarah was made joint owner as a symbol of
Above
: William Swain's property circa 1811
'the natural love and affection' William felt for her. In 1832, Garretts was sold to William Curling for
£200. William died in 1834 and was buried at St Mary's, Hitchin on 28 July. Sarah died four years later
and was interred at Therfield, Herts.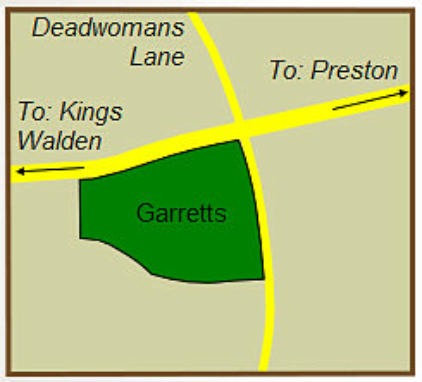 William's death was the end of the line in Preston for this branch of male Swains as William's eldest
son moved to Harpenden where he and his descendants continued as blacksmiths.
This is a summary of William's will:
SWAIN, William
– blacksmith of Preston, Herts. Dated 30 September 1825
Entire estate left to wife Sarah - including copyhold cottages at Preston and in parish of
Kings Walden and in manor of Temple Dinsley.
On her death, the cottage at Preston previously occupied by William Gentle, now William
Joyner was left to my

daughter Dinah Swain

and, after her death, to my daughter Aney
Palmer.
The field of one acre at Preston called Todds Close formerly occupied by my late father
John and now occupied by myself and all the copyhold closes at Kings Walden were left
to A

ney Palmer.

(Note: Todd's Close was sold in 1828 after William's will was drawn up,
see above)
All my stock in trade, cattle etc left to

my wife, Sarah

.
Signed by William Swain and witnessed by Catherine Brown and Josiah Ison and William
Barton of Baldock.
(Notes: In 1856, Dinah sold 'Gentle's Cottage' at Preston Green to Thomas Harwood
Darton for an annuity of £6.
On 23 October 1877, following the deaths of first Dinah Swain and then Aney Palmer,
'Garretts' was bequeathed to John Swain, blacksmith of Preston, under the terms of
Aney's will dated 16 January 1877. The field was then mortgaged to Edward Logsdon for
£100 which was repaid with interest on 6 December 1879. Three days later, John Swain
converted the property from copyhold to freehold after paying the Lord of the Manor,
Thomas Harwood Darton £57 10/-. The field was described as being bounded north and
east by road and south and west by land owned by Charles Hale.)
Edward and Elizabeth Swain
Edward Swain (1709/10 – 1757) as Edward's eldest son, inherited the residue of his father's estate
and established himself as a blacksmith at Kings Walden. He married Elizabeth Goodwin on 15
November 1749 at St Mary's, Hitchen. The couple had but one known son, Stephen Swain.
Stephen Swain's (1755 – 1835) career path was affected by disability. In the Hitchin militia lists he is
recorded as disabled, lame and having a wooden leg. Yet this did not prevent him from farming land
near St Albans Highway at Preston. The manorial rolls describe him as late of Preston, shopkeeper in
Hitchin. Stephen also held public offices: he was a special constable, surveyor of highways and
Receiver of Assize Returns, compiling data about wheat prices and the quantity sold in Hitchin.
In 1822, he was also the master of the Workhouse as he claimed a new pair of plush breeches to
replace those stolen by William Pain. Stephen, during a highway robbery in 1800, had his purse
stolen (worth 1d) with its contents: half a guinea and sixteen shillings. The thieves, Michael Ansell
(20) and Joseph Rogers (18) of Ippollitts were caught and transported to New South Wales, Australia
on the Perseus and the Glatton respectively. Rogers was also found guilty of stealing a watch chain
(worth 2d), half a guinea and three shillings from Thomas Darton of Temple Dinsley.
Stephen married Ann Thrussell at Kings Walden on 29 September
1778. The couple had eight children born between 1781 and 1796.
When Stephen was sixteen, he inherited the house (A - now the

Red
Lion
) and fields of three acres (shown as green, right) at Preston Green
which his grandfather, Edward had purchased. On 17 June 1793, he
bought the house next door (B) together with one acre of land
(coloured brown, right) in what is now called School Lane for £46 at an
auction at the Swan Inn, Hitchin from Samuel Newman. This house had
been occupied by Jeremiah Gazeley, Joseph Ward and then William
Ward and had outhouses barns and stables. Two years later, in 1795,
Stephen mortgaged both properties to Edward Bruton, a Kimpton
farmer, for £500 which he had repaid by 1811.
Then on 26 February 1811, Stephen sold the house at Preston Green
(A), its three acres of fields (green) and the field of one acre (brown)
which adjoined the School Lane house to his son-in-law, Joseph
Saunderson, for £290. A week later, Stephen mortgaged the house in
School Lane (B - which had now been converted into three dwellings
inhabited by William Hawkins, Thomas Cain and Henry Ward) to John
Witney, a grocer from Hitchin, for £60. For this reason, in 1811,
Stephen is shown as owning three houses and gardens in only 25
perches of land (the acre of ground which was previously associated with the property having been
already sold).
When Stephen died in 1835, he bequeathed this property to Priscilla Swain (see below). His will noted
that was still divided into three separate homes. It is still shown thus in a sketch map circa 1872.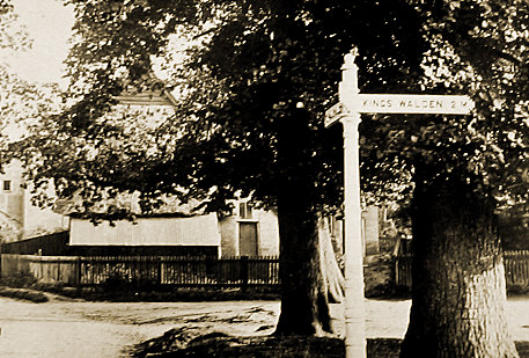 Stephen's house beside the
Red Lion
at Preston Green
B
SWAIN, Stephen
- will dated 10 June 1835.
To my
daughter ,Priscilla Swain,
my copyhold dwelling house at Preston Green
(B)
now divided into three cottages. This property was subject to a mortgage of £100. The
bequest was on condition that the rents and profits from the cottages (less the mortgage
interest) for the first year after Stephen's death were paid to Stephen's wife, Ann, and
that after that Priscilla paid Ann £2 a year.
To my

son, William Swain

– my freehold field in Ippollitts parish which abuts St Albans
Highway and its crops, but he is not to take possession of the field until one year after
my death.
To my

son, Charles Swain

- £5 and all my body linen and wearing apparel.
To my

son, Stephen Swain

- £5 my watch and silver spectacles.
To my

wife, Ann

– all my household furniture and the residue of my estate.
Executors: wife Ann Swain and daughter Priscilla Swain. They were directed to sell all
my farming stock, horses, cattle, ploughs, harrows and instruments of husbandry and all
the crops growing on my farm one year after my death and that my wife settle all debts
and legacies using this money.
Signed: Stephen Swain. Witnessed by Thomas Gorham Pierson, Joseph Saunderson
and William Swain, blacksmith of Preston. Probate 8 February 1836.
Harriet Swain and Joseph Saunderson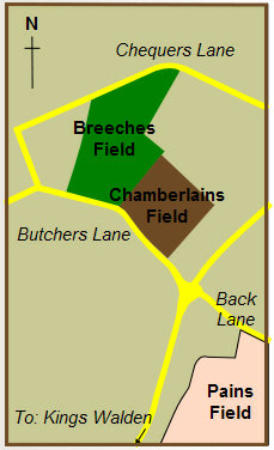 Stephen's daughter, Harriet Swain (1784 – 1847) married Joseph
Saunderson (1763c – 1829) at St Mary's, Hitchin on 25 July 1805.
Joseph purchased the house at Preston Green together with four
acres of land around it from his father-in-law, Stephen Swain, in
1811.
Although the transactions are not recorded in the Temple Dinsley
manorial rolls, Joseph had also bought three fields around
Preston by around 1811: Breeches (four acres) and Chamberlains
Field (two acres) which lay between Chequers Lane and Butchers
Lane, and a portion of Pains Field (six acres) which was part of
the Preston Hill Farm complex. In total, Joseph and, after his
death, Harriet, farmed more than sixteen acres spread around the
village.
Two months before his death in 1829, Joseph mortgaged his
house and land at Preston Green to Joseph Margetts Pierson and
Henry Crabbe for £200. This mortgage was repaid after his death
in 1832 and his will was eventually proved in 1833. When this was
noted in the manorial roll, the property was described as having 'a
shop' for the first time.
Epitome of will of SAUNDERSON, Joseph of Preston, Hitchin dated 5 June 1829
Entire estate left to

wife, Harriet

.On her death everything was to be sold and divided
equally between his five

children – Joseph, Sophia, Charles, Stephen and Alfred
Saunderson
. If any pre-deceased Harriet, the residue was to be divided among the
survivors.Joseph did not sign but marked the will. It was witnessed by Stephen Swain
and John Young. Proved 10 June 1833.
After Joseph's death, Harriet continued to farm and sell beer in Preston. Already in 1832, Piggotts
Directory had described Harriet as a 'beer retailer' and the name of her establishment,

the Lion

, was
first recorded in 1841.
In 1844, Samuel Lucas, a brewer in Hitchin, came to an arrangement to supply beer to Harriet. He
also settled the outstanding mortgage with Pierson and Crabbe. After Harriet died in 1847, the Red
Lion and two closes of four acres were sold to William Brown for £820. When the debt to Lucas had
been settled, Harriet's executor, Priscilla Swain, distributed the remaining £365 to the heirs.
William (son of Stephen and Ann) and Sarah Swain
Stephen and Ann's eldest son, William (born 1786) had inherited his father's field at Ippollitts, abutting
St Alban's Highway. He married Sarah and the couple had seven children between 1816 and 1826. At
some stage, he may have occupied the house and blacksmiths shop to the south of
Church/Blacksmiths Lane.
In 1841, William (a blacksmith now aged 55) and Sarah were living in Preston with three sons, two of
whom were also blacksmiths. He (as a farmer) was declared insolvent on 10 December 1843 and his
problems increased with the death of his wife, Sarah, in 1848. Three years later, he was 'past work'
and the business was being run by his son, John Tolman Swain. William died in 1858.

John (born 1818) was William and Sarah's eldest son. He married Martha Hunt from Great
Wilbraham, Cambs. in 1856. The couple had three children. John was also a blacksmith and in 1873
he and his family were living in the cottage on the corner of Church/Blacksmiths Lane and Chequers
Lane. He inherited Garretts from Aney Palmer (his second cousin, once removed) in 1877,
mortgaged it for £100, repaid the mortgage two years later and immediately bought the freehold for
£57 10/- from Thomas Harwood Darton.
In 1879, he occupied but was not the owner of the blacksmiths shop which stood to the south of
Church/Blacksmiths Lane. The house and fields around the smithy which had been owned by William
Swain (1758 – 1834) were sold to the St Pauls Walden farmer, Richard Jepps. Richard died intestate
on 23 March 1878 and his estate was inherited by his brother, Frederick. He immediately sold the
blacksmiths shop together with a dwelling house (occupied by Mr F. Brown), outbuildings and several
enclosures of old pasture (five acres and 34 poles, farmed by W. Jeeves) by auction at the Sun
Hotel, Hitchin on 1 July 1879. The complete lot was bought by Thomas Harwood Darton for £740.
Following the sale of his blacksmith's shop, John moved to Kings Walden and continued his smithing
business there. In 1881 he was living at the

Hollybush

public house and ten years later he and
Martha were at Kingsland End, Kings Walden.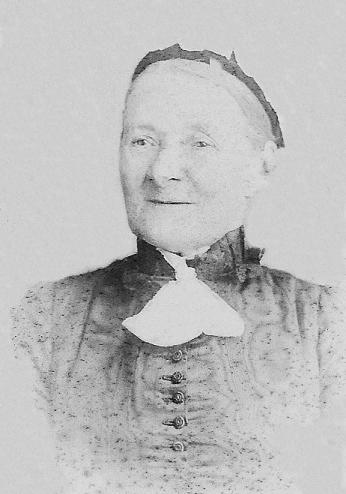 Charles and Catherine Swain
Charles Swain (1790 – 1837), the second son of Stephen and
Ann, led a colourful life. At the age of eighteen, in 1808,
Charles (described as a wheelwright of Luton) had a
maintenance order imposed on him by the worried overseers
of the poor at Great Gaddesdon, Herts. He had a liaison with
Abigail Matthews, a single woman, and a daughter (a bastard
child) was the result. He was ordered to pay the overseers £2
towards the 'laying-in' of Abigail and six pence a week for her
'keeping, sustenation and maintenance' in case Abigail did
'not nurse and take care of her' child. Four years later, on 6
April 1812, Abigail married Matthew Worker at Great
Gaddesdon.
Shortly after this episode, on 27 July 1808, Charles joined the
Nineteenth Dragoons at Northampton and was stationed in
Ireland from 1809 until 1811. Then, he married Catherine
Young (right) at Temple Michael, Longford. A daughter,
Priscilla, was born near Stopsley, near Luton in 1812. Charles
was possibly sent overseas in 1813 -15 as the Dragoons
were fighting in America and Canada. He was discharged
from the army at Romford, Essex on 9 October 1817.
Charles and Catherine had ten children between 1812 and 1831. He died of a liver complaint at
Preston in December 1837. In 1841, Catherine was a victualler at

The Horse and Groom

public house
on the corner of Church/Blacksmiths Lane and Chequers Lane. Ten years later, she had moved to
keep the

Three Horseshoes

public house at nearby Langley Bottom.

Acknowledgments: I am grateful to Wendy Dinsdale for checking the Swain tree and the photograph
of Caroline Swain,and Tony Swain and Kurt Gunzl for the information provided)
The Swain family tree may be found at this link:

Early Swain tree

.
There are also separate notes of individuals numbered on the tree at this link:

Key to numbered
Swains.