The Darton family of Temple Dinsley: Part one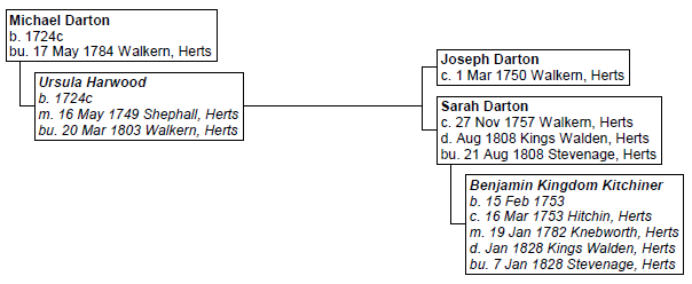 Michael and Ursula Darton
Notes:
I cannot trace Michael's baptism - despite searching the Walkern baptisms.
Michael died after being in the local Workhouse.
The parishes featured here surround Stevenage (see map above). Benjamin and Sarah Kitchiner were
living in the parish of Kings Walden when they died, as was Sarah's mother, Sarah Darton. It is likely
that the latter was living with her daughter and son-in-law. Their marriage certificate is shown below.
Note that Sarah jnr's brother, Joseph Darton, was a witness - providing us with a copy of his signature.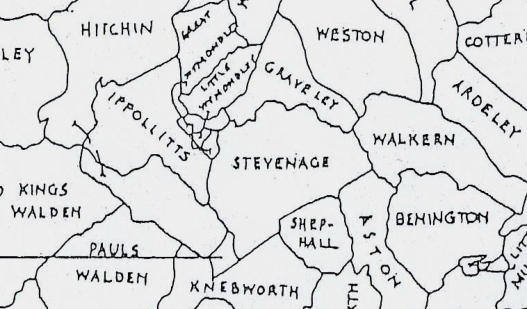 Map of the relevant Hertfordshire parishes
Apart from Michael's experience of hard times when he was in the Workhouse, the only other fact
known about him is that he was a labourer. This is shown by a transcript of Walkern's Militia List:

Joseph (snr) and Elizabeth (nee Howard) Darton
There is a record of Joseph's five-year apprenticeship as a clockmaker in Hitchin, begun when he
was eighteen years old (and a year after his father's death), which reveals details of his life as a
young man.

We can be confident that this Joseph Darton is our subject because he moved to London after
completing his apprenticeship in 1763 and when he was preparing to marry, his trade as a clockmaker
was noted. His signature when marrying matches the signature of Sarah Darton's brother, Joseph,
when she married:

Joseph is noted at Hitchin in the Hertfordshire Militia List as an apprentice whitesmith in 1772 (his
master, Peter Odell is sometimes described as a 'whitesmith' - a metalworker who does finishing work
on iron and steel such as filing, lathing, burnishing or polishing). This record at Hitchin establishes
Joseph's proximity to his uncle, Thomas Harwood, who was living about three miles away at Temple
Dinsley from at least 1758.

Joseph married Elizabeth Howard on 14 January 1776 at St Lukes, Chelsea. Five of Elizabeth's
relatives chose to show that they witnessed the marriage:
On 15 October 1776, a first son was born to Joseph snr and Elizabeth - Joseph Darton jnr. The
details of his birth are worth noting because he, as with his siblings (five children were born in six
years), were baptised as Quakers at their Westminster Meeting House

(see below)

.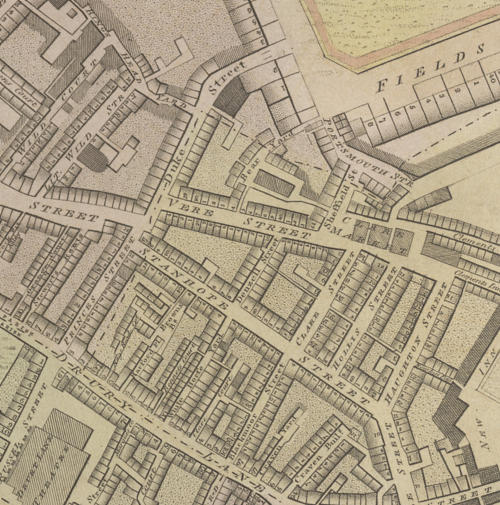 The six baptism documents confirm that Joseph continued as a watch and clock maker from 1776 to
1782 and that he lived at Duke Street, Chelsea. This was a little north of the Strand, leading to
Lincoln Inn Fields. It may well be that he was trading from a shop there.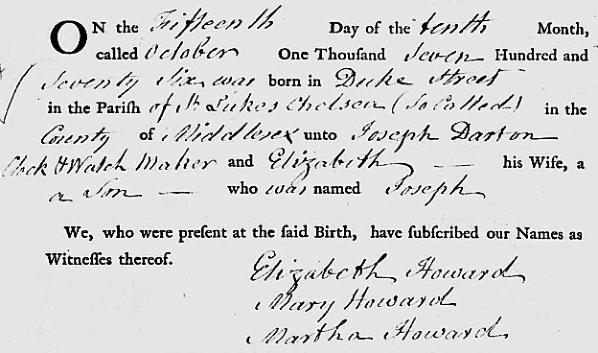 Elizabeth's relations were present not just for this birth - Elizabeth and Martha (or both) attended all the
later births. This probably indicates that it was the Howard family who were Quakers, indeed there was
a Robert Howard whose children were also being baptised at the Westminster Quaker Meeting House
around this time, who was perhaps their brother. Although Elizabeth was a Quaker, judging by the lack
of Quakeresque statements in Joseph's will, the extent to which

he

embraced the beliefs of the Friends
is debatable.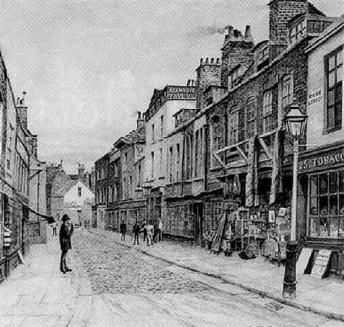 Duke Street, Chelsea in the nineteenth century - mainly populated by shops
A naive portrait of Joseph Darton (snr,

above right

). The artist spent much of his time painting
Joseph's head, which is out of proportion to the rest of his body - in particular his left hand.
So, by the time that Joseph inherited the Ithell estate from his uncle, Thomas Harwood, he had put
his roots down in Chelsea, London, had a trade and was already the head of a family of five children.
Joseph Darton snr and family at Temple Dinsley, Preston
Joseph received his inheritance in 1787. It was around this time that the watercolour of Temple
Dinsley - the old mansion and new mansion with wings - was painted. Link:

Temple Dinsley changes
Joseph did not enjoy his windfall for long, dying eight years later in November 1795. There is
circumstantial evidence that Joseph did not reside at Temple Dinsley for the complete period from
1787 until 1795. In 1794, the Austrian composer, Joseph Haydn (1732 - 1809), was taken to Preston
by his friend the 4th Earl of Abingdon, a music patron, to visit the 6th Baronet Aston (of Cheshire), Sir
Willoughby Aston, and his wife Jane. While there, Hayden wrote some music that may have included
a song sung by himself and the two nobleman. This took place at Temple Dinsley, the inference being
that the Darton's were living elsewhere.
Joseph's widow Elizabeth remained at Temple Dinsley, but on 1 January 1799, little more than three
years after her husband's death, the Hitchin Quakers felt they had cause to admonish her:
"(Elizabeth Darton) has been very slack in her attendance of our religious meetings
and for a considerable time past generally absented herself from them…by
appointment she has been repeatedly visited, but not to satisfaction….she, (not)
manifesting a disposition to change…(we) apprehend ourselves under the necessity of
testifying our disunity with her and hereby declare that we do not acknowledge the said
Elizabeth Darton any longer as a member of our society…"
In 1801, a census at Preston revealed that her son, Joseph Darton jnr (26), was the head of a
household of eleven persons, (nine of whom were females) at Temple Dinsley.
However, the next fifteen years brought Elizabeth much sadness despite her sons, Joseph and
Edmond, marrying. In 1803, two of her other sons, Michael and Thomas, died. Then, in 1816, Joseph
and Edmund also passed away. So many Darton males died without seeing their fiftieth birthday that
one wonders whether they had a common congenital defect.
At some time between 1799 and 3 June 1806, Elizabeth snr moved back to the Kings Road, Chelsea
where she was residing when she died in March 1821, aged 75. She clearly preferred life in Chelsea
to being with her sons and their wives at Temple Dinsley.
Quakers emphasise the direct experience of God rather than ritual and ceremony and seek to live
simply so as to reduce the burden on the world. They also rejected formal church services and
Quakers were prepared to use Anglican churches and graveyards for some of their vital events,
especially burials. With this in mind, the wording of the introduction to her will which follows may
indicate that she had returned to the Quaker Meeting house at Westminster, despite being buried at
the Anglican church of St Luke's - or at the very least, had clung to some of her Quaker ideals.
Elizabeth Darton's will and codicil
Elizabeth's will was made on 3 June 1806 (shortly after the death of her son, Michael).
A codicil was made on 20 January 1817 (after the deaths of Joseph and Edmond). Both
were proved on 31 March 1821. Her executor was her daughter, Betty Darton.
Her will was that 'my body may be laid in that ground it may be nearest to at the time of my
death' and that 'my funeral may be very simple and very private'.
She included a reminder that her children were entitled to legacy from her husband after
her death which was to be paid from the principal of her annuity.
Elizabeth left Joseph and Edmond £100 each, out of which they were to give their wives
£20 'for their private use' and a receipt for this was to be given to her executor.
She left her father-in-law, Michael Darton, £50 (if he predeceased her, then her brother
and sister-in-law Benjamin and Sarah Kitchiner were to have £10 each; her nephew,
Edward Kitchiner, £10 and her sisters Mary and Martha Howard £10 each); her nephew,
Edward Kitchiner was bequeathed £100.
The residue of her estate and her furniture were left to her daughter, Betty Darton.
The codicil added that the legacies she left to Joseph and Edmond (who had died) should
now be given to Betty.
Two witnesses who knew her and recognised her handwriting were called to confirm the
genuineness of her signature.
Notes re: Joseph and Elizabeth's children: Edmond and Betty Darton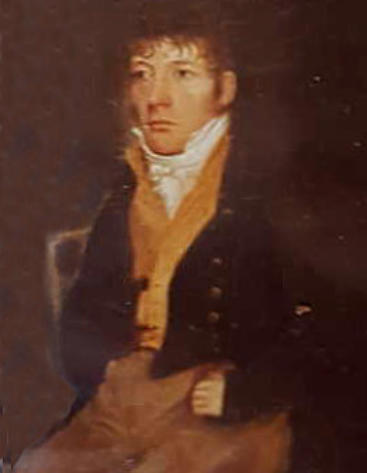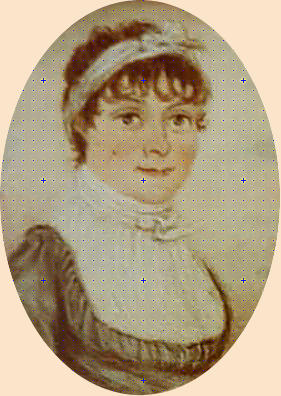 Edmond Darton
served an apprenticeship in London as a pattern-maker beginning 31 March 1796,
six months after his father's death.
Betty Darton
lived at Bancroft Street in the centre of Hitchin, being recorded there in the 1841
census and when she died

(see below)

. She had a servant named Ann Dye. In her will, she stated
that she was living at

The Clock House

, Chelsea - 'but more of Hitchin'. Betty owned a freehold house
at Great Cheney Street, Chelsea and had a friend, William Moore of Great Marylebone Street,
London.
Betty's will was made on 1 May 1845 and proved on 24 July 1845. She appointed William
Moore and her nephew, Thomas Harwood Darton to be her executors.
She asked to be 'interred in a frugal manner without any pomp whatsoever' with her parents
and brothers at Hitchin.
She gave her furniture, books, clothes, linen, trinkets and ornaments to William Moore's wife,
Catherine asking that they be shared with her 'faithful servant', Ann Dye.
Betty left £50 each to her cousin and godson, Edward Kitchiner, and his three sisters, Sarah,
Mary and Eliza.
Her freehold house at Great Cheney Row, Chelsea (this residential street runs down to the
Thames Embankment, shown below) and £1,000 was bequeathed to Thomas Harwood
Darton. William Moore received a legacy of £100.
The residue of her estate was to be shared in equal amounts by the children of Thomas H
Darton.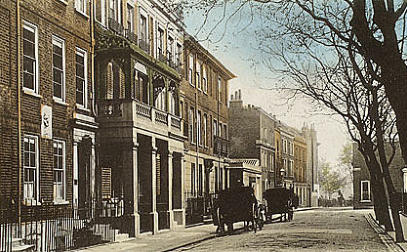 A Chancery case,

Moore vs Darton,

dated 1851 (that became a legal precedent) stemmed from
monies she gave to William Moore before her death. It also revealed some information about the
relationship between Betty and Thomas Harwood Darton:

He married Rebecca Wilson, at Hitchin on 18 March 1802, when he was described as a 'chemist'.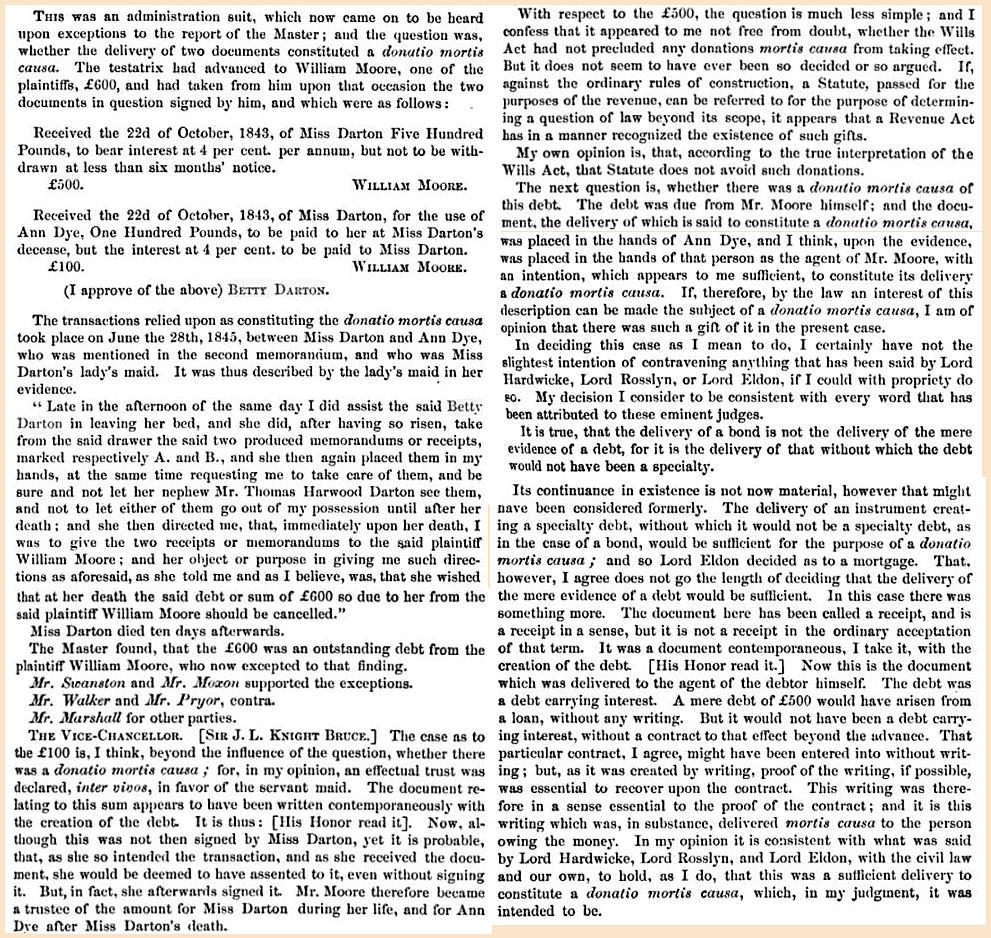 So, Elizabeth's will confirms that her husband, Joseph's, father was Michael Darton, and not Thomas
Harwood. A problem arises: why did Elizabeth leave £50 to Michael Darton, her father-in-law,

who I
believe had died twenty-one years earlier?
Here is an extract from her will:

This is perplexing. A copy of what I believe to be Michael Darton's burial record at Walkern on
17 May 1784 is shown earlier. Apart from the record of Joseph and Elizabeth's son, Michael Darton
jnr's, burial in 1803 (and its wording makes it clear that he was their son, see below), there is no
record of a burial of a Michael Darton in Hertfordshire after 1750. I also checked the burials at
Walkern, Hitchin and Kings Walden year-by-year, and Michael is not mentioned. In 1806, when
Elizabeth made her will, Michael would have been eighty-two years old. How could she not know he
was deceased? She and Joseph married two years after Michael died. Wouldn't his demise have
cropped up in their conversations? I would feel happier if, when his wife, Sarah, died it was noted that
she was a widow. And why did Elizabeth leave such small amounts of £10 to her sisters - but only in
the event of her Michael dying before her?

Joseph (1776 - 1816) and Elizabeth (nee Wilson) Darton
Following his father's early death in 1795, Joseph Darton jnr became the Lord of the Manor of Temple
Dinsley. He was eighteen years old.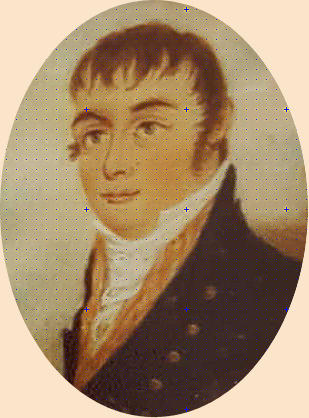 The old house of Temple Dinsley was still standing in around 1790, so it was demolished in around
1797 - after Joseph snr had died. It would be reasonable to think that the mansion's wings were
plucked at around the same time - in which case it was Joseph jnr who instigated this re-construction
before his untimely demise.
I write this knowing that there was a report which states (without a reference): "1815 - 1832 Old house
demolished". And, "…Joseph (snr) (who pulled down 2 wings [?] of the old house)" - again with no
supporting reference. This report also said the watercolour shown on the left above was painted circa
1720. This is provably untrue, as discussed at this link:

Temple Dinsley changes

.
(See note at bottom of article about Joseph's possible involvement with Herts Militia in 1806.)
During the period between 1800 and 1816, Joseph jnr also negotiated the purchase of cottages
around Preston, as he sought to build a local portfolio of houses. They included the cottage on the
corner of Church Lane and the Hitchin Road (1809), the semi-detached cottages at the corner of
School Lane and Crunnells Green (after 1810) shown below and the Sootfield Green Cottages.

Marriage at St Mary's Hitchin. Note that Betty Darton was a witness


When trying to piece together the details of Joseph's life, perhaps we should remember that he spent
his formative years living in London, until he was at least eleven years old. As shown earlier, his family
may have been absent from Temple Dinsley in around 1793 but were certainly at the mansion in
1801. The following new items seem to suggest that there were tenants living at the house between
1807 - 1809:


11 December 1807. Thomas Earl was a baker
As Thomas H Darton was born at Chigwell, Essex in 1805, the Dartons were not at Preston then.
Joseph also had business in Parliament in 1810 when he raised a Bill to take action in connection
'about 140 houses and some vacant land at St Pauls, Shadwell,' M-sex (which lay between the Tower
of London and Limehouse). This included 27 Spring Street. This property was presumably part of his
inheritance from Thomas Harwood.
Meanwhile, at Preston, Joseph was upgrading his mansion. From detailed drawings from around
1790 and 1832, we can see how the site was transformed as the mouldering ruins of the pre-1714
house were torn down, as well as two wings attached to the new Temple Dinsley.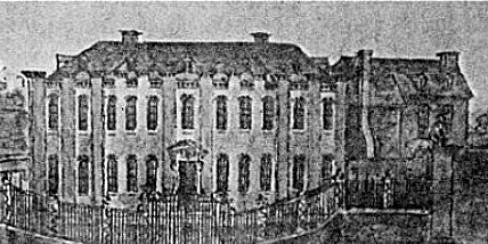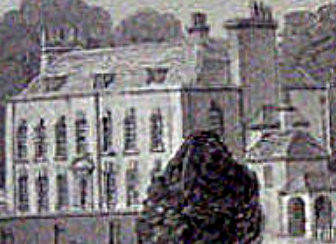 This took place during a forty-two-year window - so when did this take place and who was the driving
force behind this make-over; Joseph snr, Joseph jnr or his surviving wife, Elizabeth?
In 1801, John Britton in

The Beauties of England and Wales

stated: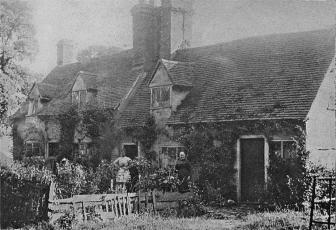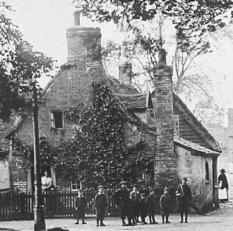 A few details of Joseph's estate emerged when his will (dated 16 June 1807) was proved on 29
November 1816:
Joseph wished to be interred with his father and
other relatives at Hitchin Church (see right).
He left his entire estate in Hertfordshire,
Bedfordshire and Middlesex to his wife Elizabeth.
Such children who survived to the age of twenty-
one were to receive £100 a year in four equal
amounts.
His executors were Edward Cobb, Supervisor of
Excise and John Marshall, liquor merchant, both
of Hitchin. Both were to be given £100 for their
trouble.
In an alteration made on 27 October 1816, Cobb
was replaced by Richard Brigg jnr of Hackney
Road, Middlesex.
The witnesses to his will were Robert Harwood,
John Young and Samuel Peete (constable); and
to its amendment, B(etty) and E(lizabeth) Darton
and Robert Harwood.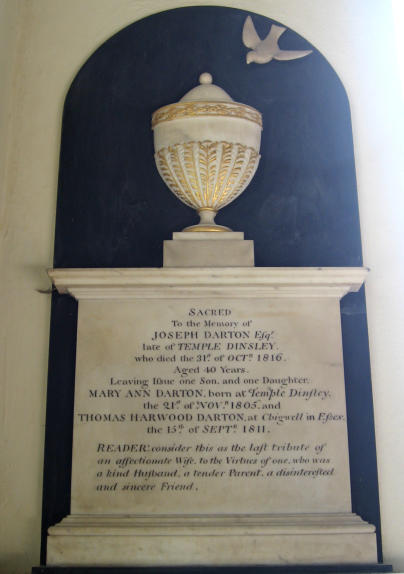 Elizabeth Darton, widow: Lady of the Manor of Temple Dinsley 1816 - 1852
Elizabeth's regard for her late husband was publicly displayed by the reader above the Darton tomb
at St Mary's, Hitchin:
"Consider this as the last tribute of an affectionate wife to the values of one who was
a kind husband, a tender parent, a disinterested and sincere friend."
Having lost her husband and being left with two children aged five and one years old - and now having
the responsibilities of the Lady of the Manor and the management of a large estate thrust upon her,
Elizabeth must have had a strong character though there is evidence she was occasionally guided by
her son, Thomas. Link:

Forster
Her first known action a year or so after her husband's death, was probably to provide the funds for
the building of a National Society School at Preston in January 1818. Was hers the guiding hand
behind Preston's new school? At this time, agriculture was flourishing and several land owners such
as Elizabeth were able to contribute towards the building and maintenance of schools. No grant from
the National Society is recorded.
There was also the matter of where was it best for her to reside. Even when Joseph was alive, the
family had not always lived at Temple Dinsley. The 1821 census reveals that she was not living in the
Hitchin parish then, so likely she was in the parish of Ippollitts which included

The Cottage,

which was
a short walk from Temple Dinsley on the Hitchin Road or even

Wain Wood Cottage

, where she was
living in 1841 with three servants. When she died in 1852, Elizabeth was living in the Ippollitts parish
at

The Cottage

. Consequently, the mansion was rented out again. Henry Crabbe died there in June
1830. In May 1832, this advertisement appeared in

The Times

, which included a wonderfully full
description of Temple Dinsley: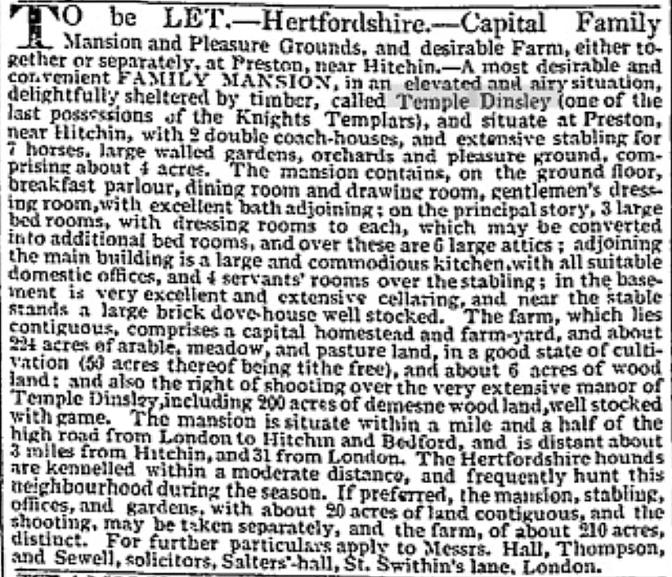 There being no takers, with an air almost of desperation ("To be let and entered upon immediately"),
there was a further advertisement placed a year later, in May 1833: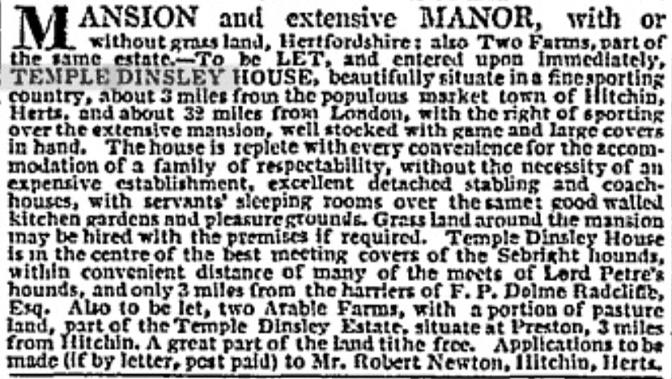 Thomas Halsey was the next tenant of the mansion, being esconced there in 1839, when a son was
born, and signing a lease the following year. His rent was £200 pa and he was allowed to spend
£1,800 on renovations. Link:

Thomas Halsey

.
His life there was blighted by the death of two more sons - one was stillborn in July 1842 and another
died within a few hours of his birth in May 1844. By 1845, the Halseys had left Temple Dinsley.
The 1851 census revealed that Thomas Harwood Darton and his family were residing in the house,
while Elizabeth was at

The Cottage

(and not

Wain Wood Cottage

which was occupied by the
Westwood family):

Elizabeth died at Temple Dinsley on 11 November 1852. Her passing was announced in the
Hertfordshire press in this way:
On Thursday, 18 November 1852 the mortal remains of Mrs Darton were deposited in
the family vault in Hitchin Church. They were bourne to the tomb and followed thither
by the tenantry of the Temple Dinsley estate, most of whom, with their fathers before
them had for many generations lived and laboured on the property. In her, the poor
have really lost a friend, for while her attention was more especially directed to the
wants and needs of her poorer neighbours, still the houseless wanderer never sought
relief from her in vain.
In view of these comments, her support of Preston's people is certainly not fully documented and we
might make some assumptions about this. As she probably financed the building of the first school at
Preston in 1818, was it she who instigated and financed the building of Preston School/Church in
1849?
Elizabeth also continued the family policy of buying Preston cottages when they became available:
Lines Cottage
and Laburnum Lodge at Preston Green in 1825;
Fig Tree Cottage,
also at The Green,
was mortgaged to her in 1835 and six cottages at Back Lane.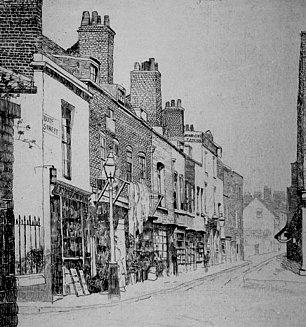 Joseph's will was made on 30 August 1787 and proved on 7 October 1795.
He bequeathed an annuity of £200 to his wife, Elizabeth, to be paid in four instalments
each year from his holdings in Hertfordshire and Middlesex. His will was that she
should reside at Temple Dinsley.
Legacies of £1.000 were left to his children, Thomas, Edmund, Michael and Betty -
payable when they attained twenty-one years - with elaborate instructions of how the
money was to be divided should they die before that age.
His eldest son was to inherit his estate.
His wife, Elizabeth, was to be given £100 after Joseph's death and be at liberty to live
at Temple Dinsley until one of his son's attained the age of twenty-one.
Executors: Edward Kitchiner and Edward Evans who each was left £100 for their
trouble.
Of the widow, Elizabeth Darton
This was printed in London's

Morning Post

. It is the only record I can find of Mary Ann Darton's birth,
apart from the inscription above the Darton tomb at St Mary's, Hitchin (see below)
Burial of Joseph Darton at St Mary's, Hitchin in 1816
Burial of Elizabeth Darton at St Mary's, Hitchin in 1852
As a Robert Harwood was a witness to the will and codicil in 1807 and 1816, there were evidently still
some ties between the Harwood's and the Dartons - and possibly Robert Harwood was living at or
working at Temple Dinsley. His baptism appears to be unrecorded, so details of his parents are
unknown. He was buried at Hitchin on 4 March 1843 aged eighty - which means that he was born in
around 1762. His home was at

Gift House

, Bancroft, Hitchin.

Even the Countess of Carnarvon, who lived at Temple Dinsley for six brief years from 1926, was
considered worthy of five lines.
Nina Freebody, in her brief history of Temple Dinsley, wrote only that, "During the nineteenth
century, the Dartons, although remaining attached to the village, often rented the house to the
gentry. Thomas Harwood Darton built a school in 1849 to replace the old dame school. It was
Thomas' son, William, who sold what was left of the estate in 1873."
Perhaps these almost dismissive comments stem from the manner of the Darton's acquisition of
the Temple Dinsley estate which was clouded in mystery and a swirl of accusation. Local folk
spoke of Joseph Darton being Thomas Harwood and Martha Ithell's secret child. A report for
English Heritage in the twenty-first century stated starkly that Joseph was Harwood's son. Link:
Harwood
After the briefest of searches, it was obviously plausible that Joseph Darton was indeed Thomas
Harwood's nephew. I found the marriage of Thomas' sister, Ursula Harwood, to a Michael
Darton
which took place shortly before the approximate birth of Joseph Darton - any son from
this union would have been Thomas' nephew. There was also the circumstantial evidence of a
naming pattern - Joseph's first son was christened 'Michael'. But Joseph and his sister, Sarah's,
baptisms could not be found in any searches. I wondered, whether this because they were
Quakers, as Joseph's wife, Elizabeth, was a 'Friend'.
I decided to search the actual registers (ie not the indexes) for Joseph's baptism - and found the
entry immediately. It had been mis-transcribed as 'Dalton' because of the elegant and therefore
almost unreadable hand of the clerk (see below). This discovery was corroborated when
Joseph's wife described MIchael Darton as her father-in-law in her will (see below, again). It is
therefore indisputable from two primary sources that Joseph was Thomas Harwood's nephew.
There are aspects of the Darton's management of Preston which catch the eye. Firstly, when
Joseph inherited Temple Dinsley, the estate owned none of Preston's cottages. Almost ninety
years later, when the estate was sold, the family was said to have owned almost the whole
village - some forty cottages.
Secondly, It is strikingly noticeable that many of the male Dartons died young - before they
reached fifty years of age, several passing away in their thirties. William Henry Darton died of
tuberculosis in 1878. His brother, Thomas Harwood Darton, died after a series of fits.
These relatively early deaths impacted on the Darton's fortune as by their wills they steadily
reduced the value of the central estate at Preston. So, when William Henry Darton died, he left
the residue of his estate to his brother, Thomas Harwood Darton, but also bequeathed legacies
with a total value of £8,000. Thomas' estate when he died was valued at just £2,533. Five Darton
wills were administered during their time at Preston - which resulted in a large disposal of their
wealth over a century.
This series of two articles attempts to redress the balance of perception of the Dartons. They will
explain their origin and their actions at Preston during a century; how their fortune was gradually
whittled down, being divided and subdivided, and how many of the male line died so young.
The Darton family has received scant mention at the hands of historians. They might almost
be the forgotten family of Preston history.
The 1953 Preston Scrapbook allocates the family three lines, with little mention of their tenure
of Temple Disnley or the way in which the hamlet benefited from their oversight:

Michael and Ursula's marriage on 16 May 1749 at Shephall, Herts
Joseph Darton's baptism at Walkern, Herts in 1750.
Sarah Darton's baptism at Walkern, Herts in 1757
Michael Darton's burial at Walkern, Herts in 1784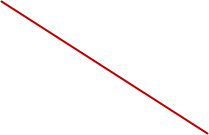 Burial of Edmund Darton at St Mary's, Hitchin in 1816



Joseph's burial in 1785 at St Mary's, Hitchin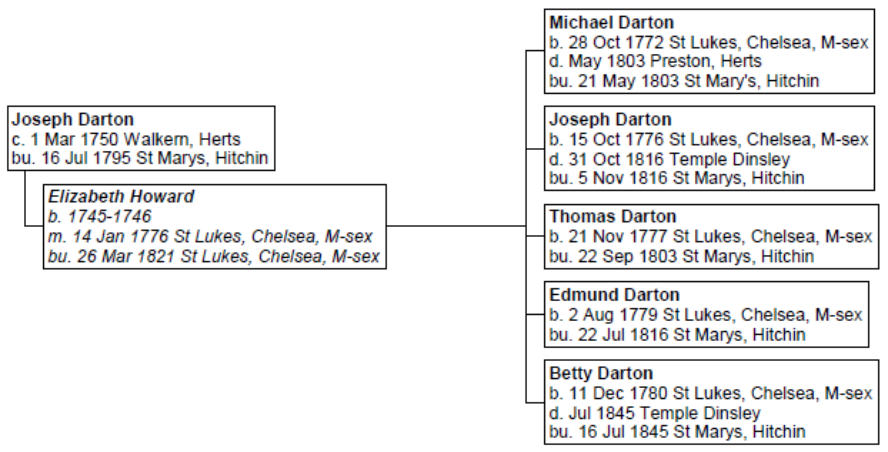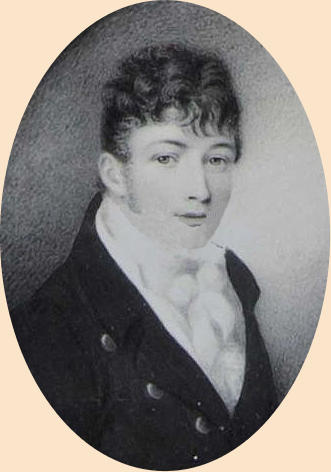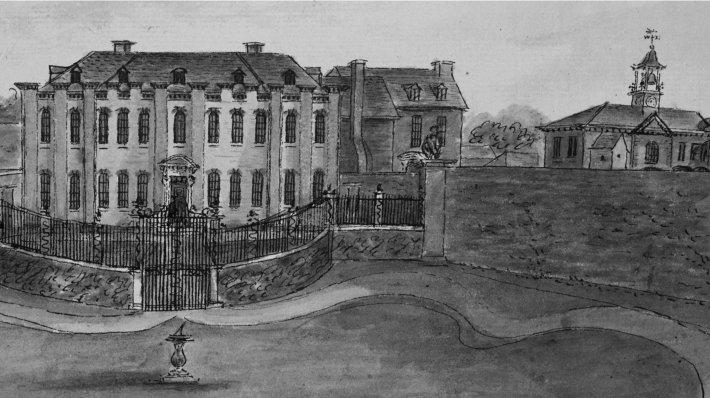 Joseph Darton's (1776 - 1816) possible connection with Hertfordshire Militia in 1803
(Firstly, a note that what is to follow has not been corroborated and is largely speculation - but the
reader may understand why it has been included).
Details of the Hertfordshire Militia in the nineteenth century can be found at this link:

Militia
Information for this section has been extracted from

Local Military Forces in Hertfordshire
1793 - 1814
by Major J H Busby.
The period between 1793 and 1814 was characterised by upheaval in France caused by the French
Revolution and the Napoleonic wars. The British government feared a French invasion and created
the

Hertfordshire Regiment of Militia

(a local defence force) in 1793. A supporting

Northern Troop of
Yeomanry
(comprised of volunteers) was formed and commanded by Captain W Hale of Kings
Walden.
A battalion of local militia was formed at Hitchin and, in addition, the

Hitchin Volunteers

were formed
in 1798. Their assignment was the protection of the town and neighbourhood, which was defined as
up to three miles beyond the town (which included Preston). Its members served without pay and
provided their own arms and uniform (although a subscription list was opened to assist with this
outlay). Men aged under forty-five who were 5' 2" tall and above with less than two children under ten
years of age were invited to volunteer. Within a fortnight, sixty men had joined. Discipline was strict - a
sliding scale of fines was introduced, with the highest ranks paying the highest fines. The men were
expected to provide model 'soldierlike' behaviour. One of four companies was at Ippollitts.
Busby reports, "Sometimes the officers were in trouble, and, in May 1806, John Dalton of Temple
Dinsley, having been accused of 'drinking to excess' by Lieutenants Times and Bedford, resigned and
returned his commission, his letter with his commission folded inside remaining"
'John Dalton' was a surprisingly uncommon name in Hertfordshire at this time. FindYourPast (FYP)
has a comprehensive set of records for Hertfordshire. Only thirteen babies christened 'John Dalton'
were baptised between 1562 and 1881 of which, only one, who was baptised at St Albans in January
1788 could have been the man featured in this report, but his burial in 1788 was also recorded. No
'John Dalton's' married in Hertfordshire between 1761 and 1900. No 'John Dalton's' were buried in the
county between 1806 and 1856, except one who was born in 1823. So, unless our John came from
outside Hertfordshire, this name is incorrect. There is no record anywhere on this Preston History
Website (including a census of Preston in Hitchin parish in 1801) of a Dalton.
Knowing this, I suggest that the man involved was in fact Joseph Darton. He was thirty years old in
1806 and had no children. If he had joined the militia, in view of his social standing he would have
been a commissioned officer. Joseph was 'of Temple Dinsley'. His counterpart at neighbouring Kings
Walden, William Hale, had showed his enthusiasm for the militia. The name 'Dalton' is close enough
to 'Darton' to be confused - indeed, Joseph has been indexed as 'Joseph Dalton' by FYP. It is easy
assume that 'J' or even 'Jo' means John - when the man's name was actually Joseph.
Having laid out these details, the episode has not been included in the main text of this article
because of the uncertainty that it relates to Joseph. But, it seems possible to me that Joseph Darton
is
the man to whom it refers.
If this is so, it reveals some aspects of his character. He was publicly so drunk as to be reported by
his Lieutenants - and was perhaps so piqued by events that he also returned the original document of
commission.