A History of Preston in Hertfordshire

Preston cricket: Part Two
Preston's first-known cricketers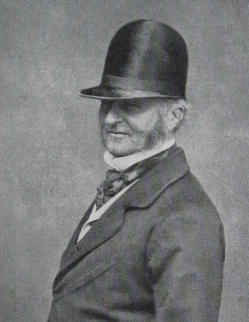 This article features two men from Preston who were the first to have
known to have played cricket - the Darton brothers, Thomas
Harwood (

TH

; 1847 - 1885) and William Henry (

WH

; 1842 - 1876) -
both of whom were Lords of the Manor of Temple Dinsley.
The Hitchin historian, Reginald Hine (who was himself a cricketer),
wrote a chapter entitled

Sports and Pastimes

in his

History of Hitchin.
Therein he mentions Frederick Peter Delme-Radcliffe

(right).

He
lived at Hitchin Priory, Hitchin Hill and was a 'noted gentleman jockey
and all-round sportsman'. Hine included him as a

Hitchin Worthy.

He
wrote of Frederick that he 'put life into the game of cricket' and
'gathered scattered talent into a side. He gave it his racing colours
and in 1866 provided a spacious ground close to his mansion on
Hitchin Hill where the club flourished until 1925'.
Hine added that the team of sportsmen 'famous in their day' included the
Earl of Strathmore and Thomas Harwood Darton (right).
Armed with this information, I found several scorecards that featured one or
both of the Darton brothers - this, in an era when overs consisted of four
balls. TH played occasionally between 1866 and 1878 for various teams -
Hitchin, Three Counties Asylum, Cardington and Shefford. He was also
secretary of Hitchin Cricket Club in 1880. WH played only in 1866 and
1867.
The following is the match report from July 1866: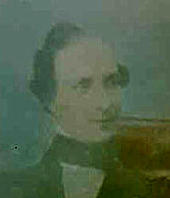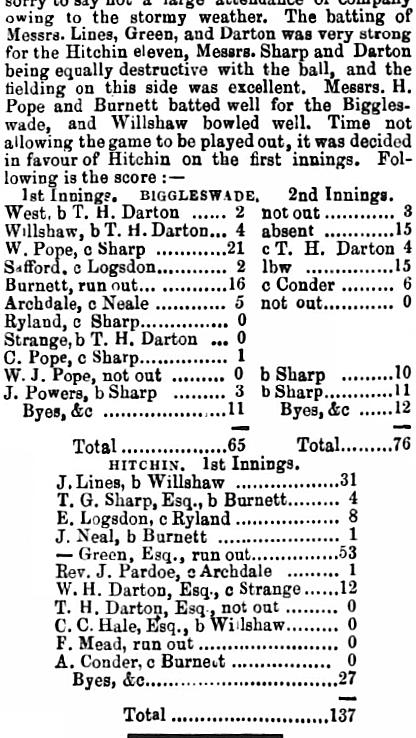 Newspaper article:

Hertfordshire Express

- 25 June 1954
Where Are Preston's Own Players?
Old club keeps going with cricketers from Hitchin
Although he spent four hours in picturesque Preston on Saturday,

The Wanderer

could find no-one
able to recall much of the early years of the village cricket club. Practically all the 'old hands' had
either left the village, or died, he was told. Nevertheless, he came away with much interesting
information and some excellent stories gleaned from various sources.
That the club was formed before 1895 is a certainty (he writes) for the oldest existing document
relating to the club, which was then known as Preston South End, dates back to that year.

(Ed's note:
but see first article at

Cricket Part One

)
At the recreation ground, which was bathed in warm sunshine and looking in first-class condition after
all the recent rain, I spoke to members of the team before the start of their game against the
Hertfordshire Rubber Co. of Letchworth.
The majority of the club's active members, I discovered, come from Hitchin, nearly three miles away.
Among them was skipper Cyril Hilder who has been with the club for the past seven of his forty-five
cricketing seasons and has captained the side for the past two years. Looking very much younger
than his fifty-nine years, Mr Hilder told me that since the club was revived by Mr John Hadfield after
the last war, they had been able to only one team. 'At the start of the season, we were on the rocks
as far as players were concerned', he told me. Dick Frampton and Harry Tomlin were the only two
Preston men in Saturday's team. 'There seem to be no youngsters in the village who are interested',
they told me.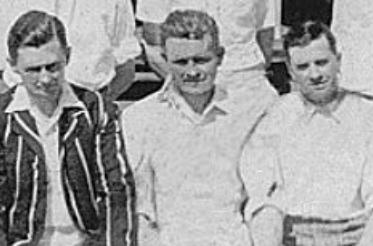 L to r:
John Hadfield, Charlie Darton and 'Jockey' Peters
The club's popular secretary Mr W J ('Jockey') Peters said other village clubs were finding, like
Preston, that the cinemas, television and other interests had caused the local youngsters to lose their
keenness for cricket. 'When I was a boy, we were glad to go to a cricket match', said Mr Peters. He
has a longer association with the club than anyone else in Preston. He started scoring for the club
when he was only fourteen and has been secretary for twenty years. 'I have done my best to keep the
club going, he said. In appreciation of his devoted service to the club, Mr Peters has been made a life
member, and he was presented with a clock at the annual dinner last autumn. His love of the game
seems to know no bounds.
A spectator (who must not be named here because Preston is a very small village) suggested that one
reason why there were not more local youngsters were in the team was because they were not
encouraged enough by the club. 'That quickly makes them lose interest and kills their enthusiasm', he
told me. Whatever the reason, it seems a pity that the club is not more representative of the village.
Among the present-day stalwarts whom I met on Saturday were Ron Whitby of Hitchin, who, like Harry
Tomlin, have been with the club since about 1936. One of the oldest members who still has occasional
games with Preston when he is not playing for a neighbouring village

(Ed's note: Kings Walden)

is
Dick Jenkins. Other Preston players who were not playing on Saturday were Teddy Harper and Harry
Tomlin's son, Clifford, who is doing his National Service.
Like a lot of other village teams, the Preston club has had a sprinkling of brothers playing for it.
Unhappily they have all either died, retired from the game or moved from the village. They were RdeV
and GIE Pryor, Charlie, Willie and Reg Darton and Sam and Frank Wray.
The Pryors evidently ran the club in those early days. RdeV was a noted amateur rose grower and
GIE (who was also a good footballer and at one time played for Hitchin Town) was the first captain of
the club and was responsible for the preparation of the present ground, which was loaned to the club
and subsequently bequeathed to the village by Mr Douglas Vickers. Another captain over a long
period was RJW Dawson.
Charlie Darton had won the the club batting prize more often than anyone else when he left the district
about four years ago. Bill left the village around four years ago and Reg, the youngest brother, was
one of Preston's best all-rounders in his playing days.
Sam Wray, who left the village four or five year ago, was one of the club's best and most consistent
bowlers. Around 1938, he took over 100 wickets in one season and it is said he once took ten wickets
in one game. Frank Wray died just before the war. Reg Darton, a champion ploughman as well as a
champion cricketer still lives in the village and is a member of the cricket club committee. Another old
timer who is spoken of highly in the village is Jimmy Garner.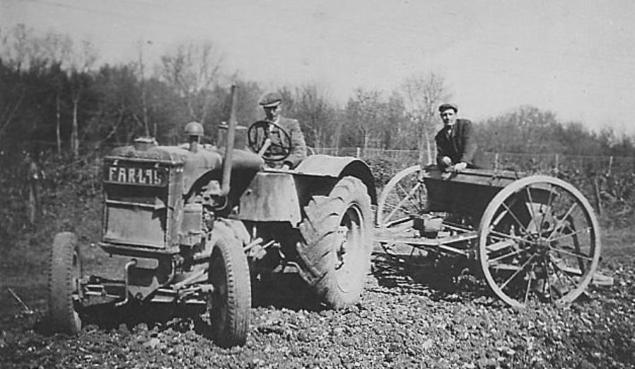 Reg Darton

(left)

and Sam Wray at Preston Hill Farm
Some of the most interesting stories about the old days of Preston CC are told by David Frost who has
been associated with the club since 1922 and who, before moving to his present address in Luton,
lived at Spindle Cottage, a 16th century cottage at the corner of the recreation ground now occupied by
the club's treasurer, Mr FP Smith. Mr Frost's memories go back to the reformation of the club after the
1914-18 war (prior to which the club played in the park at the rear of Temple Dinsley).
When Col. Denistoun and Lady Carnarvon lived at Temple Dinsley, it was their custom to give an
annual tea to the villagers on the cricket ground and afterwards the village played the estate. 'Each
year we (the villagers) gave them a good hiding', says Mr Frost. Then one day, two strangers appeared
in Col. Denistoun's eleven and the villagers were given to understand that they were lift boys from Lady
Carnarvon's London house. They were immediately put on to bowl slows. They turned the ball 'horribly'
and skittled out the villagers for thirty (runs), repeating the process in the second innings. 'Later, when I
was in the Air Force, Bob Beveridge (now coach at Malvern) told me that Col Denistoun had given him
and Jack Young £5 each to play Preston that day, Mr Frost recalls. Both Beveridge and Frost were on
the MCC staff at that time!
Until the tail end of the 'twenties, it was the custom of most North Herts village grounds (Kings Walden
and Hexton excepted) merely to cut out the table and leave the outfield to be cropped for hay. Mr Frost
had two amusing stories to tell about this. 'I had made a duck at Knebworth (not on their present
ground) but in the second innings I received a nice long hop which I hit hard and high. From out of the
grass appeared a fielder who had been resting therein. He caught the ball and I departed with a pair of
'specs' (ie no runs).
At Graveley one day, Charlie Darton and I opened and I hit one into the long grass. The ball was lost
and all the Graveley players together with their umpire went a-searching. Our umpire told us to run on,
which we did until we had got fourteen - and we were puffing like steam engines. However, the
Graveley umpire cut our runs to six and gave me out lbw next ball, presumably to prevent a re-
occurrence. I was in no state to argue.
'Of course it's all been great fun and the friends we have made during these games brightened up this
rather sad world', says Mr Frost. On the whole, I think the standard of batting has improved since the
early days but I do think that these days the youngsters take it all far too seriously'. Mr Frost wonders
how many of our readers remember Thomas Brooker's XI. 'Sam Wray and I used to have half days off
from school on Wednesdays to play against them', he says, 'and against Hitchin Wednesdays too, I
think.'
One who remembers these games very well is, 'Jockey' Peters who also used to play in some of them.
He thinks the standard of play has greatly improved since those days, but tells of the time just after the
First World War when Preston skittled out Enfield Strollers (one of their best fixtures in those days) for
only thirteen runs.
The interesting old document which I mentioned early on in this article is a record of Preston South
End's game against St Ibbs on 10 August 1895 when they won by 98 runs on the first innings

(Ed's
note: see
Cricket Part One
)
. Jotted neatly down on the back of a Preston Sunday School scholar's
leaflet, the scores record that Preston's top scorer was GIE Pryor who made fifty-six of his team's total
of 140 before being run out. The Pryors were also responsible for taking eight St Ibbs wickets.
Two interesting old photographs of the Preston team are in the possession of Mrs FH Maybrick of Hill
Farm Preston. One taken in 1920 is reproduced here

(Ed's note: see

Cricket Part One

)

. The other,
taken in 1909 or before, shows the Pryor brothers in their striped blazers and with pleased expressions
on their heavily moustached faces. Also in the picture are L Sevens, JJP Cole (the St Ippolyts school
master), R Ashton, Westwood, Pettit, FS Robinson, T Ashton (the village baker), Tyzack (the publican),
Groom and Smallwood.
No history of Preston's Cricket Club would be complete without mention of the Seebohm family who, in
Mr Frost's words, have always 'leaned over backwards to help the club. Mr Derrick Seebohm is the
present president. Another benefactor to whom the club has had cause to be grateful is Mr W Dewar of
Stagenhoe Park.