Cricket 1884 - 1954: Part One
It is reasonable to suppose that those who created the cricket ground at Temple Dinsley were
connected to the mansion. As mentioned earlier, the absentee

owner

of the estate was Major Pryor of
Clfton, Bedfordshire. He had four sons. The sitting

tenant

of the mansion during the 1880s was Henry
Brand. Logically, the idea of creating a cricket ground at Preston would have been first mooted by
someone from one or both of these two families.
The age of the Pryor brothers at this time should be considered. In the summer of 1884, Ralston was
twenty; Armitage, seventeen and Geoffrey, sixteen. A second factor to take into account is that
although Brand lived at Temple Dinsley, if the area he rented was similar to that used by the previous
tenant, John Weeks, the meadow beside St Albans Highway (which was the location of the cricket
ground) was

not

part of his possession. Of the two possibilities, perhaps Brand was the more likely to
have sounded out the possibility of playing cricket at Preston. He had been an enthusiastic cricketer,
playing county cricket for Sussex. The following cutting is dated 6 July 1867 ('Gentlemen' describes
amateur players, as distinct from 'Players' ie professional cricketers):
Comments on researching the origins of Preston Cricket Club
This history of early cricket at Preston is based on anecdotal evidence (from two booklets produced
by team members) and newspaper reports. These news items are patchy. The local paper for Hitchin
and Preston, the

Hertfordshire Express,

is available to search online until 1872. Hertfordshire
Archives holds fifteen years of copies between 1877 and 1912 - less than half of the papers
published. The coverage online of other Hertfordshire newspapers is sparse between 1883 and 1912,
although Bedfordshire newspapers provide some information during this time. Despite these gaps, it
is possible to construct a detailed picture of the early days of cricket at Preston.
In 1860, Hertfordshire newspapers were inviting cricket clubs to submit reports of their games for
publication:

Even if cricketers at Preston didn't file such details, other clubs may have put pen to paper to report
encounters with Preston - if they happened.
There is strong evidence that cricket was played at a cricket ground in Preston during the 1880s (as we
will see). However, we should not be seduced into thinking that the first ground at Temple Dinsley
resembled Preston's present-day, well-tended pitch and outfield in an enviable setting. The ground at
Temple Dinsley was a fairly flat meadow, probably inhabited by cows before games and maybe littered
with their pats. (I've played in matches where the outfield was littered with sheep droppings. One thinks
twice before diving to take a catch.) At least the cows would have probably nibbled the grass short - the
present-day ground once had 'an outfield so high that courting couples were able to hide in it'. Maybe
the grass of the Temple Dinsley 'pitch' was cut - but whether it was rollered is debatable. The playing
surface was likely not of the highest quality - although the games were not exactly Test matches. Even
the later better-tended pitch at Preston's Recreation Ground in 1925/26 was described as a ''plantain
patterned table'. So, despite the temporary marquee, the earlier Temple Dinsley cricket ground was no
Lords.
As for who played cricket at Preston in the nineteenth century, local cricket historian, D Frost, wrote,
"the team would largely consist of either sons or guests or friends from the Estate, with the addition of
one or two Estate workers, and one or two independents from the village. There would be little time in
those days for farm workers to play and their hours would be fully occupied throughout the summer
months with hay making, harvesting etc. Sundays were, of course, for them a day of leisure……"
Exploring the question of the identity of early Preston's cricketers and any links to owners of Temple
Dinsley from 1873, the mansion (the land of which the ground was sited) was owned by Major Pryor.
While it is true that three of his sons and a son-in-law played cricket, two were mere teenagers in 1884.
Later, the Pryor brothers turned out for Kings Walden rather than Preston. The tenant at Temple
Dinsley between 1880 and 1889 was Henry Brand. His sons too were young. Owners Barrington-White
and Fenwick and another tenant, MacMillan, may have had some acquaintances who wanted to play
cricket, but were too old or otherwise occupied to play themselves. So, with the local young men
working in the fields on Saturdays, who else was available to make up the side on a regular basis?
In stark contrast, at neighbouring Kings Walden, Mr C C Hale had seriously got his cricketing act
together by the middle of the nineteenth century, cricket being played there as early as 1858. There
was what was described as a "splendid cricket ground" in his park. Concerning another nearby ground,
Reginald Hine in his

History of Hitchin

recounted that Mr Radcliffe of Hitchin Hill 'put life into the game
of cricket' locally by providing a spacious ground close to his mansion where a cricket club flourished'.
There was not the same will shown by the owners of Temple Dinsley.
So, at Preston, the cricketing set-up was possibly as 'agricultural' as some of the strokes played there.
The 1953 Preston Scrapbook made the interesting comment, "

Comic cricket matches

were played for
charity". In those days there was not the regular schedule of matches there is today. These were
occasional contests, with the emphasis on the cricketers entertaining themselves and their spectators.
When was cricket first played at Preston?
Preston Cricket Club website states, '(the Club) was first founded in 1882'. A booklet which describes
the history of the club is titled:

PRESTON CRICKET CLUB 1882 - 1982.

As one approached
Preston's cricket ground in 2021, one could hardly fail to notice the sign which announces "Preston
Cricket Club - Founded in 1882".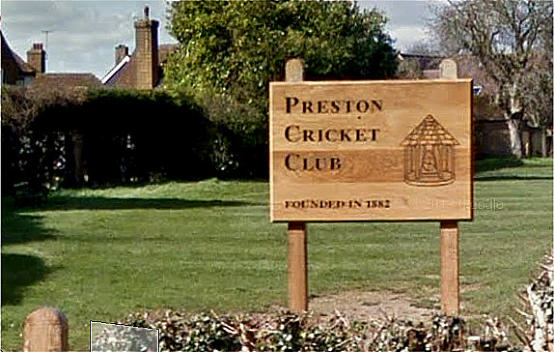 The basis for the "Founded in 1882" claim is explained within the afore-mentioned booklet: "Maps of
Preston dated 1882 show the existence of a cricket ground on the site of what is now the Princess
Helena College Playing Field". This is probably a reference to a sketch map in the 1953 Preston
Scrapbook, part of the

original

of which is reproduced below: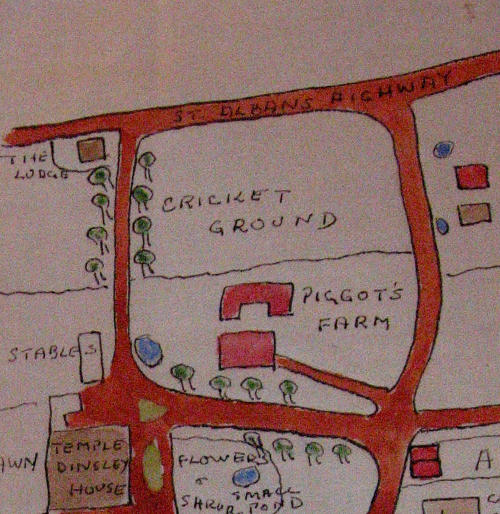 A cricket

ground

is certainly portrayed here. However, this does not mean there was a cricket

club

in
existence at the time - merely that there was a meadow which was sometimes given over to the
playing of cricket.
The sketch map shown above is clearly labelled 1884: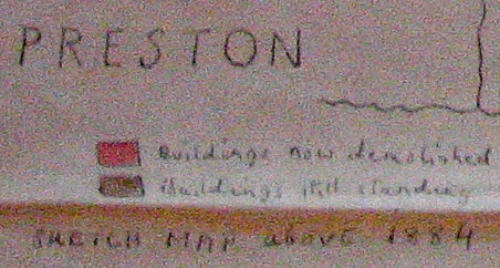 Who were the founding fathers of cricket at Temple Dinsley?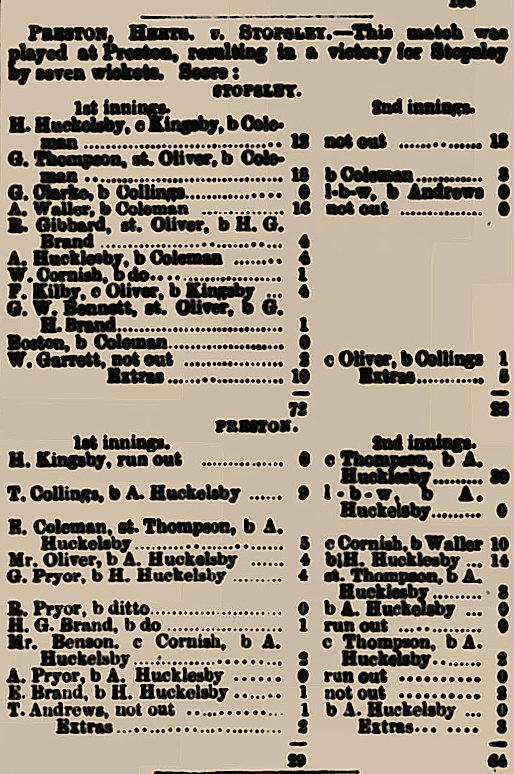 In the home Preston team were the three Pryor brothers (aged 21, 18 and 17) and two Brands (HG -
Henry Brand's son - was fifteen years of age). Over two innings, the five young men amassed a total
of twelve runs.
This score-card may well indicate that this match was the result of a collaboration between the two
families.





When was a Preston Cricket Club formed?
The questions, "When was there a Preston cricket ground at Temple Dinsley, Preston" and "When
was Preston Cricket Club formed" are different and may call for different answers. We have already
established that a ground existed at Preston in 1884, but although there is a record of a match in the
village in 1885, this does not necessarily mean that there was a Preston Cricket Club then.
D Frost wrote a relevant comment in

An

Attempt at a History of Preston Cricket Club.

Frost arrived at
Preston in February 1916, aged about six, and initially lived at

Spindle Cottage

which was, and is,
beside the present-day cricket ground. He was a contemporary of my father and recalled how the two
of them, and Dickie Jenkins, were given time off school to play in mid-week games - a golden
memory (which I think is flawed because Dad left school at fourteen and Frost went to Hitchin School
in 1922). This what Frost, the Club Chairman in 1967, wrote "Unfortunately too there is no
documentary evidence to guide us as to the year of formation, and even the location of the early
matches is controversial". If that is what a contemporary figure who played for Preston in the 1920's
believed (doubtless after a discussion with other aged cricketers and spectators of matches), how
might it be possible for

us

put a date as to when the

Club

was established?
We might also attempt to assess how often Preston folk played cricket. At the time of writing,
Hertfordshire newspapers contain more that 18,000 searchable references to 'cricket matches'
between 1850 and 1899. Local clubs, such as Kings Walden, Codicote and Kimpton, were often
featured in the

Herts

Advertiser

and

Hertfordshire Mercury.
Apart from the 1885 game noted earlier, I can find no mention in newspapers of Preston or a team
named Temple Dinsley playing cricket during the fifty years to the turn of the century.
There is a extant scorecard from 10 August 1895, when Preston

South

End Cricket Club played
St Ibbs: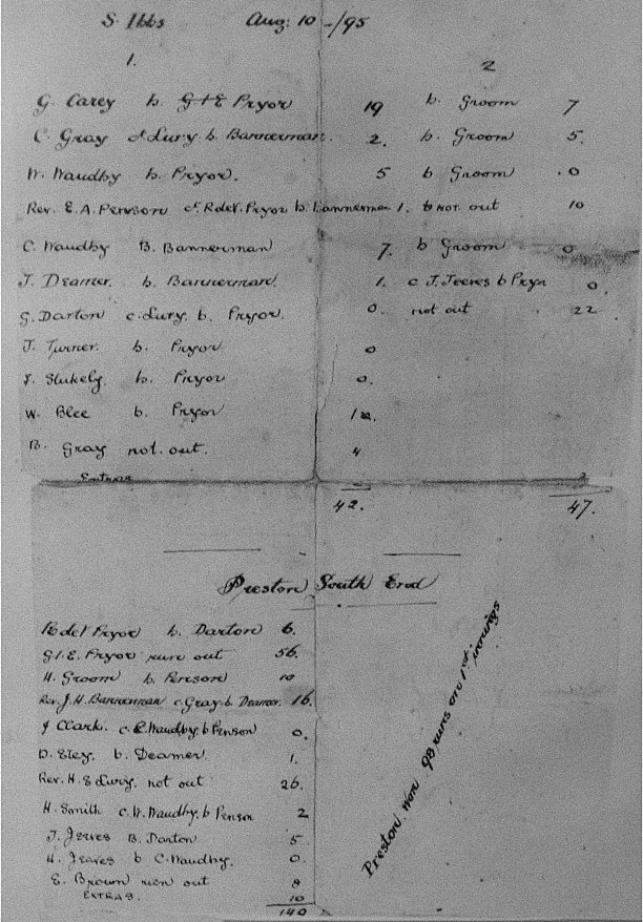 As we have established, cricket was undoubtedly played at Preston in the 1885, but do two score-
cards from 1885 and 1895 indicate that there was a Preston Cricket Club playing regular serious
cricket week-in and week-out in the final two decades of the nineteenth century? Or were these
perhaps "knock-about" matches played by "pick-up teams"? When answering that question one might
note the extraordinary number of clean-bowled batsmen in the 1895 match: sixteen out of the twenty-
five wickets to fall.
In contrast, there was this comment about Kings Walden Cricket Club on 7 August 1860:
This report has the hallmark of a 'proper' cricket match between sides representing the counties of
Hertfordshire and Bedfordshire which was played over two days. There was also a week of cricket at
Kings Walden in August 1868. Matches during those seven days included Gentlemen vs Players and
games between Kings Walden and Rugby School, Harrow Wanderers and I Zingari (the latter game
producing innings scores of 139, 130, 100 and 138). In other years, Kings Walden played the highly-
rated Hitchin CC.
Moving into the twentieth century, at last we find more references to a

Preston cricket

club

on 5 July
1902:
.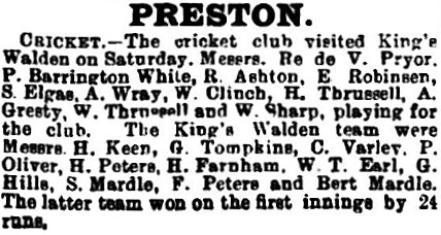 The names of the Preston players are significant as there is a balanced mix of privileged gentlemen,
tradesmen and village labourers, who included my uncle, Arthur Wray - the first of five Wray brothers to
represent their village. That Preston's level of play had improved by 1902 is confirmed by their playing
their illustrious (in cricketing terms) neighbours, Kings Walden.
Then, after the

Annual Cottage Flower Show

on 23 August 1902 (which was supported by Mr
Barrington-White at 'the beautiful grounds' of Temple Dinsley) there was this news report: "There was a
cricket match between Preston and Benington, which Benington won". Finally that year there was a
second fixture against Kings Walden in early September (note that both matches were played at Kings
Walden):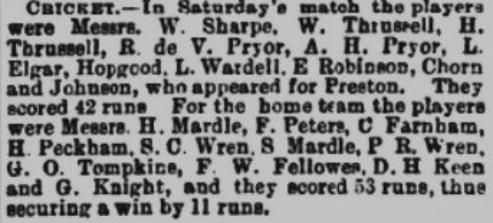 When researching this subject, it became apparent that in those early days there was a strong
relationship between Preston/Temple Dinsley cricket teams and the Pryor brothers - ie the brothers
played for Preston when the team had a fixture. But they also played for other teams - for example,
the 1895 game that featured Preston South End (shown above) included the Rev H E Lury. The Pryor
brothers were often named in the press as playing cricket but (apart from the 1885 match) they are
mentioned

only after 1893

when they played for Rev H E Lury's XI and Kings Walden. (An example
follows from 1893.) Rev. Lury (born 1867) was connected to the Pryors because he married Henry
Pryor's daughter, Lilian Amy Pryor at Biggleswade in 1892. His Lury Cricket XI performances were
occasionally reported in the press each year between 1893 and 1896 and each featured one or more
of the Pryor brothers - indeed, one might suggest that the name of the team in 1895 should have
been Rev H E Lury's XI rather than the jokey 'Preston South End' (an reference to a northern football
team)
But those guiding lights of Preston CC, the Pryor brothers, were again playing for Kings Walden in
1906/07 and 1909/1910 as their fixture against Offley in August 1907 illustrates (GIE Pryor was also a
Kings Walden CC committee member in 1910)

One might conclude from this is that there was no

regular

cricket being played by Preston for several
seasons. If this had been the case, the Pryors would likely not have also been playing for the Rev
Lury and Kings Walden teams.
1912 - a pivotal point for Temple Dinsley Cricket Club
1912 was the first year when it can be said with certainty that Temple Dinsley CC (as the club was
undoubtedly called) was playing regularly - as distinct from turning out for the occasional game. A
fixture list was produced:
The team playing away against Stagenhoe Park on 11 May 1912 was R Packham, F Longley, F Flatt,
E Payne, R Dawson, E Ball, S Smith, W Cherry, J Flint, G Brazier, R Rixon. Stagenhoe won by 127
runs; Preston scored seventy-five.
On 22 June 1912, Temple Dinsley CC were at home to Chesfield Park. The selectors replaced Flatt,
Ball, Cherry, Brazier and Rixon with GIE Pryor, A Stevens, J Weedon C Farrow and P Evershed.
What, or rather who, produced this significant change in the affairs of the local cricket club, so that
the team played regularly? The answer is obvious: one man was described as the driving force of the
club after WW1 and was the club captain in the 1920's. He moved to Preston in late 1910/early 1911.
He was the Temple Dinsley estate manager. His son played for the village in the late 1940s. Step
forward to receive your plaudits, Reginald J W Dawson.
Members of the team included several Temple Dinsley estate workers: Jack Flint (the estate
carpenter) R Packam (estate bricklayer), R Rixon (estate electrician), F Flatt (estate gardener) and
(Al)Fred Longley (the estate maintenance engineer). In 1912, Fred was forty-one and was still playing
in 1923 - see later team photograph). Sid Smith (later of Chequers Cottages) was a farm labourer
who joined the Herts Constabulary in 1914. Two of the team died during WW1, Ernie Ball and Percy
Evershed (estate carpenter).
When was Preston Cricket Club formed?
The answer to the question, 'When was Preston Cricket Club formed?' is not set in stone because of
the lack of information for the reasons stated at the beginning of this article.
The first extant and published mention of a cricket

ground

at Preston (at Temple Dinsley) was in
1884.
The first known and published mention of cricket

match

at Preston is 1885.
When referring to the

formation of a cricket

club

, perhaps we should first define what is meant by
club. If it simply means an occasional team which played at Temple Dinsley only spasmodically,
perhaps not playing for a complete season (and maybe even playing "comic cricket"), then such a
team was first reported in 1885. The first mention of Preston Cricket Club is 1902.
If, however, by 'club' we mean a group of players with a structure of a Chairman and a committee
which played regularly, one might conclude that Preston CC was formed in 1912.
An Attempt at the History of Preston Cricket Club
by D Frost
Foreword
(Finished in the old Pavilion – June 1967)
To wander down through the corridors of cricket memories is a pleasant task, but to place it on record
is a somewhat risky procedure. One is either apt to view youthful days in rainbow coloured hues, or to
indulge in the now fashionable habit of 'debunking' everything that was pre 1939 War. Herein, I have
tried to tread along the thin dividing line.
In conversations during the preparation of this booklet, it has been known as 'The History' - in the
absence of authentic records and facts this title is rather a misnomer, and I would humbly suggest
that it be looked upon as a collection of Club memories. I gratefully acknowledge my debt to all those
Prestonians whose recollections have helped me so much in building up the pattern of the Club
throughout its existence.
On a red-gold, ever-sunlit day of an Edwardian summer two cricketers strolled out to the wicket to be
the first of many to open the innings for Preston Cricket Club. Sadly there are no records in existence
from which we can learn the names of this history making pair; we could perhaps guess that one of
them might have been a Pryor, a Jenkins, a Pilgrim, a Wray or a Robinson. (These were then, and
indeed some of them still are, famous names of Preston).
Unfortunately too there is no documentary evidence to guide us as to the year of formation, and even
the location of the early matches is controversial. The earliest report we have seen of a Preston
Cricket match was a faded Herts Express cutting, circa 1911 (and it may surprise many that Reginald
L. Hine, the famous historian was then playing for the Club). Certainly by this time matches were
being played in the Park of Temple Dinsley (now Princess Helena College); the marquee and pitch
being located over by the St. Albans Highway drive and near to where those magnificent horse-
chestnut trees now stand.
For the memories of these pre-1914-18 matches we have to rely mainly on our senior citizens, but it
is natural that (half a century later) only misty images remain of battles won and lost. It is, for
instance, far easier for them to remember Ernie Ball's hurricane hitting, G.I.E. Pryor's fast bowling
and Tommy Ashton's delicious rock cakes (I too remember these!!) than for them to recall all but a
few of the players.
It would seem however that the team would largely consist of either sons or guests or friends from
the Estate, with the addition of one or two Estate workers, and one or two independents from the
village. There would be little time in those days for farm workers to play (the combine harvester was
yet to come) and their hours would be fully occupied throughout the summer months with hay-
making, harvesting etc. Sundays were, of course, for them a day of leisure, a day to wear their best,
and probably only suit, and a day to seek out and talk to friends and acquaintances.
The internal-combustion engined motor-car had not then littered our countryside, and the Club's
opponents must have been purely local, travelling no doubt by pony trap, wagonette or bicycle. One
can see in retrospect these sportsmen of yesteryear jogging happily homewards through the leafy
lanes from Whitwell, or St. Ippollitts, or Kimpton perhaps singing lustily the Top Tunes of the day.
In our search for information about these long ago days we have heard no legends of famous
batsmen being bowled by a local village yeoman, nor of a world famed bowler being carted by the
village blacksmith; we can only assume nothing like this ever happened. In those days this little club
no doubt won matches, lost matches, in sunshine and in rain, in much the same way as do the
present players.
In August 1914 'the lights went out in Europe' and never again would Preston play in the Park, and
two of the players, Ernie Ball and Percy Evershed, would not return from the Somme.
Immediately the 'Cease Fire' sounded in November 1918, preparations were made to restart the
Club; equipment was got out of storage, cleaned and oiled, work was commenced on the ground and
cricket again started in 1919 on the present site.
The two Pryors (Geoffrey and Ralston) with Reginald Dawson (the Estate Agent) were the driving
forces in the reformation, and they, of course, were playing members when the team was captained
by Lord Scott. Other members of this team were Jack Flint (Estate Carpenter), Fred Longley (who
looked after the domestic engines of the Estate), Hubert Peters (later to be the Club's scorer for many
years) and Bob Wray (who returned from the War with a Military Medal).
Motor cars were becoming a little more evident (although when we heard one coming we still peered
through the windows to see who it was) but most teams came by wagonette, although some of the
'gentry' preferred to come in their own pony and trap, and on occasions dazzled us somewhat with
their multi-coloured blazers, sweaters and caps.
Fixtures were still only arranged within a purely local area, and the matches against Offley even in
those days soon developed into a local Derby. (Later there was to be much skullduggery on the part
of umpires in this fixture, and not always on one side either.)
A number of matches were played on Wednesdays against such teams as Thos. Brooker Ltd., Hitchin
Wednesday, etc., and in the early twenties Sam Wray, Dick Jenkins and/or myself were given time off
from School to play in these mid-week games.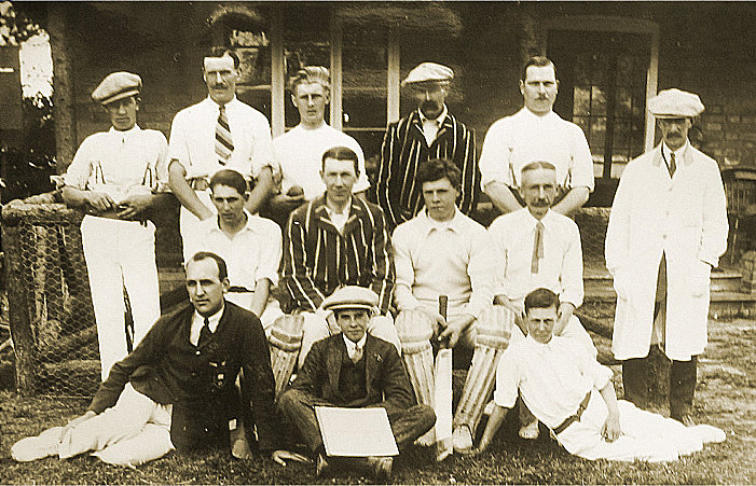 Preston C.C. 1923
-Standing (l to r): Robert Wray, J Murphy, J Garner, GIE Pryor, PC. Dear,
R Chapman (umpire). Middle row (l to r): Frank Wray, R Dawson, C Darton, F Longley,
Rev. Stainsbury. Seated (l to r): W Peters (scorer), S Chapman.
G.I.E. Pryor took over as Captain when Lord Scott left the district and his enthusiasm for the game
and coaching of youngsters soon resulted in more and better players. Shortly after the Pavilion was
built in 1921 it was necessary to run two sides. The reserve side which was captained by Laurie
Peters and Jack Wray only ran for a couple of seasons, but it enabled many of the up-and-coming
juniors to have their first match experience.
Most of us who remember these halcyon days recall the strength of the 1925-26 team, and when one
takes into account the 'plantain patterned table' (they were to curse us for many years) it must have
been a very strong side. Alas we shall never know it stands in comparison with teams of the present
day. The regular members of the team in this era would be: R. Dawson (Captain), G.I.E. Pryor, Jack
Murphy (a real barn-door of an opener), Jack Flint and Frank Wray (all rounders), Jimmy Garner
(Wicket Keeper), Charlie Darton (later to be the king-pin of the Club's batting and first Life Member),
with brilliant youngsters in Stan Chapman and Sam Wray. Finally there was the legendary Revd.
Stainsbury, whose big hitting is still talked about (and incidentally loses nothing in repetition).
Unfortunately, as so often happens, this team only lasted for a short time; Geoffrey Pryor retired, Flint,
Stainsbury and Chapman left the district (the latter named to worry us for many years when we
played Weston), and as the twenties merged into the thirties the Club underwent for a few years a
rather depressing period. Dick Jenkins was scoring a lot of runs for us, but because of his
employment it became necessary for him to play for Kings Walden, and Sam Wray and Charlie
Darton also left us for a season to play there; fortunately they soon returned and were welcomed
back to the fold.
We were now getting fixtures farther afield; Enfield Strollers visit was treated as a gala day (most of
their players came from Windsor); and it was usually round about midnight when the last of the
Strollers somewhat rather unmelodically left the village.
Teams from Luton such as Westbourne, Clarendon and Montrose were also always popular visitors,
and we ourselves were transported in the Estate Albion Coal Lorry loaned to us by the Estate.
Spirella at Letchworth, and Lilley at Putteridge were favourite trips, and our annual visit to Little
Wymondley usually resulted in a return long after the hostelries were closed.
Lady Carnarvon and Lt. Col. Denistoun came to Temple Dinsley in the early thirties and several
members of their staff joined the Club. Work was carried out more frequently on the ground and
gradually the old interest re-emerged. An annual event during this, period was for the villagers to be
invited to tea in a large marquee on the ground during the match when the Village played the Estate.
Willie (Dillar) Jenkins was beginning to emerge as an outstanding batsman, and Reg Darton too was
a very useful all rounder. The Club suffered a loss in the death of Frank Wray in 1935, and as a foil to
the slow bowling of his brother Sam he was greatly missed.
As the war clouds again loomed we were joined by a number of useful players in Ron Whitby, Cyril
Milder, Percy Phillips, but although the team enjoyed much good cricket in these eventful years it
never had the power nor skill to compare with the mid-twenties teams.
Finally, captained by Willie Chalkley, in September 1939 we journeyed to Weston, beat them, and the
Club bats, pads and Umpire's coats were to remain undisturbed until 1947.
'Dillar' Jenkins, potentially the Club's finest batsman did not return from services with the Armed
Forces.
John Hadfield 'press-ganged' his friends and fellow cricketers to restart the Club in 1947. Mr. Derrick
Seebohm was elected President, a post which he still holds to this day.
After seven years there was again much hard work to be done on the ground, there was difficulty in
obtaining equipment, and problems (because of rationing) connected with teas. This latter problem
was overcome by going to

The Red Lion

where Mrs. Massey, as always, served us well, but it
resulted in very long tea intervals.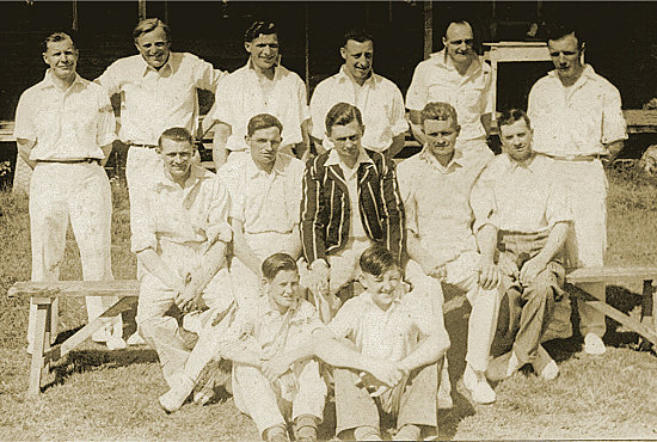 The membership was high and it became necessary to run a roster so that all players had a game.
By this time, of course, Sunday cricket was played quite regularly. A number of pre-war players were
still available, and these were joined by Billy Dewar, Arthur Hemmings, Peter Woodbridge, Bunny
Dear, Harold Tomlin, and it was possible to turn out a very strong side. They were also a very gay
side and much good cricket was played and enjoyed. Tony (Spindle) Smith scored a large number of
runs and also had the honour of scoring the first post-war century.
It was at this time that the annual Whit Monday fixture with 'The Danes' was instituted; and to this day
the game is looked upon as the highlight of the season.
Phillip Smith was Treasurer, Dick Middleditch was groundsman, umpire and general factotum, and
Willie (Jockey) Peters still the Club Secretary, known and respected by all the Clubs we played.
This happy state was to last only a few years and then a crisis developed which might well have
resulted in the Club closing down. Most of the older players were retiring, others were moving away,
Dick Middleditch and Jockey Peters resigned after magnificent years of service (in company with
Charlie Darton they are now Life Members of the Club) and all that remained was a bunch of very
young teenagers, who fortunately not only loved cricket but were determined that it should continue
at Preston.
Martin Raffell and Tony (A.J) Smith, aided and abetted by Chris Newell, Michael Whitmore, Reg
Camm and some of their ex-school friends took over the remnants. This young side would gaily (and
sometimes recklessly) attack any number of runs which were scored against them and although they
suffered many reverses against stronger sides it also resulted in some magnificent cricket and the
creation of many friendships with other Clubs which still persist to this day. Neither the administration
nor the work on the ground daunted them and as they reached maturity the Club was saved and back
on a sound footing.
It was during this period that Hunting Aircraft (old opponents of ours) came to Preston and on winning
the toss put the home side in. At tea when the declaration was made the score was 198 for one
wicket (Alan Maylin with a not out century and Barry Smith, 83). In the return fixture at Luton on
Martin's 21st birthday (he was the oldest member of the team) Chris and Martin scored fifties, and
Tony Smith was in an inspired mood with the ball so that victory was achieved by over a hundred
runs.
There have been many thrilling matches against The Danes but probably the most famous was on a
very wet day when rain constantly interrupted play and a fresh wicket had to be cut. It became
necessary for the Preston batsmen to throw their bats at every ball, and they did this to such good
purpose that victory was achieved in the last over.
Other Clubs were closing down for lack of players and consequently we lost some of our old
established fixtures, although we still see our old friends each year from Hexton, Ashwell, Holwell and
Graveley.
In 1964 Preston Cricket Club was elected to the Cricket Club Conference, as a result of which we are
now able to obtain fixtures with rather better clubs. Transport too is much less of a problem, and
consequently we are able to travel farther afield. An innovation in 1966 was a weekend in Norfolk and
two fixtures had been made against Sandringham and Wells-next-the-Sea. In the event the Wells
match was washed out; nevertheless it was a history making trip, and certainly the farthest distance
the Club had ever travelled.
Preston Cricket Club has now enjoyed a number of years without any untoward occurrences, and
with enthusiasm as high as it has ever been. So far as can at present be seen 'flannelled fools' will
continue to play here for a very long time to come.
The Recreation Ground, as we now know it ,was part of the farmland of Brown's Farm, the ruins of
which for many years remained where the Corporation yard is now situated. On the death of the
farmer in 1912/13 the property and attached lands passed into the ownership of the Estate. A sparse
hedge ran from roughly where the old pavilion now stands in a direct line to the Hitchin Road and a
number of elm and oak trees stood at various points of these two meadows.
I came to Preston from my native London in 1916 and at that time the meadows were occupied by the
Army; camouflaged tents denoted a Signals Platoon and there was much coming and going of motor
dispatch riders. Some derelict farm buildings stood on the land now occupied by the houses of Mr.
Freeman and Mr. Woodhams, and these rude sheds were to be the first 'pavilion' when cricket started
in 1919.
Douglas Vickers, who had recently come to live at Temple Dinsley, gave permission for the meadows
to be used as a cricket ground, and by far the major part of the work was done by G.I.E. Pryor. For
days and hours on end he worked on the ground, and when the necessity for water arose he carried it
from the rail pond. The outfield of course was only cut for haymaking; for many years this was so on
nearly all other village grounds. (Kings Walden and Sexton wore exceptions).
In 1921 the Pavilion was built, the bricks and tiles for it (and also for the Bungalows and Institute)
being made in a shed on Brown's Farm, and the woodwork prepared by Jack Flint at Kiln Wood. An
enclosure was erected in front of the Pavilion for the exclusive use of members and their ladies, and
one would immediately be ordered out if the half-crown subscription was overdue.
Permission was sought from Douglas Vickers to use the Ground for football but he was very reluctant
to permit this. Some compromise was eventually arrived at whereby the game could be played there,
but after a season or so the Football Club were allowed the use of the meadow behind the Pavilion
and it was here that the footballers had their most successful days. Cups, Shields and League
honours were won, and on one historic occasion they held mighty Letchworth Town to a draw in a cup
tie at Letchworth.
Jimmy Garner played in goal for the County and Willie Chalkley and Harry Jenkins were also strongly
fancied for County honours.
Matches (especially cup-ties) against teams such as Kimpton, Union Jacks, Woolmer Green and
Walsworth were always very lively affairs, and sparks used to fly not only amongst the players but
also very often from the supporters.
After a number of very successful seasons the Club closed down, and the pattern right up until 1939
was for football to flourish for two or three years, and then to fold up and the players to move to other
local clubs.
Since the war years, however, the Club has been much more efficiently run with the result that there
has been more continuity. In the last few years, under the chairmanship of Mr. Harry Boxall, the team
has ridden on the crest of a wave and now bears comparison with the Charlie Cumper, Harry Maltby,
George Jeeves team of yesteryear.
Tennis was again started after the War, but the lack of young players taking up the game resulted in
the Club closing down, and now children happily swing and cars park where once many a sterling
battle woe fought.
Both an Evangelical Tented Mission and a Fair were permitted to use the ground, although not at the
same time, and during the war years the ground was again used by the Army.
There too are pleasant memories of Jubilee and Coronation celebrations, and the Annual Fete and
Flower Show which, in spite of a changing world, still continues to bring pleasure to many of our
friends.
On July the first 1967, Mr. Richard Whitmore officially opened the Tenth Annual Post-War Flower
Show, and at the same time threw open the doors of the new Sports Pavilion.
It is doubtful if Farmer Brown would now recognize his two buttercup festooned meadows
Preston Cricket Club vs The Moon
This is to be pure fun, and it is doubtful if anyone will agree with all the selected players.
Certain it is that my contemporaries will say that Joe Bloggs (1927) was a far better player than Jim
Nobbs (1964) forgetting that statistics would prove a very different story, and of course our young
gazelles of the present day will query why Harry Jinks (1965) isn't included in preference to George
Tite (1925) forgetting that the latter named gentleman batted on plantains with an outfield so high that
courting couples were able to hide in it (and frequently did). Each player has been selected at his
peak; some there were who were consistently good, whereas others had brilliant seasons followed by
less successful ones.
Charlie Darton
Reginald Dawson
Dick Jenkins
Willie Jenkins
Chris Newell
Geoffrey Pryor
John Read
Barry Smith
Tony (Spindle) Smith
Frank Wray
Sam Wray
Reserves:
Stan Chapman
Tony AJ Smith
R/H Bat
R/H Bat and Slow Bowler
L/H Bat and R/H Medium Bowler
R/H Bat
R/H Bat and Fast Bowler
R/H Bat and Slow Bowler
R/H Bat and Fast Bowler
R/H Bat and Fast Bowler
R/H Bat and Wicket-Keeper
R/H Bat and Fast Medium Bowler
L/H Bat and R/H Slow Bowler
R/H Bat and Medium Bowler
R/H Bat and L/H Slow Bowler
It will be noticed that the team is put in alphabetical order, hence there has been no attempt by my
humble self to attempt any batting order.
Finally, there is one interesting feature (which was not noticed until the team had been selected); the
two Wrays and the two Jenkins all had the same maternal grandparents, although it is not thought
that Grandfather Currell ever played cricket.
They say, 'It's a dull game'
Since the time that Cricket was called Bat and Ball and there was no middle stump, many amusing
stories (possibly some of them apocryphal) have grown around the game. Preston Cricket Club has
had their fair share of these enlivening interludes and a few are hereunder related:
At one time the Club had a player who had an intense dislike of Umpires, and hated being given 'Out'
by then even more so. I was batting with this gent one day when he played at a ball and immediately
there was a united appeal for a catch at the wicket. The umpire raised his hand whereupon the
batsman said 'It came off my pad'. 'Alright' said the official, 'you're out LBW', but again the batsman
disagreed. 'How can it be, it was a rising ball which hit the top of my pads?' The Umpire retorted
somewhat sententiously 'You're out for obstruction, and if you don't go at once I shall report you to the
MCC'. The red-faced player retired to the Pavilion, no doubt fearful that the vengeance of Messrs.
Altham, Fry and Warner would descend upon him. Meantime our white coated friend turned to me and
queried 'Did you think he was out?' to which I (in an endeavour to pour oil on troubled waters) gave a
somewhat non-committal reply.
Preston was playing Hitchin West Indians a few years ago and when Tony (A.J) Smith came in at No.
11 about 130 runs were needed to win. Our cricketing Horatio decided to storm the bridge and the
faster the bowling the harder Tony hit back. This defiant hitting gave our Caribbean opponents as
much pleasure as it did us, and every time the ball was hit out of the ground it was sheer ecstasy to
them. Tony's partner carelessly allowed himself to be bowled when we were only 20 runs short of the
target, and a sweat-drenched A.J. with 80 odd runs to his credit, was almost carried to the Pavilion by
our delirious victors.
At Chesfield Park over the long on boundary was an evil looking green slimey duck-pond, partially
shrouded by trees. Charlie Darton hit a ball into this pond, and whilst we whiter than white players
were endeavouring to retrieve it, our famous opening bat repeated the shot. Like Queen Victoria 'we
were not amused', neither I suspect were our wives when they saw our spotted-dick wearing apparel.
At Kimpton in a match when we were batting, it appeared to us in the Pavilion that all the Kimpton
side, our batsmen, and the Umpires, had gone berserk until it was realized that a swarm of bees was
passing over the ground. When this stingray armada had departed, without any apparent casualties,
Tony (Spindle) Smith hit the next five balls to the boundary. The bowler was then rested, no doubt
blaming the bee bees for his inaccurate trundling.
The late Bob Wray was once fielding on the long on boundary at Preston when he let out a shriek and
collapsed to the ground in a cloud of smoke. It transpired that a box of wax vestas in his hip pocket
had become ignited by the sun. If memory serves me correctly he had his tea standing up on that
particular Saturday.
An away fixture had hardly started when a wife arrived in high dudgeon and proceeded to verbally
lambast her beloved spouse who was fielding. This gentleman had apparently been asked to fill a last
minute vacancy when in his local, and had proceeded at closing time straight to the cricket ground,
forgetful of the fact that not only was his dinner awaiting him, but that also he had promised to take his
wife out shopping. The lady eventually left after making rather rude remarks about cricket and
husbands in general.
In a match at Little Wymondley our bowling was being thrashed, and it was noticeable that when the
ball was hit into an adjoining cornfield no effort was made to retrieve it, but a replacement ball was
thrown out from the Pavilion. I asked Harold Tomlin to try an over of his slow leg breaks, at the end of
which another three balls had been lost, and the score advanced by some thirty runs. I suggested to
Harold that perhaps it wasn't his wicket, whereupon, with a twinkle in his eye he replied 'Keep me on
for another over and they'll run out of balls and we'll get away with a draw'. I didn't and consequently
we didn't.
In our dressing room at the conclusion of one of our bitter battles at Offley we were discussing our
opponents and Umpires, and referring to them in a far from kindly manner. We were unaware that the
partition dividing the two dressing rooms had a gap at the top and that every word we uttered was
being listened to by our deadly rivals. Suddenly the door opened and in burst the offended Offleyites,
and by their expressions it was apparent that they hadn't come merely to offer us their good wishes.
As usual of course we all finished up at the local pub, and left the village as friends (at least until the
next match). It was also at Offley that we all had a sit down strike when a batsman refused to retire
after being caught from what he maintained was a bump ball. The two captains and two umpires
eventually allowed him to remain much to our disgust.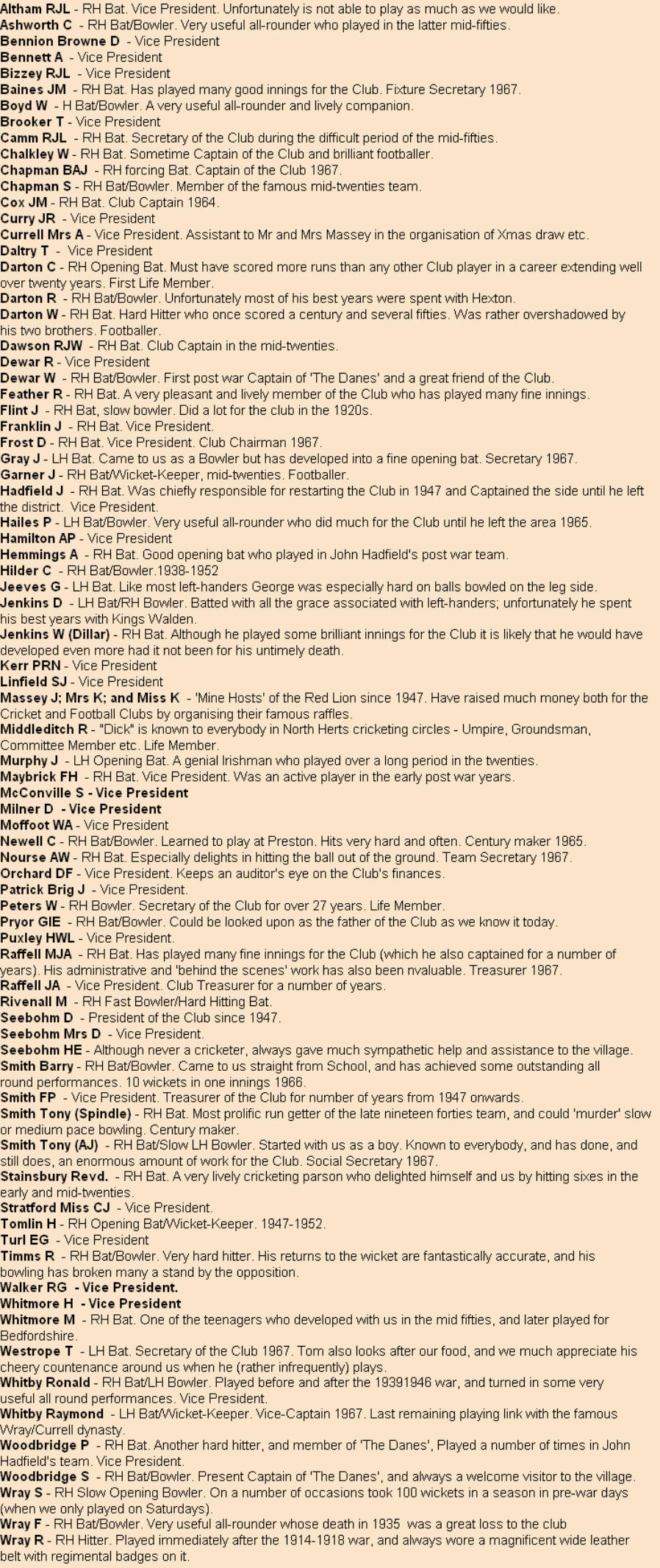 Harold Tomlin, John Hadfield, Sam Wray and Charlie Darton
Top Row (l to r): Dawson, Woodbridge, Joe Bond, Arthur Hemmings, Harold Tomlin.
Middle row (l to r): Ron Whitby, Sam Wray, John Hadfield, Charlie Darton, Jockey Peters.
Front row (l ro r): Ray Mardell, Keith Groves (scorer)
30 August 1928
Preston v Arlesey Seconds.
Preston
110 ( W Darton 34; S Wray 46) Arlesey 61
(F Wray 6 for 36; C Darton 4 for 13). Team C Darton, J Murphy, W Darton, H Smith, S Wray, W
Chalkley, S Andrews, L Peters, R Darton, W Frost.
28 May 1929
Preston v Hitchin Town A.
Hitchin
67 (F Wray 3 for 10, S Wray 2 for 29, C Darton 4 for
21).

Preston

36 Team: C Darton, J Murphy, W Darton, S Wray, F Wray, M Attwell, C Reed,
W Chalkley, L Peters, G Crawley, W Sharp.
4 June 1929
Preston v Hitchin Utd.
Hitchin Utd
176 (C Daron 4 for 226, S Wary 2 for 60, F Wray 2
for 53, L Peters 2 for 16.

Preston

83 (F Wray 29)
8 August 1930
Preston v Arlesey 2nd.
Arlesey
39 (F Wray 7 for 15, S Wray 3 for 22)
Preston
55
(C Darton 20) Team: C Darton, J Murphy, W Darton, S Wray, F Wray, M Attwell, C Reed, W Chalkley,
L Peters, G Crawley, W Sharp. Team: C Darton, F Wray, D Jenkins, W Darton, S Wray, G Jeeves, G
Crawley, W Peters, G Trelane.
14 July 1933
Preston vs Henlow 2nd.
Henlow
146 ( F Wray 6 wkts S Wray 3). Preston 98
(C Darton 40) Team: J Murphy, C Darton, W Jenkins, S Garner, F Wray, W Frost, S Wray, A Day,
W Peters, G Jeeves, C Jenkins.
2 July 1936
Offley vs Preston.
Offley
90 (Peters 6 for 15)
Preston
54 Team: C Darton, D Frost,
J Garner, A Fossett, R Darton, W Chalkley, W Darton, F Blanchard, W Peters, W Walker, E
Sunderland.
1 June 1939
Offley vs Preston.
Offley
69 (? Darton 4 for 26, R Whitby 4 for 13, S Wray 2 for 13)
Preston
165 (C Darton 69, H Breed 23) Team: C Darton, C Breed, R Woodhams, R Whitby, W Frost ,
R Darton, S Wray, H Breed, H Day, W Woodhams, W Chalkley).
30 July 1936
Preston vs Offley.
Preston
83 Team: C Darton, D Jenkins, A Fossett, J Garner,
W. Darton, W Chalkley, M Blanchard, H Hammond, W Peters, W Walker, W Hammond.

Offley

73
(Jenkins 6 for 21)
8 August 1936
Preston v Arlesey Seconds.
Arlesey
29 ( F Wray 7 for 13; S Wray 3 for 12).
Preston 53 (C Darton 30) Team: D Darton, F Wray, D Jenkins, S Garner, W Jenkins, W Darton,
S Wray, G Jeeves, G Crawley, W Peters, G Trelane.
29 June 1939
Preston vs Luton Westbourne.
Westbourne
73 (J Dewar 5 for 10, S Wray 5 for 25)
Preston
65
(C Darton 32) Team: C Darton, R Woodhams, J Dewar, W Chalkley, J Garner, R Whitby,
C Breed, S Wray, H Breed, W Peters, O Peters).
10 August 1939
Preston vs Offley.
Preston
60 ( C Darton 36)
Offley
32 (Breed 5 for 6, S Wray 5 for
16). Team: C Darton, R Woodhams, T Garner, R Whitby, S Smith, W Frost, H Breed, W Chalkley,
S Wray, W Peters, C Hilder.
11 May 1950
Electolux vs Preston.
Electrolux
91 (Stanley 6 for 29)
Preston
46 Team: C Darton,
W Stanley, R Whitby, W Dewar, C Hilder, D Frost, J Hadfield, C Tomlin, W Peters, W Reid, R Mardle.
26 May 1950
Hinxworth vs Preston
Hinxworth
178 for 4 dec'd.
Preston
33. Team: C Darton,
O Peters, H Stoven, H Tomlin, R Whitby, W Frost, C Tomlin, B Dear, R Darton, K Hammond, D
Middleditch.
11 July 1953
Hexton vs Preston.
Preston
136 for 7 dec. Team: Stevens, Hilder, R Darton, Jenkins,
Tomlin, Dear, Frost, Currell, Harper.

Hexton

75 (Darton 3 for 11; Currell 2 for 4)
28 May 1953
Preston vs Percival Aircraft.
Preston
96 (C Hilder 23, R Darton 26)
Percival Aircraft
89 for 5 (B Dear 3 for 30) Team: J Stevens, C Hilder, M Love, R Darton, P Phillips, H Tomlin, B Frost,
B Dear, R Frampton, T Whiting, J Smith.
30 July 1953
Hexton vs Preston.
Hexton
129 (Hilder 4 for 23, Phillips 2 for 13, Dear 2 for 18)
Preston
106 for nine wkts. Team: R Darton, C Tomlin, J Sharp, B Dear, R Whitby, C Hilder, T Whiting,
P Phillips, J Wood, R Marshall, B Baker.
27 May 1954
Hexton vs Preston.
Preston
43
Hexton
123 (Dear 3 for 32, Phillips 3 for 37) Team:
C Hilder, J Franklin, R Whitby, B Dear, B Phillips, H Tomlin, N Hill, M Harper, T Cotton, M Stewart, B
Smith.
3 June 1954
Preston vs Kimpton.
Preston
58
Kimpton
51
29 July 1954
Hexton vs Preston.
Hexton
77 (Williamson 5 for 25; Hilder 5 for 41.)
Preston
36
Team: J Stevens, B Smith, N Cumming, R Whitby, W Frost, Franklin, D Williamson, M Steward, H
Tomlin, C Cumming, C Hilder
Assorted Preston Cricket Club teams and performances as reported in newspapers 1928 - 1954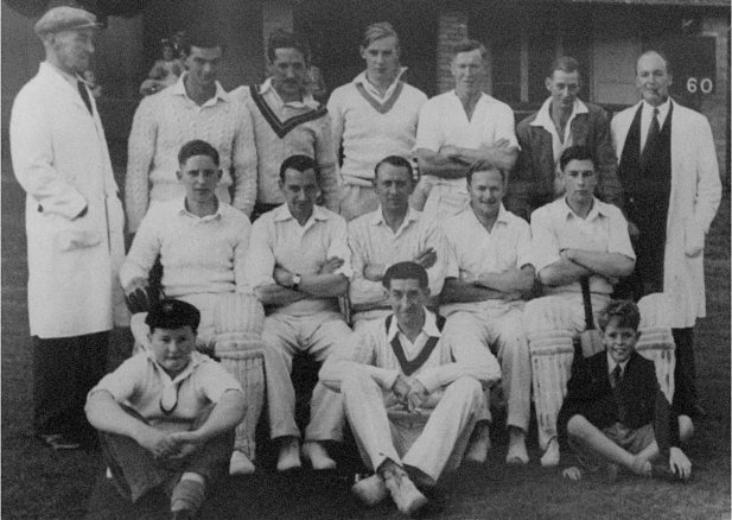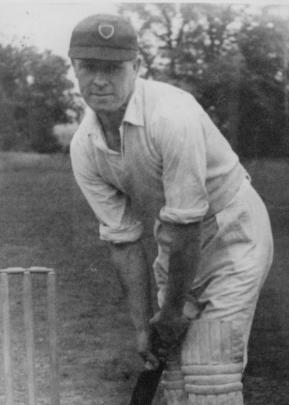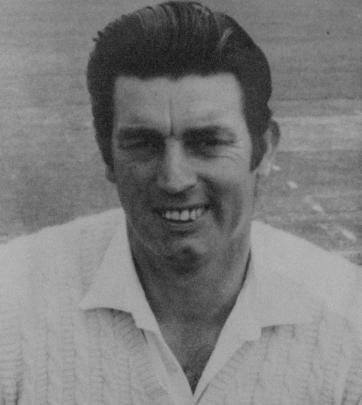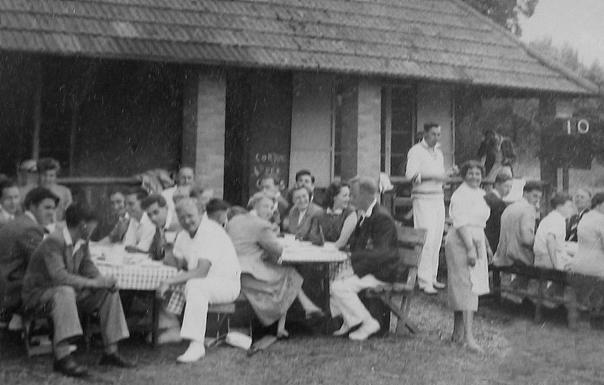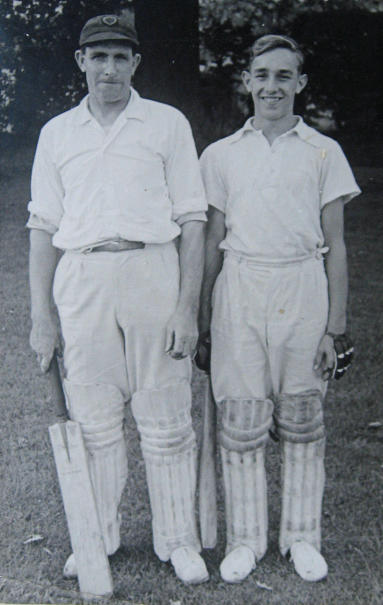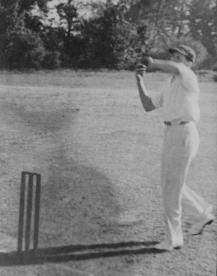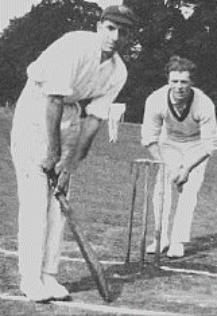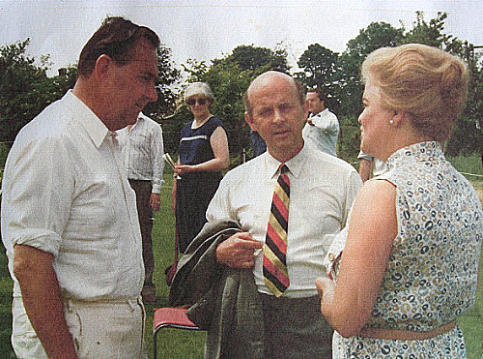 Dick and Rowena Altham chatting with former England cricket captain, Colin Cowdrey,
during the June 1982 "centenary match" between Preston CC and the MCC.
1953 - Umpire: Dick Middleditch. Standing l to r: Alec Currell, Bill Dewar, Dr Smith,
Dick Frampton, Dickie Jenkins, Norman Hill. Sitting: Barry Smith, Ernie Stevens, Ron Whitby,
George Young, Alan Maylin. Front: Tony Smith, Bill Frost, Mick Whitmore
Mrs Maggie Whitby serving teas
An aside during a court case in 1912 revealed that lads from the village were encouraged to play
cricket at Temple Dinsley as they 'kept their cricket tackle in a room there'.
Finally, the reader may be surprised to hear around this time that the fame of cricket at Preston had
spread throughout the USA. When Temple Dinsley was offered for sale in 1908, eight newspapers in
the states of Wisconsin, Montana, Iowa and Nebraska carried this snippet: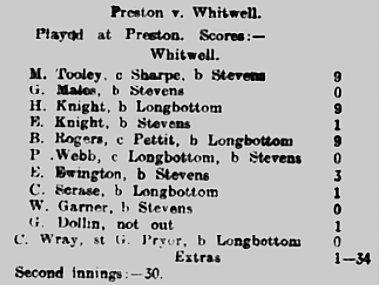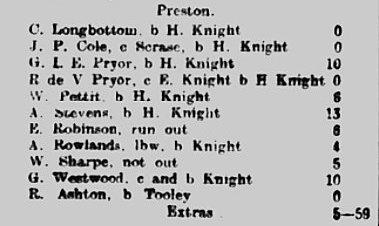 Moving into the twentieth century, press reports reveal that the Pryors began to play more regularly
for Preston as we have seen in 1902 and once against Whitwell in July 1908:





For newspaper article in 1954, see

Cricket Part Two
Henry Brand's older brother, Thomas, was mentioned in General Sir Hubert Gough's memoirs:
"I…had looked on him (ie Thomas Brand, at Eton Public School) with awe and admiration as one of
our best bats". So, the Brand brothers were enthusiastic about cricket.
Major Pryor's sons also enjoyed sport, playing football and cricket. As we shall see, the names of
Ralston, Geoffrey and Armitage Pryor are to be found on several published cricket score cards.
Maybe creating the cricket ground was a collaboration between Brand and the Pryors. There is
circumstantial evidence that this was possibly the case. A match was played at Preston in August
1885 in which involved members from both the Brand and the Pryor families: