Community buy Red Lion, 1983
This account begins with (Godfrey) Martin King

(right)

, landlord
of the

Red Lion

, Preston in the 1970s. Mr King was a widower
and a past chairman of Hitchin and District LVA. In the late
winter of 1979, he returned to Preston with a new wife – his
childhood sweetheart, Nita Jennings. They had married in the
register office of their native Bromley, Kent where Mr King had
been deputy superintendent registrar before the war.
Less than two years later, in the summer of 1980, Mr King died,
aged fifty-nine. His death was the catalyst for a turbulent period
in the history of the Georgian pub. The owners, Whitbreads,
decided that they should sell the

Red Lion.
Ray Scarbrow (near right), who managed the Luton pub,

The
Somerset Tavern
, and
The Bull
at Gosmore, decided that he
could turn the Red Lion into a large steakhouse-style restaurant.
He therefore applied for planning permission for building
extensions to the pub, a fifty-vehicle car park and a forty-one-
seater restaurant.
These plans met with intransigent resistance from locals. A
protest meeting, that lasted 2½ hours, was held at the village
hall in August 1981. It was attended by most of the residents
and chaired by Jack Raffell (far right), the chairman of the parish
council, who had postponed a trip to Devon. Mr Raffell said, 'It's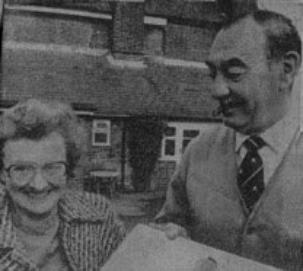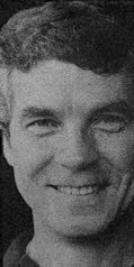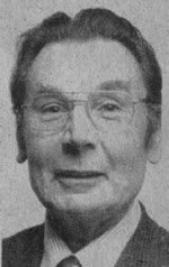 every village in North Herts with a nice village green and a pretty area that is in danger. They are all
under the same attack as we are now....If he (Mr Scarbrow) wants to keep on, we shall keep on and
wear him down'.
The consensus was that Preston was a working village and needed a working village pub – not a
roadhouse. They wanted a simple place where the cricket team, the darts team, the Hunt and the
Morris dancers could meet and make merry. It was thought that the influx of outsiders to the
restaurant would destroy the peace and charm of the village, cause noise late into the night and make
the narrow lanes of the village a danger to children. New street lighting and pavements would spoil
the character of the Green.
Marjorie Pugh (of 'Applegarth', the Green) said, 'We shall have car doors slamming late at night,
parties coming at lunchtime and it will alter the character of the village completely'. Victoria Sowerby
(of 'Pryor House') agreed, 'To plan a two-acre site in a village of 350 souls is dreadfully worrying'.
Betty Palmer (of 'Kenwood Cottage', the Green) said that her cottage would be affected on three
sides by the proposals'. Mike Kellard (then, of 'The Old Forge', Church Road) added, 'This is not a
question of saving the

Red Lion

. It's a question of saving Preston'.
It was decided to write to the Director of Planning asking him to meet the village to discuss the plan
and that home-owners in Preston should contact all thirteen members of the North Herts D.C.
planning sub-committee claiming that the plans would significantly change the village and the
conservation area and would not be in keeping with the character of the village.
The planning committee was invited to another public meeting - when Preston Parish councillor, John
Cook, intended to give them 'an earful'. In a further strategic move the Parish Council also decided to
approach the

Hertfordshire Society

and the

Council for the Preservation of Rural England

for help.
The village gave Mr Raffell the go-ahead to approach a solicitor for legal advice and promised
financial backing from their own pockets.
For his part, Mr Scarbrow denied that the

Red Lion

would become anything but 'a very nice pub with
food. We certainly have no intention of it becoming another steak house. With the amount of money I
am contemplating spending, the last thing I want is for it to become a disco. It will be a nice pub with
dining facilities'. He added that he was not seeking a supper licence and did not envisage the
premises being emptied any later than normal licensing hours.
Mr Scarbrow continued, 'It is an eyesore as it is. It is a pub that has been let go and is in desperate
need of having money spent on it. The villagers will say they are all using it, but they are not. The
trading figures show they are not....There are a lot of rumours of dances and discos. This will not be
the case at all...I am sure we will win them over eventually'.
At a later meeting with just two planning councillors, held six days before the application was heard,
Brian Waters, (of 'The Chequers', who was in the chair) said, 'It's a good working pub, it's not at all
pretentious and we value it. It's the social centre of the village and we need it'.
Councillor Fred Peacock, told villagers that although they had conducted a fine campaign they had
'to find some valid reason to turn it down. It is unfortunate that the majority of objections that have
been presented do not come into planning consideration. My reading of it is that it will be very hard to
turn it down. I would lay two to one on it going through'. Councillor Ron Lodge added, 'If this was
happening in my village, I would be with you; you have done a really good campaign'.
It was recommended that either a case was made
that the extended pub damaged the conservation
area or that the restaurant would constitute a
significant change to the pub. However, planning
officers were recommending approval of the
scheme.
The area planning committee met in the Council
Offices, Grammar School Walk, Hitchin where one
hundred people crowded into a small committee
room. Many were from Preston (their arrival is
shown, right), but there were around fifty from
Hitchin and Gosmore who supported the planned
changes.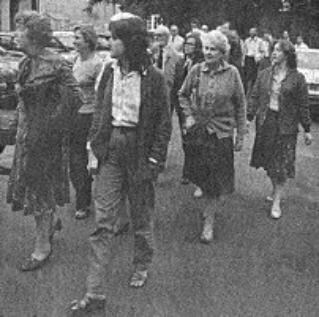 It emerged that the planners had been informed that the Secretary of State for the Environment had
decided to make the

Red Lion

a statutory listed building. This meant that as well as obtaining
planning permission for the alterations, an application for listed building consent would also have to
be heard. It emerged later that the villagers had been instrumental in this decision being made.
However, the listing of the pub was to have implications later, as we shall see.
Various objections were raised by planning officers: 'I cannot remember such public response
regarding a conservation area'; 'Here we have public participation. We either believe people have a
voice in local government or we don't. I think they have done a wonderful job'; 'I do not believe the
village roads could stand the extra traffic'; 'A village pub would be turned into a roadhouse'.
The committee unanimously refused the application, with one abstention (the vote is shown below).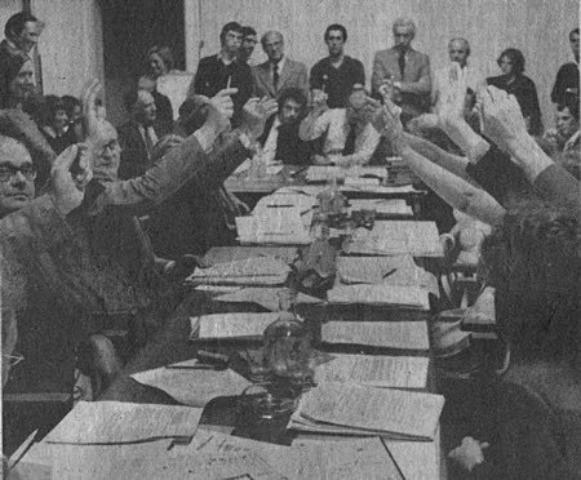 After the meeting, Mr Scarbrow said he would appeal to the Secretary of State, which would mean a
public enquiry – 'Even if it makes me bankrupt, I will go as far as the High Court'. He added, 'Jack
Raffell stated at a recent public meeting that they would wear me down. There is as much chance of
that happening as a chocolate fireguard protecting their best carpet from hot cinders'. He also
questioned Mr Raffell's position: was he an unbiased member of the planning committee or a biased
resident of Preston?
Mr Raffell (who had lived at Preston since 1945 and of 'Westleigh', Church Lane) responded, 'I dealt
with this matter at the meeting firstly as a member of North Herts DC planning committee, secondly
as a member representing Hitchwood, thirdly as a member of the Parish Council and fourthly as a
resident of the village'.
Most of the Preston people attending had been pessimistic before the meeting, believing that
planning permission had been recommended. The clerk of Preston Parish Council, Robert Young,
said 'The great turnout of villagers for the meeting was far more than we expected'. Parish councillor,
Frank Pugh, added, 'We shall keep on fighting, even against the appeal. We will also fight Whitbread
for improvements to the pub
Mrs Carol Baines (right) said that she and her husband
had already decided to sell up. They have a
seventeenth-century house next to the pub - 'We
moved here in March to live in a quiet village, but it will
never be like that again. On Thursday we received a
phone call from a locally born man who wanted to buy
a house in Preston, but he wanted to know the
outcome of the planning meeting. He was delighted
with the result and said he would continue with his
plans despite the appeal'.
Despite the fears of the villagers, North Herts DC
rejected Mr Scarbrow's application for planning
permission. He promptly appealed the decision to the
Department of the Environment.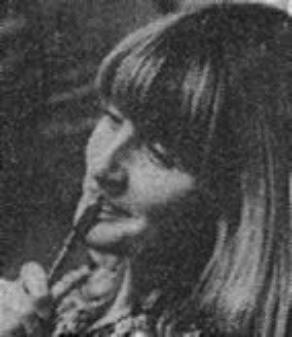 Responding to this with the need to raise funds, one Sunday, the villagers sacrificed a pig to save a
'Lion'. They had a pig roast, carved by Brian Waters, at Preston Green attended by around 200
people that raised about £100. (Shown below. To the right of Mr Waters are Ian Clark and Chris
Newell)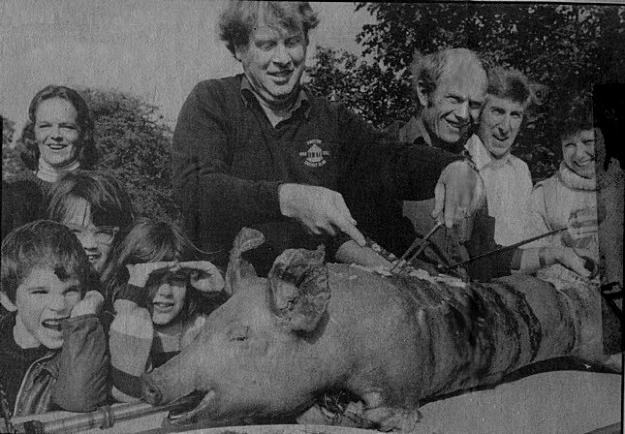 An organiser, Richard Beharrell (of 'Chequers Cottage'), said, 'We have got to have professional
advice and it's got to be paid for. We are trying to get people involved and make them aware that
these things don't just happen. The money has got to be produced by the villagers and I am glad to
say they supported the event very well. It was extremely successful'. Whitbread's noted these events.
Because of the nuisance value of villagers, they decided there was no future in the plan for a
steakhouse and so they offered the pub for sale as a free house.
Mr Beharrell explained that what happened next was not a case of a Preston resident stepping
forward with an idea of buying it. 'It didn't happen quite like that. We made it clear that we would resist
all changes no matter who bought the place. So the brewery said, "All right then, why don't you buy it
yourselves?"'
Would villagers who were prepared to put protesting pens to paper now be prepared to put their
hands in their pockets? Whitbread's priced the

Red Lion

at £125,000. A further £10K was needed for
initial operating expenses. £95K was raised in Preston and a bank loan of £40K covered the shortfall.
The response of locals laid to rest any doubts about what Preston thought of their pub. Retired
builder, Frank Pugh who had lived in Preston since the end of the Second World War said, 'It doesn't
take a genius to work out that if 92 households raised £95K a lot of people put in a lot more than £1'.
All villagers living within three miles of the

Red Lion

had the right to own shares if it was their wish. All
but a handful of the 130 Preston households took up their right contributing between £1 and several
thousands of pounds. This was important as Whitbread's had sought a reassurance that at least 80%
of the householders would be involved including voting rights.
A company, 'Red Lion Limited' was formed. All investments of £2 or more were divided equally
between shares and loan stock. Once an initial outlay was made, no-one was liable for anything
more. Any dividends would be paid on a sliding scale, depending on shares purchased. Any issues
that arise, including the election of directors, are dealt with on the basis of one household, one vote.
In December, the holding manager at the

Red Lion

, Scotsman John Gallacher
(shown right), commented, 'I have heard nothing from the consortium about my
position here'. Shortly afterwards, he took over the Adam and Eve at Bancroft,
Hitchin. He said, 'We had mixed feelings about leaving the village because we made
many friends and got on well with everyone'. (See link:

John and Marian Gallacher

)

By Christmas 1982, the

Red Lion

belonged to the people of Preston. But what were they to do with
their new possession?
'Whitbreads kept their manager in until after Christmas and the pub closed on 4 January 1983', said
Mr Beharrell. 'The place was in a terrible state because when a business is not doing well, one tends
not to take a lot of trouble with it, so there was a lot to do. We had problems with the roof and the
insulation – we had to change the staircase, the kitchen would not have met the health requirements
and we had to create living quarters for the manager.
'One of the problems was that during our campaign against the brewery we had the building listed, but
of course that meant that when we took it over, we had to overcome all sorts of restrictions ourselves.
We had to make major internal alterations but still maintain the external character of the building. But
we did have a master builder, John French, who is one of the best people available at restoring old
buildings.
'We've been lost without it. There's been constant activity here since we went into the drought on 4
January with people working from the top to the bottom of the building. Some people have put in so
much work it's been unbelievable. It's a great credit to the enterprise of the village.
From attic to the cellar, the pub was redecorated – walls were knocked down and a bar was made
from a kit and an old church pew from Yorkshire. Everyone who was able to lend a skill – carpentry,
decorating, expert advice or moral support – was mobilised. Older folk, who were unable to help,
donated plants and trees.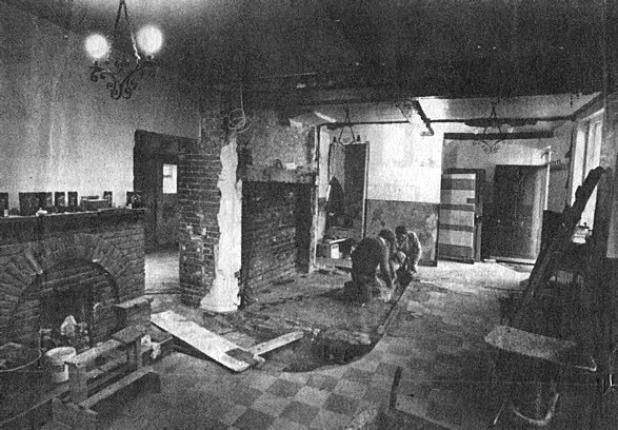 The professionals said they were very impressed with the way novices picked up new skills. 'It was
really quite amazing,' said patternmaker Chris Newell, 'Apart from a handful of us, no one had any
experience but they knuckled down. I don't think they knew quite what they were taking on'.
John French and his partner, Richard Maylin said that they had to replace perished timbers and
brickwork and discovered in the nick of time that if they had stuck to the original plan to remove a
fireplace, the whole building could have come toppling down.
Victoria Sowerby, Ann Clark (of 'Castle Farm'), Sue Griffiths (of 'Windrush', Back Lane), Margaret
Cashin (of 'Thurstaston', Church Road) and Paddy Coleman-Smith (of 'Latchetts', Butchers Lane)
reckoned they hung enough wall paper to cover the village green.
Despite hiring some experts, work that would have cost the brewery between £50K and £70K was
completed by volunteers for £30K. With jubilant celebrations, the

Red Lion

re-opened on 19 March
1983 – the final touches having been completed at around 05.00 over a bottle of Scotch. Youngest
villager, three-month-old Gemma Newell (of 'Elm Cottage', Chequers Lane) 'knocked' on the front
door which was opened by newly qualified managers, Roy and Kathy Hart. They had been selected
ahead of fifty other candidates for their 'youth, enthusiasm and energy'. Mike Bradley-Russell (of 'Drift
Acres', the Green) said, ' Because they seemed to have exactly the same sort of aims for the pub as
we did'.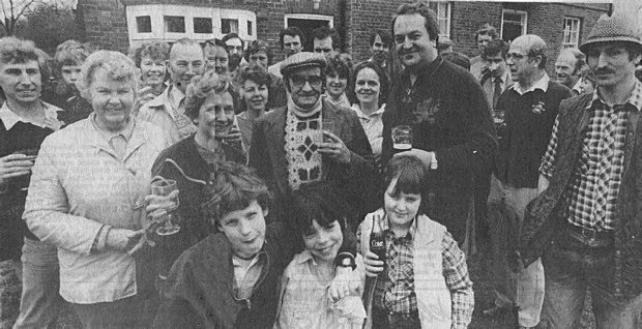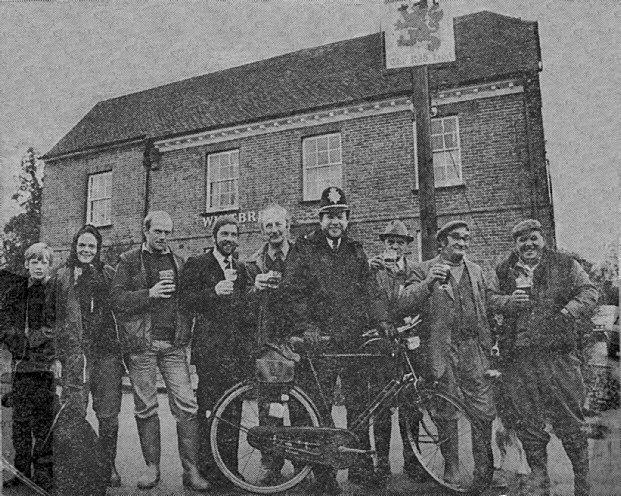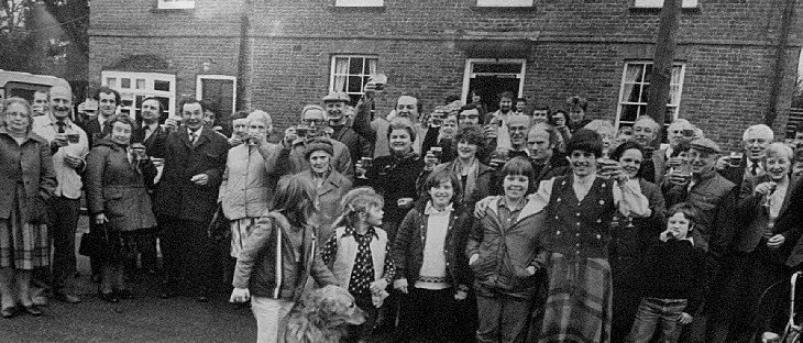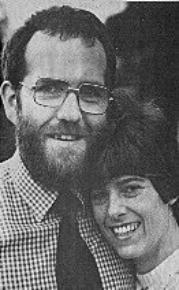 Just before 'last orders' on that opening day, Preston Hunt arrived at the door
and the Master took a stirrup cup of beer.
Mr Hart (shown right with Kathy) declared, 'We now have all the things we love
most. We are back in a village in the trade we love. It's a smashing place. We
intend to bring up our children (girls aged 2 and 4) and make our life there and
become part of the community. We are thrilled to bits. It's a dream come true'.
Five months later the Hunts were succeeded by John Martin.
Sixty-nine-year-old Harry Clark, who claims to be Preston's oldest poacher – 'I
still carry my catapult with me in case I see a rabbit – said, 'I bought my first pint
in the

Red Lion

for 4d when I was 14. I didn't want to see the pub changed. My
motor doesn't know its way from the other places like it does from here'.
Farmer Ian Clark, who had tended 400 acres at 'Castle Farm' since 1969 summed it up, saying,
'You've heard of the Archers and of

the Bull

at Ambridge, well that's just what we want'. Mr Beharrell
admitted that the first few months of the new enterprise were 'a little shaky'. There were plans to turn
an outbuilding into a children's room and to improve the gardens.
The renovated

Red Lion

is much bigger than it was, with a side room now a cosy bar and the new
bar against one wall. It is basically one large room mainly carpeted but with a bit of stone flooring by
the door. Two open fires create a cosy atmosphere.
The villagers though had their wish – the Harvest Festival is held in the pub every year; the cricket
club meets there as do the Enfield Chase Hunt and the Morris Men.
The Queen Mother sent a letter praising the citizens of Preston for their enterprise. The story of the
first community-owned pub in Great Britain was carried in the national and local press and has been
featured several times on TV.
In the 1980s the pub served a range of real ales including Greene King, Tetley, Youngs, Adnams and
even Whitbreads. It has since earned several awards such as the 'Pub of the Month' award and 'Pub
of the Year in Hertfordshire' from the Campaign For Real Ale (CAMRA).
The exploits of the villagers resulted in their winning third place in a Village Venture Competition in
Hertfordshire. The submission noted, 'Everything is being done to ensure a rural, family atmosphere
in the

Red Lion

where country hospitality can be extended to visitors...in short a village which could
have been fragmented is now united and knows that it can maintain its rural atmosphere'.
Mr Beharrell concluded, 'It is supposed to be a hobby. The shareholders see it as a way of
conserving something that is important to the village, not as a great investment. But as with anything,
business or club, if you don't work at it, you will lose it. We don't want to lose our pub'.
In 1986, on the third anniversary of the buy-out, a party of sixty people celebrated the success of the
venture (shown below). The latest landlords were Alex and Carole Korodi. Carole said, 'One or two
sceptics said in 1983 the pub would last six months to a year but it has lasted a lot longer'.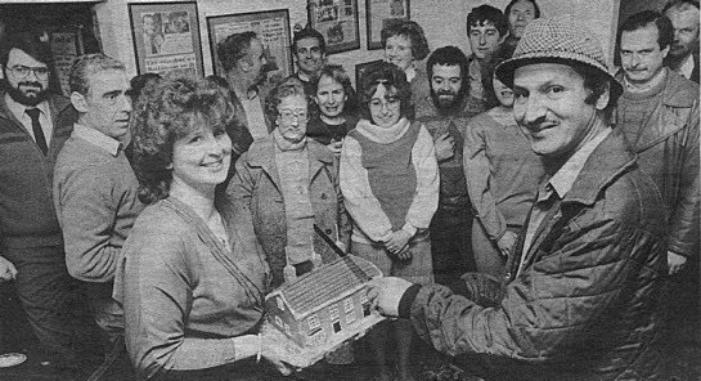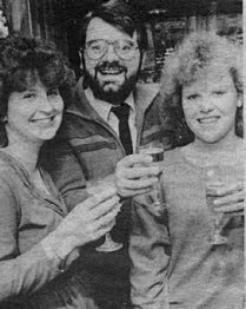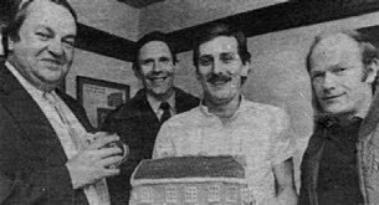 (Immediately above, l to r) Richard Beharrell, Robert
Young, Nick Ashman and Ian Clark.(Right) Carole and
Alex Korodi and Caroline Woods
Information about 'Red Lion Limited'
The company number is 01672560.
The original directors included Robert Young, Richard Beharrell, Ian Clark, Brian Waters, Norman
Harvey and Richard Sowersby. Since the inauguration of the company, directors have come and
gone.
Three new directors were appointed in 2003 and in 2008, the following were appointed: Andre
Loustad, Clifford Cooper, Michael Knight, Leslie Edwards, Matthew Barnes, Philip Trinder, John Gill
and Alison Jeffers. In 2008, the following directorships were terminated: Richard Sowersby, John
Cook and Robert Young.
As at 28 February 2011, the directors were: Andre Loustad, David Clark, C Cooper, L Edwards,
Richard Gill, Alison Jeffers, Alex Knight, Howard Trinder, Brian Waters and Mark Waters.
According to the 1998 accounts, shares valued at £95,390 had been issued and were held by 115
individuals, estates and companies. The number of shares owned per person ranged from £1 to
£19,348.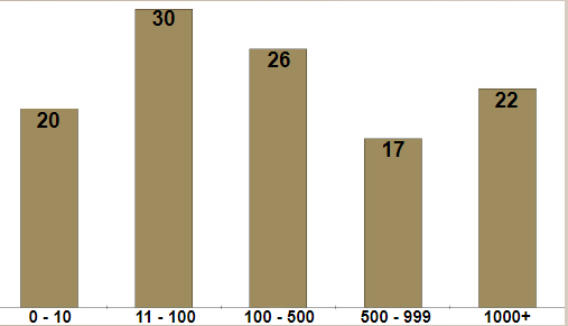 Graph showing the number of shares owned by individuals in 1998
By February 2011, the number of shares issued had decreased to £92,392. The number of individuals
(not households) holding shares had changed considerably (160) when compared with 1998 (115) -
which reflects the movement of people in and out of the village, the deaths of some and other factors.
Around forty of the 1998 shareholders do not appear on the list, but more than 80 new shareholders
are noted. The number of shares in new hands was more than £40,000. If the holding of the majority
shareholder is excluded, then almost 60% of the shares had been redistributed in 13 years.
In the year to 28 February 2011, turnover was £177,133 (2010, £193,506) and the net profit was
£4,373 (2010, net loss of £15,559)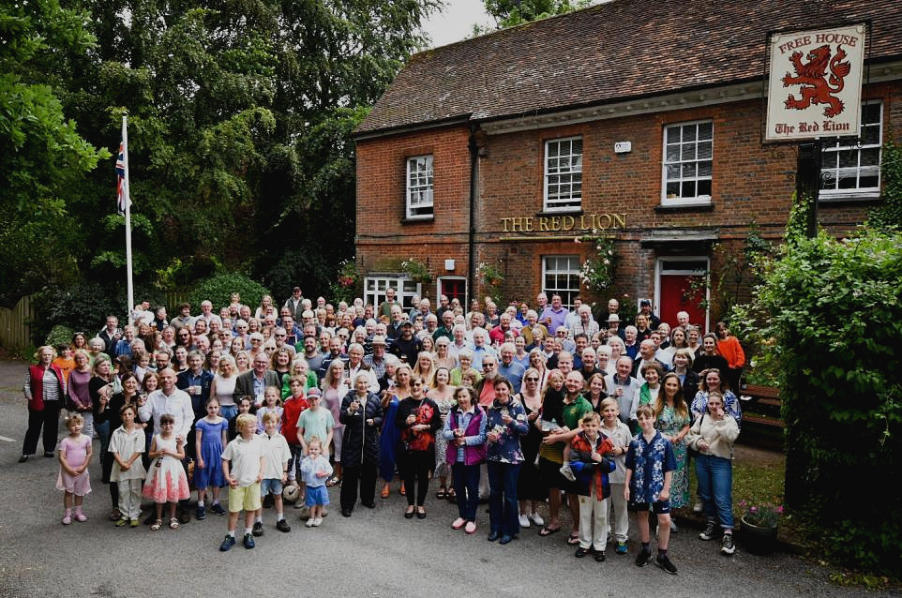 Thirtieth anniversary celebrations of the community ownership of the Red Lion
Fortieth anniversary celebrations of the community ownership of the Red Lion.
During a weekend in early July 2023 there was 'a day of festivities with live music, a hog roast
and a beer festival'.

(Photograph used with the kind permission of Mark Waters)