Christopher John Sansom (1945 - 2001)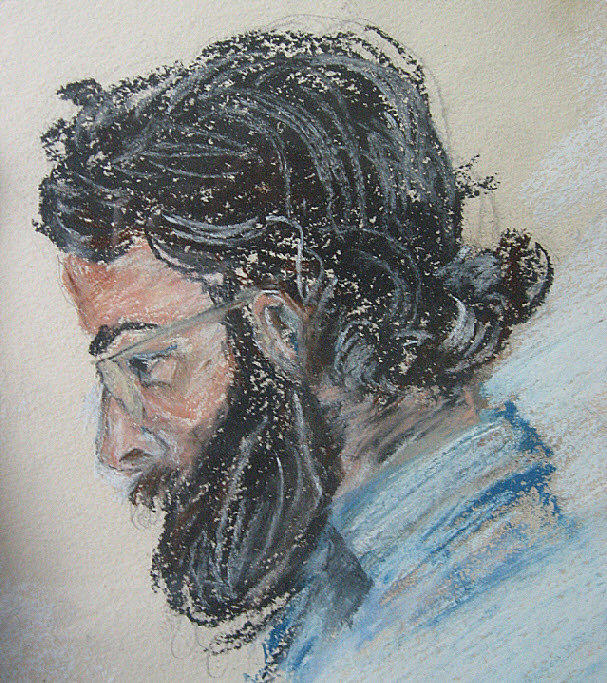 Christopher John Sansom was born on 9 November 1945 at Boreham Wood, Hertfordshire. He was
the first-born son of John Gordon and Doreen Mabel (nee Gold) Sansom who had married after John
had returned from the Middle East in November, 1944 after serving in the Territorial Army during
World War Two. John then re-enlisted in the Army.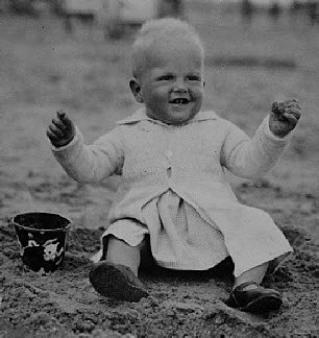 John was posted abroad. Doreen and Christopher lived in Colchester Army Barracks until 30 January
1948 when they boarded the troop ship,

SS Dilwara

, at Southampton and sailed to Colombo, capital
of what is now Sri Lanka to join John. There, in 1948, a second son, Mark, was born. As an infant,
Christopher attended Montessori School in Colombo (pictured below).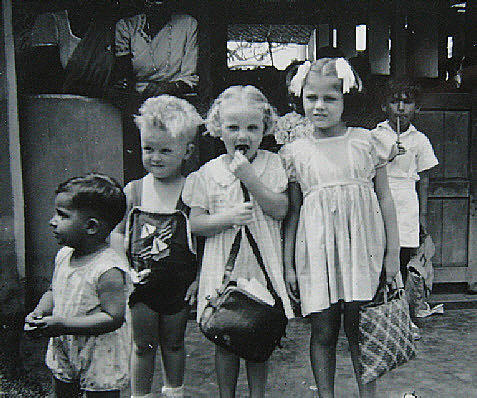 The family returned to England in 1950 when they lived initially with Doreen's parents. They later
moved to 21 Broughinge Road, Boreham Wood. Christopher was a pupil at Furzehill and then Cowley
Hill Primary Schools. After passing the 11 Plus examination, Christopher attended Boreham Wood
Grammar School where he was Head Boy. He studied History, German and Latin to 'A' and
Scholarship levels and was a talented middle-distance runner.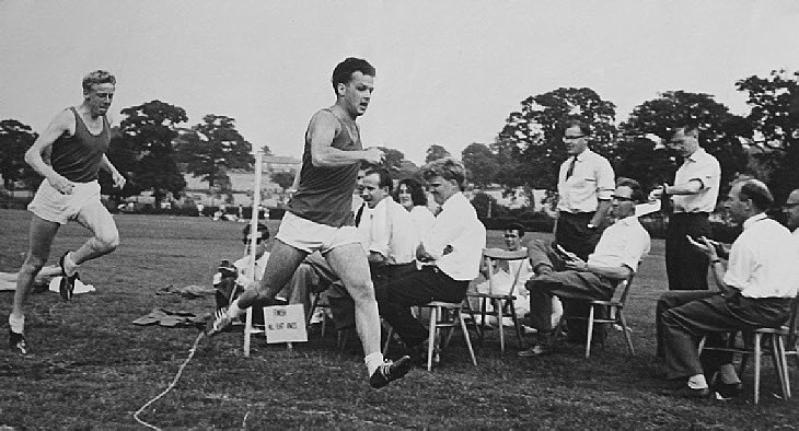 While at school, Christopher also took prominent roles in amateur dramatic productions.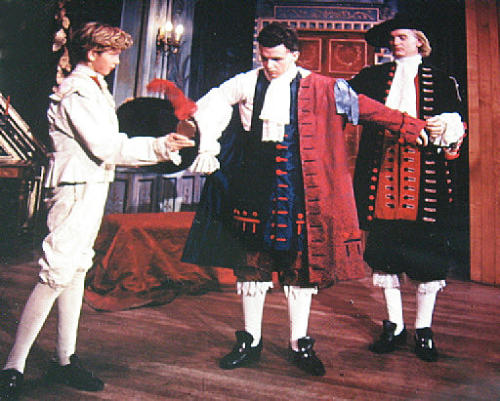 Christopher chose to study Latin at school because he was determined to go to Cambridge
University. This ambition was kindled partly because of the influence of his Headmaster who had
graduated there and partly because of his favourable impression of the University after a visit. He
read Archaeology and Anthropology at

Peterhouse College

.
His interest in archaeology had been fired by BBC radio programmes. In his mid-teens, he joined digs
at St Albans Abbey and Winchester Cathedral. The photograph below is of Christopher searching for
fossils at the Jurassic Coast, Dorset.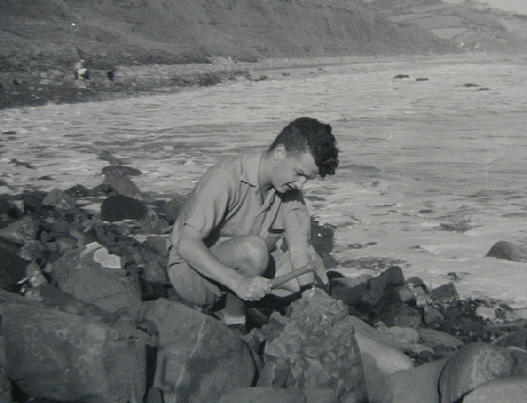 Significantly, noted below this photograph is a comment from A Bowley's

The Natural Development of
the Child
: Collecting - 'Sometimes this interest constitutes a passing phase while sometimes it persists
or revives and may be the foundation of an adolescent or adult hobby'.
While at Cambridge, Christopher, a tenor, was an enthusiastic member of choral groups and the
Peterhouse Chapel Choir. He left Peterhouse College when he was twenty-two years old with BA and
MA degrees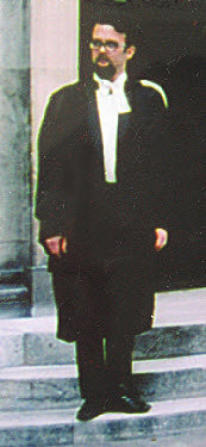 Christopher then enrolled at Edinburgh University for three years to study for a doctorate in the
Department of Educational Studies. However, he didn't finish the course as 'he couldn't prove what
he was set upon'. While there, he met Anna Georgina Chitty with whom he sang as a member of the
Edinburgh Renaissance Singers.
Christopher was also a director of the choir and sang at the Edinburgh Anglican church during Daily
Service and on Sundays as a lay clerk. His consuming musical interest may have diverted his
attention from his studies. Christopher and Anna married on 27 September 1969 at the bride's local
church, St Gwynhoedl, Llangwnnadl, North Wales.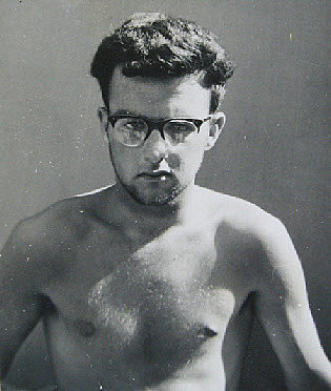 Christopher then enrolled at

Alsager (Teacher) Training College

near Stoke on Trent with the intention
of teaching history. During this time, he and Anna divorced 'amicably' – they 'discovered that it wasn't
really going to work out'.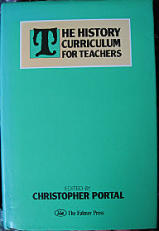 After completing the teacher training course, Christopher taught history until
1984 at Glossop School, Derbyshire where he became Head of Humanities.
While at Glossop, Christopher married Audrey Wickens at Buxton, Derbyshire
in the summer of 1979 – a marriage which was to last for around ten years
until they drifted apart and divorced.
After a time at Hale in Greater Manchester, the couple moved south to New
Romney on the Kent coast where Christopher was again Head of Humanities,
but now at Southlands School. He was also the history adjudicator on the
North Kent History Committee.
Evidently continuing his interest in the theory of teaching history which he showed at Edinburgh
University, Christopher produced two written pieces in the late 1980s. The first article, produced in
1985, was a survey of recent research into the history syllabus and its implications for teachers. Then,
in March 1987, he contributed a chapter to the book,

The History Curriculum for Teachers

(above), in
which he reviewed how children understood history and the concept of time, evidence and change.
Christopher retired early and became interested in computer database software development for
charitable organisations. In the early 1990s, he moved in with his parents, who were now living in

Old
School Bungalow
, School Lane, Preston.
His days were spent cycling; walking the River Hiz; counting bats and wild flowers; dating the age of
hedgerows from the species of plants and trees found and singing with the

North Herts Guild of
Singers
. He also joined the choir at All Saints, St Pauls Walden and conducted choirs around Hitchin.
He thought music was for the glory of God. Christopher also decided that 'it would be a good idea to
get a job' and worked in the Education Office at Letchworth as an assistant in the Educational
Psychology Department.
In 1999, he wrote an unpublished paper which researched a Knights Templar house at the nearby
village of Charlton. The following year, together with Gilbert Burleigh, Joseph Elders and Adrian
Havercroft, Christopher was part of the

Temple Dinsley Archaeological Project

. An appendix to the
subsequent report, The Templars, Baliols and Hitchin, was dedicated to his memory.
As a person, Christopher was 'distant, scholarly and absorbed in music'. He was 'solemn and never
loving and affectionate – he was not 'a hugger'. His mother added that he 'showed his affection in
unexpected ways'. If she was 'stuck' on the

Daily Telegraph

crossword, he would say, 'Would you like
me to do that, Mother?'.
Following a musical concert at Benslow, Hitchin in 2000, Christopher returned home and collapsed on
his bed with a seizure. He was taken to Lister Hospital at Hitchin where an inoperable brain tumour
was diagnosed. He was confined to a wheelchair. While spending Xmas with his brother, he collapsed
again. He passed away in 2001 and his ashes were laid in St Martin's Churchyard, Preston on
16 June.
A villager remembers him thus: 'Christopher was a very competent chap. He could have read Music at
Cambridge. He sang, played and was a Choirmaster at All Saints, St Pauls Walden. He was
interested in natural history and single-handedly conducted bat surveys in the parish. He was
concerned also with the state of the mighty little rivers, Hiz, Purwell and Oughton and sought to form a
new 'Three Rivers Society' to look at their catchment areas. He researched the medieval agricultural
systems of the Knights Templar. Christopher gave us several rather long but fascinating and detailed
lectures in Preston Village Hall - no slides; just facts and enthusiasm! We did some 'field walking'
together around Minsden which produced no great discoveries. His brain tumour and early death
were a tragedy. We would all have learned much more from him.'
The memorial to Christopher in St Martin's Church, Preston
In

Highways and Byways in Hertfordshire

(1913), Herbert W Tompkins describes a discovery at
Temple Dinsley: 'Leaving the village green, I obtained entrance to the private gardens of Temple
Dinsley and here lying upon the ground near the house in a spot shaded by pines an guarded by an
effigy of Father Time with his scythe and hour-glass (located in the rose garden) is a large stone coffin
lid which was found by some workmen when digging in the grounds...on that lid is a filial cross upon a
rod or staff with a central disc and floriated extremes...this specific pattern was, I know, among the
insignia of the Knights Templar...these discoveries have set the villagers talking'
The coffin lid was deposited in St Martin's Church and a use for it was often discussed at church
annual meetings. In 1951, it was kept 'behind the altar' and it was suggested that it be moved to 'a
more convenient place'. A further comment was that its 'appearance would be improved by a coat of
paint'. Sixteen years later, it was still laying, unpainted, 'in the storage room behind the altar' and there
was a move to bring 'it out into the church and shown in a suitable way'. In 1992, it was in the south-
east corner of St Martin's nave.
The slab is of light grey Purbeck marble. The upper face is bevelled; the underside is flat; and the
edges have been chamfered although there is a little damage here. The foot of the stone is missing
and the underside is broken and only half of its original thickness remains along the bottom third of
the slab. There is also a simpler cross on the underside of the slab.
The slab probably dates from the second quarter of the thirteenth century. Its cross stem is slender
and sharply carved (which is typical for an artefact associated with a Templar Preceptor as it
symbolizes his staff of office). The disc at the centre of the cross may represent the head of the staff.
So it is likely that this is the lid of the tomb of a Preceptor who died in the early thirteenth century.
Following Christopher's death, Doreen Sansom arranged for the slab to be mounted in a oak frame
which allowed both sides to be viewed as a fitting memorial to her son in the church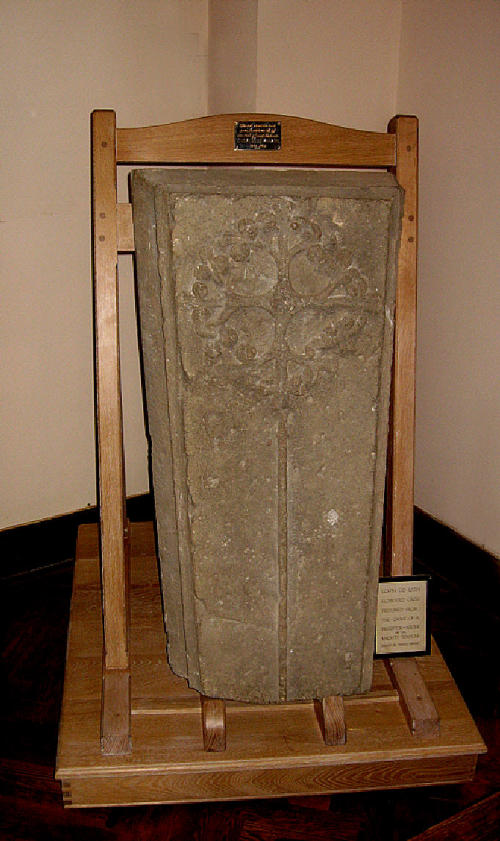 (My thanks to Doreen Sansom and Liz Hunter for their help and comments that form this article)