A History of Preston in Hertfordshire
"Blind Bob" Thrussell (1813 - 1878)
"Blind Bob" lived and worked at Preston in the late 1830's and early 1840's. In villagers'
minds, he was also strongly associated with Sootfield Green.
After leaving Preston, he would have been still seen regularly as he trudged along the local
lanes for a couple of decades, occasionally falling over the bodies of cows and donkeys.
This is his story.
Robert was a 'man of great physical strength'. He was employed by Thomas Halsey at Temple
Dinsley as an under-gamekeeper. The 1841 census shows he and Martha together with their two
young children living in accommodation at or near the 'Big House' - their neighbours were George
and Eliza Cranfield (George was a little older than Robert and was a fully-fledged gamekeeper).
In October 1837, both Robert and George were assaulted by gypsies during the Preston Fair. During
the evening Cranfield met William Brinkley at The Chequers, Preston. The two had been involved in
an old dispute and Brinkley challenged Cranfield to a fight and stripped off his clothes. Cranfield
refused to fight him because his master had forbidden him to mix in quarrels of that nature,
whereupon Brinkley struck him in the face to provoke him and Cranfield sent for the constable (who
was likely helping to maintain law and order at the fair). The constable came, bringing Robert
Thrussell as back-up. There was a 'great disturbance' between the constable and Brinkley and the
latter's brother, Jonathan and other gypsies were involved. Jonathan hit Robert over the mouth. As
the Brinkley brothers were seen as the sole aggressors, they were convicted of assault and fined -
William, £5; Jonathan, 50 shillings (he wasn't able to pay this and was jailed for a month).
In June 1839 at the Hertfordshire County Sessions, Robert was convicted of larceny and sentenced to
a fortnight in Hertford Gaol. Although local newspapers don't carry this story, the court record
mentions that Robert was aged twenty-six and I cannot find another Robert Thrussell baptised in
Hertfordshire around this time or noted in the 1841 census - so I believe this record to be of 'our'
Robert.
Sometime in 1841 he and his family had moved to School Lane, Preston occupying the cottage
shown far left: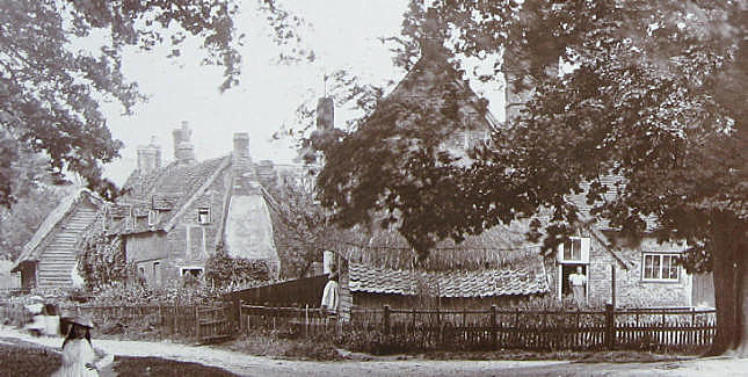 Then, in January 1842, Robert was fined £5 for a 'brutal assault' on his heavily pregnant wife. As he
was unable to raise the fine, he was jailed again, this time for two months at Hertford. Happily, the
unborn child was not seriously injured as Mary Ann Thrussell was born during the March quarter of
1842 and was with Robert and Martha in 1851.
It was around the following year that Robert was blinded. It happened at Westbury Woods during
rabbit shooting. Some shot glanced from a tree and lodged in his eyes, injuring his sight so badly that
after a while, he was unable to continue working as a gamekeeper. The 1851 census notes him as
living with his family at the huddle of homes at Frogmore (End) and as 'formerly ag labourer' and
'blind'.
However, economic necessity to provide for his family forced him into paid work and in the early
1850s he was employed as the (Kings) Walden Bury postman. He walked the five-mile journey from
Hitchin to Kings Walden (probably via Preston) every day and for many years he also travelled to
Whitwell and back in the afternoon. Although 'quite blind', the ease with which he visited different
shops in Hitchin and other places along his way was considered 'really remarkable'. He 'never met
with any accident and except for an occasional tumble over a tree blown down by the wind or a
prostrate cow or donkey in his path, he pursued his journeys with unhesitating step'.
In October 1870, this news report was printed: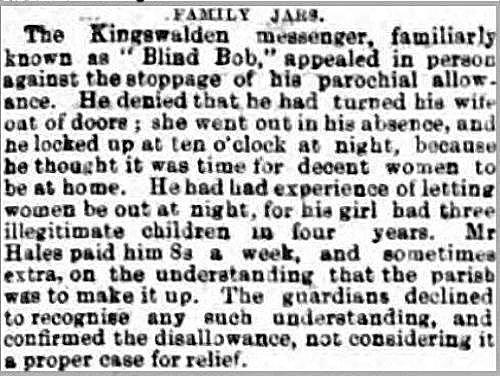 It is not clear from the records whether Robert was entirely truthful in what he said. His single
daughter, Mary Ann, had a son in 1867 and his other single daughter Charlotte had a daughter in
1866, while another grand-daughter was born in around July 1870 and was in Robert's household in
1871.
The 1871 census entry for Robert confirms his situation:

"……It is related of him ("Blind Bob") that he defeated, after a regular pugilistic
encounter on Sutfield Green (sic) a powerful and well-known Hertfordshire poacher
named Cranfield….."
A few observations about this report of what is clearly an item of local knowledge - probably because
the fight was witnessed by a crowd:
The bout was described as "a regular pugilistic encounter". I take this to mean that it was an one-off
occasion and that the adjective 'regular' in this sense means that it happened 'in conformity with
established or prescribed usages, rules or discipline'. In other words, that it was a 'proper' boxing
match. This may explain why it took place at Sootfield Green - a junction of country roads, lanes and
footpaths - a venue to which many could easily travel to attend. I suggest that the bout was likely on
the Green itself which was common land.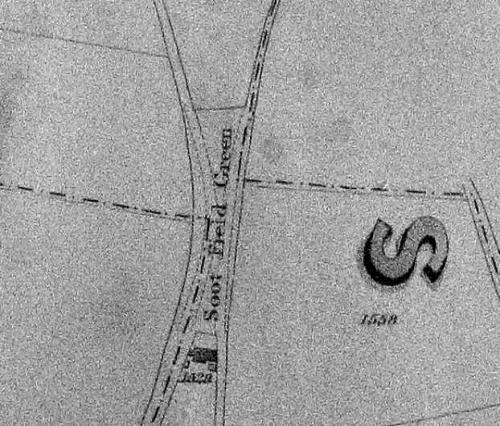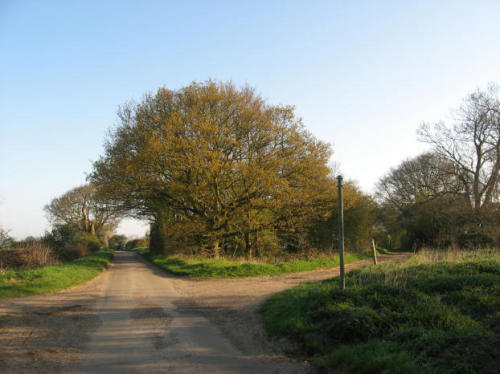 Secondly, Robert's opponent was said to be 'a well-known Hertfordshire poacher named Cranfield'.
This appears to be a detail that had been muddled by the passage of time. We know George
Cranfield was a neighbour and workmate of Robert when Bob was sighted. We also know that
Cranfield was not a 'gamekeeper turned poacher' in 1843 because he was featured in news reports
at the time as a gamekeeper. Also, a trawl of newspapers reveals that there was not a well-known
poacher called Cranfield in Hertfordshire at this time. So, either Robert fought George Cranfield or
someone else who was a poacher.
Whoever it was, the occasion was cemented in local folk law.
When "Blind Bob" died in November 1878, he was acclaimed as having 'a cheerful disposition and
could always appreciate a joke. He was a favourite with those for whom he brought letters and
messages and everyone was ready when he was in any doubt as to his whereabouts to lend him a
helping hand.' He was buried at Kings Walden on 18 Nvember 1878.
The newspaper report added. ' "Blind Bob" was an example of how an active man can obtain a
livelihood even after accident has deprived him of his ordinary means of earning his daily bread and
he will be remembered with regret by many to whom he has been useful or has become known in the
course of his long-term peregrinations to and from Kings Walden.' As he continued to live at
Frogmore End, a glance at a map will confirm that he very likely passed through Preston on his way.
Finally, we return to an intriguing news snippet from 1878 concerning "Blind Bob":
Robert Thrussell was born at Kings Walden, Herts in 1813 and married a local girl. Martha Kilby, at
their parish church on 13 December 1833. Both were illiterate and marked the register.