James Barrington-White of Temple Dinsley
Tucked away in a corner of St Martin's graveyard is a mausoleum. It bears the
inscription, 'Barrington White 1906'. It has been the subject of many a conversation and
adventure for village children,
Keen-eyed of Preston residents may have noticed another reference to this family as
the initials 'JBW' are embossed on a local house.
Who were the Barrington-Whites and what was their association with Preston?
James Barrington-White was Irish, having been born on 21 September 1856 at Orange Hill,
Tandragee, Armagh, Northern Ireland. He was the son of Thomas Henry White and Mary Jane
Barrington. In 1884, James married Mary Boyd at Parish Cuttra, Down, Northern Ireland. The couple
had a son, Ivan, who was born in around 1886. (In 1905, Ivan was a Second Lieutenant in the Third
Alexandra, Princess of Wales Own Yorkshire Regiment and later was a Captain in the Grenadier
Guards during World War I)
James held several prestigious posts in Armagh including being a member of the Committee of
National Association of British and Irish Millers. In March 1896, he sold his property at 15 Wellington
Park, Belfast and moved to England where he was appointed Lieutenant of the Hertfordshire Cavalry
in 1897 – a commission which he resigned in 1899.
In January 1898, James and Mary were living at Roxley Court, Willian, Herts (a village near Hitchin).
He then returned to Northern Ireland as he was appointed as the High Sheriff of Armagh. This meant
that James was the English sovereign's judicial (as opposed to personal) representative, being
responsible for law and order. He was also appointed to the Commission of Peace for Armagh.
James Barrington-White and Preston
By 1901, James was back in Hertfordshire for he bought the Temple Dinsley mansion,

The Cottage

,
Temple Farm
(with associated land) and two cottages at Preston Green. With this acquisition, he
became Lord of the Manor of Temple Dinsley. He also purchased part of Wain Wood.
Four years later, in 1905, he ordered the building of two semi-detached estate houses on the south
side of Crunnells Green. It is these which bear the inscription 'JBW 1905'. Perhaps reflecting his
earlier judicial appointments, one of the houses (nearest Temple Dinsley) was for the village constable
and had a lock-up in an attached outhouse. The houses were built with red bricks in a stretcher bond
and rough-cast above together with a dark weather-boarded triangle at the front gable. Each house
had a sitting room, kitchen, scullery, two bedrooms and a barn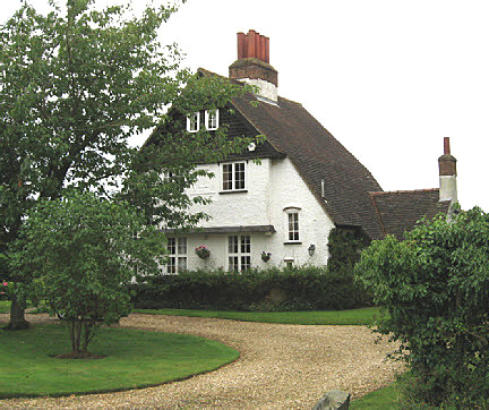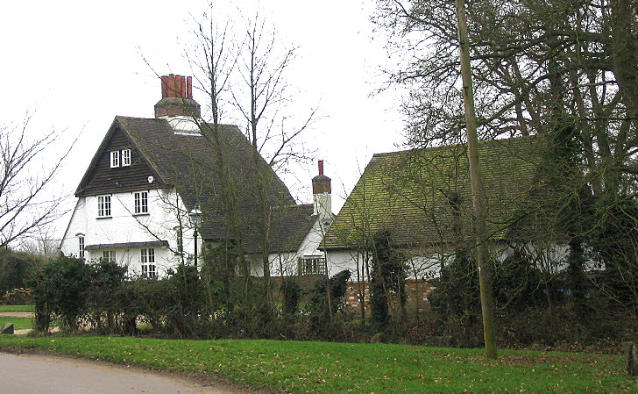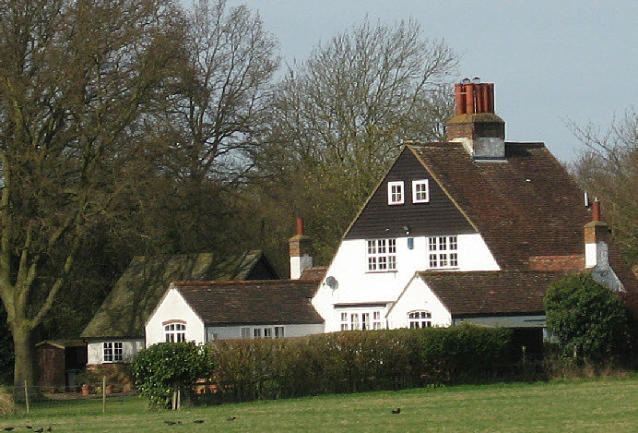 Among the police constables who lived there were John George Hart (1909), Cumberland (1910),
Albert and Lilian Shambrook (1911). In the adjoining cottage lived John Mission (1909-11), and Ernest
and Ethel Payne (1915).
Later, the two cottages were amalgamated and the resulting home is known today as Crunnells
Green Cottage.
As his letter reproduced below shows, James was well aware of the history of Temple Dinsley.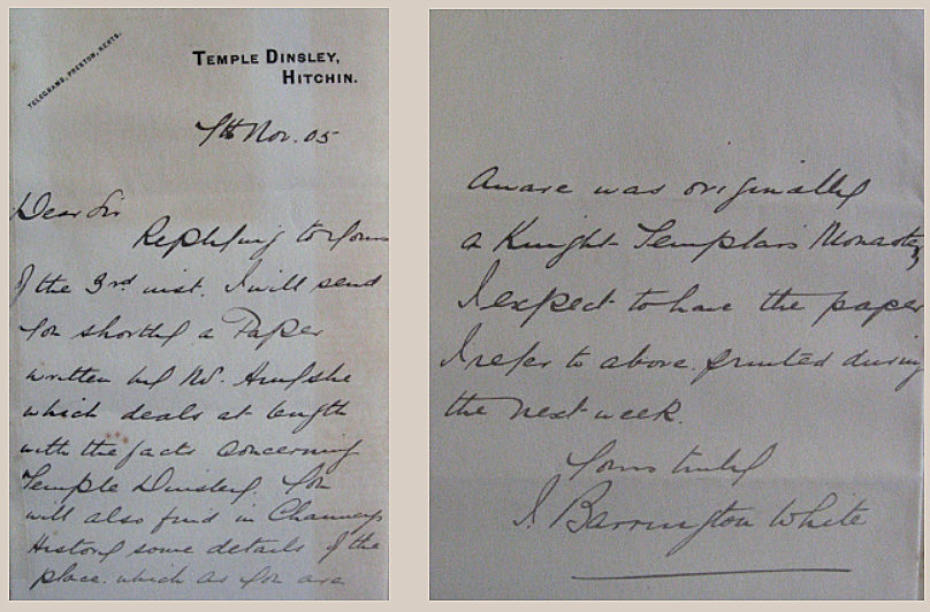 In 1906, James had the mausoleum built at St Martin's with its copper door and Celtic cross – an echo
of his Irish origins. Mary, his wife, presented a litany desk to St Martin's Church in February 1907. She
was also a Preston school manager.
The Barrington-Whites lived in Preston for seven years until they sold all of their property to HG
Fenwick in August 1908. At the time they were living in Mark Street, London. James was remembered
in the village for his kindness as he presented local families with a joint of beef at Christmas-time very
year.
James was mentioned occasionally in

The Times

as he was on the board of the brewers, Ind Coope
and Co Ltd. He also wrote a letter to the newspaper from the Carlton Club at Pall Mall concerning
shipping and freight prices. Later, it was reported that he was a passenger in a carriage which took
part in a meet of the Four-in-Hand Club at Hyde Park in 1909. The diversity of his interests is shown in
that he was a subscriber to the list to raise £15,000 for the Galton Laboratory for National Eugenics in
1911. (Eugenics is the study of possibly improving the qualities of humans by discouraging
reproduction of those with genetic defects or undesirable traits.)
Mary Barrington-White died on 30 May 1914 at 15 Princes-gate, London and was interred at St
Martin's at 11.00 am on Tuesday, 2 June. James died twenty-one years later, aged seventy-nine and
was also interred behind the copper doors of the mausoleum at Preston on 21 February 1935. That he
chose Preston to be his final resting ground is a measure of the regard that James had for the village.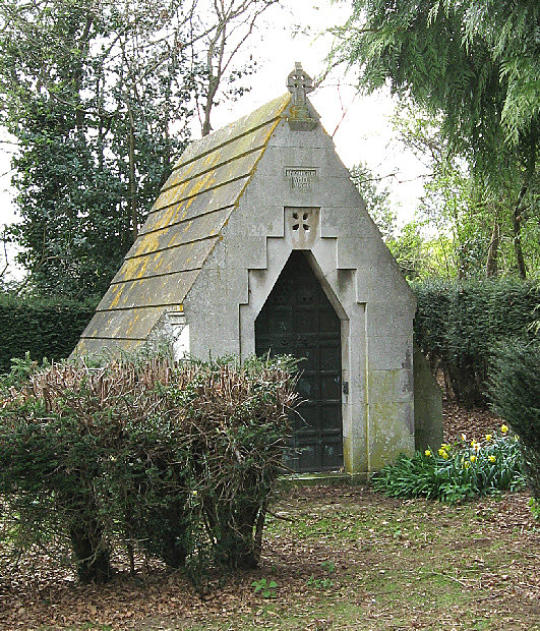 In April 2010, the connection of John Barrington-White to

Crunnells Green Cottage

became even
more obvious. (see below)