Tom Ashton - Preston's baker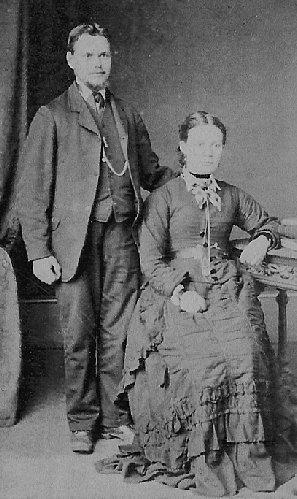 Tom Ashton was the baker in Preston from the mid-1880's.
Born on 5 April 1856 in the village of Hawnes, Beds, Tom was the son of master baker James Ashton
and Elizabeth. He was brought up in the Bedfordshire village of Shillington where, at the age of 14, he
assisted his father in the bakery.
In 1878, Tom (21) married Catherine (Kate) Smith (21) at
Shillington. Catherine was the daughter of publican Frederick
Smith. He kept the 'Queens Head', Swan Street, Weston, Herts.
Tom and Catherine had eight children born between 1878-1900:
Charlotte Smith
Selina Augusta
Thomas Reginald James
Stephen
Rosa
Caroline
Mary Elizabeth
Catherine Rose
born 1878
born 1879
born 1882
born 1884
born 1887
born 1889
born 1893
born 1900
Tom and Catherine were living at Arlesly, Bedfordshire in 1878.
By the winter of 1884 they had moved to Stevenage, Herts and
they arrived in Preston a few years later.
Right,
Tom and Catherine (Kate) Ashton circa 1878
They put down their roots at 'The Old Forge', Church
Road, which they rented from Geoffrey Pryor. Their
home was almost opposite the lych-gate of St Martins
Church. This was a convenient location for Tom as he
was the organist at the church. His daughter Catherine
pumped the organ bellows. If Tom thought the sermon
was dragging, he would look at his watch and glance
meaningfully at the vicar.
On the subject of Tom's bakery business, in his history
of Preston Cricket Club, D. Frost described his fond
memories of Tom's 'delicious rock cakes' which were
supplied for the cricketers' afternoon teas. Villagers,
such as my aunt, Maggie Whitby (nee Wray),
delivered Tom's bread and cakes by bicycle and 14-
year-old Reginald Peters was a bakery helper in 1901.
Like many of the tradesmen in Preston, Tom had his
own means of transport - a pony and trap - which he
used to collect supplies and deliver his delicacies.
He also used the trap to visit his brother Arthur in
Hitchin. Sometimes he would fall asleep on the return
journey - but the pony would take him safely home.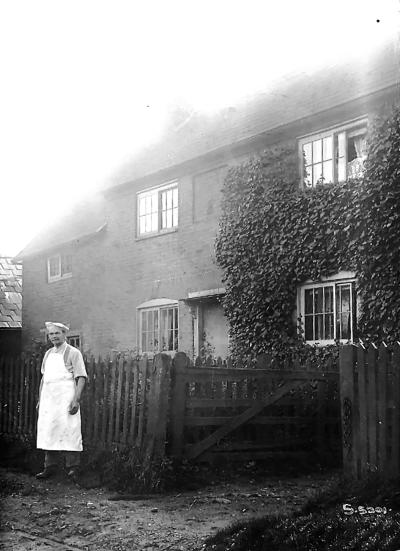 Tom and Catherine sent their children to Preston School.
There are some informative comments about them in the
school log book:
1

Nov 1896

- 'Carrie (Ashton) is not quite seven and has
been away with whooping cough and is quite deaf and
very backward. I have put her back to first class infants.'
5 Aug 1898

- 'Rosa has gone to Stevenage to help her
sister.'
17 Jan 1896

- 'Stephen (Standard V) ran out of school
this morning to escape a caning. It will be necessary to
complain to his parents and get their consent to give him a
double punishment.'
6 Oct 1899

- 'Rosa, a bright girl in Standard V died
Sunday 1 October from typhoid fever and pneumonia.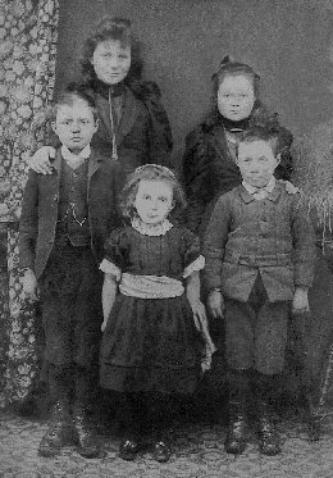 L to r:
Thomas ; Charlotte ; Rosa; Selina and Stephen
Discovering what 'made things tick' was a passion for Tom. He liked clocks and delighted in repairing
them.
'The Old Forge' resounded not with the sound of a blacksmith's hammer but with a cacophony of
chimes from the many clocks which festooned its walls. Tom also made a crystal radio set from a kit.
He would listen to broadcasts of classical music and, as he was able to read music, he would follow
recitals using his own score. He played the organ for St Martin's congregation.
Clearly Tom was one of Preston's familiar figures. On one occasion he organized a charabanc trip for
the villagers to watch the Derby horse race at Epsom. Tom was the enumerator at Preston when the
1911 census was taken. Perhaps not quite so well appreciated by the locals was his work as rating
officer for Preston. At the Preston parish meeting of March 1895, Tom was appointed 'overseer'.
Catherine died on 28 May 1926 - shortly after her daughter
Mary Elizabeth's wedding photograph was taken.

(see below)
Tom was in constant pain from a hernia - common baker's
injury. He died on 25 April 1934. Tom and Catherine are
buried in a double grave in St Martins churchyard

(see right)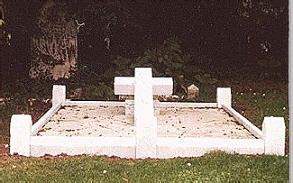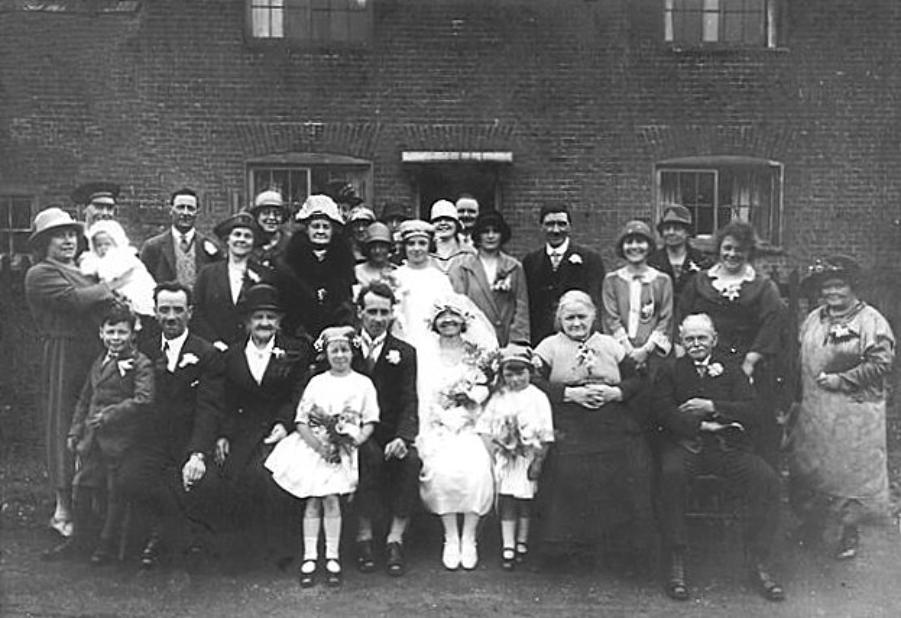 The marriage of Mary Elizabeth Ashton to Sidney R Skinner in 1926. This family photograph was
taken outside 'The Old Forge', Church Road, Preston. Front row , l to r: ?,?,?,?, Sidney R Skinner
(groom), Mary Elizabeth Ashton (bride), -, Catherine (Kate) Ashton, Tom Ashton.
Left:
Three generations of Ashtons in 1926c - Tom, son Stephen and grandson, Thomas.
Stephen exaggerated his age and called himself Charles S. Ashton in order to join the army.
He served in the Boer War and World War I in Egypt.
By contrast, Stephen's brother, Thomas jnr (above, right - who was married, living at 24
Bucklesbury, Hitchin and employed as a manager at a yeast company) sought to avoid conscription
in November 1916.
(I am grateful to Wendy Dinsdale and June Nicholson for their help, memories and photographs which
make this page so interesting)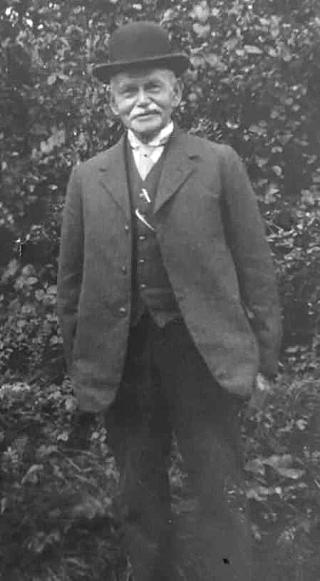 In October 1910. Katie (Catherine) Ashton was one of three Preston children who wrote a short story
which was published in the Daily Mirror. Link:

Mirror article