A History of Preston
in Hertfordshire

This history of Preston has been compiled after collecting every available historical reference to the village. Most of these have then been included according to their historical context. Inevitably, conflicting views have been found using this method of research. These have been included.
Since the twelfth century, Preston has been dominated by Temple Dinsley in its various incarnations. Most of the surrounding homes were owned by the estate and the majority of the local work force, male and female worked for the incumbents. Hardly surprisingly, the history of Preston is largely bound up with the history of Temple Dinsley.
Preston is perched on a chalk ridge of the Chiltern Hills. Over the chalk, there is a skim of clay with flints. This drains poorly but, when 'puddled', ponds are formed that hold their water. In some places, such as Kiln Wood, 'brick earth' is to be found.
The uses to which Preston's fields were put always reflected the topography. Early crops would not flourish because the land took weeks to warm after the chill of winter. But it was worthwhile to grow root vegetables such as turnips. Summer sowings of wheat, barley and oats were rewarding. The land was also used extensively for grazing sheep.
Hitch Wood, Wain Wood and West Wood are today the remnants of more extensive forests which provided fuel and food for families as well as hunting and shooting opportunities for the gentry.
One of Preston's charms is that the village is not overlooked or dominated by hills or high ground. At 143 metres, the village is only 10 metres below the highest point of Hertfordshire. The drawback to this sense of spaciousness is Preston's exposure to the bleak easterly winds that sweep in seemingly unchecked from Siberia.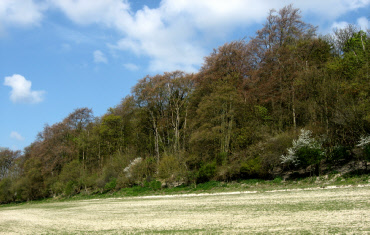 The view at the bottom of Preston Hill of the Kings Hill Plantation that illustrates the local chalk strata.
The village of Preston has probably existed since before 1000 AD. It did not, therefore, 'grow around the Knights Templar' who came to the area in the middle of the twelfth century. Coins dated from the seventh and eighth centuries have been found at Temple Dinsley that indicate habitation there during this period.
The first historical mention of 'Preston' is from an Inquest of the Knights Templar in 1185: 'In Villa de Prestune sunt quatuor caracatae in dominio ex dono Bernardi Balliol et partim ex dono Oliveri de Malvoier, etc.' Translated, this says, 'In the village of Prestune are four carucates (480 acres) given by Bernard de Balliol and Oliver de Malvoier.
Several authorities agreed that 'Prestune' was an Old English word and therefore the village predates the Domesday Book of 1086. Thus, Prof. Tom Williamson writes that as Preston is derived from an Old English word, then the hamlet existed at the time of Domesday: 'The parish of Hitchin contains four subsidiary hamlets (including Preston) and these to judge from their names (which are of Old English type), were almost certainly in existence in the time of Domesday although not mentioned in it'. He added, 'the priest tun suggests that it was originally the portion of the estate (of Hitchin) reserved for the sustenance of the minister priests'.
Following the Norman invasion of 1066, it took twenty years for the government of England to settle down. It was then time for the victorious French to meticulously assess exactly what they had conquered and how the country should be taxed. So, a survey was commissioned in 1086. This was later irreverently called the 'Domesday Book' by the sardonic English – a reference to the extraordinary detail that was amassed, such as the Angel would compile on the Day of Judgement or Doomsday.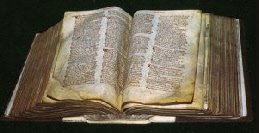 The list included all the woodland, pasture, millponds and fishponds, towns and villages. Each place was assessed in 'virgates' (30 acres) or 'hides' (a hide was not a unit of area, but expressed the quality of the land – whether light or heavy. Having said this, a hide measured about 120 acres). The residents of England were classed as either villeins (free men - tenant farmers who held land in return for the services they provide to their lords to small landowners who owned their plots outright), cottars aka cottagers or bordars (unfree peasants with little or no land) and slaves. Rents, labour services and plough teams were assessed to see how much money could be squeezed from the nation. Also included in Domesday were disputes over who held land.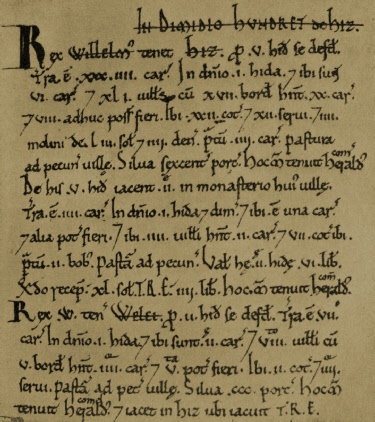 The Domesday Book entries for Hitchin (Hiz) and Welei
In 1086, Hitchin was a sprawling, royal manor. As well as being a manor in its own right, it was also the centre of a cluster of fifteen smaller manors. These had a total area of more than 4,000 acres.
The meaning of the place-name 'Hitchin' is unclear despite the speculation of several historians.
After admitting the matter 'perplexed' him, Hine spent eight pages of his History of Hitchin pondering the alternative theories: (1) There were several hamlets pitched together called the Hicche, each with a different affix which were collectively called the Hitcches (like the Pelhams of Hertfordshire) – and the ancient plural of this word is Hicchen. (Cussans) (2) 'the meadow watered by the (river) Hitz...for a meadow when free of trees was called "ing"' (Rev. H Hall) (3) it was the Roman military station, Icini (Rev. AC Yorke) (4) it derives from the tribe of Hicce. (5) The old name was Hitch; the Saxons called it Hicce but the as the French could not pronounce this, they reduced it to Hiz (as per Domesday) (Salmon)
The first mention of Deneslai was in Domesday. Professor Skeat asserts that Dinsley is derived from the chieftain Dyne – Dynes Hill or Dynes Lea. However, the Hertfordshire historian, Salmon, states, 'Deneslai might be derived from the Danes Land, who were much in the Hundred of Dacorum and nearer as the Six Hills (in Stevenage) convince me'. Glover attributes the name to 'Dyn(n)e's clearing or wood'.

King William holds Deneslai. It is assessed at 7 hides (1,680 acres). There is land for 20 ploughs. In
the demesne (the Lord's land) there are 3½ hides (840 acres) and 3 ploughs are on it and 19 villeins
have 8 ploughs between them and there could be 9 more. There are 7 bordars and 7 cottars and
6 serfs and 1 Frenchman (a settler from abroad, not necessarily French), a Kings almsman.
Two sokemen (free men) held this manor as 2 manors of Earl Harold in the time of King Edward and
could sell. Yet they each found 2 averae and 2 inwards in Hiz; but this was by injustice and by force
as the Hundred (Court) testifies. These 2 manors Ilbert held as one and he was seized thereof by
the King's brief for as long as he was sheriff as the Shiremoot testifies. But after he ceased to be
sheriff, Peter de Valongies and Ralf Tailgebosch took this manor from him and attached it to Hiz
because he refused to find the avera for the Sheriff. Geoffrey de Bech, Ilberts successor, claims
in regard to this manor to have the King's mercy.
The last paragraph simply means that there had been a resolved dispute over who owned Dinsley.
On the basis of this information, there were approximately 180 men, women and children living in Dinsley, inhabiting approximately 40 houses.

It is assessed at 2 hides (240 acres). There is land for 7 ploughs. In demense is 1 hide and there are 2 ploughs and 8 villeins with five bordars have 4 ploughs and there can be a fifth. There are 2 cottars and 4 slaves. Pasture for the livestock of the vill (small village) and woodland for 300 pigs. Earl Harold held this manor and it belongs to Hitchin as it did in the time of King Edward.
There were about 86 people living in Welei, occupying 19 homes. The area of woodland was extensive as it supported 300 pigs who fed on acorns and beech mast.
Before attempting to decide in which manor Preston lay, it should be mentioned that grants of land were made to the Knights Templars after Domesday was compiled.
As we shall see, sometime before 1142, King Stephen gave the Templars land in the manor of Dinsley. In addition, from 1142 to 1149, Stephen gave more property in Dinsley to the Templars. As well as these grants, in 1147, Bernard Balliol gifted the Templars 'fifteen librates (a librate = 52 acres; 15 librates = 796 acres) of my land...Wedlee by name which is a member of Hitchin; fields rough and smooth, streams with woodland.'
Having noted this, with which manor was Preston included for Domesday? The short answer is no-one knows with absolute certainty.
Historian, Wentworth Huyshe made these points in 1906:
1) Welei is mentioned immediately after Hitchin in The Domesday Book. Hitchin and Preston geographically are close.
2) In 1147, a document states that the Templars were given, 'Wedelee by name, which is a member of Hitchin'.
3) Thirty-eight years after this gift, in 1185, the possessions of the Knights Templar included Preston which amounted to four caracates (about 480 acres).
Huyshe argued, that on the basis of this, Welei, Wedelee and Preston were one and the same place. Reginald Hine agreed.
As a direct result of preparing this history, I believe that I have pinpointed the location of Welei. (LINK: Welei). It is probably the area known as Wayley Green - which is less than a mile north of Preston.
This is a summary of the reasons for concluding that Welei was Wayley Green:
I believe that probably Preston was not within the manor of Welei but rather the manor of Dinsley. My reasons are as follows: Preston was synonymous with Wedelee and as pointed out above, Wedelee was unlikely to be Welei/Wayley because of the considerable difference in areas recorded in historical documents. (see above)
Confirmation that Preston was in the manor of Dinsley is in a later section that describes Dinsley Castle. Although the castle was to the north of Preston, it was named Dinsley Castle (see right). Preston lies between Temple Dinsley and Dinsley Castle, so surely was included in the manor of Dinsley.
This conclusion is hardly a leap of faith as most of Preston was included in the manor of (Temple) Dinsley for several centuries.
The de Balliol family left their stamp on English cognesci as one of Oxford's colleges bears their name.
Guy de Balliol was a French baron who was granted swathes of land in northern England after the Norman Conquest of 1066. In the reign of William Rufus, he was given the Manor of Hitchin for his 'good and faithful service' during the Conquest. Between 1130 and 1133, his nephew Bernard de Balliol, inherited his possessions including Hitchin. As a result the de Balliols were lords of Hitchin for almost two centuries until 1296.
Bernard de Balliol not only built Dinsley Castle at Preston in around 1095 but his Purbck marble effigy (now resting in a window at St Mary's, Hitchin shown below) was found at Temple Dinsley. It is thought that the tomb of his father, Guy, was also at Temple Dinsley.
Many, influenced by movies and novels such Daniel Brown's The Da Vinci Code and Angels and Demons, associate the Knights Templar with treasure, mysterious symbols that point to its location and a frenetic chase by opposing ruthless secret societies to discover it with disfigured corpses strewn along the way.
As a result of this frenzy of interest, students of the Knights Templar subdivide the many books about them into two categories: 'Orthodox' (above left) and 'Speculative' (above right). This 'history' concentrates on the orthodox view of the Knights, but, tantalizingly, a little speculation may creep in later.
In the eleventh century AD, many devout Christians from Western Europe undertook a long pilgrimage to Jerusalem. Among the revered, holy sites at the city were the Garden of Gethsemine, Mount Calvary and the tomb of Christ. The pilgrims made their journey to sight-see, worship and ultimately to have their sins forgiven.

I offer these observations about the logic behind these conclusions:
Re: 1) – Other districts such as Ippollitts and Wellhead (which were also not mentioned in Domesday)
were even nearer to Hitchin than Preston. Against this, Clutterbuck stated that Ippollitts was originally
part of the manor of Dinsley, and Dinsley was included in Doomsday, before Ippollitts became an
independent manor (Maidencroft) by 1347.
Re: 2) - Strangely, this 'member of Hitchin (manor)', Wedelee, was not mentioned just sixty years earlier
in Domesday. Was this because it was noted as being within another manor?


PRESTON'S TOPOGRAPHY AND LOCATION

THE NORMAN SURVEY OF BRITAIN (1086) - 'The Domesday Book' - BACKGROUND

HOW HITCHIN AND PRESTON WERE ASSESSED IN THE DOMESDAY BOOK
Wimundeslai (Wymondley)
Mendesden (Minsden)
Hiz (Hitchin)
Westone (Weston)
Welei (1) (Wedelee ?)
Waldenei (Kings Walden)
Wavedene (Wandon End)
Cerletone (Charlton)
Denslai (Dinsley, later Temple Dinsley)
Welle (Wellbury in Offley ?)
Welei (2) (?)
Wilei (Willian - Hine)
Flesmere (Flewmere ?)
Leglega (Ley Green)
Hegestanone (Hexton)

Re: manors
Although manors were administrative units, they did not govern the same area as a parish.
Manors were centred on a nucleus, but sometimes included other pockets of land some distance away.
After Wymondley, the largest manor in the district at Domesday was Dinsley


THE DOMESDAY ENTRY FOR THE MANOR OF DINSLEY - A TRANSLATION

THE DOMESDAY ENTRY FOR THE MANOR OF WELEI - A TRANSLATION

WITHIN WHICH MANOR DID PRESTON LIE AT DOMESDAY?

WAS 'WEDELEE', WELEI OR PRESTON?
THE DISCOVERY OF THE 'LOST' SMALL VILL(AGE) AND MANOR OF WELEI

PRESTON WAS LIKELY INCLUDED WITH THE MANOR OF DINSLEY AT DOMESDAY

PRESTON, HITCHIN AND THE de BALLIOL FAMILY

DINSLEY or PRESTON CASTLE BUILT circa 1095

THE KNIGHTS TEMPLAR ARRIVE AT PRESTON
This subject is relevant as it may explain why the Templars decided to establish a preceptory at Preston.
We return to the field of conflict at Jerusalem - the Templars needed reinforcements and money to wage their war. In 1127, the first Templar Grand Master, Hugh de Payens, after visiting Normandy, crossed the Channel to England and was 'welcomed by all good men. He was given treasures by all...'. He called for people to go to Jerusalem. The recruitment drive was a success. This is the first mention of the Knights Templar in Britain.
The Templars were also brothers in a religious Order who led a monastic life. 'They dedicated themselves to God, taking vows of chastity, poverty and obedience'. In fact, the foremost aim of the Knights is debatable – were they warrior monks or monkish warriors - where should the emphasis to be placed?

THE KNIGHTS TEMPLAR - MONKISH KNIGHTS OR FIGHTING MONKS?
THE KNIGHTS TEMPLAR AND PRESTON

WHY DINSLEY AT PRESTON SUITED THE TEMPLARS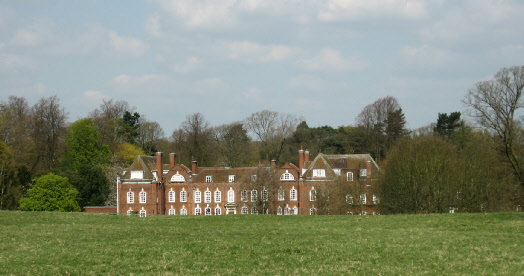 Soon after acquiring the land (and before 1200, as a chapter or meeting was held there between 1200 and 1205), there was a preceptory at Preston (a cross between a monastery and a chapel). Whether this was adapted from the original 'priest's tun' at Preston or built by the Templars is not known.
Huyshe writes, 'The chapel would probably (my italics) be among the earliest of the buildings to be erected for the fraternity'.
Whatever its background, there was a community and religious house here and thus Temple Dinsley was created. The Victorian County History remarks, 'Not much is known about the preceptor, but it was perhaps fairly important'. The first historical reference to 'Dynesle Temple' was in 1294.
Its Master or Preceptor was answerable to the Grand Master of Templars. Preceptors at Dinsley included Richard Fitz-John (c1255), Ralph de Malton (c1301) and Robert Torvile (1308).

THE BIRTH OF TEMPLE DINSLEY

The precise location of the chapel is unknown, but its existence is confirmed by three substantial artefacts. Firstly, at St Mary's Church in Hitchin is the 'battered effigy in Purbeck marble of Bernard de Balliol' (discovered in 1728) which would originally have occupied pride of place at the (Dinsley) chapel' (pictured earlier). Herbert W Tomkins states that this is in the recess of one of the windows of the north aisle of the parish church at Hitchin and describes it as 'a mutilated, featureless effigy'. (See above)
The figure was re-united with the second artefact, a foot ('part of a sculptured foot bearing chain mail and spur') which was found at Dinsley in February 1899.
Now follows a list of the manors within the Royal Manor of Hitchin as recorded in The Domesday Book. In brackets are the modern place-names assigned by historian Wentworth Huyshe and agreed by Reginald Hine – the queries indicate uncertainty of identification:
1) The similarity of the names, Welei and Wayley.
2) As one would expect of a community, Wayley Green is beside an old road which, today, is called
Tatmore Hills Lane. This lane is a section of a road that leads north from St Pauls Walden and
Stagenhoe to Hitchin. Wayley Green is at a junction with another old lane that followed the
Hitchin/Ippollitts parish boundary.
3) Even today, there are two ponds in the vicinity - the life blood of a hamlet.
4) The place-name in 1822 was Wayley Green. Where there were Greens, often there were homes.
5) The entry in Domesday for Welei states that there was, 'woodland for 300 pigs'. Wayley Green today is 300 metres from Wain Wood. This wood may have been even nearer to Wayley Green in 1086.
Tompkins sat by this 'old,old stone' and listened to all that the gardener had to tell him. '...not far from where I am sitting is the mouth of a subterranean passage. It has been opened, as I am told, from time to time, but never fully exposed. The story runs that it leads from here to Minsden Chapel and that, "once upon a time", a second passage ran from the Priory at Hitchin and met that at Temple Dinsley almost at right angles'.
: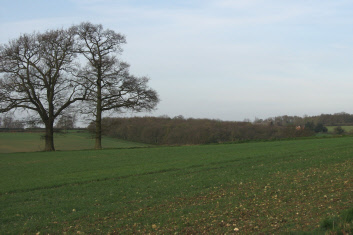 The flints and clay in this field beside the
Kings Walden Road are typical of the area
8 hides
4 hides
5 hides
5 hides
2 hides
2 hides
3 virgates
1 virgate
7 hides
1 hide
1 hide
2 virgates
½ virgate
½ virgate
1 virgate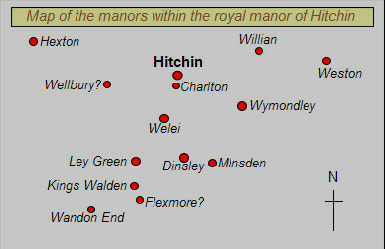 Further evidence of the original Temple Dinsley has been discovered in the form of a few of the floor tiles of the chapel, embellished with heraldic designs (see below). Skeletons of some of the monks have been dug up in the kitchen yard. (A skull was used by Lord Hampden, Henry Brand,on his study table as a reminder of his mortality (a memento mori) when he was tenant of Temple Dinsley.) Lodged with the bones was a pewter chalice of the early fourteenth century: this was discovered on 17 February 1887. When Douglas Vickers owned the estate, a fourteenth century bronze jug was unearthed (presented to Hitchin Museum by Mrs Barrington-White).
Away from the main buildings, there were farm buildings in the enclosure at Dinsley which confirms that the knights led both a religious and an agricultural life. The Templars owned a large holding of land at Preston next to Dinsley. Only a quarter of the Templars land at Preston (27%) of land at Preston was held in demense, (that is, set aside for the Templars' use) and for centuries this was referred to as 'Temple Land'. The rest of the manor was tended by their tenants: freemen, villeins (with holdings from a few acres to 1-2 virgates) and cottars who had a house and a small piece of land and probably worked for the other two classes.

Two floor tiles dated mid-thirteenth century found at Temple Dinsley and given to North Herts Museums by historian Chris Sansom. (Left) the Agnus Dei tile. (Right) the arms of a brother. Images used by kind permission of NHDC Museums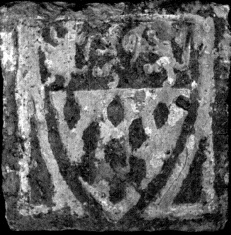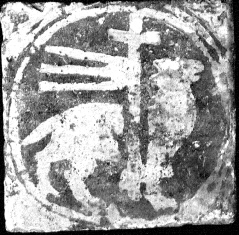 Now, a note about the Templars and tunnels: National Geographic filmed a documentary about the Templars that featured the tunnels they built at Jerusalem. So, the Templars were tunnellers. There is also a rumour that beneath Hertford there is a honeycomb of passages dug by the Templars to facilitate secret movement about the town. R J Pilgram wrote this about the Stagenhoe House (which is little more than a mile from Temple Dinsley): 'There has been recurring talk of a secret passage at Stagenhoe to Temple Dinsley, nearby. Mr Bailey-Hawkins (owner 1895-1922) tried to investigate it with some of his men, but they were driven back by foul air. When Mr Dewar owned the place he stated that he was extremely interested to reach the end of the tunnel, which had collapsed in many places. It seems unlikely that he ever did so. Hine himself did not regard the passage as having any significance. It was moreover a danger and Mr Hawkins car, leaving the forecourt, caused it to collapse.'
However, when describing how Stagenhoe mansion was underpinned by girders in the cellars, Hine wrote, 'It was when these girders were being installed that a secret passage was discovered leading (so it was said) in the direction of the Church. It is a pity that it was then bricked up, for speculation as to its course, destination and purpose has been rife ever since. For the most part, one is inclined to be sceptical about such passages...'
Tompkins claimed that this specific pattern was among the insignia of the Knights Templar. This discovery reminded him of another find nearby, the 'sculptured foot', which was mentioned earlier. Preston was agog: '...I find no small interest is evinced by them in those stories which they have heard from time to time'.
A third artefact from Dinsley is displayed at St Martin's Church, Preston (below). It is a grave-stone cover, 'carved with a floriated cross that once marked the resting place of a Templar Master'.
In 1913, Tomkins added some information about this find: 'Fortunately for me, a discovery was made a few days back which has set others thinking once again of the men who held this manor so long ago.
Leaving the village green, I obtained entrance to the private gardens of Temple Dinsley and here lying upon the ground near the house, in a spot shaded by pines and guarded by an effigy of Father Time with his scythe and hour glass, is a large stone coffin lid which was found by some workmen when digging in the grounds. The coffin itself was missing. On that lid is a filial cross upon a rod or staff with a central disc and foliated extremes'.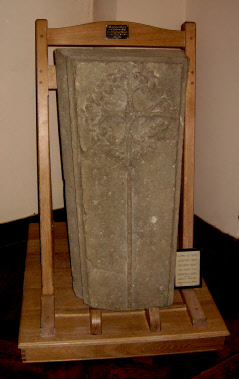 The brothers lived simply in walled enclosures that had a hall in which they ate and which contained a table, trestles and a washbasin. They also had chamber or bedroom that was furnished by beds and clothes bags. Here, the knights slept fully clothed and silent in dormitories with lamps burning. If the inventories of 1308 are accurate (they may have been taken after the preceptories were plundered) the Templars lived a frugal life with few possessions or comforts.
The brothers were dedicated to prayer, observed the office day and night, fasted and preserved silence. When they sat at their table, they observed rank. Theirs was a fairly elderly community as the younger men were fighting overseas.
A chapel was certainly built that was the home for 'sacred vessels, service books, a carpet and four banners or standards. Apart from London, only at Dinsley have Templar's flags been found – which confirms the significance of the site at Preston.
Although there are no plans of the original buildings if the normal practices of the Templars were followed, there would have been 'a large complex of buildings'. This is what documents convey. The buildings included a chapel, hall, smithy, bake-house and a graveyard (after 1543, the graveyard became the kitchen yard).
The Templars' preceptories were guarded by strong walls and a gatehouse. Outside were the demense (or lord's) estate and their tenants. As well as the brothers, there was a resident bailiff, a carter, four ploughmen, four labourers, a cook, a gardener and six pensioners. In the time of Bernard de Balliol, fifty people were listed as holding land and cottages on the estate. They included a cottager, a forester, a smith, a cloth-comber and a blood-letter.
As a result, Dinsley was isolated – a most suitable location for a withdrawn monastic order and it might be bourne in mind that Preston had religious roots as noted earlier. Despite its isolation, Preston was a mere thirty miles from London (as grateful, modern-day commuters know) and reasonably close to the major ancient highways of the Great North Road and the Ichnield Way.
Given that Dinsley was a grant, the most likely reason for the Templars establishing a base there was the site's seclusion. Preston is perched on an elevated ridge of the Chilterns. Even today, there are swathes of woodland in the area at Wain Wood and Hitch Wood. Nine hundred years ago, the forests in the district were even more extensive. Today, the site nestles in a natural hollow (see modern-day photograph below) – it 'stands at the head of a long ravine that slopes gently toward the east in the direction of Minsden Chapel'.
Before 1142, the Tempars were given land at Dinsley. This is inferred from the following:
1142

. King Stephen granted rights and privileges (but not land) on the Templar's holding at Dinsley. As it was only rights and privileges that were bestowed, it is probable that Stephen had already given some land to the Templars here – remember that Dinsley was in the King's hand, being described as a 'royal manor' in Domesday.

1142

. King Stephen

confirmed

an earlier

grant of an acre at Dinsley (called Smith Holes) that John Chamberlain had been granted to the Templars.

In

late 1142

, Stephen gave the Templars 40 shillings worth of land at Dinsley as well as two mills and 'the men of the land'.

April 1147

. Bernard Balliol gave the Templars 15 librates of land (780 acres) called Wedelee which was in his manor of Hitchin. (See earlier notes about the identity of Wedelee. Link:

Wedelee

) This grant took place at a Chapter of the Templars in Paris around Easter-time. Present were the King of France, four archbishops and one hundred and thirty Knights who were 'arrayed in white cloaks' in what must have been breathtaking assembly. Alluding to the practice of smoothing the way to heaven, Bernard declared that, '....for the Salvation of my Soul, I have given...(to the Templars) fifteen librates of my land...Wedlee by name which is a member of Hitchin; fields rough and smooth, streams with woodland.' 'This grant was.... made under unusual circumstances which seem to emphasize the importance of the gift'.
April 1147-49

. King Stephen confirmed a gift of uncultivated land ('waste') in Dinsley.
How did Temple Dinsley become established?
As the Templars were a significant religious body, they were bestowed grants of land in return for their awarding redemption of sins and absolution to the donors. These awards eased the recipients conscience and gave them confidence of being accepted in heaven after their demise. Thus, spiritual well-being and deliverance was effectively purchased by the gift of land. The gift of Temple Dinsley was a spiritual back-hander.
There is documentary evidence which indicates that the Templars had a foothold at Dinsley before 1142, and during the seven years between 1142 and 1148, there was a flurry of five separate grants of rights and land to the Templars at Dinsley:
These descriptions may appear paradoxical as monks eschew the spilling of blood. But the Templars viewed fighting infidels as an act of devotion. War was a version of prayer. Their battle was just and righteous as it defended the Holy Church. So, 'onward Christian soldiers, marching as to war'!
Their attire was symbolic - they were commanded to wear white mantles and cloaks to show that they had emerged from darkness into the light of purity. The red crosses on their mantles were added later to distinguish them from other fighters. The knights kept their hair short with short hair, but they did not shave their beards.
To understand the impact on Preston of the Templars, one should discern their religious aspect because (as we will see) this explains both how they acquired their land in the hamlet and also their manner of life there.
However, what was already a gruelling trek became increasingly dangerous and impossible. Jerusalem was in the grip of non-Christian Turkish overlords who blocked the approach of worshippers to the sacred shrines. Pilgrims were attacked – many were slaughtered; others were sold into slavery.
Responding to this religious hostility, in 1095, the Pope launched a popular and powerful campaign to free the Holy Land from the infidels using soldiers of Christ. The Crusaders were born. The rampaging knights were later distinguished by the scarlet cross emblazoned on their coats. Within four years of bloodshed the Turks had been ousted and Jerusalem was in Christian hands. The first Crusade of 1099 had been a satisfying success for Christians.
With the promise of a safer journey, worshippers again streamed towards the Holy City, but other perils lay in their path: ambushing robbers, marauding Muslim Saracens and voracious wild animals. Matters came to a head in the Easter of 1119 when 300 pilgrims were massacred by Saracens near Jerusalem. As a reaction to this butchery, nine knights (most, if not all, were French) pledged to protect Christian travellers. The recently-installed King of Jerusalem provided a home for the knights in the Temple – the intrepid few became known as the Knights Templar.

Back to Hine: in the chapter of Hitchin Worthies that features Robert Hinde, he asserts that there was a manuscript History of Hitchin in St Albans Museum which mentions the remains of Dinsley Castle and a tradition related by a Mrs Hinde of Preston 'that in early times there was a battle there; that one party took their station where Hunsdon Hall (aka Castle Farm) is now and the other on Kings Hill, that one party was pursued to Gosmore where a king was killed and buried under a tumulus there. Flimsy confirmation of this story was to be found in the London Guildhall library where EA Downman had lodged some plans, dated 1902, of these earthworks.
Hine also reported that 'the keep, bastion and curtain walling' of the original Dinsley Castle could be seen in Robert Hinde's time.
There was a 300-feet-deep well at Hunsdon House/Castle Farm which was reputedly sunk for Dinsley Castle.
Huyshe suggested that the castle therefore stood for less than two hundred years. But, probably during its short life it was the focal point of the manor of Hitchin and from it Bernard Balliol would have travelled to worship at the Templars Preceptory chapel at Temple Dinsley, where his father's tomb lay in state. Huyshe suggests that if this was the case, it is unsurprising that Bernard made his gift to the Templars.
Hine in his Early History of Temple Dinsley writes: 'These Balliols belong not so much to the parish of Hitchin and to the castle of Dinsley as to this realm of England'. '...no cry comes across the centuries from those who rotted in the dungeons of the Balliols...(who) cursed the cruel castle of Deneslai..' 'the castle of Dinsley which, when the Balliols were banished, was brought into ruin and rented by the Prior of Wymondley at a mere 10s by the year'.
The next historical reference to Preston is of Dinsley Castle. (Link: Hunsdon House)
Now and again, there are intriguing historical glimpses of the ramparts of Dinsley Castle. Wentworth Huyshe wrote that Guy de Balliol (Bernard's father) was 'probably often at his residence at the castle at Preston, which I believe, was built by him (circa 1095 when he was granted the manor) close to the Templars establishment. (As far as it is known there were no Templar castles in the British Isles so it is unlikely that they built Dinsley Castle)The site of Preston Castle is about six hundred and fifty yards distant from Temple Dinsley'. He adds that in 1278 there is a direct reference that the Prior of Wymondly owned the site of the castle which, by this time, was 'either dismantled or completely destroyed' and suggests that the ruins were robbed-out and that its 'stones, bricks and beams may still exist in the old cottages at Preston'. (Perhaps owners of the oldest cottages at Preston might consider dendrospectronological surveys of beams in their homes.) He then nullifies this suggestion by adding that, 'of course, the Castle could have been destroyed by fire'.
In trying to come to a conclusion concerning the manor within which Preston lay, perhaps one should focus on the place, Wedelee. It may surprise some to learn that (as far as I can discover) Wedelee is mentioned but once in history. We are told some details: it consisted of 15 librates of land (approx 796 acres); it was in the manor of Hitchin and it had 'fields rough and smooth, streams with woodland'.
However, there is an obvious objection to the theory that Welei was Wedelee: In Domesday, the manor of Welei consisted of two hides (approx. 240 acres); the area of Wedelee at fifteen librates (approx. 796 acres) was more than three times greater. For the same reason, it is doubtful that Wedelee was the modern-day Wellhead which also occupies a smaller area.
I agree that points 2) and 3) made by Huyshe above clearly indicate that Preston was the same place as Wedelee.
Further doubt about the location of Welei and Wedelee is cast by Evelyn Lord who suggests that both could be represented by the modern place name of Wellhead (which is close to Hitchin).
In 2002, Prof. Tom Williamson joined the discussion when he referred to 'the vill(age) of Welei or Wilei which comprised a large part of the later parish of Preston'. He included a map which showed Welei as immediately south-west of Wain Wood and separate to and to the north of Preston. He then adds, 'in the south of the parish of Ippollitts just to the north of the modern village of Preston lies Wain Wood and the probable site of the lost Domesday vill(age) of Welei.' No reasons were offered for the location assigned to Welei.
So, historians are divided and, as the twentieth century has passed, the identity of the manor which included Preston has become further clouded rather than clarified.
The Victorian County History adds to the uncertainty about the location of the manor by stating, 'Welei is possibly (my italics) Wedelee in Preston, but both this and Welei cannot be identified with certainty'. It adds that Wedelee was 'a name used elsewhere for Dinsley'.
The Penguin Translation of The Domesday Book lists Weyleye (sic) (ie Welei) as being 'in Ippollitts' (with no supporting explanation) and does not mention either Wedelee or Preston. (It should perhaps be noted that even in the nineteenth century, a significant part of Preston lay in the parish of Ippollitts and was governed by Maidencroft or Ippollitts manor.)
Glover claims that Wedelee is one and the same as Welei because 'the medial 'd' in Wedelee is a common Anglo-Norman eccentricity'.
Glover observed that Hicce was 'the name of an Anglo Saxon tribe...the final 'n' going back to the dative plural Hiccum'. He then added, 'the history of the name is obscure'.
Salmon in his History of Hertfordshire writes, 'It seems to have its name from a neighbouring wood called Hitch which once reached to the town, built at the wood end...There was a wood before there was a town'. Might it be that Cussans et al were unable see the wood for the trees? I, therefore, register the possible connection of the place-name, 'Hitchin' with Hitch Wood, which is part of Preston's heritage. Of course, the name Hitch Wood may derive from the tribe of Hicche, anyway.
With authority, Reginald Hine concurred. He wrote that 'Preston' was 'derived from the genitive plural of the O(ld) E(nglish) word, preost'. This, unsurprisingly, means 'a priest'. But then he slides into murkier waters, stating (with a distinct lack of authority) that it may refer to (1) a 'tun' where there was a resident priest (which was such an unusual situation as to justify the place-name, 'Preston' being adopted) or (2) a community of priests dwelling beside a church (which was afterwards formed into the Preceptory of the Knights Templar) or (3) an outlying portion of the two hides belonging to the minister of Hitchin referred to in the Domesday Book.
Thus, one may say that, historically, the district of Preston had a religious presence.
As to why a community became established at this location, perhaps the fundamental reason was the easy access to water for households, farmers and travellers from the unusual preponderance of ponds which were in the vicinity. (Link: Preston's ponds)
The text, like so many historical narratives, is sprinkled with words such as, 'likely', 'possibly', maybe', 'perhaps' and so on. History is not an exact science and the reader may choose to apply the occasional pinch of salt to what has been written. I have also occasionally added my observations, which are just that - personal observations.
The Preston History web-site is a filing cabinet of information. Links to relevant articles are provided which add details to the account.
Preston's topography has been unchanged for millenia.